Shopping Cart
Your Cart is Empty
There was an error with PayPal
Click here to try again
Thank you for your business!
You should be receiving an order confirmation from Paypal shortly.
Exit Shopping Cart
Features, Reviews and a Blog by John Sciacca
| | |
| --- | --- |
| Posted on May 11, 2010 at 6:00 AM | |
It's been almost exactly a month since I posted my little missive about Kaleidescape and their need to add support for Blu-ray to their line-up to stay current and relevant. Shortly after that post, I received a call from their PR department arranging for a call with their Director of Product Management and CEO, Michael Malcolm himself. Well, I've been under a signed non-disclosure agreement from revealing any of that conversation...until now!
So, here's the big news. Kaleidescape is now fully supporting Blu-ray disc!
Kaleidescape is releasing two new players, the M500 and the M300, and both of these players can be ordered NOW and will start shipping on May 18. The M500 ($3,995) has a disc drive, and can play AND import (you read that right, IMPORT) Blu-ray titles, whereas the M300 ($2,495) is the replacement for the mini-player and can only playback titles. Both players will support full 1080p/24 resolution from the HDMI output. Lossless high-resolution audio codecs from Dolby and DTS are supported up to 7.1-channels at 192 kHz via bitstream, but can only decoded internally by the players at 48 kHz and limited to 5.1 channels.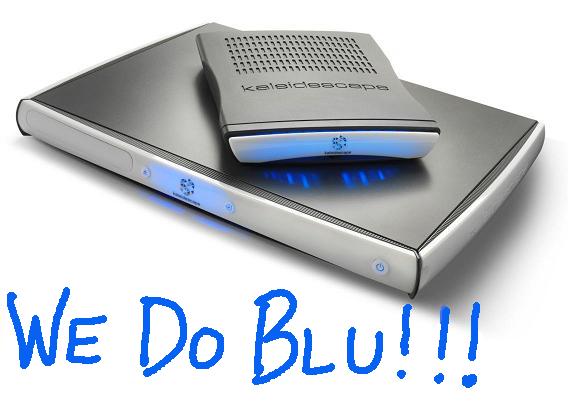 The new players are built around a proprietary M-class architecture that will form the basis for all new Kaleidescape features and upgrades going forward for many years of growth and enhancement.. "We have invested a great amount of time and resources in developing the M-Class architecture, which is our platform for future innovation," Malcolm said. "We now have the tools to improve our world-renowned user experience and offer an even greater variety of content."
The M-class systems have greatly improved processing horsepower required for handling Blu-ray audio and video codecs. This processing also delivers a new, fully HD-rendered HD on-screen interface. (This is a move away from the Gennum VXP chip used in the current 1080p players, and, according to Kaleidescape's Linus Wong offers "substantially better performance than the 1080p player in several regards." One example he cited was in zooming letterbox titles.) Unfortunately, taking advantage of the new HD interface, requires that ALL players in the system be M-class; if there are mixed players, the new HD interface cannot be used. UPDATED: Just found out that this is not correct. Here is a correct version:
The improved user interface and high-definition onscreen display requires an M-Class player. To have the same user interface on all ofthe players in a system, all players must be either M-Class or non-M-Class. Ifyou have a mixture of M-Class and non-M-Class players, the M-Class players display the new HD user interface only. In fact, the M-Class players can only use the new user interface.
The big question: Can I rip Blu-ray movies to my server and stream them? Yes! But…the disc must be in a drive tray somewhere in the system to enable playback of a disc copy that is stored on the hard drive. So, if your home had five M500 players, as long as the original Blu-ray disc is physically in any one of the drive trays, any/all of the players can stream back the title. Multiple instances of the title can be played at once, and – other than the disc required to be in a player – will deliver the same Kaleidescape experience that customers have come to know and love. Malcolm cited the studio's on-going concerns over rent/rip/return issues, and that requiring the disc to be in the tray appeases this need. However they said that "other business models might be possible in the future." Obviously, discs can be played without first importing them to the server.
Fully managing a collection of Blu-ray titles will challenging when the disc needs to be retrieved and placed into the tray every time you want to watch it. To address this, Kaleidescape announced the development of another product, the Blu-ray Disc Loader (also frequently referred to as "the disc vault."). This will be available the first half of 2011 and will hold "at least 100 discs." Not only will the Loader hold discs and make them available for instant streaming to players on the system, it will also allow bulk loading a collection. Malcolm said that Kaleidescape is pursuing two different development paths on this product, one that could be available sooner and have a smaller (100 disc) capacity and one that might take a little longer but hold more (200-300+) discs. Malcolm agrees that capacity is key, and that he would like to see it be at least 300. The price for this is still in the works, but Malcolm mentioned a range of $3000-5000.
Kaleidescape has been diligently building their library of Blu-ray titles to fill out their Movie Guide service, and they now have more than 3,300 titles, and expect that coverage of Blu-ray discs in the US to be more than 95%. Features like instantly (skipping warnings and trailers) starting films or concert titles, language preferences, tagging favorite scenes and remembering paused titles will all function with Blu discs.
Streaming a Blu-ray movie requires up to 54 megabits of network bandwidth, and Kaleidescape strongly recommends a Gigabit network connection for all servers and M-class players. (The server must have a Gigabit connection in order to watch two Blu-ray movies from the server simultaneously.) Servers with model number KSERVER-2500 can stream up to five Blu-ray titles simultaneously over a well-designed Gigabit network.
According to their data, the average Blu-ray disc uses about 37 Gigabytes of storage, meaning that a 1U server with four 2-Terabyte cartridges could store roughly 150 Blu discs, and a fully loaded 3U server with 14 cartridges would hold around 600. Disc importing will take around an hour for a Blu-ray disc, and 25 minutes for standard DVDs. I asked Malcolm if we could expext larger disc cartridges to accommodate more storage and he said that they are constantly evaluating storage options as they become available, but that *many* do not pass the company's rigorous QC testing.
Kaleidescape is offering a trade-in program for existing owners. If you own a current 1080p player, through August 31 you will receive a 50% credit towards the purchase of an M500 player, bringing the price down to under $2,000. For non-1080p players, owners will receive a 25% credit towards an M500 or M300 player, making the prices $3000 and $1871 respectively.
On my initial conversation, I asked Malcolm about 3D, and he said that these players will definitely NOT be able to handle 3D content, and won't be upgradeable. The hardware required to do 3D was just not available during the development, and they didn't want to A) delay the development of this piece any longer and B) rush something to market that wasn't ready. Malcolm feels that 3D at home is exciting – he installed a Digital Projection "Titan" 3D capable projector in his home – and that it will be something that Kaleidescape will continue looking into for future hardware releases.
I am expecting a review unit any day, and I will be posting a full review of the M500 player at Sound + Vision's website.
Kaleidescape has been incredibly open to input and suggestions and feedback on this product, and I would welcome any comments from Kaleidescape owners on your thoughts of this system. I'd especially love to hear your feedback on the disc-in-tray requirement. Is this a deal killer or just a minor inconvenience? What price do you think is fair for the disc vault? Will you rip your Blu-rays before the vault is available or just use the system for playback?
Categories: May 2010, Reviews, Electronics
/