Shopping Cart
Your Cart is Empty
There was an error with PayPal
Click here to try again
Thank you for your business!
You should be receiving an order confirmation from Paypal shortly.
Exit Shopping Cart
Features, Reviews and a Blog by John Sciacca
| | |
| --- | --- |
| Posted on December 6, 2011 at 5:35 PM | |
While it's true that I've written some less-than-flattering things about Netflix in the past, and that I am now in the routine of daily check their stock price to garner some twisted and sadistic satisfaction when I see that the share price is once again showing red numbers, the fact is, I'm STILL a subscriber and still have an interest in seeing them survive and continue in business.
I just wonder if maybe they haven't made SO many blunders lately that they might not be able to recover. That maybe CEO Reed Hastings' pride and ignorance and seeming TOTAL lack of understanding and indifference of his customers and users has been the equivalent of him tossing bag after bag of sand into the engine to just stand back and watch what would happen and to see if the thing would finally blow; taking what was once a universally well-regarded, well-oiled, movie delivering juggernaut and turning it into a volcano that spewed Internet venom and vitriol.
Let's look at Netflix prior to July of this year. Stock price is at an all-time high of $304 and Wall Street loves them. Netflix is piling on subscribers – and presumably profits – at a crazy rate. Netflix is pretty much a ubiquitous feature found in every "smart" TV, Blu-ray player and portable device known to man. They basically crushed Blockbuster out of existence and have no real competition. They were Gods up on Olympus and they smiled down on puny man.
But then the Netflix machine took its first major blow when Reed e-mailed out his first little missive and announced a splitting of the streaming and disc-through-mail services and pricing changes back in July. Now this was not a minor little, "Well, postage has gone up, gotta raise rates by $1 a month, totally sorry but it's a real cost of doing business and we have to" kind of thing. Rather this was a totally unexplained hike upwards of 60% for many. For me, keeping my account plan the way it was would have taken my monthly payment from $24.99 to $34.98. Could I swing the extra $10? Yeah, sure. But that wasn't the point. The point was the tone of the message was basically, "Look, we're raising prices, so suck it! Now pay up or piss off you bunch of movie-watching losers!"  There was an arrogance to the e-mail that offered nothing in the way of explaining the price hikes or any benefits from separating the services or any improvement to the Netflix experience and offended MANY. It was a decree from the mountain; ye shall obey or ye may cancel, but we are Gods and care not either way. (You can see the entire text of his message by reading my original post here.)
So, guess what a lot of people did? They cancelled. Financial times are tough and people decided to keep their extra $10, thank you very much. This message caused me to do something with my Netflix account that I hadn't done for years…to analyze my bill and options. And what you don't want people to do is to start asking themselves, "Hmm. Could I live without this? Is there another option here?" And you know what? I decided that I DID still enjoy the service, but that I could cut out the streaming and lower my disc plan from 4 to 3 movies at a time and actually LOWERED my monthly bill. More money for me, less for Reed. (OK, more money for the vodka purveyor, but same-same.)

But clearly the jarring gut-check of Netflix's stock dropping from $300 to $200 wasn't enough for Reed. (Plus, there was the little bit of news that he had been exercising options for $1.50 a share and selling off HIS shares of Netflix stock to the tune of about 5,000 shares a week since the beginning of the year, so he wasn't being pummeled as brutally as people that had bought in at say $200 or more.) No, Reed was not done by a long shot, for he had another e-mail bullet he was itching to send; send it right into the back Netflix shareholder' heads. This e-mail is the one where he kinda-sorta-but doesn't really at all apologize for the last message. Oh, and PS: he's changing the core name of the company from Netflix to Qwikster.  A name that is so lame in its utter lameness that the Internet practically exploded from the communal shouts of, "Qwikster? Are you frickin' kidding us?!?" Oh, and not only a new and totally lame name, but two completely separate and not at all equal accounts for people to manage. Two queues, two bills, two logins, too complicated and too lame. Netflix stock immediately responded to this news by dropping like another $80. (You can read THAT letter here.)
With this latest bit of Reed-mail, Netflix had its first ever quarter of subscriber losses. By the  millions. Something Wall Street no likey. And the share price has been steadily dropping ever since. Let's look at the Netflix stock price for the past six months as of today, shall we? It's a chart that would only look good if you were a submariner reading a hydrographic plot of the ocean floor.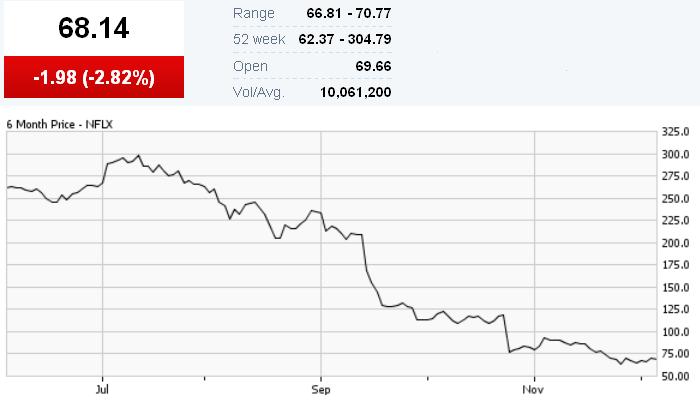 Of course, days later Reed recanted saying, "Whoa! Wait. I think I had some bad Mexican food or something and might have gone into an e-mail sending fugue or something. Did I actually say I was gonna change the name? To…Qwikster? Dudes! I was so out of it! Totally NOT gonna do that. Also, NOT gonna split the company into two! Again, lame-sauce idea. OK? We all cool now? Just one Netflix, like old time. Except price hike. That's still here to stay. Peace and love! (PS: I don't love any of you.)"
What Netflix has going for them is a giant installed infrastructure of components ready to do its bidding. Think about it; you probably have 3 or more devices in your home right now ready to stream Netflix content. That is a giant potential, but is it enough? Maybe not anymore.
The perception of Netflix's streaming service is pretty amazing; when you talk to people about the service, they have these sugar plum fairy dreams of having every movie ever made available at their fingertips at any second of the day or night. And while we all like the IDEA of Netflix streaming, the reality of it is FAR less Tropical Island and way more barren, deserted C-rate movie wasteland. The options for movies to Watch Now are frequently not at all what you want to watch, and make up some small (10%? 15%...?) percentage of the number of disc based titles available. I can remember a few months ago wanting to watch Top Gun. I went to Netflix and…no Top Gun. The suggestion was instead to watch Iron Eagle 3. I didn't even know there was such a thing, and it definitely did not fill the no-Top Gun void. This happened over and over with EVERY movie that I tried to select. Literally NONE of my first choices were available. Granted there were some first run titles for viewing, and if you like to watch old seasons of TV shows or just want to put on something – anything – for your toddler to watch, Netflix streaming does a great job. But if you have your heart set on watching a specific title, there is a HUGE chance that you won't be able to do it using Netflix streaming.
For Netflix to get better, they need to vastly improve this library and offer more content. I'm sure they're working on it, but this costs. Beaucoup dinero. I've heard that they are going to have to renegotiate their streaming licenses coming up soon and that they are going to have to pay more. WAY more. This is going to cut into profits and not help that share price. Unless Reed decides to send another e-mail and initiate another price hike. (Somewhere, a member of the Netflix board of directors just had a violent bout of watery nerve-diarrhea at the thought.)

The quality of Netflix streaming varies from awful to good, depending largely on your Internet connection, the size of your viewing screen, the quality of your audio system and your tolerance for lowering your expectations. I have a 115-inch projection screen, and I don't want to settle for "Oh, well, that's good enough I guess" when it comes to watching a movie that I've really been looking forward to seeing. Netflix streaming quality is NOWHERE NEAR that of Blu-ray, usually being at DVD quality at the best. And the sound is even more lacking with the majority of films/streaming devices only supporting 2-channel.  If you experience the full majestic splendor which is lossless Dolby TrueHD or DTS HD-Master audio on a good sound system, you won't ever want to watch Super8 in plain stereo. (Fortunately, you won't have to worry because Super8 isn't available for streaming.)
I would love to see Netflix buy Vudu. Vudu has the best streaming quality of any service that I've experienced, with quality CLOSE to that of Blu-ray and Dolby Digital+ audio that is not as close to Blu-ray but still much better than Netflix. Plus Vudu has much newer titles available. If Netflix could harness Vudu's codec or whatever, that would make their streaming a way more appealing option.
More and more movies are delayed before they are available to Netflix subscribers. Here's a snapshot of my queue as of today:

Seven out of eight of my top ten titles aren't available yet. Yet I can walk into the store and rent them from that refuses-to-die-succubus, Blockbuster. I pay a monthly fee to Netflix because I want movies to be available when they come out, NOT a month later. And this is happening now with almost every major new release title. This is lame and is the kind of thing that would get me -- and others -- to drop Netflix and move to another provider.
Also hurting Netflix? The fact that more Internet Service Providers are talking about – or actually employing – bandwidth streaming caps or over-use penalties that could seriously crimp their service. Also not gonna be helpful is the US Postal Service raising rates. While no one totally trusts Reed when he said, "We're done with raising rates," I'm guessing that RIGHT NOW would be a MEGA bad time to raise rates. And if the post office starts charging Netflix more, that is gonna be a real, unavoidable cost.
With subscribers not coming back, the stock in the $60s, and giant costs to expand into Great Britain looming, is Netflix broken? In some ways, absolutely. But are they broken beyond repair? Maybe. But I hope not. For me, their movie-by-mail model still makes the most sense. However, if they don't make some real changes and win back customers, 2012 might be the year of Notflix...

Categories: December 2011, Movies
/