Shopping Cart
Your Cart is Empty
There was an error with PayPal
Click here to try again
Thank you for your business!
You should be receiving an order confirmation from Paypal shortly.
Exit Shopping Cart
Features, Reviews and a Blog by John Sciacca
| | |
| --- | --- |
| Posted on December 13, 2011 at 5:45 PM | |
For our anniversary a couple of years ago, my parents sent us a copy of our wedding video transferred from a no-longer-possible-to-play-in-out-modern-system VHS tape to a still-barely-tech-current DVD. (Sadly, the picture had so many artifacts and scratches that it appeared that someone may have first pulled the length of the decomposing tape from the cassette and then used it to rub against stones and chunks of wood possibly trying to start a fire.) Still, despite the lackluster video and production values, it had been many years since Dana and I had viewed our wedding ceremony and the footage we shot on our honeymoon – all entirely G-rated , I assure you. And it was a terrific walk down memory lane. (Compared to my current self, 1995 me looks like a fresh-skinned baby. Dana, however, looks remarkably preserved, having changed little from the girl/woman I married in '95. You can see how young we look here.)
While watching the tape, there is one scene where Dana and I are in Maui. The wind is blowing, the sun is setting, she is wearing a floppy hat, and she is beautiful. She says, "Hi," in a heavily southern voice that seems to have mostly vanished over the years, and then turns away from the camera. Then she quickly turns back again, leans in towards the camera, and with a tilt of her head, and a dreamy expression and a big smile says, "We've been married a week now!"
I had totally forgotten that bit. And I watched that scene over and over. And not that Dana isn't perfect ALL of the time – quiet, she might be reading this, just act normal… – but in *that* moment, she was totally, and utterly…perfect. It is probably the favorite memory of her that I have on film. Her voice, her expression, her smile, her everything. Perfect.
Sometimes an actress finds that role where she can live for 2 hours or so in her perfect moment. Where there is something just so magical and special and *perfect* about her and her character that you can't help but fall in love with her…in THAT moment. Now there are a lot of great female roles in film, and roles where women may have done a fantastic bit of acting, but this transcends that. Did you really feel an emotional attachment to Sigourney Weaver as Ripley or Linda Hamilton as Sarah Connor? And, sure, Princess Leia's gold bikini has fueled more than its fair share of geek fantasies, but no one *really* wants to head-off to Cloud City with Leia at the end. Uma Thurman as The Bride…cool, yes, someone you want to bring home to the parents? No. Ditto with Trinity from The Matix.

It's also way more than "just" being beautiful. For instance, no matter how much you like blondes, I'm guessing that NO ONE would want to have to spend any time with Jessica Simpson's Daisy Duke or Paris Hilton from, well, anything she's done. Cute and snarky isn't enough either, though it was *close* for Ellen Page as Juno. There is a certain X-factor if you will that elevates a role to one that really resonates. The writing has to be spot on, the dialog sharp and believable, the story has to be right, and the character has to seem like a real, breathing person that could step off the screen and still exist in our world. (Kind of what killed it for Milla Jovovich's Fifth Element Leelo.) For instance, Gwyneth Paltrow, Natalie Portman, Cate Blanchette, Penelope Cruz, Evangeline Lilly, Megan Fox and many others are all beautiful and talented – well, except for Megan Fox; her talent is highly suspect – but not one of them has been in a role that made you – well, made me at least -- want to sweep that character off the screen and spend more time with them.
Below is my Top 10 list of actresses and the roles where they were perfect. Arranged alphabetically by actress, though Zooey might have still been #1...
1. Zooey Deschanel as Summer Finn in (500) Days of Summer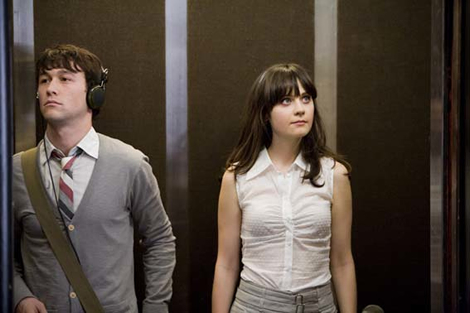 Even though they warn you right up front that this is NOT a love story, you can't help but love Summer. She's funny, she's cool, she's quirky and even though she breaks the star's heart, you still can help longing for them to be together. You get the sense that Zooey Deschanel IS Summer Finn (even more so after watching the *awesome* new show, "New Girl") and she just gets out of bed and inhabits a world where randomly breaking out into dance or song or elaborate shopping sequences happen all the time. Her most perfect scene? In the elevator. "I said I love The Smiths...You've great taste in music. Yeah. 'To die by your side is such a heavenly way to die.' I love 'em." You get the sense that Summer makes boys miss their floor all the time without even knowing it.
2. Kirsten Dunst as Claire Colburn in Elizabethtown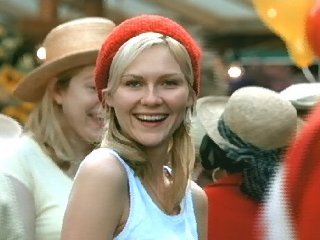 The real shocker here is that someone made my list with such blonde hair. (Go on; scroll through the pictures. I'm remarkably consistent in the ladies that I fancy.) Dana and I had a long distance courtship – California to Alabama – so to see Claire and Orlando Bloom's character start to develop a relationship and falling in love on the phone hits close to home. Claire is full of life and fun and adventure. And who wouldn't love a girl that blew off a trip to Hawaii to sneak up behind you in a hotel lobby? She's also mildly broken by a boy that may or may not exist. That makes her more real and lovable. And while there is NO WAY that she could have prepared that extensive minute-by-minute road trip guide, it was AWESOME that she actually did. One of the reasons why I love Claire, crooked tooth and all.
3. Audrey Hepburn as Holly Golightly in Breakfast at Tiffany's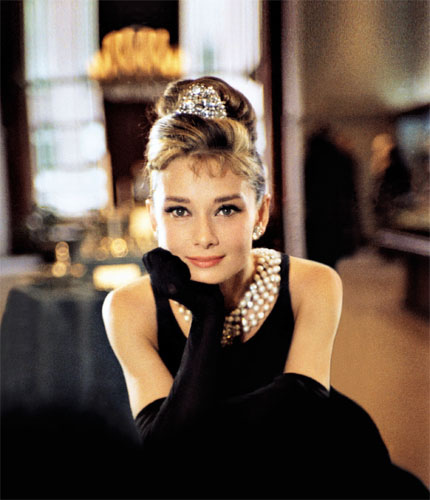 This is the one that I'm not *totally* sure about. On the one hand, Holly seems a little ditzy and like she will be a TON of fun to be around right up until the money runs out and that you're likely to come home and find out that she's hooked up with someone richer than you or that she passed out drunk in someone else's luxury condo. On the other hand, Audrey Hepburn is so stunningly beautiful and stylish and Audrey Hepburn-ey, that you are willing to forgive all of these little character flaws and just bask in the incredible glow of her amazing smile, the line of her neck and her little black dress.
4a and 4b. Keira Knightley  as Jules Paxton in Bend it Like Beckham AND as Elizabeth Bennet in Pride and Prejudice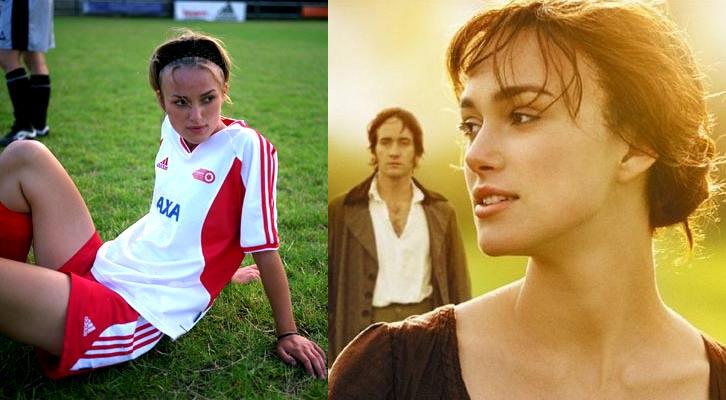 Maybe it's the English accent. Maybe it's the short hair. I don't know. But what I DO know is that I likes me some Keira Knightley. Enough to give her two spots here. It can be tough to come across as a brash female athlete that's not, you know, kinda lesbianey. And I'm not even sure she totally succeeded in that or not. (Her mom basically thought she was a lezzie the entire film.) I just know that I put Jules Paxton in the same category as Amanda Whurlitzer (Tatum O'Neal) from Bad News Bears. And even more incredible is that I don't even LIKE soccer. But Beckham is a great movie and Jules a super likable character. And while I'm sure that Price and Prejudice fans everywhere moaned and gnashed their period-drama-loving teeth over Knightley's casting as Elizabeth Bennet, for someone who had absolutely nothing invested in the film and hadn't seen any of the other versions, it is easy to see why women love the movie. Bennet is a smart, feisty, complicated stand-up-for-herself woman who always seems to know the perfect thing to say at all times. Mr. Darcy, you, sir, seem a stodgy stick in the mud and are not worthy.

5. Carey Mulligan as Jenny Mellor in An Education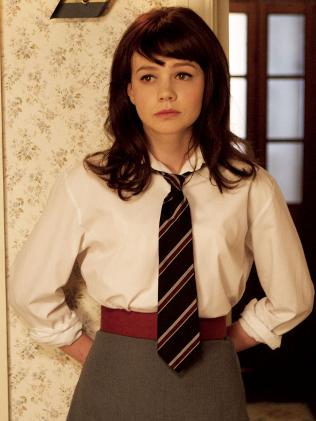 It is the tragedy of this tale that makes you love Jenny. She starts out as an incredibly smart and hardworking girl who seems to have everything going for her and a promising life ahead. The path is is aces for her to attend university and ensure a great future for herself. That is until she falls in a whirlwind romance with a much older playboy. There is travel and fancy parties and extravagance that makes her toss the boredom of her normal life behind. But he turns out to be morally corrupt. And you watch her falling for him and wanting him to be everything that he says he is and hope that it will turn out, all the while knowing that she has given him everything and ultimately it cannot and will not. Throughout Jenny is portrayed with a fragile sense of coming-of-age wonder by Carey Mulligan who helps you to feel the temporary joys and ultimate pain of every revelation and setback.
6. Thandie Newton as Thandiwe Adjewa in Flirting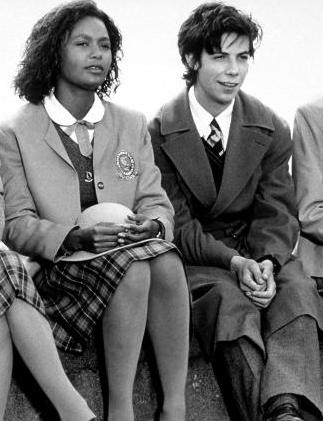 I randomly stumbled across the movie Flirting in Berkeley years ago when the movie we wanted to see -- The Player -- was sold out. And thank God! Flirting is an absolutely terrific film that brings two unlikely teens together, finding each other against odds across a lake separating the all boys and all girls prep schools. Thandie is full of confidence and spunk and stays true to who she is though she's clearly an outsider -- transferred from Uganda -- and helps lead Noah Taylor through those wonderful delicate first stages of a relationship where you're mastering the art of flirting, and dizzy and giddy from falling in love and enjoying the electricity of those momentary touches. 

7. Julia Roberts as Anna Scott in Notting Hill
As a rule, I am NOT a Julia Roberts fan. I think her smile and mouth are too big, I think she laughs too loud, and I don't really get the fuss about her. But, as Anna Scott playing a movie star who is really just trying to get by as a normal person, she works. I don't know if its Hugh Grant opposite her or just that she has just dialed the Julia-ness back, but she really does seem like just a girl, standing in front of a boy, asking him to love her.
8. Winona Ryder as Jo March in Little Women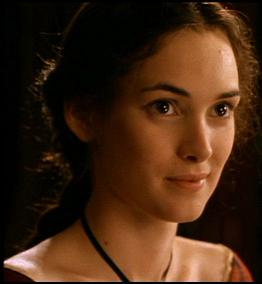 With her white-white skin, dark-dark hair and lithe physique, Winona was my first film love. But most of her characters while quirky and interesting are really kind of dark and not that lovable. I loved the way she looked in Reality Bites, but her character was so damaged and messed up, that you really don't want to have to try and put that complicated puzzle back together. However as Jo March in Little Women, she is perfect. Plus, she's a writer. And, as a sucker for short hair, I just loved the scene where she cuts off and sells her hair."Jo, how could you?  Your one beauty!" Hardly.
9. Mia Sara as Sloan Peterson in Ferris Bueller's Day Off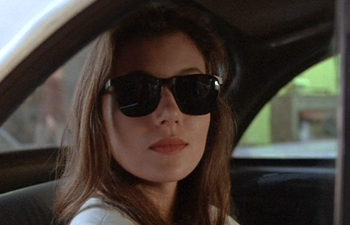 Of course, what makes Sloan Peterson so cool is that her boyfriend is one Ferris Bueller. But she is no simple pawn in Ferris' game; rather Sloan is a partner, accomplice, equal and necessary ingredient to his Day Off. And that she is able to stand-up to the craziness of Ferris, playing off his cues and handling Ed Rooney like a chess master – "Mr. Rooney... Ed... You're a beautiful man. I want to thank you for your warmth and compassion" – and ultimately, "he's gonna marry me" all makes Sloan totally cool. And hot.
10. Audrey Tatou as Amelie Poulain in Amelie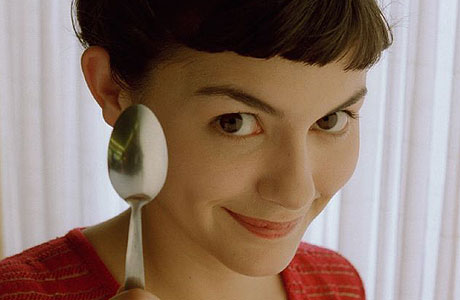 It is Amelie's quirkiness and sense of art and whimsy that makes her so darn likable. And it certainly doesn't hurt that the entire film is in French. Watching Amelie going through life in a "normal" world is like watching a perfect, wonderful OCD fantasy as she completes her little rituals and projects. She always has an expression on her face that says she is seeing just a little more of the world than the rest of us and that she wishes she could let us in on the joke. While there's a chance that spending time with her might result in "I just drank an entire bottle of absinthe" feelings, you know that it would also be *totally* worth it.
So, that's my ten. Who'd I miss? Who doesn't belong? Which female role is perfect moment for you?

Categories: December 2011, Top 10 List, Movies
/