Shopping Cart
Your Cart is Empty
There was an error with PayPal
Click here to try again
Thank you for your business!
You should be receiving an order confirmation from Paypal shortly.
Exit Shopping Cart
Features, Reviews and a Blog by John Sciacca
| | |
| --- | --- |
| Posted on December 24, 2011 at 5:55 PM | |
As a writer you hope that you can make some kind of connection with the people that read your work. This is especially true when writing a blog where you share all manner of personal things and give readers a glimpse behind the curtain which is my daily life. (Because, frankly, if you don't like the blog, you really couldn't like me. We are one and the same.) For readers that continue to return, I hope to be able to create some kind of reader-writer connection that is hopefully a little deeper than say with someone who is reading an amplifier recommendation, review of a control system or 500 words on the occasional jagged, scaling artifacts found on the latest HDTV.
I've received my share of "letters to the editor" over the years regarding things that I've written. But typically these are of the fairly impersonal, "I'd love to become a customer installer; what would John recommend I do to get started?" or "My room looks like X; how do you think I should set up my system?" variety.
Of course, the comments box at the end of each blog post here is your portal to communicate like, dislike, confusion, consternation or kudos back to me. I assure you that I read each and every comment – I am sent an email within seconds of the comment posting – and appreciate you taking the time to share your thoughts. (Well, mostly that is; the ones that start out with "You are clearly an idiot!" generally aren't as well received.)
But last week I received a package in the mail at my work that was just *too* good not to share. I opened the box and inside found a letter, a small, foldable pocket knife, several pens and a can of Tactical Bacon. "What is Tactical Bacon?" you ask. Oh, just this: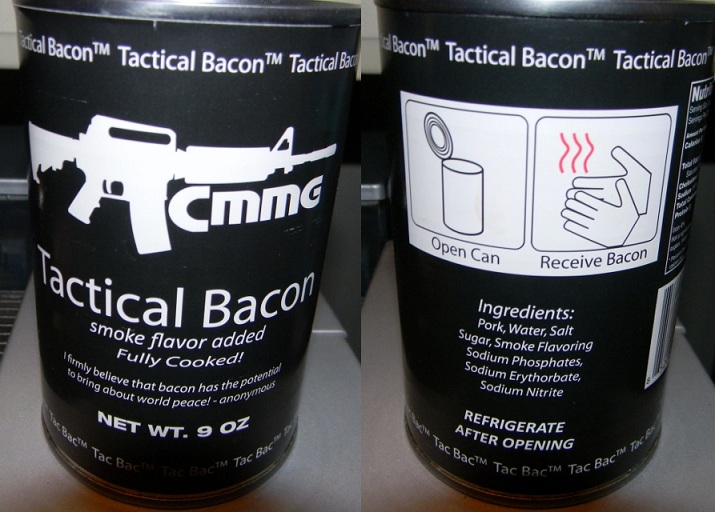 Now, I'm not sure what is more shocking…that there is such a thing as canned, Tactical Bacon, or that I have a big enough fan to actually send me some.  But it was his letter that was so awesome, that I felt compelled to share it with you in its entirety here:




Dear John,




It is with much pride that I present you with your very own can of tactical bacon. I have not previously read any of your blog posts on the merits of tactical bacon. Therefore, I hope that you have not already amassed a collection of tactical pork products.




I have been a huge fan of your blog for just over one year. You rekindled my curiosity in the Amex Centurion card, as I thought I was the only one who secretly lusted for one. A few weeks ago, when a customer handed me their Black American Express card, the first thing I thought of was, "Suck it, Sciacca!" then I had to get a picture of the card (only after I made sure the name on the card wasn't Darryl Wilkinson.)




Your articles in Sound + Vision and your blog are one of the few touches I have to the world of quality home theatre. After Tweeter merged with Hi-Fi Buys and then left town 3 years ago, [where I live] has become a wasteland for home theatre. There is not an installer with a showroom in the entire county. The closest Marantz dealer is over 100 miles away. It was a major ordeal to find 12 gauge speaker wire when I recently moved my modest theatre system into our new home. I ended up with blue sheathed car audio subwoofer wire from Best Buy.




Thank you for your entertaining blog, and I hope to one day make it to the showroom of Custom Theatre and Audio, if only to bask in the glow of All That Is Sciacca. Plus, to see if there are any deals still available on the speakers who shall not be spoken of.




Merry Christmas to you and your family,




Rob





That is BY FAR the best "fan" letter that I have ever received. He had a company letterhead logo that included a Luger target pistol, referenced several things that I'd written about in the past, threw in a Wilkinson reference, and managed perfect usage of the phrase "tactical pork products." Not to mention that it included said can filled with 9 ounces of pure, grade-A, bad-ass Tactical Bacon.




Frankly, I'm not quite sure yet whether I'm fully committed to eating the bacon or not. On the one hand, there is something just straight-up awesome about having a can of Tactical Bacon lying around. It has an "Always be prepared!" Boy Scouts' vibe with, say, a twist of Navy SEAL "by the time you see me, you'll already be dead." Sitting on a shelf, it tells your guests that you are ready for any contingency that might arise, and that, hey, you wanna kick this party up a notch, I am FULLY prepared to get as tactical as the situation calls for, up to and including ingesting meat products crammed with three different kinds of sodium that has been designed exclusively with this VERY moment in mind.




On the other hand, perhaps popping open a 9 ounce can of concentrated whip ass, I mean Tactical Bacon is just what I might need to inspire the right outlook on life going into a new year…I can only imagine a 2012 that starts with me gorging down a full can of Tactical Bacon being one of the best years of my life. (Plus, I could cross off that "I Have Never...eaten a can of Tactical Bacon" item off my list.)





Then I wonder, is it wrong to eat a can of Tactical Bacon in a non-tactical situation? Perhaps I should just shelve it in preparation of the impending zombie-pocalypse? (Clearly the knife was included as a close-in weapons system for keeping those brain-eating Walkers at bay.0 @ProAudio_GA advised, "You have to test the bacon to make sure that it will be fresh during the invasion."




Also, what's the greater dilemma: Having Tactical Bacon and no tactical situation OR having a tactical situation and no bacon? It's a real brain twizzler. Wilkinson – a self-proclaimed bacon enthusiast who also – totally unrelated – recently mailed me some bacon though the mail as well as who gave me a bottle of Bakon Vodka (sad proof that two rights can indeed make one very big wrong) at this past CEDIA – said, "No bacon trumps all." (However, to be fair, Darryl also lives with animals, frequently mutters to himself and feels that several servings of absinthe a day is part of a healthy diet.)




Either way, thank you, Robert, for the gift and for such a great letter. Fully appreciated and fully impressed. Feel free to weigh-in below in the great, should I/shouldn't I eat the bacon debate and bring peace to the war that rages inside of us all...


Categories: December 2011, Bizarre

0

/