Shopping Cart
Your Cart is Empty
There was an error with PayPal
Click here to try again
Thank you for your business!
You should be receiving an order confirmation from Paypal shortly.
Exit Shopping Cart
Features, Reviews and a Blog by John Sciacca
| | |
| --- | --- |
| Posted on December 28, 2011 at 12:50 AM | |
Twas one year ago, nearly to the day. There was a wet chill in the air, and the promise of a rare, Myrtle snowfall and chapped lips was reiterated in every whispering, wintry gust. Five men gathered together, near the roar of a fire, the crumpled wrappers of 88% dark chocolate and the oily, discarded paper boxes of recently devoured Chinese littering the room. Each presented bottles of his finest and oldest liquid wares to tempt the palate of his fellow-man and cajole them with liquid of the sweetest, smokiest, woodiest amber. It was a night of merriment. It was a night filled with promise of Bacchanalian propensities. It was a night rich with the sweet, hickory smell of manufactured meat stick. It was a night of Scotch! And it was a night that demanded repeating!
To the Highlands and Lowlands we go!
So, if you'll recall, on December 25th last year I attended my first scotch tasting soiree. (And if you don't recall, or just want to reminisce or compare the pictures of last year's stash to this year's, here's the link to part one of this epistle, Doesn't matter, had scotch.)
In the course of a full year's worth of personal experimentation drinking I've discovered that while I do enjoy the complexity of a good scotch, I am also just as likely to dislike the smoky, oily, peaty flavor of some scotches. I tend to like things with "Glen" in the name; the single malts from the Highlands and Speyside and tend to NOT like the ones from Islay. (I seriously think last year's Peat Monster might have ruined marshy, peat-mouth-dredged-flavor goodness for me, possibly forever. It had all the subtlety of being hit in the mouth with a sledgehammer.) More frequently I just prefer a nice tumbler filled with bourbon or ice-cold vodka. (Time for one of my favorite Ian Fleming, James Bond quotes. "I never have more than one drink before dinner. But I do like that one to be large and very strong and very cold and very well-made. I hate small portions of anything, particularly when they taste bad.") And with most decent scotches running in the $40-60 range, I often find myself gravitating to a bottle of Tito's or some Jim Beam Devil's Cut which is far cheaper and never disappoints.
But, when I heard that scotch-a-thon 2011 was in effect, I certainly rose to the challenge. I visited a local liquor store and picked up four bottles -- $270 worth! Whoops. I wasn't gonna tell Dana how much I spent. Umm. Yeah. That much. – that I hoped no one else in our Clan Macgregor had tasted. I picked up a bottle of Macallan Cask Strength, Johnnie Walker Swing, Jameson Gold Reserve and Michael Collins Single Malt. (Yes, I'm aware that the last two items are Irish Whiskey, but I figured if the Irish and the Scotch could sort out their differences, then we were free to mix the liquors.) (I have yet to taste the four that I purchased, so I'll just describe my first, non-tasting impressions. I figured there was enough scotch to be drunk where I could save these bad boys for another session.) The Macallan has a super high – like 57.9% -- alcohol content and definitely shows it with a strong, sweet nose. The Swing has a bottle design which some – me – might call retarded; the bottom edges are rounded so the bottle rocks – Swings – back and forth. Except, the first time you see this happening, you have an instant moment of panic that the bottom is falling over in some underwater slow-motion, where it will inevitably topple over the other bottles in some $1000 scotch destroying domino. Once you come to terms with the fact that that IS the design, you are free to enjoy a nice, smokey nose. There are hints of peat, but they are not overwhelming, and I expect this to have a nice flavor. The Michael Collins smells light and sweet, and I think it will be decent but not outstanding. The Jameson, however, smells like the promise of heaven. It is rich with butter and vanilla and toasty oak and honey and I *cannot* wait to try it. (Note to self: Drink this tonight!) It is one of the few hard liquors that has a smell as intoxicating as a spectacular cabernet. You want to pour this in a glass and just let it sit there and provide wonderful aromatics for the room. Seriously, if I didn't think that drinking at 9 in the morning right before coming in to work might be a bad idea, I'd have had a dram of this this morning…right after I brushed my teeth with it.
Also different from last year, I decided to follow Kirsten's advice and "not be a bitch" and avoid the "single malt, single cube" advice and just roll neat. A man, his glass and a pour of scotch; in the end, with the good stuff, it's really all you need.
So we arrived at a little after 6 and were greeted with a turkey that had been smoking and roasting for like four hours. I wish I would have taken a picture of that thing because it was like the kind of perfect looking turkey that you would see on commercials where the family is all gathered around and smiling at one another and wearing festive themed sweaters, and a golden retriever is lying obediently by a roaring fire and the patriarch standing at the head of the table with his ceremonial set of heirloom carving utensils held at the perfect angle, glistening in the candle light and poised to cut into the succulent bird, where you can tell by the watery glint in his eye and the quivering smile that he just finishing saying some wonderful proclamation and blessing over the family and how he's just so gosh-darn lucky that such a fine bunch of people sprang from his loins. This turkey was meant to be on a Hallmark card, with "Thinking of you!" or "Wish you were here" or just "Love" written inside.
Anywho…So you know that you are getting ready for an evening of serious drinking when someone pulls out a bottle and starts passing out pills PRIOR to the drinking. From my indoctrination last year I was aware that these were gelatin capsules filled with activated charcoal. Now, my only prior experience with activated charcoal is that I've heard it is frequently given in hospitals when someone has taken some kind of poison. But, scotch group says that the activated charcoal is good at eating up some of the woody toxins or some other nasties that live within the scotch and that taking them will…I don't know, do something. Look, everyone else was taking them and so when the bottle came to me I grabbed two and swallowed. So, how many of YOUR drinking parties start with that little ritual? Yeah. That's what I thought.
Before we started drinking scotches, I broke out the bottle of Bakon Vodka that Wilkinson had given to me at CEDIA. To me, this was proof that two rights -- bacon and vodka -- can indeed and sadly make a most definite wrong. But Byron -- who arrived proudly sporting a "Real Men Eat Bacon Fat" T-shirt under his robe -- assured me that he'd never met a bacon he didn't like. (I was pleased to be able to introduce him to Tactical Bacon, a tacital pork product he had yet to discover.) So while Jeremiah tried (unsuccessfully) to disguise his feelings towards Bakon Vodka (that initial wince and grimace are dead giveaways), Byron actually DID enjoy it, as did Tom. They feel that a dirty martini made with olive juice and blue-cheese stuffed olives might make the perfect Bakon Vodka companion. I, however, remain unconvinced. I also introduced the group to my latest drink concoction of choice: Bourbon, apple juice and Angostura bitters. Seriously. Try it. (I'm also looking for an appropriate name to this creation, should one not already exist. Feel free to throw-in suggestions in the comments box.)

We had a pretty impressive gallery of scotches to choose from. The "big hitters" in the group were Glenlivet 18 and 21, Macallan Private Reserve, Glenmorangie "extremely rare" 18, Glenkinchie '92 Distiller's Edition and good o'le, Johnnie Blue. Here's this year's family photo: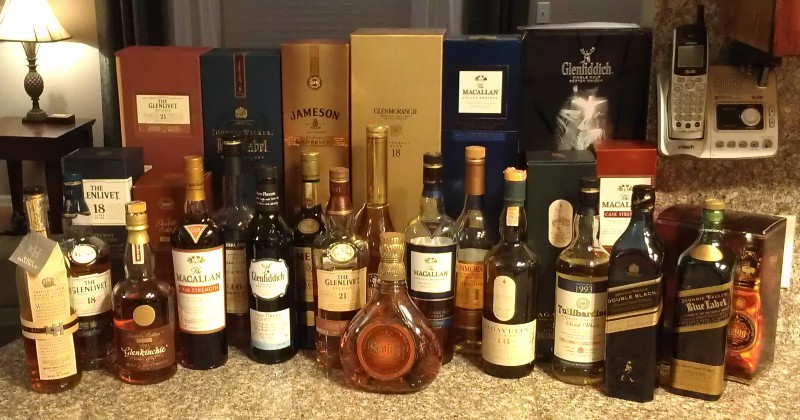 Last year, Jim decided to really break himself into the group by bringing out a bottle of Dewar's Signature. While this tasted like a flowing liquid nirvana filled with honeys and vanillas and toffees and caramels and oaks it was the box that truly captivated my imagination. Here's what I wrote about it:
"The box this thing came in was just incredible. My Rolex Submariner now sells for over $7000. And you'd think it would come in a nice box. And, it did. Green and leather and hinged and whatnot. But the box that the Sub came in was shamed by the box this liquor arrived in. This box took my box's pants down and spanked it and sent it to bed crying with no dinner. It was a beautiful, lacquered, inlaid ornamental case worthy of passing from generation to generation, a family heirloom that happens to hold a bottle of liquid heaven. If you were told this box held an ancient Samurai sword or royal document you would merely nod in agreement. I took one look at the box and proclaimed that I wished to be cremated and interred in it and then left on our fireplace mantel for all to enjoy. (Sadly, I question whether I've led a life worthy of such a fine box.) It was that nice." (I seriously *love* that I am quoting myself. With actual quotes. That's how I roll.)
So, I was excited to see how Jim was going to try and top himself this year. Perhaps something wrapped inside a Faberge egg or maybe a complex, velour-lined dodecahedron. And I must say, I was instantly a bit disappointed to see that this year's offering came in a metal tin instead of a ceremonial inlaid wood presentation display case, and I informed Jim that I would be making no changes to my plans for interment. However, I was impressed when he opened the lid and inside was a pre-formed foam cut interior that *immediately* made me want to make some minor alterations and then use that tin to carry around a Walther all James Bond style. Perhaps this scotch had promise after all.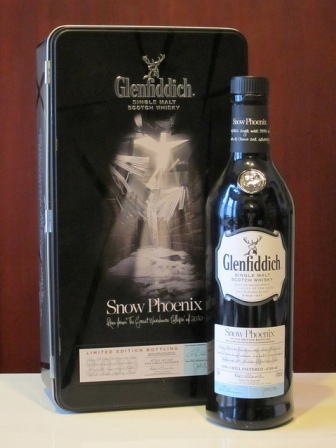 Jim's scotch, The Glenfiddich Snow Phoenix, was the only one that came with a booklet and a fully fleshed out backstory. (I believe that JJ Abrams has optioned the rights.) You can read all about it here, but the abridged -- "Hey are we here to read a bedtime story or are we here to drink some scotch?!" someone might have muttered – version is that apparently there was a heavy snow and the storage facilities at Glenfiddich were crushed under the weight and the brave master scotch blender rushed in to rescue the casks and decided to make up a special blend on the spot. The resulting concoction is here, risen from its icy grave and presented for your drinking enjoyment. Of course, that was the first one that I tried. I was expecting the Phoenix to land on my tongue and alight my palate with flavors heretofore only imagined or read about in ancient texts. So I sipped, holding the gold liquid in my mouth for a bit, swirling it around, letting the Phoenix dance and work its soaring magic on each and every bud and I was…disappointed.
While the Snow Phoenix had a great nose, but was a little harsh on the opening notes and then just kind of flat and lacking any real flavor on the backend. It wasn't bad, mind you, it just wasn't super impressive. It had none of the complexity of the Dewar's – sadly, none of tonight's players did; the Dewar's still stands triumphant in the hallowed halls of my mind's scotch lore -- Not one to insult Jim – or look like an idiot in the group – I silently queried the others present, and then when I found that they mostly all agreed with me in the rather lacking flavor profile, I felt comfortable in loudly proclaiming, "Gee, Jim. Not to be an ass-hat, but this *really* isn't as good as I thought it would be." It's exactly those moments that I'm able to look back on and say, "Aha. Yes. This is why you have no friends!"
So I focused on scotches, and after the Snow Phoenix I went to the Macallan Private Reserve which is apparently on par with their 18. It was good, but not outstanding. Next up was the Glenlivet 18, followed by the GlenLivet 21 (my favorite of the night; it took all the flavors of the 18 and just ensmoothened and mellowed and developed them), to Johnnie Blue (surprisingly disappointing and not as great as I remember, especially when enjoyed on the heels of the brothers Livet; definitely more peaty than the Livet, but not as complex as I remember), to Glenmorangie 18 (one of my favorites from last year, and still wonderful and rich, but a runner-up to the Livet 21 this time), to the Tullibardine (a nice, smooth developed flavor that belied its shockingly light color) to the Glenkinchie (which, I'll be honest, I remember that I liked it, but can't really remember much past that).
Also things I don't remember? Tweeting this:
SciaccaTweets Dec 25, 10:31pm via txt
So much drinking! Think I had like $400 worth of scotch. 21 year Livet the best of night. But I reserve the right to change my mind....
And leaving the party -- I'm not even sure I said goodbye. I think I just grabbed my box of stuff and walked out to the car in a scotch-laden fugue -- the car ride home (thankfully via a designated driver!) and where I left my shoes in my home. (There was several moments of confusion the next morning where I stood by my front door wondering, "Hmm. Is there a chance I came home without any shoes?") Apparently at this point I was enthusiastically inviting everyone in the room over to my house to come and see Super8 on Blu-ray the following night and going on and on – and ON – about how amazing the train crash scene is on my home theater and how everyone needs to come over and watch and how awesome the explosion is and so on and so forth. It is nice to know that instead of being mean or sullen I turn into a gregarious, promoting drunk, furthering the good will of great home theater and Blu-ray when the spirits move me.
Categories: December 2011, Beer/Liquor/Wine
/