Shopping Cart
Your Cart is Empty
There was an error with PayPal
Click here to try again
Thank you for your business!
You should be receiving an order confirmation from Paypal shortly.
Exit Shopping Cart
Features, Reviews and a Blog by John Sciacca
| | |
| --- | --- |
| Posted on December 29, 2011 at 6:05 PM | |
As we reach the end of another calendar year – and head into what the Mayan calendar promises to be the final waltz of this little ole thing we call civilization – it's only natural to look back. Not just on these past 12 months, but way back. Like turning the telescope the wrong-way-round way back.  And as I peer down that long, dusty trail of my life what I see is a lifetime that has been closely intertwined with technological changes, advances and obsessions. I invite you to come along on my journey, and perhaps share your own memories in the comments section.
My love of tech was apparently embedded into my DNA from the start; my mom's dad purchased the first color TV in their neighborhood. I'm not saying that THIS is the reason why my dad married my mom, but I AM saying that my dad did come over to watch things "IN LIVING COLOR!" I can remember sitting in my grandfather's den and watching his first big screen; one of those old Mitsu models where you pulled out a large faux-woodgrain finished front to reveal a giant mirror ("DON'T YOU TOUCH THAT MIRROR!!!") and the glowing and somehow simultaneously angry and wonderful looking Red, Green and Blue CRTs. My grandfather also had a fairly giant stereo with Altec Lansing Voice of the Concert tower speakers that could play at stupefying volume levels. I can remember trying to go to sleep some nights while he blasted Sinatra and the gang lounge music well into morning.
My first electronics' gotta-have-it memory goes back to when I was 7. The Atari 2600 game system came out. Life as I knew it would never be the same. It included the pack-in game Combat, and I wore…that…thing…OUT! Also worn out -- and/or broken in sheer rage – were numerous joysticks playing Combat. For the next couple of years I think every gift I begged for had the words "game cartridge" in it.
At age 9, I did a day's worth of chores for my grandmother – raking leaves, cleaning the pool, vacuuming, picking avocados, etc. – to earn enough money to walk down to a local record store to purchase my first record: a 45 of Gary Numan's "Cars." This despite that fact that I didn't even own a turntable. (Such was my love for Mr. Numan's simplistic vision of a perfect life in a car. I played it on my grandfather's stereo. Until he got home.) I think the pay rate equated to about $.25 an hour.
My first "stereo" was a GE clock radio that my parents bought for my 5th grade graduation. The kind with the glowing, blood red numbers straight from the deepest, dankest bowels of Dante's Inferno and the oh-so-sweet faux wood grain cabinet and a giant can't-possibly-miss snooze button. That radio served me well for over 20 years and pretty much looked EXACTLY like this: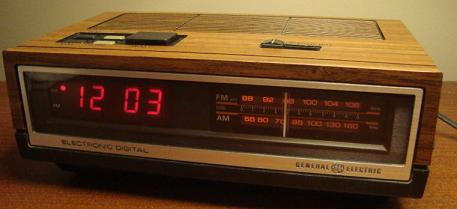 The following year my grandmother got me a sweet 13-inch color TV from Sharp. It only went from channels 2-13 (plus a mostly non-functional UHF knob) but that was OK; we didn't have cable. It also didn't have a remote. But that was OK too; as long as I could modulate to channel 3, life was good.  Many, and I do mean MANY hours were spent playing Atari 2600 on this baby.
Around this time I felt like I needed to graduate from playing games to playing "computer." So I traded out the 2600 and got an Atari 400, with the sweet-ass-sweet mylar keyboard. (Actually totally not at all sweet and felt like typing on an alien skin.) Bought the BASIC programming cartridge and made crude "choose your own adventure" games. Disc drive? No way. You lost everything you worked on when you powered down. (The 400 would eventually be replaced by the computing workhorse of the early 80s, a Commodore 64 with an actual keyboard, BASIC built-in and a rockin' tape drive for backing up your content. Also cool was that games could be copied in dual-dubbing tape decks. Just a little FYI.)
In 7th grade, after MUCH pestering – and a promise -- and delivery! -- of straight A's on my report card -- my parents finally relented and bought me a Sony Walkman. I may have spent more hours – and AA batteries -- listening to music on this device than anything else to date. I also purchased my first cassette: Styx's Paradise Theater. Epic. (Also, a special shout out to the BMG music club and their 12 tapes for a $.01 promo that I signed up for...repeatedly!)

I worked an entire summer vacation washing dishes in my aunt's Italian restaurant in Coos Bay, Oregon. (I think the pay rate had skyrocketed to like a whole $1 an hour. Family business did NOT pay well for young Sciacca.) I saved all my money and bought a Sony Betamax. I can remember the demo where the guy played the Beta HiFi version connected to a stereo and blasted the Flight of the Valkyrie's scene from Apocalypse Now. Sold and sold! I primarily purchased this player so I could record the midnight showings of Twilight Zone and then watch them the next day after school. Shortly after, I bought my first Beta movie: Raiders of the Lost Ark.
Sophomore year in high school I bought a Magnavox portable CD player. She wasn't much to look at and her battery pack loved nothing better than to strand you tuneless but she got the job done. And it was portable enough – with some cigarette lighter power -- to ride along with me in my car – anyone else remember the cassette adapter that would let you play your portable player? The first CD I listened to was a borrowed Mike + The Mechanics disc. The first CD I purchased: Wing's "Greatest Hits." Years later, I sent this player and a bunch of my favorite CDs to the woman who would become my wife. (It is never too soon to indoctrinate a potential family member to the right kind of music to listen to.) Shortly after getting the CD, I could tell that my old headphones weren't cutting it. So I I bought a pair of Sony MDR-CD6 Studio Monitors.
I also purchased a boombox – JVC, I think – primarily because I liked that it was A) black and B) had a cool dancing peak level meter. After a taste of better – ie: louder – music, I bought a Kenwood separates system: 6 disc CD, Tuner, Pre-amp, Amp and 12 band Graphic EQ with spectrum analyzer. Went down to Circuit City and bought a pair of 10-inch Cerwin Vega towers.
Around this time, I was turning 16 and so my interest naturally turned to car audio. I took at job at a now defunct big-box retailer called The Goodguys! and I purchased a truly sick car stereo system. I saved $200 from every paycheck – dutifully stowed away in an envelope secreted away under my bed – and when I had $3500, I made my purchase. (Which, at cost, bought you A LOT of car stereo back in 1987!) I believe I had the first 10-disc CD changer at my high school. (A high school where the class president drove a Maserati and Will Forte – from SNL – was a student, I might add.) It also had 3 separate amps including a Class-A Denon model, two 8-inch Bazooka subs, 6 additional speakers and a passive, parametric EQ. I had the best car stereo of anyone that I knew and I wasn't afraid to use it. I also got my first credit card – it *totally* helps when you have the same name as your dad and you can just yoink a pre-approved credit card offer that comes in the mail – so that I could purchase a radar detector. (Radar detectors are one of the technologies that *still* have a soft-spot in my heart. Love those things!)
I soon ditched the Cerwin towers – well, I didn't ditch them; I think they were in my parents attic until a couple of years ago when I gave them to my brother – and moved on to Boston Acoustics T930s. I loved the "Boston sound" and kept these speakers up until a couple of years ago. (And by "kept" I mean I still totally have them. I'm a techno-hoarder for sure.)
In my early 20s I discovered Laser Disc and Home Theater at a friend's house. We watched Speed on his dad's newly purchased JBL Movies+Music system and I was hooked. Sounds coming from behind me? What kind of Black Magic is this and more importantly, how do I get it? I started reading all the mags and learned about Dolby Digital – then known as AC-3 – and researching this question is what led me to my current careers as both custom installer and tech journalist. Pretty impressive for a movie starring Ted Theodore Logan. My first "real" HiFi purchase on the road to building a surround system was a giant, 15-inch Definitive Technology subwoofer. I purchased a surround system – a Yamaha receiver and Dolby Digital Decoder, the DDP-1 -- and obtained a Carver LD player from a member of the country club where I worked who was forced into upgrading. (His kid grabbed the disc tray and broke it mid-movie so he just naturally immediately ran out and bought another machine so he could finish the film.) I then had the LD player "modded" from a chip purchased from MSB Tech to output the AC-3 (Dolby Digital) RF stream. Then I pitched Dolby Digital Laser Disc reviews to a magazine – the best audio scenes from films to demo to friends; the movie Heat was my initial review -- my first break into journalism! Fittingly, I think my first LD disc purchase was Speed.
In 1997 DVD came out and I was there. I hedged my bet by buying a Pioneer combo LD-DVD player. The first DVD I ever watched was a rental of Mars Attacks! The first DVD I ever purchased: Jerry Maguire. I also purchased a 35-inch Mitusbishi tube from my friend, Dan. (I wanted his 32-inch Sony XBR – feigning concern that the rickety-ass stand it was sitting on was likely to fall over and kill one of his children at any moment; did he want that sitting on his conscience, cause I sure didn't!)
When HD came out, I replaced the 35-inch Mits tube with a 61-inch Samsung DLP and exchanged the Yamaha receiver for a THX Ultra certified Denon AVR-4802 that decoded DTS. Also -- since it supported it -- I added surround back speakers to my system, bringing my speaker count to 7.1. I got an 80 Gig Video iPod shortly after it became apparent that it would be almost impossible to review any modern gear without having one. (First iTunes purchase: Talking Heads double-album "The Name of this Band is Talking Heads.") Also got a pair of Etymotic headphones for mobile listening. (If you make no other audio upgrade, buy yourself a decent pair of headphones. It'll be the best investment in music enjoyment you can make for the least amount of money.) Bought a house and installed an Elan housewide audio system (since replaced with a Niles, and then with whatever I happen to be currently reviewing). Got a PS3 which served as my first Blu-ray player. First Blu-ray disc: Pixar's Cars.  
Three years ago I replaced my *entire* HT system with some pretty state of the art stuff including a Pioneer Elite 60-inch Plasma, a new Marantz pre-pro/amp and an Marantz front projector with Panamorph anamorphic lens system and a 115-inch Draper masking screen.
Since then, I've kept steady with technology, though it seems to get harder and more expensive to do so. I upgraded the Marantz to a newer model that has Internet streaming features and supports front height channels. (Which I added; channel count now at 9.1) I got an iPad2. First purchased app: Pages. And I installed a Kaleidescape movie/music server with an extra movie player in our bedroom which is ever vigilant to manage and serve up my collection.
For now, I'm about as up-to-date as I can be. (Well, I don't have a 3D TV, but I'm not really sweating that little lacking detail.) But with CES just around the corner and 4K video hurtling towards us, surely there will be some new things ready to climb in and get all cozy up-inside my wallet. And, that new iPhone looks pretty sweet and  I AM kinda behind the times on my cell phone…
Categories: December 2011, Electronics
/