Shopping Cart
Your Cart is Empty
There was an error with PayPal
Click here to try again
Thank you for your business!
You should be receiving an order confirmation from Paypal shortly.
Exit Shopping Cart
Features, Reviews and a Blog by John Sciacca
| | |
| --- | --- |
| Posted on January 10, 2012 at 8:15 PM | |
Going to be a quiet-ish week here as I feverishly cover CES for the next few days. It literally just hit me as my first day drew to a close and I had only seen about 10 companies....there is absolutely NO WAY that I am going to see even 25% of what I thought I was going to see. Even if you just spent your entire show looking at audio at The Venetian, you would still not see everything that is JUST at the Venetian. It is the cruel mind game of CES to supply you with hundreds of enticing e-mails prior to the show, exciting you for all of the amazing products that time and nature and geography are just NEVER going to give you the opportunity to actually see in person. Sigh...
So, the first event that I attended was called CES 2012 Unveiled. It was a room full of about 75 companies giving you a preview of what is to come. I spent the night with Darryl Wilkinson, so you can imagine there was little actual work and much actual drinking accomplished at the event. However, these are some highlights and some videos I shot of three products that caught my eye. I'll post more as I can...as it is, I'm late to grab drinks with Tom from Kaleidescape and then head over to the DEG, la creme de la creme event at the show. (ie - they give away the swaggest of swag bags, a duffle bag *literally* filled with DVDs and Blu-rays. I know, right?!)
The annual Consumer Electronics Show kicked off last night with CES Unveiled, offering attendees a chance for a pre-show peek at some of the items that will likely be making headlines before the show officially opens. Also on hand were some of the product debuts from the Innovations Design and Engineering Award Honorees.
Prior to the event even starting, it was clear that this year's show was going to be well attended at least by press standards. Standing in a line that at times reminded me of infinity – the line grew so rapidly that you could walk and walk and may never actually reach the end of it – excitement to get the show underway was clear.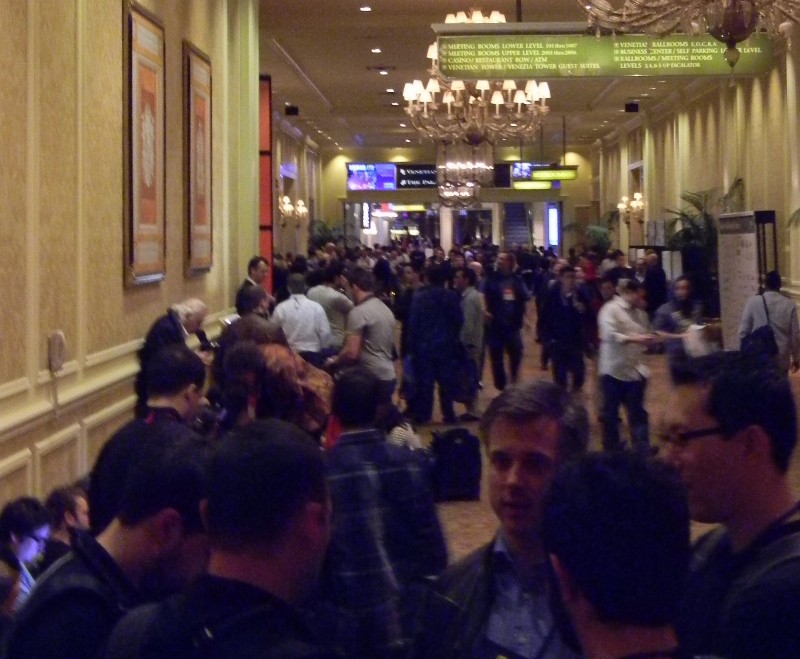 Of the roughly 75 companies in attendance (here's a link to those that had registered for the event), there were three that most caught my eye. (Though, to be honest, the room was SO crowded that I wasn't able to muscle my way to the front of all of the crowds. Also shocking, in a room filled primarily with youngish people, the free, open bars had some of the smallest lines. Go figure. Guess this year's show will be more business in the front and less party in the back.)
Sonomax eers custom-fitted earphones

It's no mystery that headphones are huge business now. (They formed a large part of the Monster's press conference; see Lindsey Adler's blog coverage for more.) But if you've ever worn a pair of in-ear models, you'll know that finding the right fight is not only crucial but often difficult. While there are models available that can be custom fit, this often requires an appointment, added cost, and some waiting. Sonomax is introducing two new models that will allow end-users to custom-fit their own phones in roughly 5 minutes at home. I'm hoping to get a review sample and I'll share my experience. Until then, enjoy this video describing the product.
IGo Audio Home Theatre Rack
With entry level systems, one of the biggest complications can be, "Where do I put the speakers?" While soundbars can address the speaker issue, it still leaves the, "OK, so now where do I put the gear?" issue to be answered. IGo Audio addresses both of these issues with a home theatre rack that integrates amplification, processing for DTS HD and Dolby TrueHD, speakers, subwoofers and storage all in one stand unit. With several models available under $1000, this could be the perfect add-on sale for low-margin flat panel sets. Check out the video for more.
Newer Technology Power2U integrated USB wall outlet
With more and more smart devices entering out lives, it seems that outlets are getting choked by all manner of USB chargers or – worse – you'll inevitably lose that one important adapter you need to charge a device. Newer Technology's Power2U device incorporates two USB ports with a tradition dual-outlet power plug. This easily replaces an existing outlet, and gives users a much cleaner way to keep their portable devices juiced up.   
Categories: January 2012, CES/CEDIA, Electronics
/