Shopping Cart
Your Cart is Empty
There was an error with PayPal
Click here to try again
Thank you for your business!
You should be receiving an order confirmation from Paypal shortly.
Exit Shopping Cart
Features, Reviews and a Blog by John Sciacca
| | |
| --- | --- |
| Posted on January 12, 2012 at 10:00 PM | |
The morning press sessions kicking off the '12 CES show included events from LG and Sharp, with an afternoon at Panasonic and a day closer with Sony's event at its booth at the Las Vegas Convention Center. (Myself and like 1500 other journalists were shut out of the Samsung event. Apparently every person in the entire state of Nevada becomes a journalist and gets a Press Pass for CES and they all came to the Samsung event.) All four manufacturers touted larger screen sizes, higher resolutions, lots of Internet connectivity and new tech advances.
As members of the press entered LG's event, they were handed a pair of LG's latest CINEMA 3D glasses, which feature a very lightweight, passive design comfortable enough for extended wearing. (And, obviously, inexpensive enough wear a pair can be given to every member of the press in attendance.) LG unveiled its CINEMA 3D line-up that included the new, industry-size-leading 55-inch 3D OLED screen along with an ultra-definition, 4K resolution (3840x2160) 84-inch model. Many sets in the new line-up will also feature CINEMA SCREEN design, featuring bezels of just 1-mm thick. These smart TVs utilize NetCast, LG's Smart TV platform that contains over 1,200 apps for a richer on-line experience.  It also has better embedding of social networking services permitting viewers to share and "like" programs they're viewing. Additionally a new Magic Remote offers voice Recognition and Magic Gesture controls, allowing users to just speak searches into the Remote or use gesture to control some functions.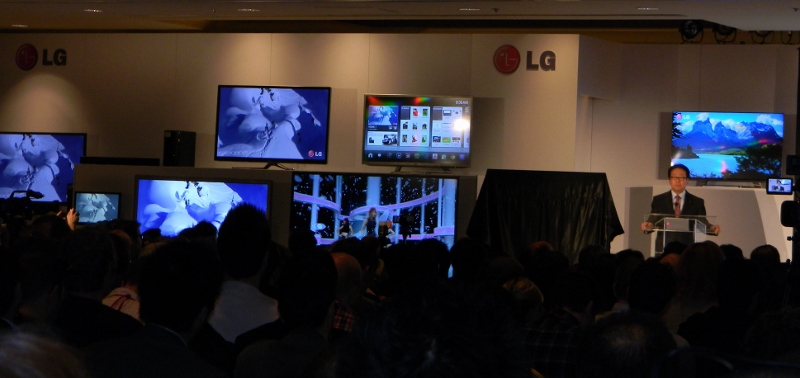 LG is also revealing their spin on a Google TV, which will combine their 3D TV technology with Google's Android-based Smart TV ecosystem. (You can read my previous spin on Google TV here…)
 In non-video news, LG showed a host of smart kitchen appliances with proprietary Smart ThinQ technology. These connected devices will allow refrigerators to keep track of food freshness and inventory levels and suggest menu options or allows users to monitor laundry cycles from a TV screen. Or possibly allow people to tweet even more mundane things about their life. "I'm thinking of drinking a beer." "I'm now drinking a beer." "I need to buy more beer." Also cool to the male-CE crowd was a new blast-chiller that is said to cool a can of beer in under five minutes. Thank goodness for tech.
Sharp started its event by announcing that it is preparing to celebrate its 100th anniversary in business and its 50th year here in the US, echoing the words of its founder, "Make products that other companies want to imitate." (I think that Sharp should talk to Apple about how to *actually* pull this off, but, well, that's another story.)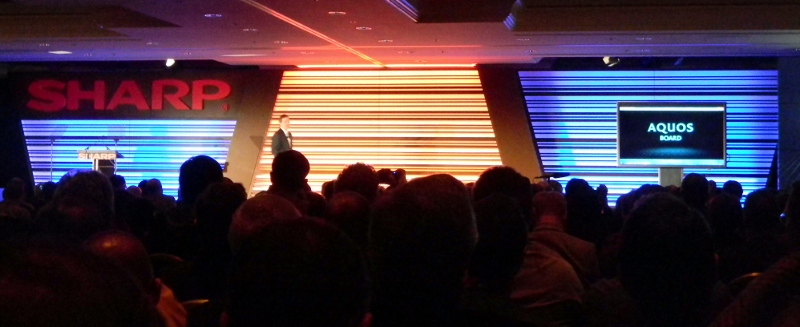 Sharp has 16 TVs in the 60-inch and up size space, and was the fastest growing brand in 2011 from a market perspective. Studies show that consumers are wanting larger screens for a more involving experience, and that higher resolution is allowing users to have bigger sets at closer seating distances. In the next 90 days, Sharp will be introducing 17 new sets in the 60-inch and above space. In addition to introducing a 4K model to their product line this year, Sharp will be demonstrating a new leap-frogging 8K resolution set (7680 x 4320) with 32 million pixels and 16-times the resolution of current 1080P sets. The 85-inch set will be on display at its booth, with enough pixels to feed every man, woman and child in Las Vegas for a year. (Though that's just my speculation.)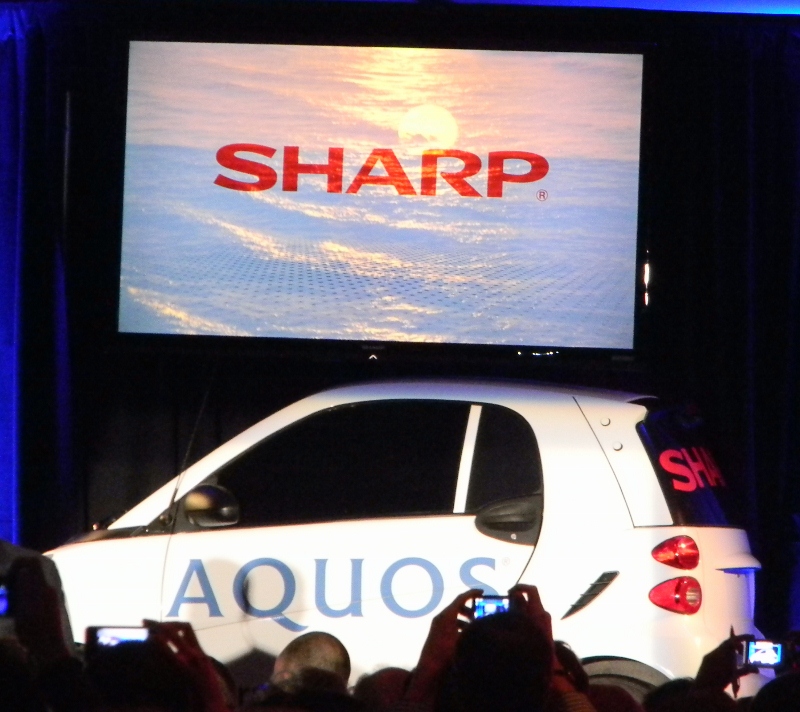 Also cool were the new Aquos series Freestyle sets that use WiFi to broadcast high def video to the TVs so they can be positioned nearly anywhere in the home where there is a power location. The sets feature slimmer and lighter designs that most LED TVs, encouraging portability.
From an energy saving standpoint, all new 9-series models will feature full array LED backlighting with local dimming and meet the standard Energy Star 5.3 standard, meaning that all Sharp 60-inch and larger sets cost less than $22 a year to run.
Panasonic didn't have a lot of info at their event short of announcing their 3D partnership to broadcast the London Olympic games in 3D HD and also some new My Space partnership where they will be enabling more social features on their sets. Maybe it's just me, but is My Space even a thing anymore? I thought that went away with, I don't know, Beta or something. Anyhow, they are going to have My Space something-something on their new sets. And just when I thought that was that, who should take the stage but Mr. JT himself. Justin Timberlake came out and he was pretty awesome, dropping Dick in a Box and Mother Lover refs. I'm glad that it's finally socially acceptable to admit to being a JT fan. (But really just for his acting. The guy kills it on SNL.)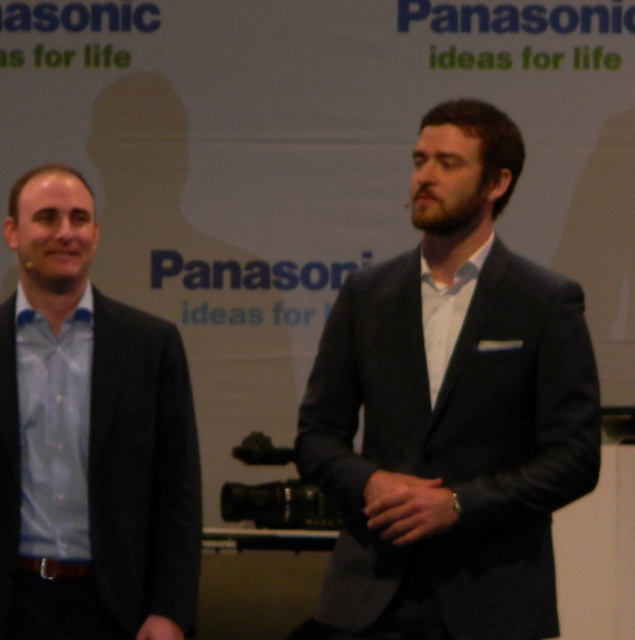 Next the press corps all shuttle bussed over to the convention center for the Sony show. (There was some pretty spirited Star Wars debate in line, really not too surprising when you cram that many geeks and nerds together in close proximity with little to do but actually socially interact with each other.) Sir Howard Stringer took the stage to start Sony's event, and the company spent a lot of time talking about Sony's new Music Unlimited service, which will allow buying, listening, and sharing music across a variety of Sony devices and platforms. It sounds like some spin on iTunes, so we'll see how that goes. (People don't usually beat Apple at an Apple thing.) Sony also was excited about its new HD video camera line-ups, which will allow consumers to create HD content in a better manner than ever before. These models feature a newly improved anti-shake technology along with an updated version of the Bloggie portable camera that can live video stream via its built-in WiFi. (Which I would have totally loved to use on the showfloor. Then I realized there is like NO available free WiFi on the showfloor so I thought, meh...)

Sony is also returning to some of its portable roots with the new Walkman Zed, which is Android based with WiFi. I'm *pretty* sure that this Walkman will NOT play cassette tapes.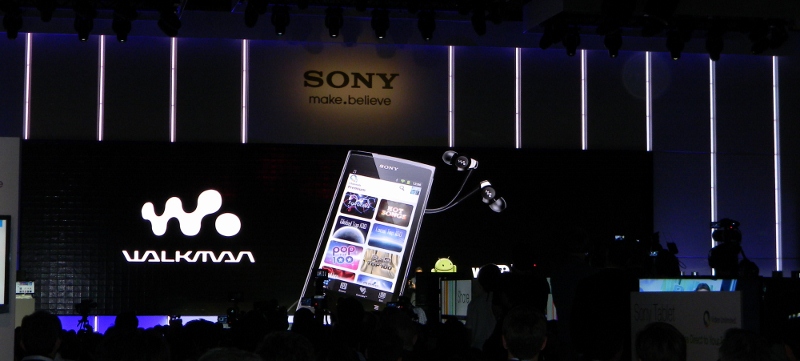 Following on the CEDIA release of its first consumer 4K video projector, Sony announced a new line of Blu-ray players that will upconvert video to 4K resolution. While not true 4K, this can certainly be seen as the first step toward true 4K-capable Blu-ray playback and support.
On display in Sony's booth – and announced briefly at the press event – was the very exciting new Crystal set, which is a true LED TV. The Crystal will feature millions -- 6 of them to be exact -- of actual LEDs, and, while likely a proof-of-concept model for years to come, Crystal certainly proves that Sony is still capable of producing some amazing tech.
At the end of the event, Sony brought out director Barry Sonnenfeld and actor Will Smith to present a 3D clip from the upcoming Men in Black 3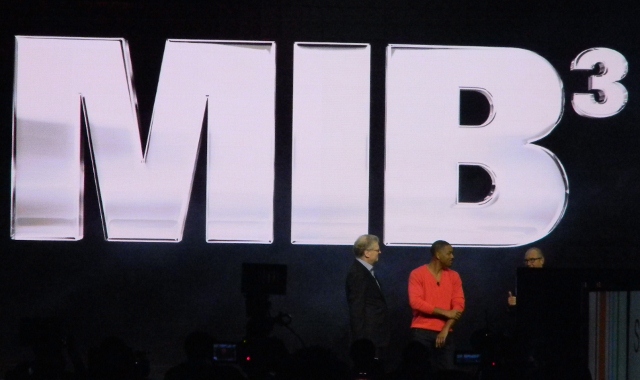 and then had American Idol winner, Kelly Clarkson serenade the crowd of press with an acoustic version of her latest hit, "Mr. Know It All."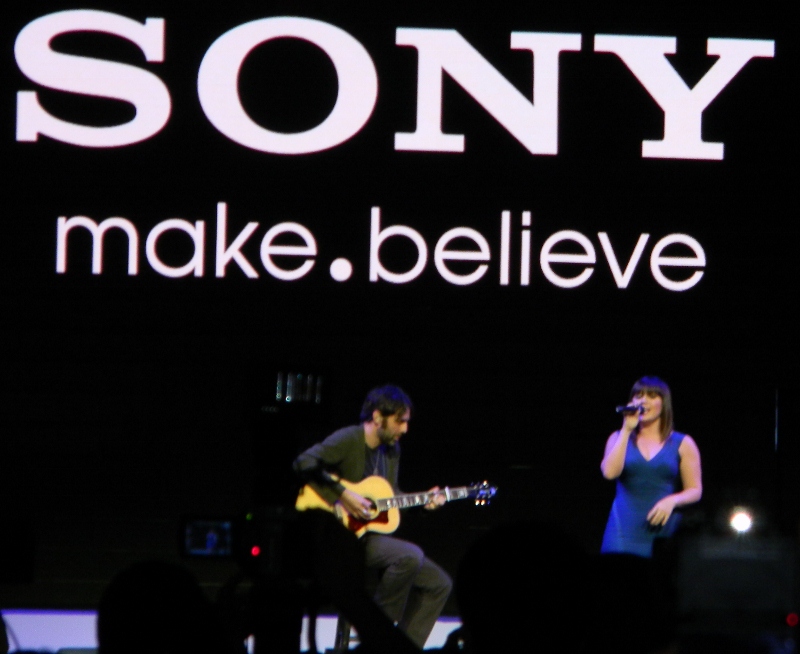 Categories: January 2012, CES/CEDIA, Electronics
/