Shopping Cart
Your Cart is Empty
There was an error with PayPal
Click here to try again
Thank you for your business!
You should be receiving an order confirmation from Paypal shortly.
Exit Shopping Cart
Features, Reviews and a Blog by John Sciacca
| | |
| --- | --- |
| Posted on January 20, 2012 at 4:30 PM | |
I'd like to say that night three ended as awesomely as nights one and two – and it was certainly headed that way – but, alas, it was not to be. Following the awesomeness which was the IOSAFE "Cage of Death!" demo, I dutifully returned to the press room to file my stories like a good little cub reporter before heading over to the Tau Nightclub in Palazzo for dinner with Lutron's Melissa Andresko and arch-Sciacca Nemesis (and Home Theater Editor at Large), Darryl Wilkinson. (On this mention of Wilkin-emesis, I'd like to direct your gaze to a post by ex-Esquire writer, Chuck Klosterman. This piece entitled, "The Importance of Being Hated" is a *brilliant* rundown of the differences between an archenemy and a nemesis and why finding – and having – your perfect nemesis/counter-foil is so important in helping you achieve your maximum-ness in life. I hope you all one day find *your* Wilkinson. Thanks to Scott Moody for the heads-up on that piece!)
OK, so I head over to Tau and I'm looking forward to hanging with Melissa because A) she's really cool and B) we share a great love for REM and Twilight Zone. So we fight our way into this uber-crowded restaurant and are told "just 5 more minutes" like 45 minutes worth of times, but that's OK because we're sitting on a bench chilling, eating some wasabi peas (OK, I was the only one eating them) and watching the tragic comedy which is Darryl Wilkinson trying to order a cocktail in Las Vegas. It pretty much goes like this.
Waitress: Can I get you all something to drink?
Melissa: I'll have a vodka, cranberry.
Me: I'll have a Grey Goose martini. And do you have any bleu-cheese stuffed olives?
Waitress: No, sorry.
Me: OK, just a bunch of regular olives then.
Waitress: (Turning to Darryl) And for you sir?
Darryl: Do you have any Green Chartreuse?
Waitress: Excuse me?
Darryl: Green Chartreuse?
Waitress: Umm. Uh. No. I don't think so.
Darryl: OK. What about Yellow Chartreuse?
Waitress: I'm, uh, pretty sure we don't have any color chartreuse.
Darryl: Fine. How about absinthe? What absinthes do you have?
Waitress: I, uh, I don't think we have any absinthes either, I'm sorry.
Darryl: OK. Well then do you have Drambuie?
Waitress: Uh, I don't know. Let me go and check. (Returns a few moments later.) No. I'm sorry we don't have that either.
Darryl: What about chocolate milk?
Waitress: (Confused) Chocolate milk?
Darryl: Yes. To make a chocolate milk and bourbon. Do you have chocolate milk?
Waitress: (Thinking of the story she'll have to tell her grandchildren if she ever survives this drink order nightmare.) No, I'm pretty sure the bar doesn't have chocolate milk, sorry.

Me: Dammit, man, just order something!
He eventually DID order something with vodka in it and the waitress made the foolhardy mistake of asking if he had a vodka preference. If it involves liquor, Darryl WILL have a preference. "Do you have Tito's?" "Tito's…?" "Forget it. I'll just take a Grey Goose."
(Later on I ordered an Old Fashioned. Now here are the ingredients for an Old Fashioned direct from the Wikis: "The Old Fashioned is a type of cocktail made by muddling dissolved sugar with bitters then adding alcohol, such as jenever, whiskey, or brandy, and a twist of citrus rind. It is traditionally served in a short, round, 8–12 US fl oz tumbler-like glass, which is called an Old Fashioned glass, named after the drink." So I ask the waitress for an Old Fashioned, actually SHOWING her the recipe on Darryl's beloved Droid phone. She looks at it and says, "OK, we can make that. Except we don't use a sugar cube. Or bitters." Darryl and I are like, "Huh? Whaaa?" An Old Fashioned without sugar cube or bitters is essentially just a whiskey with a twist of citrus. But, you know, whatever. It's Vegas, baby.)
So we make it up to our table and sit down and start eating some wonderful Asian-fusion-ey type cuisine – Melissa says the Lobster wonton will "literally change your life" – when all of a sudden I am hit by this wave of nausea. For anyone that knows me, you will know that throwing up is one of my life's GREAT phobias. Hate it. Fear it. Dread it. Do anything in my power to keep it from happening. So I get this hot-sweaty flash and condition red feeling that something bad is about to imminently happen in and around me. And the bathroom is literally like three floors away on the total other side of this packed restaurant/nightclub. So I get up and head to the bathroom, splash some cool water on my face, take some deep breaths, the whole non-throwing-up ritual I've developed for myself over the years. So I'm feeling better and head back to the table and then start feeling sick all over again. I have to basically just get up and say, "I'm really sorry, but I'm not feeling well and I've got to leave. Now. Thanks and bye." Equal parts lame AND embarrassing. 
Thus ends night three and brings us to…
THE LAST DAY OF CES 2012!
For my final day at 2012's CES I returned to the Venetian to hit the numerous exhibitors – and entire massive Ballroom/convention areas – that I'd missed on my first visit. You remember, the one that was like, I don't know, 6 years ago. Wait? It was only 3 days ago? CES and Vegas have a way of messing with your mind like that. Oh, well. Let's press on…
Floors 29 and 30 of the Venetian Towers Suites probably housed 150 or more audio-centric companies, so I headed up to 30 and decided to work my way down. Each floor has a central hub with three spokes that branch off so I randomly chose one and began my day. I generally peak into rooms of companies that I haven't heard of just to see if they have anything cool. This often results in bits of tech serendipity. One such discovery was a company named Pathos. What initially caught my eye was the jumbo-sized color touchscreen – I'm a sucker for giant touchscreens filled with album art – but then I noticed some products that just exuded Italian style and flair. (Hey, with a last name like Sciacca, you know I've gotta support my paisanos.) Beside the touchscreen and an amplifier employing the coolest use of heat sinks ever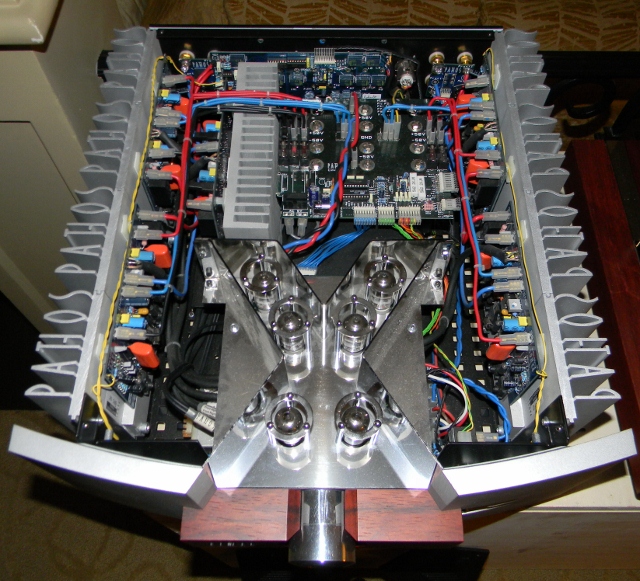 Pathos was also displaying its new InterpolRemix, a true Class-A amplified iPad/Pod docking station. The unit also includes both balanced XLR and unbalanced RCA inputs and offers frequency response from 10 Hz-80 KHz and a 24-bit/192KHz DAC. This little guy produced full, warm, rich sound from the towers that it was connected to and would make a beautiful start to any mini-system.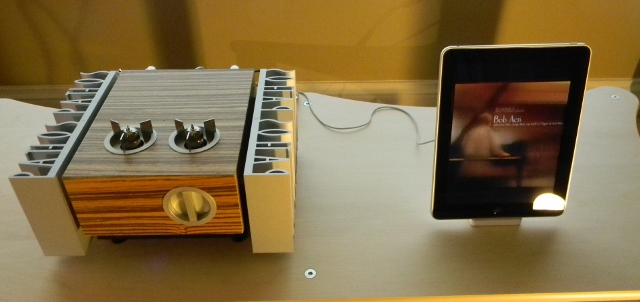 Venturing on, I found Sony's suite where they were demonstrating their new flagship tower speakers, the SS-AR1s.  Granted, Sony probably isn't the first name that springs to mind when you think ultra-high-end speaker systems, but they aim to change that with a serious commitment behind the new SS-AR1 loudspeaker that retails for a very un-Sony-like $27,000/pair. The speaker cabinets are beautiful looking, with a high-polished lacquer finish that appears black but which is actually a dark, deep almost purplish-brown-walnut color. (Guess it depends on the temperature of lamp bulb you are shining on them.) They are constructed from a combination of hand-selected logs of maple from Hokkaido, Japan and Nordic birch; the woods chosen due to their natural hardness and tight grain from growing in freezing climates. The cabinet is incredibly rigid and solid like a frickin' solid-wood built tank and if you punched this speaker, you would break your hand. I'm not sure that helps the audio quality much, but is just one of those factoids I thought I'd pass on. I got a chance to sample these speakers in another booth for a bit on Tuesday and they were using source material that kind of sounded like marching band music, and the horn section was so dynamic, it felt like you were listening to a live performance. But I wanted an opportunity to take a listen with some material I was more familiar with, say anything besides marching band. While perhaps a bit forward sounding, the speakers produce amazing dynamics and pounding percussion, playing to 28 Hz. They are also very quick and deliver a wide soundstage. (Also pictured is the official fern of the Venetian audio demo suite. It is represented in practically EVERY listening room you go into. Apparently one single fern is the MAXIMUM amount of nesting or home-making or decorating that the men running audio demos are capable of mustering. It says, "I care *just* enough to put out one single living thing in this room. Now, listen to some music!")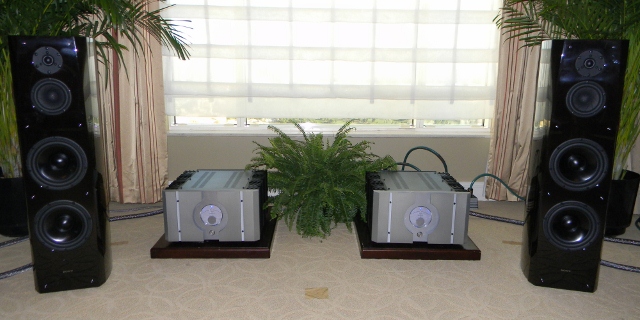 From my visit to the THX suite last April, umm, I mean on Wednesday, I knew that MK Sound was producing the first speaker to be certified for THX's new Compact Speaker System program. This program is "designed for smaller accommodations including small home theaters, gaming rooms, living rooms, apartments and dedicated media rooms." This includes spaces up to 1,000 cubic feet (13.5 feet long x 10 feet wide x 8 feet tall), with listening distance up to 8 feet from the screen. Though the speakers are smaller, they're still required to produce reference levels with low distortion up to 105 dB. MK's new system is called the M7, and a 2.1 system will retail for $2000, with additional M7 LCR units selling for $499 each. As multiple flat-panel continue to become prevalent in homes and users add second and even third surround systems, the M7's could be the perfect high-performance solution for people moving to smaller, less dedicated spaces. Sound quality was certainly impressive in the small space, including real bass you-can-feel.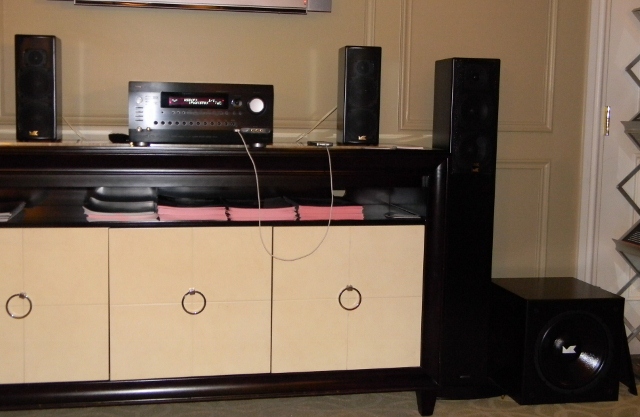 Wandering on, I walked past Wolf Cinema's suite and was stopped by the gorgeous, bright image coming off the 12-foot wide Stewart 2.35:1 cinewide aspect screen. I ducked in and donned the requisite 3D glasses and watched a bit of The Owls of Ga'Hoole. The image was wonderfully bright and punchy with rich, deep blacks, and quite engaging despite actually being the movie The Owls of Ga'Hoole. The active 3D was, well, you know I'm not a giant 3D fan, but it was certainly every bit as good/bad as other active 3D projectors. I went back and looked more closely at the SDC-10 projector and it had a wonderful cabinet design, with the lens housed completely inside of the unit's case as is Wolf's design style. The unit also features Wolf's VariScope lens memory with presets for 1.78, 1.85 and 2.35 aspect ratios, allowing users to enjoy widescreen presentations without an anamorphic sled system. Built around JVC's three-chip D-ILA technology, the 220 watt lamp delivers 1300 ANSI and 70,000:1 contrast. Most impressive was the price. I was expecting to hear that it was $25,000, but, no. This bad-girl is shipping now for $10,000. Impressive. Most impressive!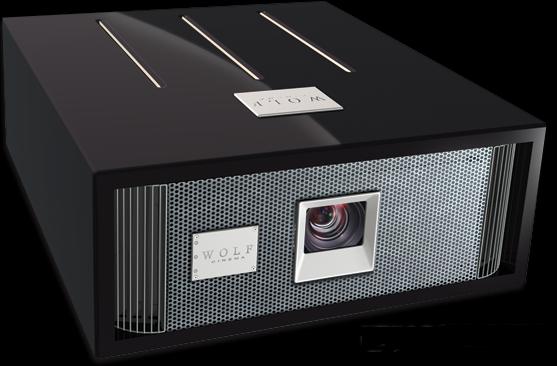 I popped into Davone's suite just long enough to take a picture of their unusually styled upcoming speaker. Not sure what it sounded like – it wasn't connected – but it certainly exuded classic Denmark styling – I could imagine it being sold in the audio section of IKEA with a name like MUSSIK or SPEAKURR or KLÖRB – and will surely be a conversation piece whether playing music or not. I also kind of want to sit in it or lean against it or something.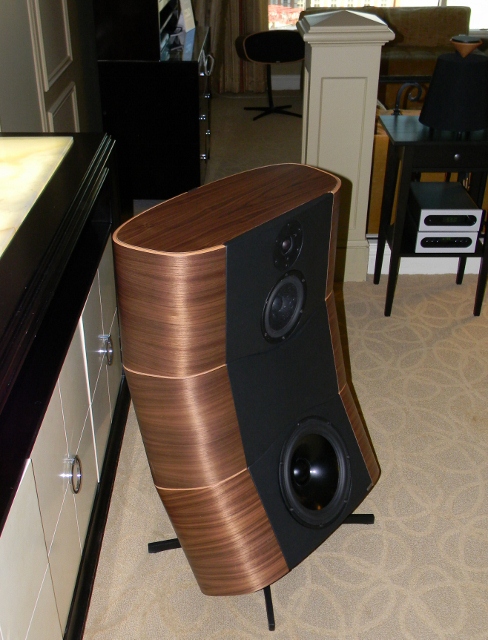 A visit to the Pass Labs suite answered the question that has plagued man since the dawn of audio, "What does 600 pounds of ultra-high-end stereo amplification look like?" Turns out, it looks pretty much exactly like this: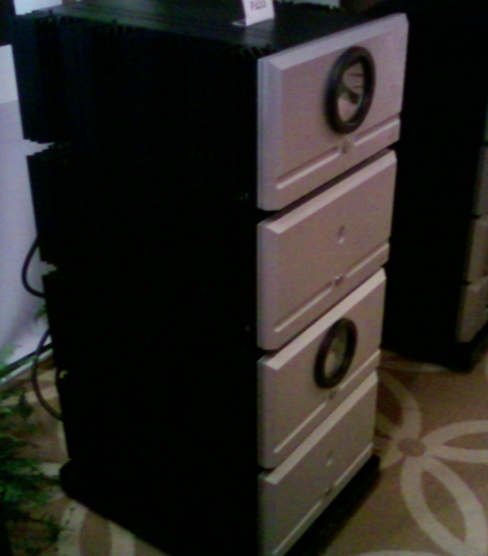 Sound was ultra-quick and dynamic as you'd expect with tons of depth and detail. They played a bit from Sonny Rollins "Saxophone Colossus" which I'm pretty familiar with. And if Sonny were to somehow make his way to CES, grab his sax and then step into the Venetian, I doubt that he'd sound any more real. (I had previously implied that Sonny was dead; I'm glad to be corrected to find out that he is still alive, and hopefully just as Colossus with his sax as ever!) Just make sure you have help on hand whenever you decide to relocate either the amp or power supply as they weigh a cool 150 pounds apiece. Oh, and the stereo set will run you around $85,000.
I decided to return to the world where mere mortals can afford audio and headed to the Meridian booth. (OK, I decided to return to the world slowly, weaning my way off uber-high-end by taking one last stop in just regular high-end.) The exciting news at Meridian is the introduction of the M6. Designed to fill a spot in the line-up between the DSP3200 and DSP5200 speakers, the M6 will sell for $9000/pair when it ships in February. This speaker has a new design for Meridian, featuring a round cross section that offers some unique acoustic properties. Since there are not hard cabinet edges, there is no cabinet diffraction. The result is terrifically tight imaging even when well off-center or when standing close to one of the speakers. Meridian says these speakers are "made for rooms that real people actually live in; standing up, walking around, enjoying music but not dedicating a space to it." Also cool is that the tapered design causes the speakers to really kind of "disappear" in a room, making them very designer friendly. Of course, looking good is one thing, but Meridian is also kinda about sounding really amazing too, and the 5 ¼-inch woofer with 1-inch of throw delivered amazing low-end, with tight-tight punchy bass.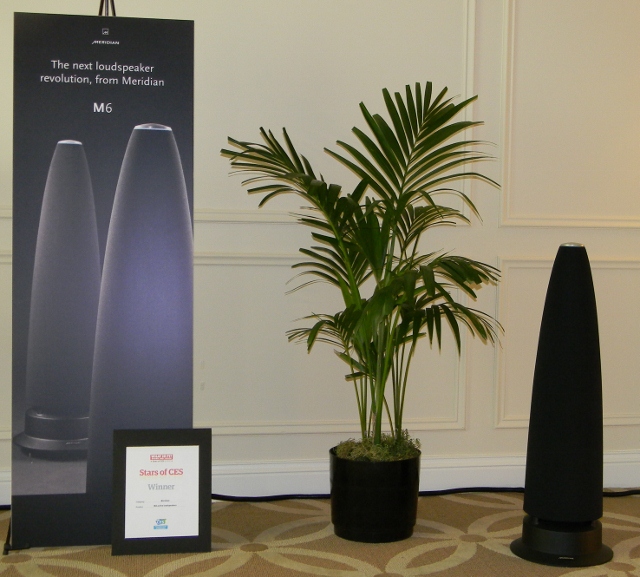 Also cool is a completely revised iPad control app for working a Sooloos music server system. Jeff Dean demonstrates the app here. (Incidentally, this is the same Jeff Dean that provided me the wonderful blog on "The Art of Speaker Placement in Films." If you haven't read that yet, now's your chance.)
Without question, speaker companies are turning to soundbars as a way of capturing some of the market that wants better audio but not a complete, complicated surround system. Polk Audio new SurroundBar 500 Component Home Theater ($999) has a unique take on this in that it can be configured in a variety of manners, allowing users to use it as a 3-channel LCR in a typical surround system, or 5 channels with separate height or back channels or the full 7-channels. It also features an installer-friendly design, with a separate outboard crossover box – the SDA Crossover Module – that sits in the component rack and accepts all of the speaker wiring from the receiver/amplifier and then wires to the speaker via 15-foot umbilical to that carries all the audio channels. Removing the crossover allows the bar to achieve its ultra-thin 1 ½-inch depth which fits in with modern svelte panel designs. The SurroundBar 500 features nine 3 1/4-inch mid-drivers and three ¾-inch tweeters and incorporates Polk Audio's proprietary SDA Surround to produce a convincing surround experience. A smaller Surround Bar 400 is also available.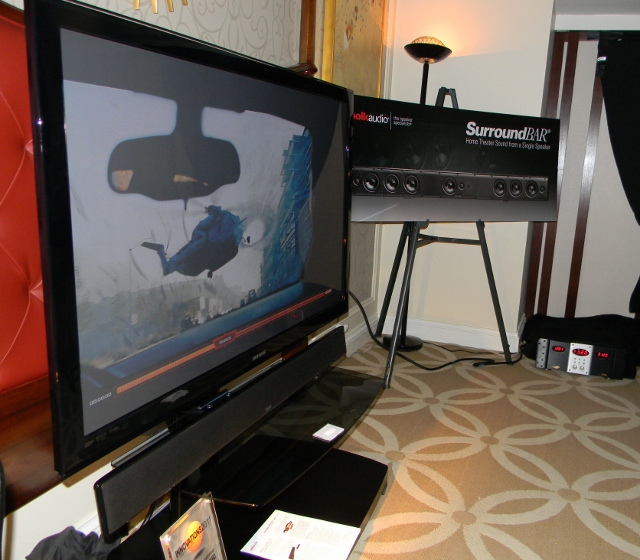 Accompanying the new bars is a new sub line-up, the DSW Prowi series. This new line-up features three models with 8-inch, 10-inch and 12-inch drivers that features increased power, lower pricing over previous offerings and are all wireless ready. (The PWSK-1 wireless kit is sold separately for $119.) One design feature I appreciated was that the subwoofer's feet can be unscrewed and moved, allowing the sub to perform as either down-firing when out in a room or front ported for better performance when installed in cabinetry.   
Atlantic Technology made quite a splash at CEDIA two years ago with the tech-demonstration of H-PAS technology. This stands for Hybrid Pressure Acceleration System, and produces a stunning amount of bass from normal sized cabinet enclosures. With the introduction of the new AT-2 ($1800), Atlantic Tech wants to prove that "bookshelf and bass [are] no longer mutually exclusive." The single 5 ¼-inch woofer produces a stunning low-end of 41 Hz at the -3 dB point and is potent enough to be a main speaker without sub in a 2-channel system.  Atlantic Technology is also planning a Mar/Apr launch of the H-Pas PowerBar 235, a soundbar with this technology that will sell for under $1000 and hit bass-lows of 47 Hz.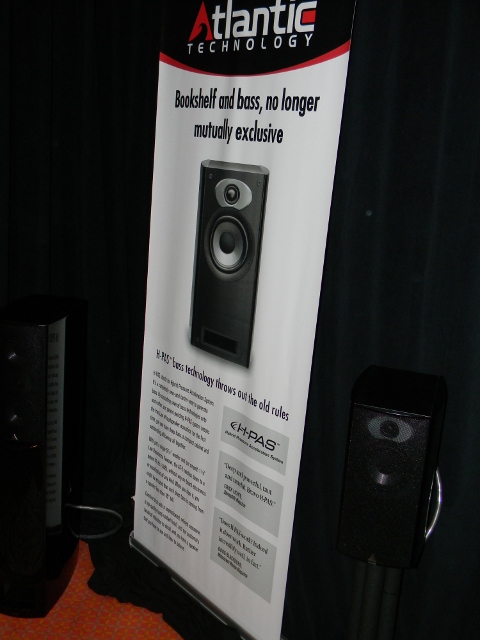 My final stop was Onkyo's booth where they were showcasing a new Silicon Image technology called InstaPrevue. Onkyo is the first to include InstaPrevue in its line of A/V receiver, and this allows users a picture-in-picture preview of all HDMI inputs connected to the receiver, allowing users to actually see what is playing on that input before switching. While not a full-motion image – it seems to refresh about every 2 seconds – it is certainly a snapshot that would be perfect for seeing if a commercial was over or if you wanted to cue up a demo scene or something. Here's a video of the system in action:
Following that, it was time to stick a fork in CES 2012 because the…show…was…OVER!
I had just one final event, dinner with Paul Dicomo of Definitive Technology. Been looking forward to this dinner all week because Paul is one of the greats and also because it was the final night of the show to hang with my CES pals Wilkinson, Dennis Burger, Geoff Morrison, and the Robfather himself, Rob Sabin.
We ate at this hole-in-the-wall Thai restaurant (to Wilkinson's disappointment, the meal was not served on the freshly waxed bodies of Lady Boys) that was PACKED. Also, any Darryl-related drink orders were greatly minimized as the choice was reduced to "wine or beer" what with there being no bar. (I had a Stone IPA, a fantabulous beer and the coolest brewery I've ever been to.) I also introduced Dennis Burger to the delights is Thai Iced Tea, though it was a slightly off-putting orange color, as if it had been made from the remains of Snooki's make-up removal process. We put the table into the hands of Mama-san, this old-borderline-ancient woman that just randomly brought out plate after plate of sumptuous food. It was all delicious. They say a picture is worth a thousand words, so I'll include one that Darryl sent me. (He is represented by "Booger." )To be fair, I probably DID say some of those things, but he probably missed a couple of blah-blahs…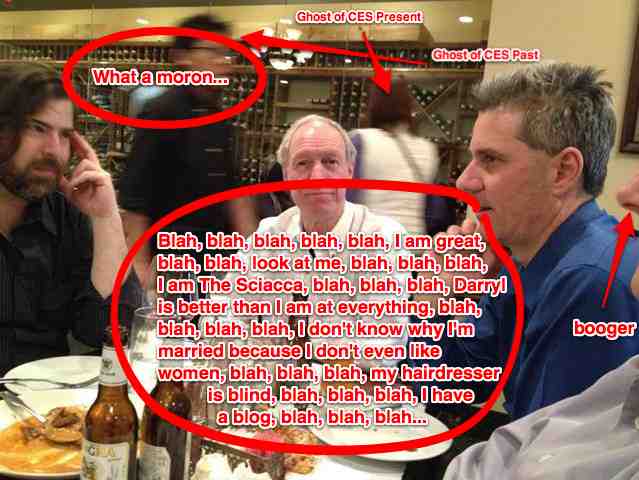 Categories: January 2012, CES/CEDIA, Electronics
/