Shopping Cart
Your Cart is Empty
There was an error with PayPal
Click here to try again
Thank you for your business!
You should be receiving an order confirmation from Paypal shortly.
Exit Shopping Cart
Features, Reviews and a Blog by John Sciacca
| | |
| --- | --- |
| Posted on February 21, 2012 at 12:35 AM | |
Came in to work this morning and found the usual pile of mail in my stack to go through. A couple of checks (Yes!), a Dell computer ad (Dude, NOT getting another Dell!), some bills (Boo!), the usual junk stuff and then a postcard.
The postcard has a nice, thick cardstock feel and a catchy, with a really clean design and an eye-grabbing big headline: "What is your company worth?"
Yes. What IS my company worth?
This is the front of the card: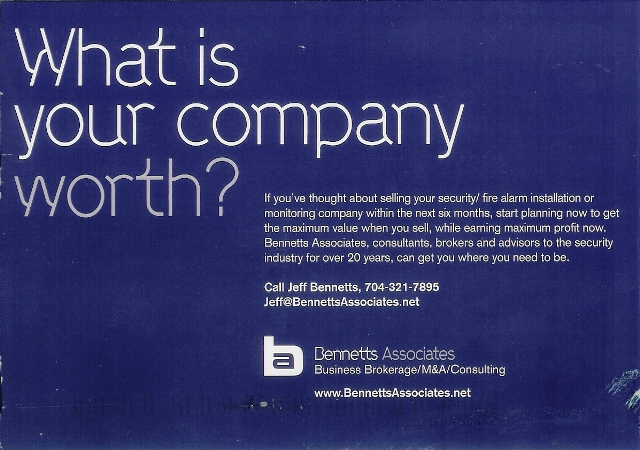 I'm not sure who Bennetts Associates is, but they certainly spent a bit of time and money coming up with a mass-mailer program. If nothing else, just the $.32 per postcard is something. And they've been "consultants, brokers and advisors to the security industry for over 20 years," so you've got to figure they have an idea or two about how to run a business. (We did a mass-mailer once. I bought a mailing list from some mailing list selling company with the parameters of like homes valued at $500,000 and above plus annual incomes of $100,000 and above. Think we mailed out like 500 cards and got like 25% of them returned to us as undeliverable or no longer at this address. Of the other cards we got a total number of zero calls or follow-ups. Number of times I did a mailer following that: Zero.)
And, while I'm not really interested in selling Custom Theater and Audio, the truth is, if those ruthless corporate raiding bastards over at Bennetts Associates have a rich custom installation company acquisition team all lined up, well, mama didn't raise no fools. Sure, I'll stick around for 12 months as a highly paid transitional consultant, helping the new team to understand our filing and accounting system.
So with thoughts and dreams of hanging out at home, drinking lattes, writing blogs, posting Tweets and engaging random people in Words With Friends battles dancing in my head, I turn the card over and see this: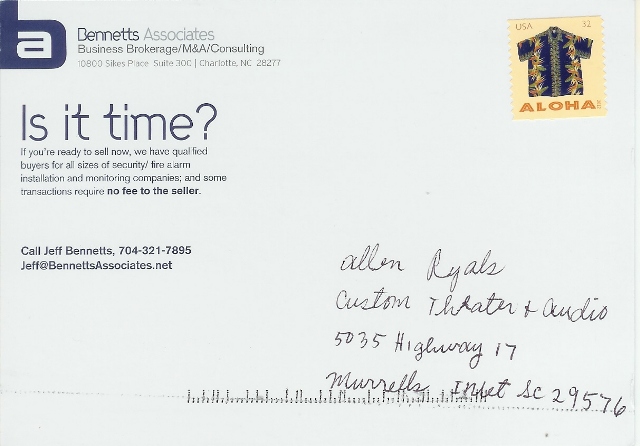 Before I even read whether it is time or not, I'm drawn to the printing. The horrible, horrible penmanship. The card looks like it was addressed by either a four or 104 year old. Seriously. The writing is such a horrible scrawl, it's pretty much what I expect Lauryn's "learning to cursive" homework to look like. (Also, the address is wrong; it is actually 5035 Highway 17 Bypass. But I'll let that slide.) 
So, Jeff Bennetts, I'm sorry but the second that I saw the childish/stroke victim scrawl on the back of your postcard, I tossed it straight into the trash. (Then I retrieved it from the trash just long enough to put it into the scanner to share with the world.) That writing said that you didn't take yourself seriously and, in turn, I'm not taking you or your offer seriously.
Look, I have horrible writing. Like HORRIBLE-TERRIBLE writing. Like in the 7th grade I had a teacher tell me that they would no longer accept ANY homework from me that wasn't TYPED! Here is a sample of my cursive scrawl from a notebook where I keep notes when reviewing gear: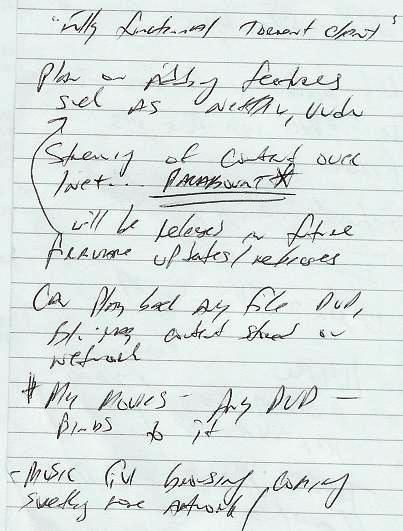 I know. I seriously struggle to read my own writing sometimes. For instance, I literally have no idea what that last bit says…"something something Artwork/". (For the record, this was from my review of the Dune Media Player and this is what the rest of it says. "Fully functional Torrent client." Plan on adding features such as Netflix, Vudu. Streaming of content over I'net…Paramount*. Will be released in future firmware updates/releases. Can play back any file DVD, Blu-ray content stored on Network. My Movies – AnyDVD – binds to it. Music GUI browsing coming.")
Would I ever send a letter to a customer written like that? Hells no! First, there is like an 95% chance that they wouldn't be able to read a word -- well, maybe a couple of random words here and there -- and would then just chuck it in the trash, probably a bit confused and angry. But there is also a 100% chance that they would think that I didn't care enough to take the time to send them something professional looking.
When I am writing something that is meant for public consumption – like to a prospective client or an editor or even a card for Dana – I use my bestest printing. Which looks like this: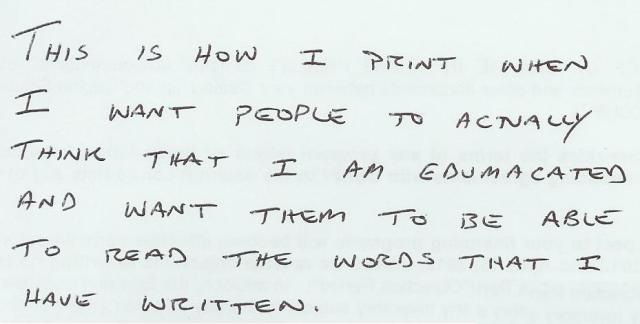 This makes it look like I am at least literate and possibly professional. This says that I want them to actually be able to read what I am sending them and that I want them to take me seriously.
Beyond the content of the letter, the way that it is presented is equally important. Check your spelling. Check your grammar. Use words like "too" and "their/they're/there" or "its/it's" correctly. And, for heaven's sake, make sure that it looks like it is written by a business person, not a kindergartner.
When you send business correspondence, what does your writing say about you?
Categories: February 2012, CTA, On Writing
/