Shopping Cart
Your Cart is Empty
There was an error with PayPal
Click here to try again
Thank you for your business!
You should be receiving an order confirmation from Paypal shortly.
Exit Shopping Cart
Features, Reviews and a Blog by John Sciacca
| | |
| --- | --- |
| Posted on March 3, 2012 at 1:05 PM | |
(Catchy title, right? It's totally true, but we'll get to that in just a bit...)
So, I got into a little Twitter tete-a-tete yesterday with someone who *strongly* feels that my blogging on a certain reality TV show as of late "may cross the fine line between inspiration and imitation."
After some back-and-forth, this person tweeted "and with all due respect, when I say 'similar' I mean ripped." (You can generally tell that when a phrase starts out "with all due respect" that the bits that are about to follow are not going to feel like they're coming from a warm and cozy, sipping on a cognac, listening to some Miles Davis with a golden retriever lying at your feet in front of the roaring, oak-burning fireplace of love.)
The fact is I have GREAT admiration and respect for this other writer. I'll also say that I think they are WAY better at reality show blogging than I am and that I'm NOT trying to be them, compete with them or even be a shadowy reflection of them. However,  I'll agree that our writing styles are very similar, which is one of the reasons why I so love and look forward to reading their work.

At some point in the 140-character exchange I commented, "Having written professionally for 10 years, my style is what it is. It's just how I write." And I think that if you've read some of these 600-plus blogs, you'd agree that my style – love it or hate it, "you write like an ADD kid hopped-up on Mountain Dew" or "you made me pee myself a little" – is what it is. (Why even bother doing a blog on the show? Well, I happen to love that stupid show, the completely nutritionless, mental cotton candy that it is. And I've cajoled a bunch of people who normally never watch it into giving it a go this season and now I feel mildly obligated. And, frankly, after having written 600 posts – covering everything from beer to scotch to Tactical Bacon to Disney Cruises to all manner of movies to iPad rumors to miscellaneous rants to random family stuff – this is something new and different.)
Anyhow, we've finally arrived at the point that I wanted to get to (and are much closer to the compelling title).
The whole "written professionally for 10 years" thing. It got me to thinking: How long have I actually been a real, paid-with-money, writer? I went home and looked in my trunk where I keep all of the magazines where I've had articles published and pulled out the issue that holds my first published work: A copy of Golf World from April 12, 1996. (So, guess I am coming up on being a professional writer for 16 years!) (This using the Wikipedia definition of "professional" which states: "A professional is a person who is paid to undertake a specialized set of tasks and to complete them for a fee.") (Note: Still NOT a journalist if you ask Jeremy G.)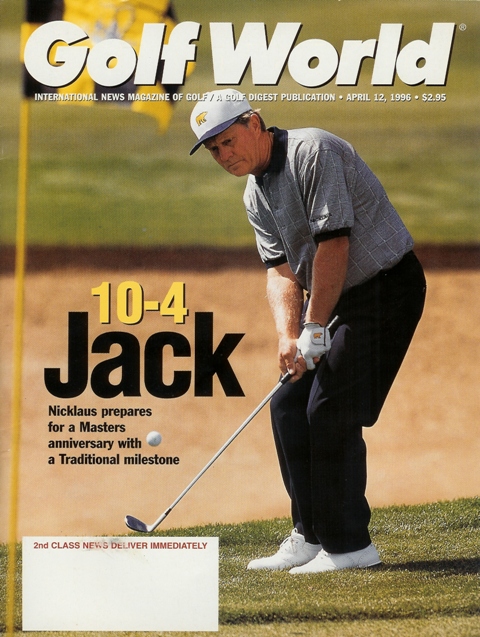 It's probably not too much of an exaggeration to say that this story changed my life. This story – which I believe netted me a check for $500, which I *immediately* cashed, but now totally regret not keeping and framing or at least making a stupid photocopy of – was the one that launched me from "I enjoy writing" to "I am now a published/paid writer." It's a simple step, but one across a fairly large chasm. And that step also gave me that little bit of extra ammunition for when I called Rob Sabin and pitched him a story idea for Home Theater Magazine. (A major, life-changing "What if…" moment in my life that would have certainly sent me spiraling to a different course had he not called me back.)
The key to selling the golf story was the pitch; it was different than any other pitch on "golfing with President Clinton" stories. From my blog post "So you want to be a writer":
What angle – or "lens" -- can you look at this story that is new and different than anyone else who has told it and offer a more interesting perspective? You've had unique life experiences and encounters and that's what you need to bring to your work. Here's an example. When Bill Clinton was president, he played a lot of golf and there were a ton of stories about the president golfing. Stories analyzing his swing and his course management and his play style and his equipment and blah, blah. Ultimately, they were pretty much all the same story with different supporting characters and in different locations. When he played at my golf course, I pitched a story on working with the Secret Service and the arrangements and back-end required to host the president for a round of golf. This was an *entirely* different take on what could have been just another Clinton golfing story. It sold to the first person I pitched it to.
While this story wasn't really that well written –I've no doubt my version now would be WAY better; sixteen years and hundreds of articles under your belt has a way of  doing that for your writing -- I'm still pretty proud of it. I guess you always love your firstborn.
Before I share it with you, I thought I'd share one other anecdote from that day; the one from the title. So I volunteered to take box lunches out to all of the groups; the forward and aft security details, the full-bird colonel carrying the "football" (the nuclear launch codes), the president's personal doctor, as well as the president's foursome. So, there are various levels of security on the course, from the cops in the parking lot, to the guy with the X-ray wand standing at the first tee, to the entirely black-clad Spec Ops snipers that disappeared up into the trees, to the guys riding around with giant binoculars and touting these unzipped big black bags that held shoulder launched anti-aircraft missiles. (There were also two presidential limos that constantly drove about shadowing the president's position, helicopters and even fighter jets that occasional crisscrossed the course! How much that single round of golf cost tax payers I can only imagine.)
So, I'm driving up to the detail that is immediately tasked to the president's group, and as I'm getting closer, I notice that the agent in the passenger seat very nonchalantly crosses his leg and slips his right hand down to his right thigh. And there is a pistol perfect pointed at me and tracking me the entire way as I pull up and get out to hand over the lunches. I just thought that was one of the coolest things; how subtly professional and dialed-in that guy was, covering me the entire time, but being so discreet about it. And, not everyone can say that they've had a Secret Service agent point a gun at them.
So, for better or worse, here is my FIRST EVER published story. (And I just LOVE how they hyphenated my name on two lines. Sci-acca. That's SO great!)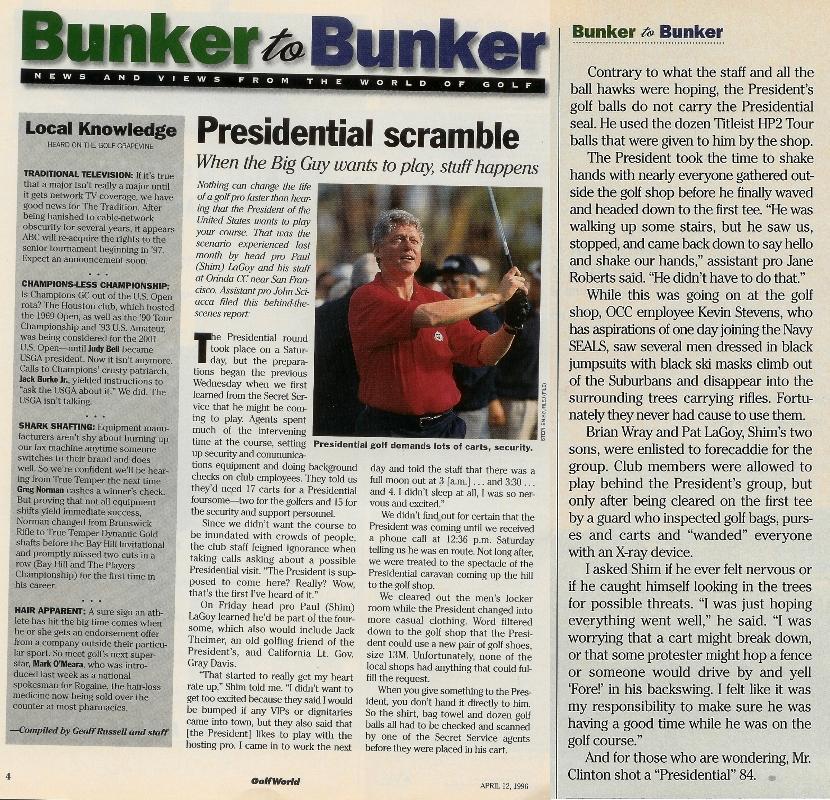 Categories: March 2012, On Writing
/