Shopping Cart
Your Cart is Empty
There was an error with PayPal
Click here to try again
Thank you for your business!
You should be receiving an order confirmation from Paypal shortly.
Exit Shopping Cart
Features, Reviews and a Blog by John Sciacca
| | |
| --- | --- |
| Posted on March 21, 2012 at 12:25 AM | |
"That's 'cause droids don't pull people's arms out of their sockets when they lose. [Sciaccas] are known to do that." ―Han Solo
So, this publisher – Custom Retailer – is having a little contest. And, well, I've entered. And if there is anything you know about me, it is that I don't take well to losing…
The last little contest that I entered, I kinda lost on a technicality (I didn't have a Facebook account).  It was about submitting the best memory when working with boutique – and awesome – PR firm, Caster Comm. You can read about the contest here, as well as my lengthy lament to losing and how my mom made me the sore loser I am to this day.
But, this is a straight up popularity contest; it's actually called "#PopularAV Contest."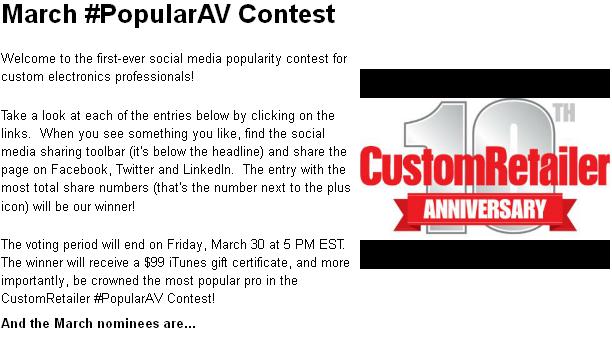 Now, fortunately it is about something as shallow as "popularity" meaning that you don't have to agree with my views on handicap parking, love my Top 10 movies/albums/video games, want to join my Beer Club, wonder why I wrote about incinerated testicles, worry that I'll use Tactical Bacon for the Forces of Evil, agree with my unnatural love for Survivor, or wonder of all the other things I have/or have never done. No. You just have to like my writing enough to vote for me. One simple click; it's all it takes*.
(*--You can apparently vote over and over and over, so how about five simple clicks, each day, until the contest ends on March 30 at 5:00 PM? Kay? Thanks.)
So, merely by the lethargic, procrastinating nature of people, I have a 1 in 9 shot of winning right out of the gate. And all I can say is, THANK THE HIGH HEAVENS THAT JOHNNY MOTA DIDN'T ENTER! That guy is seriously beloved in this industry, and received more votes than STEVE JOBS(!) as the most influential person in the Custom Install industry last year. (So, thanks for not entering, Johnny! You'd have pwned this thing!)
Before I size up my competition for you, and tell you all the reasons why I should win and why you should vote for me, I want to give a shout-out to some of the people that have voted for me so far! To those who voted Sciacca (@SciaccaTweets) I say, "THANK YOU!" If I missed your vote, I apologize, but consider THIS your personal thanks, (INSERT NAME HERE)!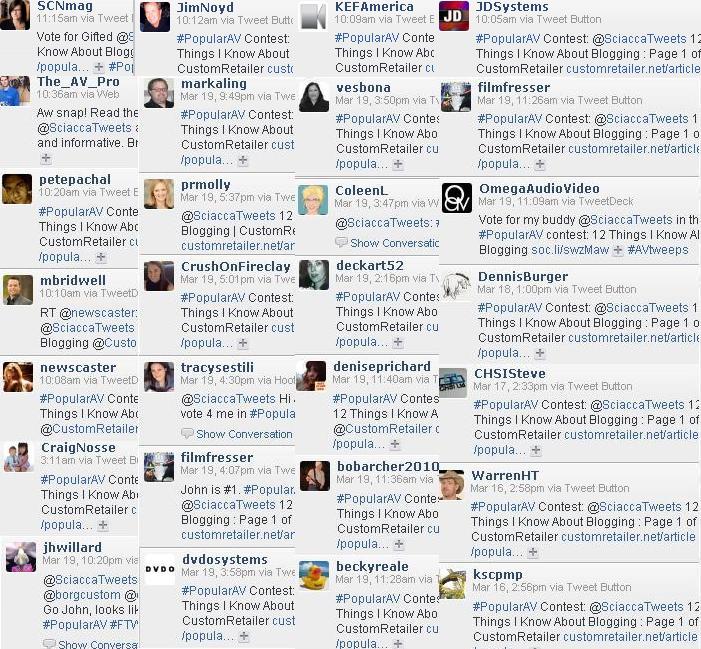 Also, here are some tweets from my Grassroots "Vote Sciacca!" Twitter campaign: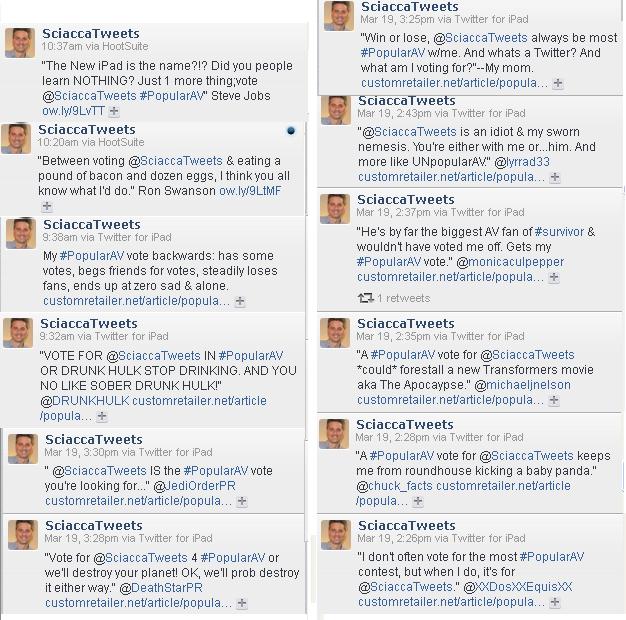 Here's the competition...

Automated Environments: Airplay Control4 Driver on iPad and 7" Touchscreen – This is basically a 1-minute video of a hand working a touchscreen that incorporates Extra Vegetables awesome AirPlay driver selecting some music on a Control4 system while a voice narrates the action. Do you want to vote for a hand…that isn't Thing from The Addams Family?
Ask Professor Vojtko – MartinLogan – OK, this guy calls himself a professor, so I'm conceding that he's probably WAY smarter than me. And he is demonstrating how to fix a hole in your Martin Logan electrostat speaker, which are definitely COOLER than me. But, having known several doctors, I'm gonna venture out on the limb and say that I'm a lot funnier than this guy.
The @Draper_Nocturne Twitter Timeline – AT CEDIA this past year, Draper launched a new video screen – the Nocturne – and their marketing man, Terry Coffey, had the clever-genius to use Social Media to build some buzz around the product by creating a Twitter personal for the screen. This entry is a list of Tweets from "the screen." Super clever to be sure, and I'm even mentioned a few times in the timeline, but COME ON! No one wants to lose to an inanimate screen!
George Tucker (aka @TuckerTues) Dance Yer Pants Off – This is a short video of his two boys dancing. Cute? Sure. Better dancers than me? Likely. But George isn't even in this video! And since the voting is technically for George, I'm not sure this qualifies – you know, on a technicality. And, George, I see your boys dancing and raise you a Lauryn dancing!
Pakedge's Olivia Dumanovsky – I really like Olivia. She's super nice and upbeat, regularly reads my Survivor blogs, loves Disneyland and even did a Guest Blog for me here on her experience of switching from Mac-to PC-back-to-Mac. But, her entry is JUST A PICTURE! Yes, I know that she is way better looking than I am. WAY. But, come on! This isn't a "prettiest of AV" contest! And that picture probably took 30 seconds to take! Don't make me lose to a picture of a pretty girl next to a rack of networking gear! (Here's the pic. Also, she says she DID put the rack together and she is holding the screwgun in a classic two-handed Weaver, so...)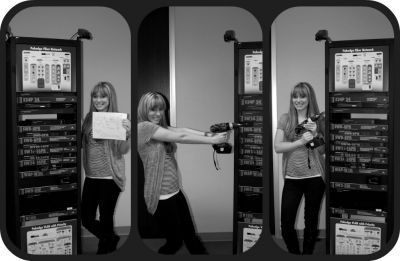 A Business Meeting, Access Networks Style – Again, just a picture of two dudes…hugging! (Access Networks would have probably greatly increased their chances if they would have had Sarah F hugging someone…they would have at least got THAT guy's vote for sure!) Granted, one of the dudes is Rich Fregosa, and, knowing Rich (and his amazing guest coffee blogging powers), I'd probably hug him too. My entry took HOURS to write – well, at least AN hour. This pic was an impromptu snap at CES that probably took 3 seconds to materialize. Listen to your hearts, people. Just listen…
Atlona's Chris Bundy Highlight Reel – This is basically 1:17 of Atlona's super lively Chris Bundy saying, "My name is Christopher Bundy…" I could have taken"by: John Sciacca" and copy-and-pasted that 613 times – once for each blog post – and turned that in, but, well, I went a different route… If you want to see more of Chris Bundy saying his name is Chris Bundy -- and explaining Atlona's way cool wireless HDMI system -- here is my video with him from this past year's CES.
A/V Etiquette with HiPhi and Nick P – OK, honestly, @The_AV_Pro is the ONE guy that I would be kinda-semi-not-totally-destroyed losing to. (I would still probably break stuff and go on a multi-day bender, but I'd eventually get over it and understand.) I seriously love this guy's videos and think he is pretty hilarious. Shooting and editing videos takes a bunch of time, plus HiPhi writes the script and is great on camera. If nothing else, he and I traded some tweets and maybe we'll collaborate on something some day. The Guest Blog door is totally open to you, HiPhi! Respect.  I'm not gonna lie, though; that they misspelled "Etiquitte" kinda flicks my spleen a little…

But, seriously, this guy is *good* and funny. You should watch his videos at YouTube. You'll be entertained and learn something about this industry. And knowing is half the battle! (Or something.)
Last up is my entry. Here's the link for your easy voting pleasure. It is my blog post on blogging; 12 things I know about blogging. Even if you DON'T vote for me, well, you should still read the post. It's informative and entertaining and – if you have a blog – you might learn a thing or two. But, if you've read this far, seriously, how can you NOT vote for me? Go on...shoo. Go and vote...

I'm John Sciacca, and I approved this message.
Categories: March 2012, On Writing
/