Shopping Cart
Your Cart is Empty
There was an error with PayPal
Click here to try again
Thank you for your business!
You should be receiving an order confirmation from Paypal shortly.
Exit Shopping Cart
Features, Reviews and a Blog by John Sciacca
| | |
| --- | --- |
| Posted on April 4, 2012 at 11:45 AM | |
I'm going to start off by admitting that my brother, Adam, is FAR more generous than I am. (You may recall that he bought me an iPad2 last year.) Adam is truly one of those people that would give you the shirt off his back. (Well, if he liked you. If he didn't like you, he'd probably take your shirt.)

So after reading my batch of beer blogs lately and hearing about Beer Club, Adam decided that I needed to step-up my game; stop drinking in the minors and call my palate up to the Big Leagues of IPA drinking. And he was just the one to do it.
Living in California, Adam has a *huge* world of ultra-craft brews available at his fingertips. He said that he can walk into his local grocery any given day and pick up Pliny the Elder – a beer considered by many to be one of the best beers in the WORLD! -- about 80% of the time, and that it only costs around $5.50 for a 22 ounce bomber! (You could easily sell this bottle for $20 on the east coast. Probably more.) He also just visited the Russian River brewery where fresh pints of Pliny sell for $3.50 and he filled a growler for $12! 
So, I opened my door one afternoon to find a fair-sized box sitting on my porch. Inside the box was a care package of 13 well wrapped, EPIC IPAs!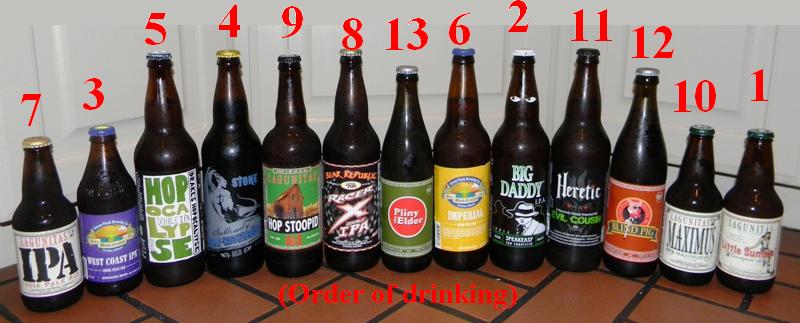 13 Beers Enter....None Beers Leave!
These are a selection of Adam's favorite IPAs, which he wanted me to try to see how our tastes compare. (Also included in the package was a list from Adam with his own rankings; the rankings ranged from A to AAAA. (Currently amended to included Pliny on tap which gets the rare and unprecedented AAAAA rating.) I had planned on drinking them in reverse order of his list, but I think Lauryn used the paper to draw on because I can't find it.)
So, without the list to go on, I asked Adam where he thought I should start, and I began my journey. Instead of listing them in my typical tasting order fashion, I'm going to work back from least favorite to MOST EPIC… Enjoy! (And thanks again, Ad! It was a great trip through Hopsville, USA!)
Also, you might notice a glass switch here. I've decided to start drinking IPAs out of the more traditional pint glass than my large, Reidel stein. Also looking for a nice tulip to go with some other styles. So, that.
Green Flash Brewery - West Coast IPA (aka the Purple Label)
Hop Variety: Simcoe, Columbus, Centennial, and Cascade
ABV:  7.3% IBU: 95
Tasting order: #3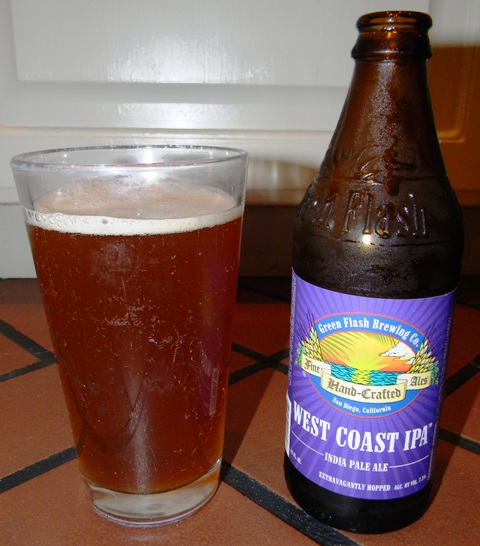 Description: A menagerie of hops is layered throughout the brewing process: Simcoe for unique fruitiness and grapefruit zest, Columbus for strong hop pungency, Centennial for pine and citrus notes and Cascade for floral aroma. A multi-dimensional hop experience.
I wasn't familiar with Green Flash, but coincidentally just days after receiving the package from Adam, two other people mentioned Green Flash IPA to me, so clearly your reputation precedes you, Mr. Beer. Pours a cloudy, medium orange amber that kinda resembles a glass of iced tea. Thin head that leaves just a froth of foam on top. Smells a bit of pine but more heavily of malt and caramel. It's lightly carbonated in the mouth, but more so just coats the mouth with bitter. Like you dipped a rag into a bucket of bitter and then swabbed your mouth. Finish of malt and caramel and bitter-bitter hops that just lingers and lingers. And lingers. Notes of grapefruit, but not so much like grapefruit FRUIT but more like you are eating the rind; the bitter, bitter rind. Try as I might, I can't get into this beer. I mention my disappointment to Adam and he is worried that perhaps this beer has turned as it doesn't' mirror his experience at all. This was easily my least favorite beer of the bunch. I was able to drink it, so it isn't an F, but this is a C- at best.
Speakeasy - Big Daddy IPA
Hop Variety: "3 varieties of Pacific Northwest Hops. 3 hop additions, including dry hopping."
ABV: 6.5% IBU: Unlisted
Tasting Order: #2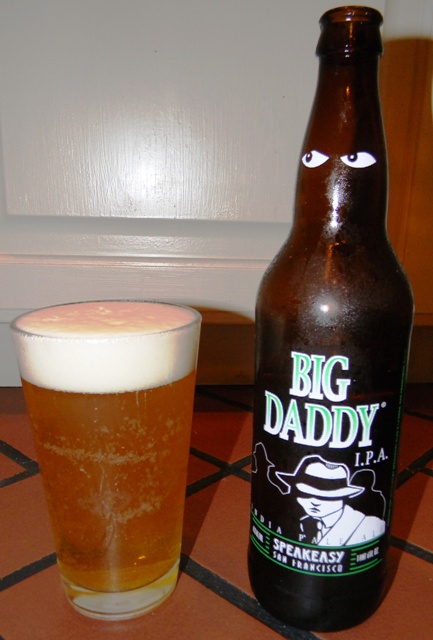 Description: "During Prohibition, the masses were forced underground into the Speakeasy. Hidden within the streets of the City, friends gathered where music played and drinks were poured...No lightweight, Big Daddy IPA tips the scales with a huge hop flavor and a dry, clean finish that leaves the scene without a trace."
First off, I like the bottle, the logo, the eyes up top. Nice. Pours a cloudy, golden yellow. Produces a nice head that has a thick, creamy, meringue look and texture. Leaves thick trail of lacing on side of glass. Resinous, pine notes seep through the head, giving way to reveal grapefruit notes. Carbonation is slight and hits mid tongue, with a splash of hop flavor, then a follow of bitterness and wheat finish. I keep returning to the smell which is fresh, piney and wonderful. Unfortunately, the flavors don't deliver the same taste bounty. Fortunately the big bottle means I have another glass to see if the flavor has changed or grown on me... (Pours 2nd glass - Big Daddy round 2) No real revelations or insights here. Same basic feelings on taste as first glass. A good beer but not a GREAT one. Sorry, Big Daddy. Gotta go with a B-/B.
Lagunitas - IPA
Hop variety: "43 different kinds of hops"
ABV 6.2% IBU: Unlisted
Tasting Order: #7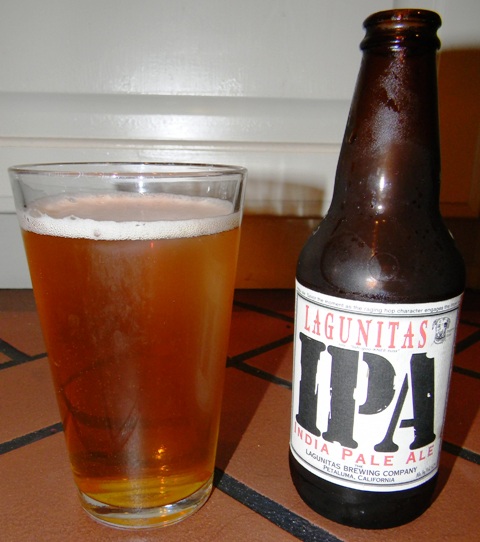 Description: This is our unique version of an ancient style. A style as old as the ocean trade routes of the last centuries Great Ships. Not as old as the equator they had to cross twice enroute, nor as old as the 10,000 or so miles of Di-Hydrogen Oxide and Sodium upon which they sailed, but older than the Circulithium-4 Lentloid that binds the Lupulin Quartnate onto your taste buds. Weird. Think about it. Now stop. OK, go again, now stop. Think again, and stop. But we digress. Made with 43 different hops and 65 various malts, this redolent ale will likely float your boat, whatever planet you're on.
Written around the label on the bottle: "Thanks for choosing to spend the next few minutes with this special homicidally hoppy ale. Savor the moment as the raging hop character engages the imperial qualities of the Malt foundation in mortal combat on the battlefield of your palate!"
Pours a clear golden color with a thin bit of head that quickly dissolves to a milky froth. Nice steady stream of bubbles rising up in the middle of the glass. Clean fresh scents of pine with milder traces of grass-hay and lemon. Nice involvement of entire mouth with zippy carbonation. First swallow has a bit of bitter with lingering wheaty flavors. Lemon and wheat flavors continue to develop. Pleasing bitterness that definitely stops short of being too intense. Flavors are nice and smooth and well balanced, but it just isn't "big" enough for me and finishes a bit too much wheat and not enough pine for my taste. Solid B.
Lagunitas - IPA Maximus
Hob Variety: Unlisted
ABV: 8.2% IBU: 72.41
Tasting Order: #10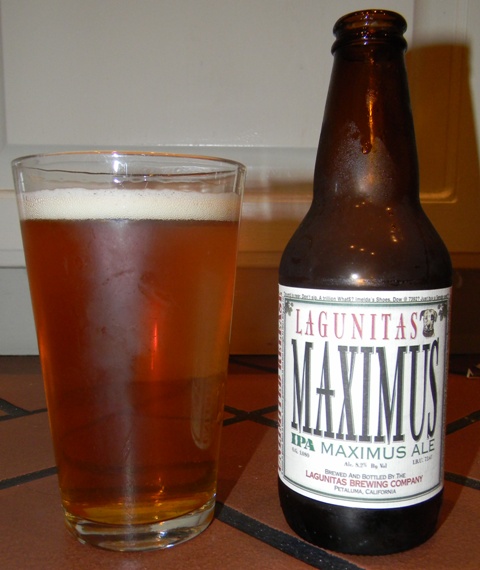 Description: At the height of the heat in the heart of the summer, we felt the only cure was a raging mouthful of fresh Hops and Malt. Caution: May remove enamel from teeth.
Leaning back on the restored Scrollarian vendta tera, she looked pale and gave her guest the prevarian eye. She spoke now only in pernicious circularity. Roundly he gave her the eye right back and she cupped it perspirianly. "Eat it!" he barked. Eyeing the eye, she allowed a rivulet of spittle to fall languid from her lip. "Why?" he asked again, this time repeatedly. "Why, why do you mock me?" Have I not been the idiom to which I am suited? Have I not swerved faithlessly?" A pall fell over them and then it fell over them again. "Again, why?", he asked again. "Again." she repeated with a touch of riparian ennui. "Give me the eye, now!" "Now?" "Now!" "When?" "What?" "Huh?"... On and on it went. What does it all have to do with beer? Huh!? Who?
Written around the label on the bottle: "If some is good; More is better. Instant gratification is not fast enough. 42 IBU? Why not 72! The end is near. Don't sip. A trillion. What$? Imelda's Shoes. Dow @ 7395? Just buy a Senate seat?! Tats, Nipple Piercing, Cutters, Burners & Hummers. A cold MAXIMUS just makes perfect sense! Cheers!"
Poured straight down the middle of the glass, produces a half finger of head thar dissolves to just a frothy topping. Golden yellow-orange color with slight cloud and steady stream of micro bubbled crawling up the edge of the glass. Wonderful sweet pine aroma; sweet like a from a magic golden honey pine tree that grows in a special, magical hop-filled IPA forest. Luxurious creamy mouth feel, with light carbonation. Finish has notes of honey and sweetness, without much pine or hop notes or any real bitterness. There's also some distant hints of wheat and some caramel. It's quite smooth, and has a nice flavor, but it's a shade sweet and it isn't big enough to be truly epic. As an everyday drinker it would be welcome, but this just doesn't rise to the level of the other beers in this group. A nice B/B+
We start getting truly EPIC from here on out… Stay tuned for Round 2!
Categories: April 2012, Beer/Liquor/Wine, Reviews
/