Shopping Cart
Your Cart is Empty
There was an error with PayPal
Click here to try again
Thank you for your business!
You should be receiving an order confirmation from Paypal shortly.
Exit Shopping Cart
Features, Reviews and a Blog by John Sciacca
| | |
| --- | --- |
| Posted on April 6, 2012 at 11:25 AM | |
To bring you up to speed, I opened my door one afternoon to find a fair-sized box sitting on my porch. Inside the box was a care package of 13 well-wrapped, EPIC IPAs!
They were a gift from my extremely generous brother, Adam, and represented a selection of Adam's favorite IPAs, which he wanted me to try to see how our tastes compare. I asked Adam where he thought I should start, and I began my journey working from Adam's least favorite to his most favorite. Instead of listing them in my typical tasting order fashion, I'm going to work back from least favorite to most epic…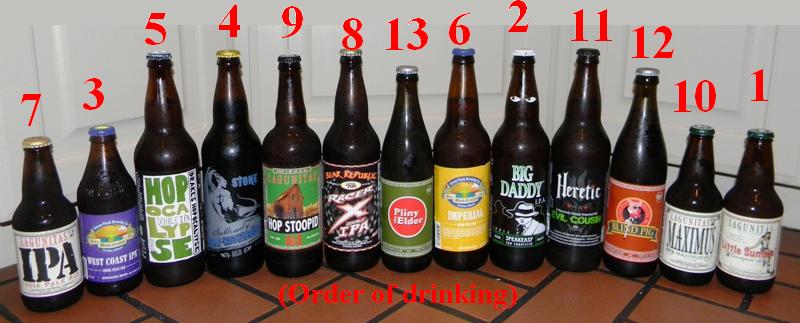 Where we stand in the rankings so far…
#13 Green Flash Brewery - West Coast IPA (aka the Purple Label) Tasted 3rd, rated C-
#12 Speakeasy - Big Daddy IPA Tasted 2nd, rated B-/B
#11 Lagunitas – IPA Tasted 7th, rated B
#10 Lagunitas - IPA Maximus Tasted 10th, rated B/B+
And on we go…
Green Flash Brewing – Imperial IPA (aka the Yellow label)
Hop Variety: Summit and Nugget
ABV: 9.4%  IBU: 101
Tasting Order: #6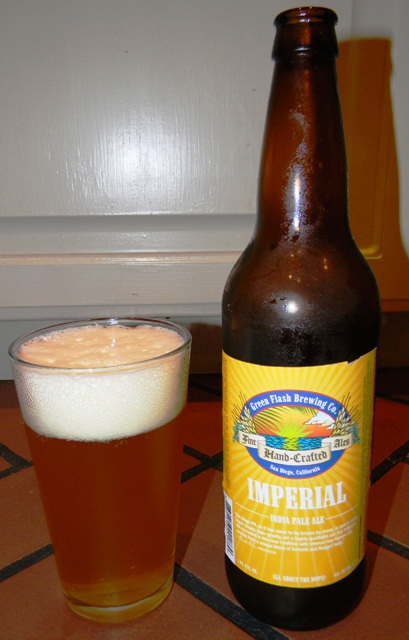 Description: San Diego IPA, as it has come to be known by many, is pale in color, super-hoppy, high-gravity, yet a highly quaffable ale. Our Imperial IPA is created in this new tradition with intense hop flavors and aromas from a unique blend of Summit and Nugget hops.
My brother was surprised -- shocked? -- over my reaction to the first Green Flash. How could our tastes be so different when we're usually pretty much in agreement on our beers? Was this an anomaly, outlying divergence, a bad beer, or was he really adopted…? Then I looked in the fridge and noticed that, as Yoda said, "There is another..." Turns out that this -- the yellow label Imperial IPA -- is the beer that he was talking about. Ahh! That makes perfect sense! So this was Green Flash round 2: The Redemption Round! Pours a golden yellow-orange with a ton of head. In fact, I made the total rook move of letting the beer volcano out of the glass! This is not a beer that you pour down the center of the glass all willy-nilly.  Pretty clear body. Has some definite pine notes, but with more hints of citrus, especially grapefruit. (This makes me worry that we're in for another round of rind bitterness.) First drink is initially felt with a zing on the tip of the tongue. Big finish of bitters, but where the other Green Flash was a mouth of sour and rind and bitter-anger and resentment, this has just a whisper of that. But a lengthy follow of nice hops that balances and evens out the bitter. As the head dissipates near the bottom of the glass, the wonderful pines start really opening up, and the bitter mellows a bit further. This actually changes the flavor a good bit, making it lean towards the sweeter side. (2nd pour...) Even with a careful side pour, this produces a generous head. This beer is WAY closer to what my brother was describing, and I'd say a real redemption for Green Flash and proof that he IS my brother! Come on in; brothers don't shake, brothers gotta hug! B+/A-
Bear Republic - Racer X Double IPA
Hop variety: Not listed
ABV: 8.3% IBU: 100+ Color: Copper
Tasting Order: #8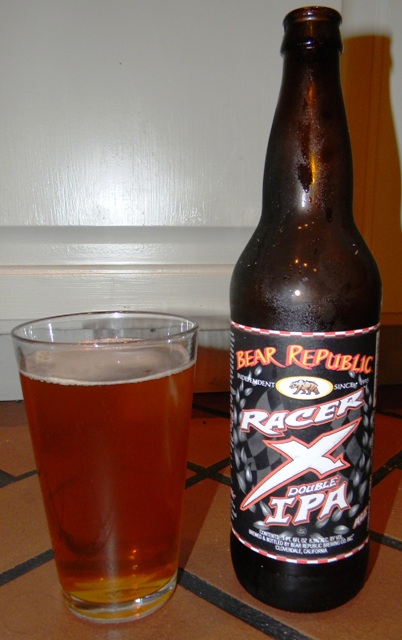 Description: Racer X is an uncommon Double India Pale Ale which puts a California twist on English brewing traditions by adding an assertive hop aroma and bitterness that compliments the firm malt backbone. Like its little brother Racer 5, Racer X is balance in a bottle. October Release – Draft/Limited Release Bottle
"X" as in the Roman numeral 10,  as in double V, or the Roman numeral 5, as in 2 times the IPA of Racer 5. Racer 5 was a beer I previously reviewed during this year's Super Tasting Beer Bowl. Here's the highlights from my review on that: "Notes of light pine. Had a fairly mild, restrained flavor. Not to say it is boring or unlikable, just subtle and not really standout. If you are put-off by strong IPAs, this might be the right beer for you, as it seems an easy entrance to the club. Giving it a B+."
Racer X pours a deep coppery gold with little head that finishes quickly to just a thin ring of bubbles edging the glass. Clean, clear body. Big, sweet, fresh clean pine aroma. Even with no visible traces, there is some decent carbonation, with nice tingle on the tongue and sides of mouth with a medium-thick texture. Finish has mild bit of sweetness with a nice balance of lingering bitterness. Nice following tastes of hops and citrus hints. The flavor and taste is big yet without any specific, identifiable singular flavor that is jumping out at me. It smells like pine but isn't like eating a pine cone; it hints at giant bitterness, but is really quite smooth. As the beer warms a bit near the end of the first glass I'm picking up smells and tastes of caramel and more malt. (2nd glass) Poured down the middle produced a finger of foam that lasted a bit. Malty flavors are more apparent now that I'm aware of them. This beer is enjoyable and full of flavor. A-
Heretic Brewing - Evil Cousin
Hob Variety: Unlisted
ABV: 8% IBU: 100
Tasting Order #11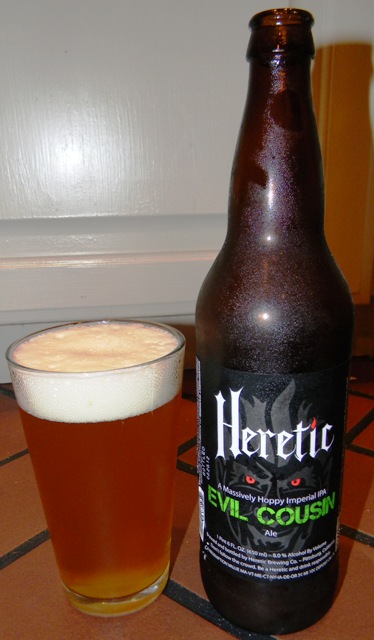 Description: Evil Cousin is Heretic's take on a West coast imperial IPA. This beer is a bold, in-your-face hop monster. It has a light, easy drinking malt character that allows the hops to stand out. The hop character in this beer is intentionally on the dank side; big, sticky, and aggressive. This beer is for those of you who can't get enough hops. Join us on the dank side.
I'm not sure I want to be on "the dank side" of anything, but I like all the mention of hops and whatnot. Poured down the middle, produces a generous explosion of head, rising up roughly 3 fingers. Foam held for a decent bit and slowly reduced to a thick, frosty layer on top of the glass. Golden yellow color with a tinge of orange and a bit of cloud; I can see ghosts of this text in my iPad screen through the glass. No real noticeable bubbles in the glass. Sweet clean pine aroma with notes of fresh citrus and with a top note that is so fresh and pleasing. Nice engagement on roof of mouth and mid tongue, some lemon zest tang, and then smooth bitter finish with long follow. Flavor is rich, with lots of subtle notes, and a quick pierce of bitter that dissolves like the big head into a smooth lengthy finish. I keep returning to the smell which is wonderful and delicious. But the taste is missing the pine notes I love so dearly. As it warms a bit, the finish gets richer and more developed. I'm excited to revisit the second half of the bottle. (2nd pour...) Head is a little more controlled, aroma just as intoxicating. Texture and flavor is richer. Getting some pine notes in the back of my mouth followed by that nice sharp, bitter that is rounded by overall flavor fullness. This beer definitely holds its own in the epic line-up, and earns an A-/A.
Stone Brewing - Sublimely Self Righteous Ale
Hop Variety: Chinook, Simcoe & Amarillo
ABV: 8.7% IBU: 90
Tasting Order: #4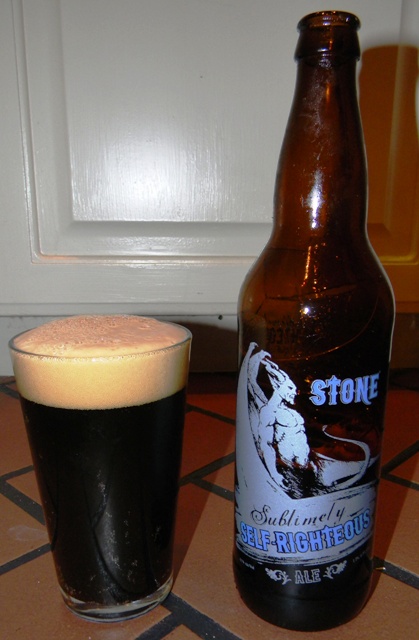 Description: We're brewers whose substantial mettle and idiomatic approach to brewing allows us to consistently create works of art such as this justifiably self-righteous ale. Its bitterness hits our sweet spot. Its blackness lightens our hearts. Its liquid dichotomy pulls it all together in this sublimely sacrosanct ale. Yes, we damn well know our stuff here at Stone, and it would be irresponsible of us not to acknowledge how remarkable this heavenly creation of ours is. Thus the name we are compelled to give it --- Stone Sublimely Self-Righteous Ale --- serves as a reminder of just how good we are, in both liquid and verbal form. We're certainly not perfect. Too often, we allow our modesty to get the best of us as we're simply not inclined towards senseless braggadocio. When you're good, you're good. And when you do something great, the least you can do is acknowledge it. Others benefit from knowing. In this case, we find that we are compelled to point out how amazing this ale is that we rightly call the Stone Sublimely Self-Righteous Ale. First brewed in 2007 as the Stone 11th Anniversary Ale, this ale was an instant hit. With us. Other folks with great taste loved it too, but we were focused on how much we liked it, and we felt it was truly sublime. That euphoria didn't last long though, as it was soon replaced with the grim reality that when we sold out of it there wouldn't be any more. For us. And that was simply unacceptable. So, we are now blessing ourselves, and you the enlightened, with this ale. Thusly, you may now revel in your own self-righteousness as you see fit with this glorious example of ours. You are genuinely welcome, as it is our pleasure.
I'm an unabashed Stone fan, so I think I'm probably slightly prejudiced towards giving anything with a Stone label at least a half-letter grade higher. (Here's my trip to their brewery in San Diego, probably the most awesome brewery I've ever visited.) If there were to rip the label off a bottle of Perrier, put a Stone label on it and called it "Stone Clear Bastard Ale" I'd probably still say it was a decent beer. So… Pours a thick, dark, almost black color with a generous dark-brown creamy head. Almost looks like a cola except the head lingers and lingers, leaving a long, clinging lacing on the sides of the glass. Nice hoppy, piney scent but with an almost slightly burnt or singed quality underneath. Nice engaging mouthful of carbonation, a pop of alcohol sweetness, and then a hoppy finish, with subtle, smooth lingering bitterness and that touch of burnt and smoky from the initial notes. A finish that just goes on and on. Doesn't taste anything like I was expecting, and is a delightful surprise. The beer is a chameleon; looks like a stout, smells and starts like an IPA and finishes like a gentle porter. This beer could make a dark beer lover out of me, having none of the weight and heaviness I usually dislike. (Pour numero dos...) Second glass poured up much like the first, looking a bit like Guinness in the glass but without the famed cascade. Coffee flavors and bitterness become more pronounced as I near the end of the bottle/my second glass and the beer warms a bit. This is another winner from Stone, and a sublime beer for sure! A definite A.
Lagunitas Brewing Co - Little Sumpin' Sumpin' Ale
Hop variety: "All the C hops."
ABV: 7.5% IBU: 64.2
Tasting order: #1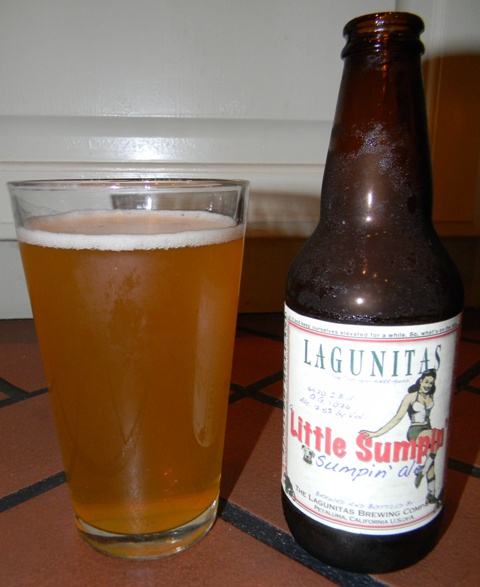 Description: Sneaky Smooth with a Touch of What We Call Wheatly-esque-ish-ness. Crispy Wheat and Pale Malt flavors with a Big Round & Juicy Hop Finish. Everyone Needs A Little Sumpin' Sumpin' Sometimes.
Written around the label on the bottle: "So, we're all on collective disability. That's cool. Let's put some ice on it and keep ourselves elevated for a while. So, what's on the tube? Honey...? Get me a beer from the frige... Will ya? Sweetie...? Pleeease...?"
This is where I began my journey, thinking, "Let's see what Adam thinks is the worst of his best." Pours a cloudy golden-orange with little head that just produces a froth on top of the glass. Leaves heavy lacing on sides of glass throughout. Wonderful fresh pine aroma with briefer notes of citrus and grass. Like *wonderful*. This is a pine-filled winter wonderland! Carbonation fully engages the mouth, for a pleasant all over zing, and a nice follow of mild bitterness and traces of wheat. Pine notes are present as is some citrus, but not bashing you in the face. Bitterness is there as well, but not puckering your face. "Well balanced" and "totally complete" are my feelings on this beer. Overall, just a beautifully, well rounded beer; the nose, the mouth feel, the flavors, and the finish, all hitting on all the classic IPA notes make this an excellent start to our epic journey! I can't believe this is one of my brother's "least favorites" among what he sent me. If this is one of the worst, HOLY CRAP! We are in for a truly epic taste journey! A strong A.
Four more to go. And, brother, from here on out, it is ALL epic ALL the time!
Categories: April 2012, Beer/Liquor/Wine, Reviews
/