Shopping Cart
Your Cart is Empty
There was an error with PayPal
Click here to try again
Thank you for your business!
You should be receiving an order confirmation from Paypal shortly.
Exit Shopping Cart
Features, Reviews and a Blog by John Sciacca
| | |
| --- | --- |
| Posted on April 10, 2012 at 2:55 PM | |
With the recent news that Bond will be drinking a (ugh!) Heineken in the upcoming film,  and since I've been on a beer terror lately, I've come up with a list of 10 beers that I could imagine Bond actually drinking.
Not always ordering, mind you, because I can't really picture too many moments where Bond orders himself a beer over another option. But beers that are sent to him, sending a subtle – or not so subtle – message.
So, here's the beers I've selected for Bond and the scenarios I see them being used.
#4 Unibroue - La Fin du Monde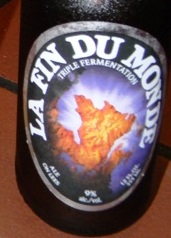 "It's the end of the world, Mr. Bond," Benelux announced proudly as he walked down the stairs, holding a bottle in one hand and a glass in the other. He calmly approached the men who surrounded Bond, covering him warily with machine pistols.
"The end of the world? I hardly think so," Bond countered.

Benelux chuckled softly, slowly poured the contents of the bottle he was holding into a glass, filling the round bowl halfway to the top with a golden-yellow liquid topped by a thick, pillowy meringue topping. He raised the filled glass and tilted it Bond's direction.

"La Fin du Monde; the end of the world. This beer." Benelux took a long, savoring sip. "You'd think with a name like that it would be darker, more ominous. But that's the subtlety of it. The end of the world doesn't always come with dark clouds and fire and brimstone, Bond. To la fin du monde."
He took another sip.
"Sometimes it comes in unexpected ways. It's fitting though, the name." He set the glass down and walked over to the large computerized map displayed on the wall.
"By this time tomorrow, my virus will have done it's work. Burrowing its way into computers and databases around the world, propagated by social networking and the global connection of the Internet. By the end of business, the financial system will be completely collapsed, in ruins, leaving countries in chaos.
"You know you're a madman, and that you'll never get away with this."
"Of course, Mr. Bond. We're all a little mad. But by the time they have managed to sort it out, a level of wealth will have been transferred to me that will make Solomon himself seem a pauper. Fitting, don't you think Mr. Bond? That we toast to the end of the world?"
"Drink up, Benelux," Bond said. "There's no drinking in hell."
Categories: April 2012, Books, Beer/Liquor/Wine
/