Shopping Cart
Your Cart is Empty
There was an error with PayPal
Click here to try again
Thank you for your business!
You should be receiving an order confirmation from Paypal shortly.
Exit Shopping Cart
Features, Reviews and a Blog by John Sciacca
| | |
| --- | --- |
| Posted on April 10, 2012 at 3:00 PM | |
With the recent news that Bond will be drinking a (ugh!) Heineken in the upcoming film,  and since I've been on a beer terror lately, I've come up with a list of 10 beers that I could imagine Bond actually drinking.
Not always ordering, mind you, because I can't really picture too many moments where Bond orders himself a beer over another option. But beers that are sent to him, sending a subtle – or not so subtle – message.
So, here's the beers I've selected for Bond and the scenarios I see them being used.
#5 Russian River - Pliny the Elder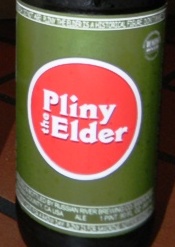 Bond selected a table in the corner where he could watch everyone coming into the bar. He pealed back the sleeve of his sea island cotton shirt and checked his Rolex. The Luminova coated minute hand glowing steadily and pointing straight down.




He was fifteen minutes early.




Perfect.




A young waiter strode over. "Sir?"




Bond felt he'd better keep a clear head for the coming meeting. No triple measures of Gordon's today. "Pliny," he said, his eyes continually flicking around the room, but mainly focusing on the door.




"Excellent choice, sir. But we only serve that in a bottle. Will that be acceptable?"




"Fine. Just make sure it's in a properly chilled glass."




"Of course, sir. And to eat?"




"Just the beer."





The man returned in several moments with an iced glass and the tall, dark bottle. Bond noted the label. A simple, non-showy affair.  A single large red dot, like a bulls-eye. Or the kind of hole left behind from a large caliber gunshot wound. He checked the date. Bottled within the month; the best way to enjoy the fresh flavor. He poured the bottle into his glass and let the foam settle.




He checked the Rolex again.





Five minutes left. His hand crept back to feel the reassuring heft of the Walther in its accustomed place below his left armpit before stealing out to grab the glass. He took a deep sip, enjoying the crisp, pine flavors and bitter finish.





"If she was on time," Bond's mind chided.




And in Bond's experience, she never was.




Categories: April 2012, Books, Beer/Liquor/Wine

0

/