Shopping Cart
Your Cart is Empty
There was an error with PayPal
Click here to try again
Thank you for your business!
You should be receiving an order confirmation from Paypal shortly.
Exit Shopping Cart
Features, Reviews and a Blog by John Sciacca
| | |
| --- | --- |
| Posted on May 30, 2012 at 4:05 PM | |
Well, it has been a good while since the last gathering of the Beer Club members. Sadly, I fear that it is just not possible to find five other people that want to drink quality beer and then write about their experiences. As it is, after much haranguing and harassing, I was only able to muster reviews from two other people; one of them supplying just a single, solitary review. Le sigh…
I'm told that they are happy to drink the beer, but just not pleased about the writing bit. (Who would have thought, "I loved this beer!" or "Beer = Good!" would have been so much to ask...?) So, if Beer Club continues for a Round IV, it will be just yours truly supplying the reviews.
Anyhow, Beer Club previously tackled 13 IPAs and I was told that the members were ready to move on to something different. The call went out for Porters and Stouts. So I answered said call and headed to Piggly Wiggly to check out the selection. Fortunately, their beer aisle did not disappoint!
Admittedly, Porters and Stouts are not my favorite beer styles. I often find them a tad too filling and if I want something that tastes like an iced coffee, I'll just fire up my Saeco and make myself an iced coffee. But, I'm always game for a new beer, so I cheerfully obliged.
Without any further belly-aching, let's get to the drinking! Here's the seven beers up on the drinking block: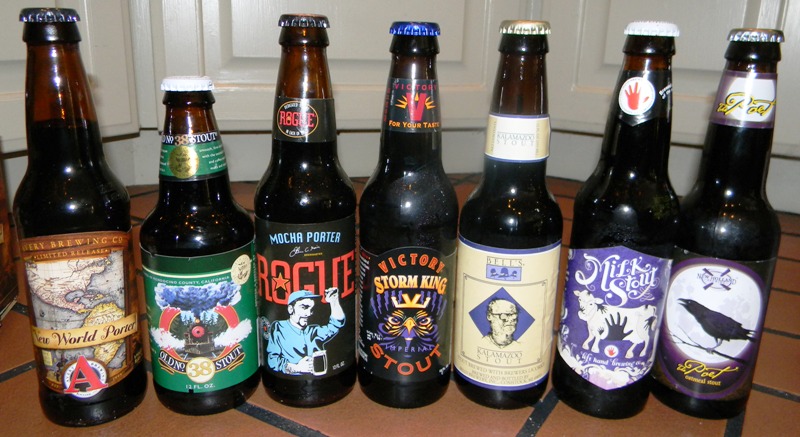 Rogue Brewery - Mocha Porter
Hop Variety: Sterling and Perle Hops
ABV: Unlisted IBU: 54
$12.49 / 6-pack
Description: Dedicated to the chocolate lover in each of us. Mocha Porter was once known as New Porter, in honor of the town of Newport, Oregon and home of Rogue Ales. Ruddy brown in color, a bittersweet balance of malt and hops with a light cream finish.
I'm a chocolate lover, and look! Here's a beer dedicated to me! Huzzah! Pours a thick dark-dark brown with almost no action in the glass, making me wonder briefly if maybe this beer had gone flat. I poured the remainder a little more aggressively down the middle of the glass and produced a half-finger of head that completely dissolved by the time I could pull out my camera and take a shot, leaving just a scrim of bubbles around the edge. Smells of deep malt, and bittersweet chocolate with hints of dark coffee. Little carbonation on the tongue and then some bitter-sour notes, followed by strong taste of coffee. Sadly, not getting any of the "mocha" or dark chocolate that I smelled or that the name and description has implied, nay, promised! Beer has a strong, bitter finish that is a tad overpowering to me. It's like coffee that has been over-roasted, then poured over ice. As the beer opens up a bit in the glass, the sourness mostly vanished, but a lot of the flavor went along with it. I was really hoping for some bittersweet, dark chocolate, but it wasn't to be found. This is the second Rogue Ale that I've had where I've not been impressed. Maybe I'm just not rogue enough… Or maybe I'm too rogue...

Chris: This one was just bad poured half down the drain. Ranked #7 (worst)
North Coast Brewing - Old No. 38 Stout
Hop Variety: Not listed
ABV: 5.5% IBU: 53
$11.99 / 6-pack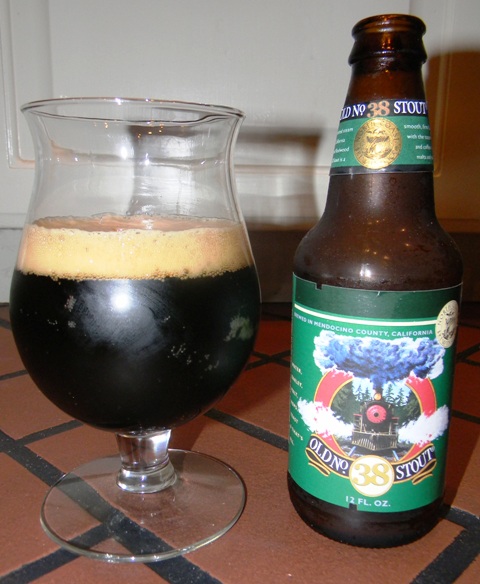 Description: Named for a retired California Western Railroad steam engine on the Fort Bragg to Willits run through the Redwoods, Old No. 38 Stout is a smooth, firm-bodied stout with the toasted character and coffee notes of dark malts and roasted barley.
This is style is called a Dublin dry stout. No, I don't know what that means either. Pours a rich black with a finger of brown head that holds its shape for a while. Notes of sweetness and bittersweet dark chocolate. Cool, light zing of carbonation with a nice, subtle coffee note followed by thick sweetness of bitter chocolate; like a light dusting of baker's chocolate on a dessert. Texture is smooth and almost creamy and the sweetness is a really pleasant finish. As it warms a bit, there is almost a hint of chocolate syrup to the end, edging out the coffee flavor. The finish on this beer is really the payoff, as the Old No. 38 train comes rolling through your mouth delivering deliciousness. I'm all aboard, conductor; take me to flavor country!
Chris: This is just a good stout with coffee flavor that was very smooth. Ranked #2
Bell's Brewery - Kalamazoo Stout
Hop Variety: Unlisted
ABV: 6.0% IBU: N/A
$12.99 / 6-pack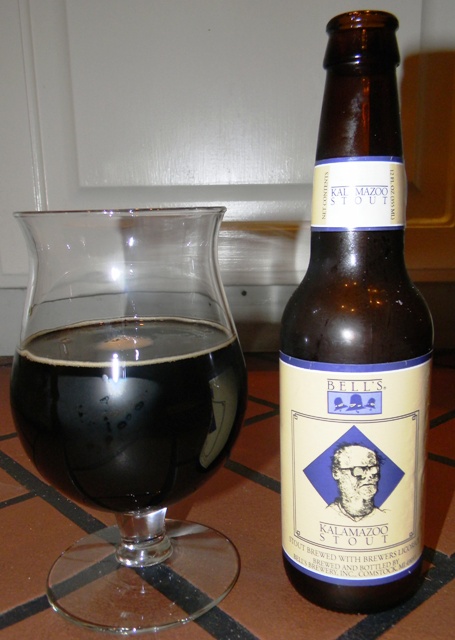 Description: Kalamazoo Stout represents stouts in the Bell's year-round roster, offering a blend of dark chocolate and coffee flavors with just a hint of brewer's licorice. One of our oldest recipes, it balances a significant hop presence against the roast malt body.
Remember how I said I often buy beers based on the label design? Well, this was a total case in point. This label made me think of Jack Nicholson. I need him up on that wall; and I need to be drinking a good beer while he's up there! And I'm not sure what "brewer's licorice" is. Is that not really licorice the way that head cheese isn't cheese or sweet breads aren't sweet and/or bread? Pours a thick, almost oily black into the glass with virtually no head, foam or froth. It's like the beer slides out of the bottle and into your glass and is the color and texture of a cola syrup. Or used motor oil. Smells of rich coffee with maybe a salty hint of...soy sauce? Something. Lots of tingle from carbonation – surprisingly due to the lack of any froth or head – and a small splash of sweet and then a nice strong lingering finish of coffee with burnt/roasted notes. Flavor is full and rich, and the roasted coffee flavor is nice and balanced. Nice smooth finish, with toasty malt and dark, black coffee flavors. Very happy that the salty/soy smell is nowhere to be tasted. I like this stout and give Jack a thumbs up! I CAN handle the truth!
Anthony - My 1st stout was Bell's Kalamazoo. This was a good start in this category, one of my favorites. I enjoyed the smell right away, not overpowering, a bit mild, with hints of malt and wood.The taste was very good as well. A little chocolate in there, at first I felt a sense of buttery-ness, if that's possible. This wasn't a stout that was too heavy or dark, but felt nice and smooth, with just a light bitterness at the end.
Chris: I don't know why I'm putting this #4 because I don't care for licorice, but it was smooth and didn't taste it at all.
Avery - New World Porter
Hop Variety: Columbus
ABV: 6.7% IBU: 45
$11.49 / 6-pack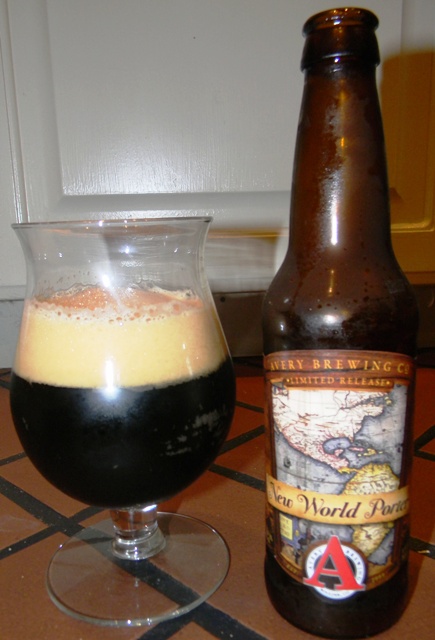 Description: A traditional black porter, with a surprise twist – it's dry-hopped!! We've expanded the porter category a bit, adding a delightful, dry hop aroma to blend with the sweet caramel and chocolate characteristics of a Robust Porter.
I chose this beer because of the strong showing by Avery in the last IPA shoot out. Usually when a brewer does one thing right, he knows how to do another. Or something. Also, I love old maps. So, that. This pours a dark, deep brown with a thick three fingers of creamy tan-brown head. Head lingers for a good bit and clings to the side of the glass, leaving heavy lacing behind. Smell is wonderfully piney and hoppy, far more reminiscent of an IPA than a porter. Me likey! There's also notes of malt and chocolate. Nice zip of carbonation on the tongue, followed by flavors that are nothing like the aroma, but with strong notes of coffee. Following first taste, coffee notes take a back seat to smooth and subtle notes of hops and bitterness. The Avery is like an odd IPA, but odd in a good way; like the way you find someone with a defect more attractive because of the defect. Like a wonky eye or a third nipple. Finish is lingering with bitter and hop notes and while this may be an atypical porter, it is right up my alley. If this is the kinds of Porter they'll be drinking in the New World, then, brother, count me in! Let's set sail for adventure! As I went to grab my next beer I checked the bottle and noticed in small script that they classify it as a "Black IPA" so whaddya know?!
Chris: I thought I was drinking a IPA at first because didn't have any of the flavors described. Just not a good porter. Ranked #6
Left Hand Brewery - Milk Stout
Hop Variety: Magnum and US Goldings
ABV: 6.0% IBU: 25
$11.49 / 6-pack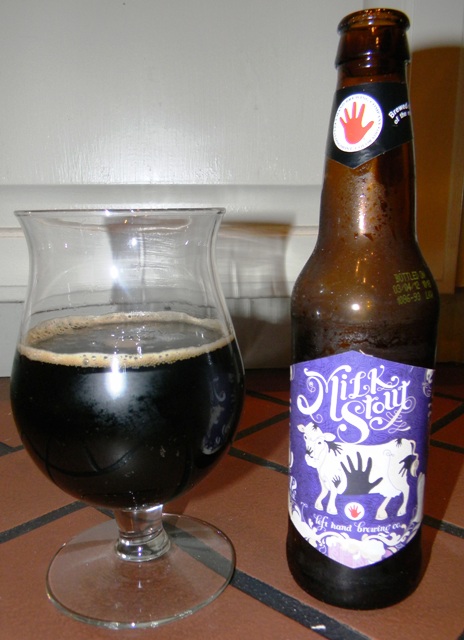 Description: Milk sugar in your stout is like cream in your coffee. Dark and delicious, America's great milk stout will change your perception about what a stout can be. Preconceived notions are the blinders on the road to enlightenment. Udderly delightful.
Left Hand has so far been represented in Beer Club by The Stranger and 400 Pound Monkey, so I figured I've give their Stout a whirl. Plus, I like drinking a milky latte, so maybe this would be the perfect flavor for me. Fortunately I don't have to worry if drinking milk and beer is Kosher or not, because something tells me it probably isn't. Pours deep dark brown, molasses with a small splash of head that quickly dissolves to just some brown froth and bubbles. Nice smell of coffee, and, in fact, almost coffee WITH cream smell. Nice sweet flavors, and finish of bitter chocolate. Definitely can taste the milk, which seems to manifest itself in smoothness or creaminess. I really like this one, as it is almost a very lightly sweetened, mildly carbonated coffee-dark chocolate cream...not quite shake, but something. Soda. That's it. Lightly sweetened coffee, dark chocolate soda. None of the burnt or roasted or malt notes from a typical porter, so a lighter taste. A tasty, lighter taste.
Chris: I would drink this again very good and I think it got better the warmer it got. Ranked #3.
Victory Brewing - Storm King Imperial Stout
Hop Variety: American Whole Flowers
ABV: 9.1% IBU: N/A
$12.99 / 6-pack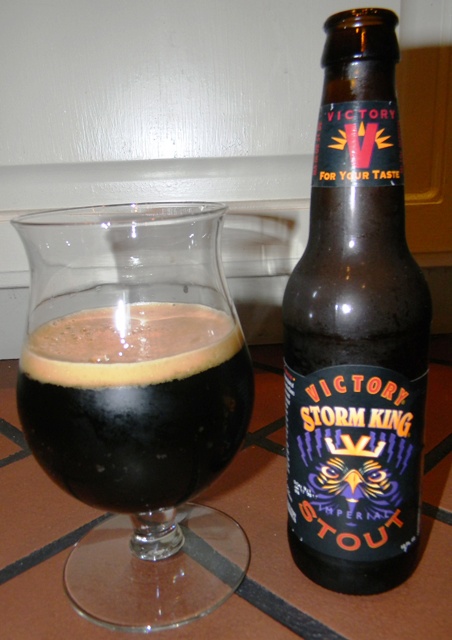 Description: With a huge, Pacific Northwest hop aroma & character upfront, Storm King Stout subsides into massive, roast malt complexity. Rich and substantial, it will warm your heart.
Victory's Hop Wallop was the undisputed winner of a past tasting, in fact, was right up there with some of the Epic IPAs my brother sent me. (High praise indeed!) (Additional points if you get that reference.) This pours a deep, black coffee color with a finger a tan-brown head that quickly dissolved into foam and bubbles. Nice smell of hops with distant pine and underneath a note of toasted coffee. Similar-ish to the Black IPA of the Avery. Good mouth zing of carbonation, and tingle on the tongue followed by some really interesting hop and espresso flavors. It starts like an IPA and ends like a stout. If you smelled it with your eyes closed, you'd swear it was an IPA and probably a medium-bodied amber color. And it's an IPA in your mouth. And even after swallowing it's still saying, "I'm an IPA. You like me or what?" But wait about 5 seconds and you're hit with the lingering smokey, bitter roasted coffee notes that reveal it as a porter. Also, this is by far the highest ABV of the group, but you aren't hit with any alcohol flavors. This is a terrific stout for IPA lovers and another good showing for Victory. 
Chris: This one wasn't bad but nothing that made it stand out for a stout. Ranked #5
New Holland Brewing - The Poet
Hop Variety: Unlisted
ABV: 5.2% IBU: N/A
$10.99 / 6-pack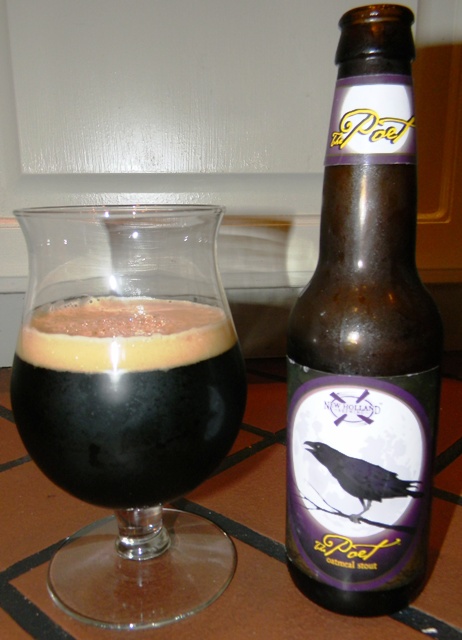 Description: The Poet has a rich, smooth malt character enveloped in tones of roast and chocolate. A soft mouth-feel brings luxurious flavors and soothing aroma. Any time of year, The Poet is as versatile as it is delicious. It pairs wonderfully with earthy flavors such as mushrooms and beef, while remaining the perfect accent to any chocolate dessert.
"But the raven, sitting lonely on the placid bust, spoke only,
That one word, as if his soul in that one word he did outpour.
Nothing further then he uttered - not a feather then he fluttered -
Till I scarcely more than muttered `Other friends have flown before -
On the morrow he will leave me, as my hopes have flown before.'
Then the bird said, `Nevermore.'" - Poe
I'm down with quoth-ing the Raven, so I thought I'd let this Poet try to woo me. Fairly hard pour into the glass, produced a generous finger of creamy brown head that lingered for a bit and then reduced to some foamy, frothy bubbles. Dark brown cola color. Smells of dark roasted coffee. There's not a lot of carbonation or engagement in the mouth, maybe the "smooth mouth-feel" they are describing. But it just feels flat and dead in my mouth. Definite flavors of coffee, but also an odd bit of metallic bitterness. And not in that good IPA kinda way. The beer just tastes a bit flat and dead and I'm wondering if my pour exhausted the beer. There is just the briefest of initial tingle, then just flat, brown water taste with a bitter, coffee finish. It's like I poured a cup of Folgers over ice. And that is not a compliment. Ever. Sorry, Lenore, but I shall drink this beer nevermore…
Chris: This was by far the best of the group was smooth, creamy, and easy going down would get again. Ranked #1 (best)
Categories: May 2012, Beer/Liquor/Wine, Reviews
/