Shopping Cart
Your Cart is Empty
There was an error with PayPal
Click here to try again
Thank you for your business!
You should be receiving an order confirmation from Paypal shortly.
Exit Shopping Cart
Features, Reviews and a Blog by John Sciacca
| | |
| --- | --- |
| Posted on June 26, 2012 at 5:30 PM | |
aka: A woman's journey to becoming the Tech Chick
Call it chauvinist or sexist or extremist or whatever other "ist" you care to use (well, maybe not "botanist" or "hairstylist") but for the most part, the audio/video industry is a man's game.
(I'm adding this nice little paragraph space to allow tempers to cool, riled bloods to unrile and thoughts to temper...)
Sure, there are plenty of women that work in the industry, but for the most part women that work in the A/V industry are either temporary hires brought on to decorate booths as eye-candy around major trade shows or they tend to work in marketing or public relations roles. (I wrote more on this topic earlier when perusing an MCM product catalog...) Now, I work with many of these women -- well, the marketing and PR ones; my experience with the booth girls is generally limited to, "Can you show me who is in charge of PR?" -- and I can say they are smart, capable, funny, terrific to hang around and generally far nicer to me than I likely deserve. (I imagine they get paid a lot.)

However, there ARE actually women that have decided to swim against the stream; flipping societal expectations the proverbial finger (likely manicured) and taking the hardcore, pipe hittin', technical jobs in this industry. Women that climb into the trenches and handle system design, integration and programming.
There is actually a group called WAVE (Women in AV) that promotes "educating, supporting, encouraging and inspiring women in the audiovisual industry through collaboration, research, mentoring and networking opportunities" in an attempt to get more women involved in this field. And as the father of someone who will one-day-be-a-woman, I'd like to know that a career in AV is open to Lauryn should she choose to pursue it. (Though, I'll be honest; I'm really pushing her to be a writer. Or an artist. Her drawings are pretty epic.) 
A few weeks ago, WAVE co-founder, cheerleader, and all around incredibly nice person and Sciacca blog reader, Jennifer Willard, wrote a blog about how far this fledgling group has come in just a year's time. After reading that, I thought, "Who better than to tell a story about being a woman in AV than an actual woman IN AV?"
So, I reached out to fellow #CEDIATweeps member, Heather Sidorowicz, and asked if she would be so kind as to share her tale. Despite the fact that I'm *pretty sure* she thinks I talk about drinking too much, Heather kindly agreed. Below is her tale. (Interspersed with Sciacca in italics as I felt the urge to make comment...) Without further babbling, here is Heather and her story...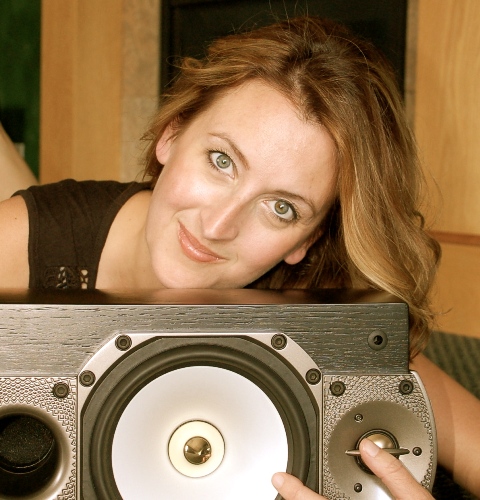 There is a great story I tell about my "Ah-Ha" moment that brought me into my father's AV business. I'm at a home show and walk into another AV company's booth. There is that scene from The Matrix where they are in the terminal; Gun fire is erupting everywhere. It looks great. It sounds great. Then I look to my left and see a kid no more than 8 all wide eyed and shell shocked.




Right there I thought, "I can do this. And I can do it better."




(OK, so, I might have done something *very* similar to this. I was giving a demo not long after starting at Custom Theater to an older couple. The man said he was interested in getting a home theater. So, I sat them down and fired up our system, carefully raised the volume to chest-quivering levels and then put on Terminator 2. Oh, and not just any scene from T2, mind you. I put on the chapter titled "Nuclear Nightmare" where you proceed to watch humanity scorched in a fireball and see Sarah's skin flaying off in burnt chars. The woman got up and left about 1 minute into the demo. "I can't believe that ANYONE would want to watch THAT!" she hissed. "Well," Rico Suave Sciacca replied, "it seems like your husband is enjoying it." Did NOT get that sale. So, umm, yah, I get what she's saying here…)

 

Gun scenes are great for the right crowd. But we were at a home show here, a family event. Were there no non-violent scenes to be played? (Side bar: After I started with the company we took over this home show. We grew our booth from a 10x10 space to a 900 square foot booth. The last two years we were there we won best décor one year and best in show the next. What did we create? Why a children's home theater of course, with demos every 15 minutes. (What a *great* idea! Kids *love* movies! Here is Lauryn demo-ing our system.) What was the experience? Madagascar. You know, "I like to move it, move it." (I like to...MOVE IT!) That song will forever bring me back.)

 

Lately I've begun to re-think this story. My passion actually began long before, and it just took that "moment" to lock it all into place.




I love music and I really believe that it can change the way you live. Have a bad day? Get caught in traffic or a snowstorm (I live it Buffalo, it happens)? (I've been there people. It's true. It has snowed literally 100% of the time I've been there.) After a long day you come home and pour yourself a glass a wine (you'll find wine is often in my stories; I recommend a good red) (I hear a glass of single malt or triple blue-cheese-stuffed-olive extra dry martini also works…Just sayin'.) and play some music.




But not just any old, "some" music; play your music. That might be Nora Jones or Alexi Murdoch (one of my personal favorites). Whatever it is; just play it. Turn it up – loud -- and if need be, dance it out. (For dancing it out I recommend Florence and the Machine "Shake it Out.")  When I started looking back I realized I have always loved music and it has always played a crucial role in my life. (Please to enjoy Top 10 list of Sciacca's favorite CD's...)


 

I still remember my Fisher Price record player. My first record was Thriller by THE Michael Jackson. (Mine was Gary Numan's Cars.) I must have played that record a hundred times. And yes, I did have his poster up in my room with my red shag carpeted floor. My father took the entire family to see the Jackson 5 in concert. I spent the entire time on my father's shoulders so I could see. My poor father. (Having just held Lauryn on my shoulders for an entire Disney firework display, I can empathize with your father... With great power comes great responsibility. And neck pain.)

 

From there it was the pink Sony boom box with built-in cassette player. I would spend my weekends calling and begging the radio stations to play my favorite song. (Totally had this same experience. May he among us who can say they didn't wait around all day to hear J. Geils Band "Centerfold" cast the first stone!) We would sit by the player with our trigger finger waiting on the record button. These were the days of Madonna and George Michael and music on MTV. These were the days when Paula Abdul used to sing instead of talk and when Bon Jovi was still hot.

 

Then it was off to college where I brought my Sony CD player and my CD collection. I hated buying CD's for the one song I actually liked, but I did it. I did because I "needed" the music. I needed to play that favorite song at that perfect moment. I'll never forget Alanis Morissette's "You Live, You Learn" blasting as I packed up and left Brockport college the last day of my freshman year. It was as if the song was for me. I was off to the University of Buffalo to begin again and the moment was sealed in that song.  




At my wedding in August of 2000, I brought a list of songs (and the CD for backup) for the DJ that needed to be played. It was a perfect night. After the dinner and the cake cutting and the father daughter dance I put on my white sneakers and ran around singing "Thank You" by Dido. "Thank you for giving me the best day of my life," I belted out to my closest friends and family. It was one of those perfect moments in life.

 

A few years later came my first born and my first Mac. With my Mac came my first downloaded song "Goodnight my Angel" by Billy Joel. With that came my first playlist (for her). I used to play it for her every night at bedtime. To this day, any of those songs will calm her. How cool is that? (When Lauryn was just born, I used to sit up with her at night and hold her on my lap and we would listen to "In Repair" by John Mayer over and over. It has a really slow, steady drum line and I would hold her tiny hands in mine and we'd drum along. She would sit quiet and entranced the entire time.)

 

There are plenty more music moments.  My senior prom song "This is the Time to Remember." The Wallflowers "One Head Light" playing over and over again during my endless shifts as an Apple buddy at Applebee's.  Don't even get me started on break up songs! "Loser" and "I will love you always," (depending on who broke up with whom). (Note to self: Get Heather a copy of John Mayer's Continuum and Battle Studies; no finer break-up, I'm-suffering-I'm-dying-why-did-you-leave? music available.)

 

My point to all this is that music moves people. That is why we pay so much for concerts and records, cassettes, CD's and MP3s. We want to capture the moment. We want to relive it. Having a really bad day? Been yelled at buy a client or your boss? Blast "Sexy and I know it" on the way home. Problem solved! (True story: Blasting Sexy Back through the B&O system in a $300,000 Aston Martin will indeed make you bring your sexy back. All the way back. Back and better than ever before.)




This is why Apple and iTunes is such a success. The moment you have a music experience you can buy the song. $1.29 for an experience? Of course you're in! Of course people were willing to give up some music quality for the access to their favorite songs. (Though some weirdos amongst us still prefer to buy CDs. The smell, the feel, the touch, the shiny-shiny. CDs, the fabric of our lives.) Then came Pandora. If you like "this" you might like "that." I spend every workday with Pandora. I don't have to do the thinking, and I get music that I like, not the music that I own and have heard. And once in awhile I find a new song that moves me.

 

This is what I want to bring to the people. That moment when you step into the house, cast off all the crap that happened that day, and with the touch of button fill the room (or rooms) with your favorite tunes, and suddenly, instantly, the day is better. Or that moment after the kids are in bed when – with the touch of a button – the lights dim and your surround sound kicks in and you grab a bottle of wine (see, I told you there was wine), and you get to sit back and forget the day's troubles.  

 

This passion is the true reason I do what I do. I want to give people, clients, that moment. I want to improve their quality of life through technology. Maybe it is because AV is in my blood? At the end of the day (most days) I really love what I do. I love preaching about the Kool-Aid and selling the story. I really want to make a client's life better and I really care. I don't over sell. I sell what I believe. I sell companies that I can stand behind and I make sure my team is doing good work (which they do!). I also believe that it has to fit together. AV should balance a room; a home. It needs to look good in the space (hence my twitter handle @tech_chi).


 

So ten years later after my "I think I can do this, and do it better," moment, I believe I'm doing just that. I've had the privilege to design some great systems for some great clients. I've never thrown speakers into a room without making sure they also looked as good as they sound. Wires don't show in our projects. We work with clients to find solutions not sell systems.




Being female has had hiccups, but I find it can also be a secret weapon. I've had the wife call me up to tell me that she got the couch she wanted while he got the whole house music system that he wanted. But SHE gets to use the system every day. Bringing in the wife can open up the budget. Creating systems that are so easy to use that the in-laws and babysitter can use it is gold. I'm proud of what I do and lucky I get to do what I love.

 

And that, my friends, is the story of how and why I became the tech chick.




Thanks, Heather! Great story that is actually incredibly similar to mine in many ways. (My walk down tech memory lane here...) Thank you so much for sharing and maybe inspiring some other tech chicks out there to follow a dream!

Categories: June 2012, Guest Blog, Music

0

/