Shopping Cart
Your Cart is Empty
There was an error with PayPal
Click here to try again
Thank you for your business!
You should be receiving an order confirmation from Paypal shortly.
Exit Shopping Cart
Features, Reviews and a Blog by John Sciacca
| | |
| --- | --- |
| Posted on July 5, 2012 at 4:55 PM | |
Walk the floor at a tradeshow like the CEDIA EXPO – held this September in Indianapolis and if you click here to register and use code CT07 at check-out you can attend the show for FREE! – and you will quickly notice that the A/V world is filled with what many outsiders would consider "unique" personalities.
There's the new guys that wander the showfloor wide-eyed and amazed; usually identified by the backpacks they are lugging around *crammed* with literature and assorted swag like USB drives, pens, and mini-screwdrivers and trying their hand at some charming talk with a non-committal booth babe. There are the tough looking groups of installers, wearing jeans and untucked company shirts covered with tattoos and piercings and with long-hair bound up in ponytails or somewhat tamed by a ballcap. There's the group of programmers who seem to speak in their own SIMPL language filled with inside jokes referencing coding and debugging. There are the journeymen who have got a little more mileage on them, warily eyeing the latest tool or labor saving device and quick to pull out a tale of how things used to be done back before all of this new stuff came around... Then there are the owners and principals strolling around in fancy attire, being whisked away to little meeting rooms and upstairs VIP sections where they sip espresso while looking down their designer-glasses wearing noses on the sweating, huddled masses.
Another unique personality in this industry is Phillip "HiPhi" Cordell, aka "The A/V Professional," aka "HiPhidelity."
HiPhi is a commercial A/V engineer, programmer and installer based in Nashville, TN. And being so close to music-making country has clearly rubbed off on him as he is one of the few – only? – people in the world to mix custom installation with beats, riffs and hooks that would make the D-Oh-double-Gizzle want to put down his stingers to applaud.  HiPhi also hosts an A/V workshop; a series of incredibly humorous yet informative videos on some of the many issues that plague custom installers.
One of my installers actually introduced me to HiPhi's work after last year's CEDIA. He stumbled across his site on YouTube and shared it with me. Of course, after seeing how clever and funny his videos were, I was immediately wracked with insane, white-hot, blind, jealous rage. Here was someone who was younger, funnier and clearly better at video editing than I could ever hope to be. And it wasn't right.

So, of course, I knew that I had to kill him. (It's really what Jodie Foster would want anyone to do in that situation, I assure you.)
Fortunately, the blind, irrational fire-hot killing rage quickly subsided and – after several lengthy, expository notes to Jodie explaining all of the reasons why HiPhi was really a pretty OK guy and deserved to live – slowly dissolved into a begrudging respect that eventually yielded to just plain-old, regular every day respect.
Truth is, HiPhi is a smart, funny, creative guy who knows how to make music and rhyme things like tele-presence and solder flux, and I had hoped that one day we would get the opportunity to collaborate on something together. When we were both competing for the #PopularAV honors, we traded some mutual respect via the Twitters and I mentioned that I'd love to do something with him at some point in the future.
Well, the future is now! (Huzzah!) HiPhi has come through with an excellent Guest Blog on his latest musical adventure to Bonnarro. So sit back, relax, close your eyes and enjoy HiPhi's adventure. Wait. Umm, keep your eyes open for the necessary reading part. Trust me; it's totally worth it. (Sciacca comments in italics as needed.)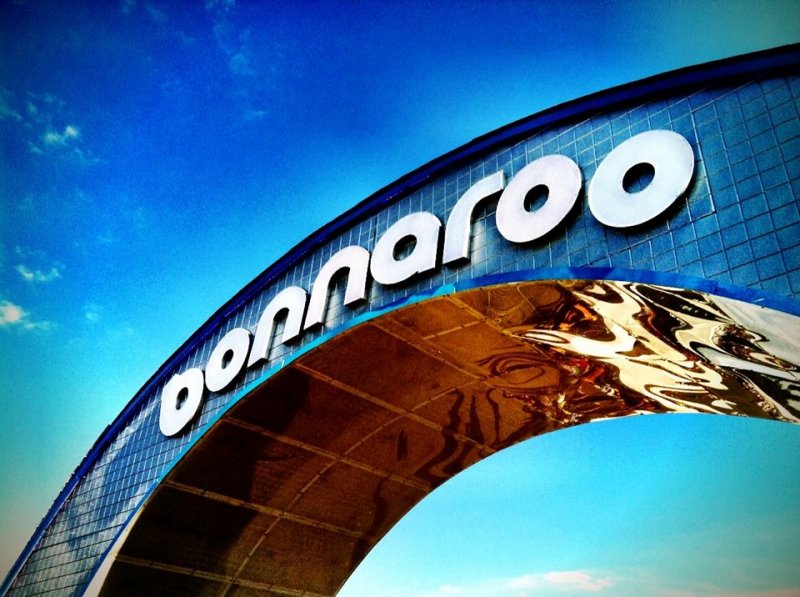 I recently attended my 10th Bonnaroo Music and Arts Festival, and upon such an occasion found it time to finally put into words some of my experiences from this year, both A/V-related and otherwise.
(For the totally lame and uncool – and myself – I took the liberty of looking up Bonnarroo on the Wikis. Here's the gist: "The Bonnaroo Music and Arts Festival is an annual twelve day music festival held at Great Stage Park on a 700-acre farm in Manchester, Tennessee, USA. The main attractions of the festival are the multiple stages of live music, featuring a diverse array of musical styles. The word Bonnaroo, popularized by New Orleans R&B singer Dr. John with his 1974 album Desitively Bonnaroo, means 'a really good time.' It is a Ninth Ward slang construction taken from the French 'bon' meaning 'good,' and 'rue' from the French 'street,' translating to 'the best on the streets.' The name was chosen both for its literal meaning and to honor the rich Louisiana music tradition. The first Bonnaroo took place in 2002 and took inspiration from music festivals like Coachella and Glastonbury." There, don't you feel partially cooler and more hip already? Feel free to drop it into conversations now like, "I was reading about the 'Roo the other day…")
When pondering the perfect outlet from which to let this light shine, I knew none would be as fitting as John Sciacca's blog, seeing as he is a highly-cultured gentleman with the finest taste. Okay I can't back that up, but I do enjoy what he writes and so should you.
(Speaking on behalf of Mr. Sciacca, I can assure you that this is all of the highest veracity. If anything, HiPhi is actually downplaying Mr. Sciacca's impeccable – almost eerie – sense of culture and taste.)
All told, I've seen about 175 different shows at the annual festival held in Manchester, TN.  Some of my favorite performances include Pearl Jam and Tom Petty. I've seen Tool and Metallica bring in da noise, while James Brown and Stevie Wonder brought in da funk. The Jigga Man -- Jay-Z – had by far the greatest A/V set-up I've witnessed at the Roo; his LED-covered towers visually created everything from massive, thumping speakers to the New York City skyline.
Fortunately, this year's festival featured a few bands that I absolutely love.  Literally hundreds of acts performed across multiple stages during the 4-day extravaganza, featuring bands as wide-ranging as The Beach Boys, Skrillex, Alice Cooper, Ludacris and even The Gambler himself, Kenny Rogers. Bonnaroo 2012 found Radiohead, Red Hot Chili Peppers and Phish serving as the headliners.  
(Dana and I were actually having a conversation about concerts the other day, and I must admit that for the most part, I think that I enjoy the IDEA of going to a concert far more than I do the actual BEING at the concert bit. Even when I'm there and having a great time – like say at a They Might Be Giants show – I'm still kind of thinking, "Hmm, I wonder when this will be over. I don't really like this song. I wish I could skip it. Why is it so loud in here? Don't young people wear deodorant anymore? Who keeps yelling "Woooooh! Yeah!"? And why do people keep rubbing up against me?!" So, with all respect, Bonnaroo sounds just slightly preferable to a 4-day genital shocking retreat in some dark cave in Islamabad.)
Before I run down the gigs, I've really gotta give some big ups to the Roo for handling their poo. Seriously…Port-O-John cleanliness used to be a major issue, but now they have crews rollin' in the deep 24/7 (I'm pretty sure that's what Adele's song is about, right?)… so, thanks for that. The police horses, on the other hand, still get to poop anywhere they please with impunity! Even at Bonnaroo the Man finds a way to bring us down.
The second year of their "Food Truck Oasis" provided some great eats, but the hippie who sold me on the $7 tacos had to be taking a kick-back, assumedly spent on sage and glow-stick bracelets, because I definitely felt like I got burned. Not "Didn't Use Sunscreen" burned or ""Bad Decision with Filthy Hippie Chick" burned, but burned in the wallet…heat-burn too, actually.
Though I have seen Radiohead on two previous occasions, this year's Friday night headliner brought it harder than I've ever seen (Awww yeahhh – It's gonna be that kinda post!). Their stage show is rife with interesting A/V including their own multi-cam setup shooting from various, sometimes odd, angles.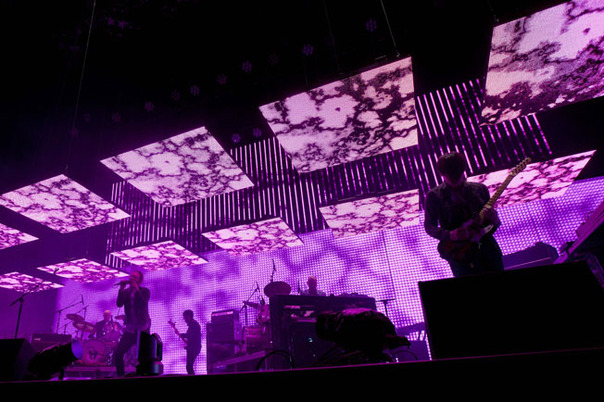 These are displayed on 12 giant, suspended flat panels that are almost constantly in motion and configurable via their marionette-style rigging, and advanced video processing that allows their various images to be juxtaposed in innovative and entertaining combinations across all of their mobile panels. Additionally, there is a large horizontal panel above the stage and two primary screens that are always present on either side of the main stage.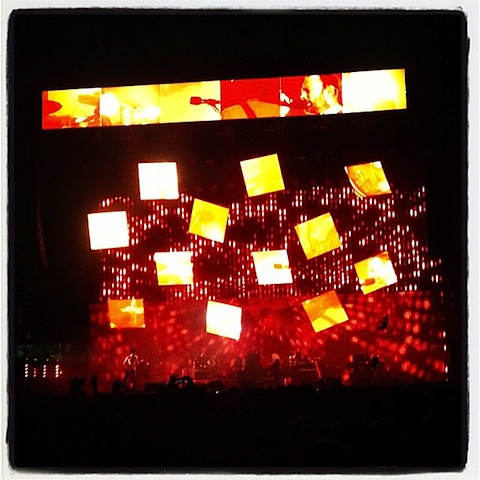 I also happen to be a huge fan of their music, from their rockin' roots with Pablo Honey through their latest funky, electronic-heavy release, The King of Limbs. The set was heavy on their newer material, which was great by me. Clearly, as deduced from the jeers of a fellow onlooker who implored them to (shouted in obligatory southern accent) "Just play 'Creep!' Stop playin' all this space music!!!" This sentiment was not shared by all in attendance.
Simply put, their visually stunning show rocked the house. The set was truly mesmerizing and even folks with little to no experience with their music had a blast. (Just ask my wife!)
Saturday evening found me reveling in the value that is inherent in the Bonnaroo experience. While I would not pay the $75-100 to see a Red Hot Chili Peppers show at my local arena, I was stoked to finally get to see a band that had such an influence on my youth. (Who didn't find heroin just a little more appealing after the "Under The Bridge" video?!? Look how fast it makes Anthony Kiedis run!) (Wait! "I don't ever wanna feel, Like I did that day… Under the bridge downtown, Is where I drew some blood. Under the bridge downtown, I could not get enough. Under the bridge downtown, Forgot about my love. Under the bridge downtown, I gave my life away..." That's about…heroin?! Holy crap! It all makes so much more sense now! I figured he just really REALLY loved bridges.)
Unlike Radiohead however, I am not very hip to RHCP's new material. The bevy of new tunes they rolled out were all enjoyable, but it was only during Mother's Milk and Blood Sugar Sex Magic-era songs that I really found my groove.  Highlights included "Suck My Kiss," "Higher Ground" and "Give It Away Now" (sorry, hardcore Chili Peppers fans). A few notable omissions from the show included "Breaking the Girl," "Soul to Squeeze" and anything off of One Hot Minute. (They must still be beefin' with Dave Navarro.) (I'm really still too shaken up over this whole Bridge thing to make any comments here. Comments like, "I bet there was no Love Rollercoaster either.")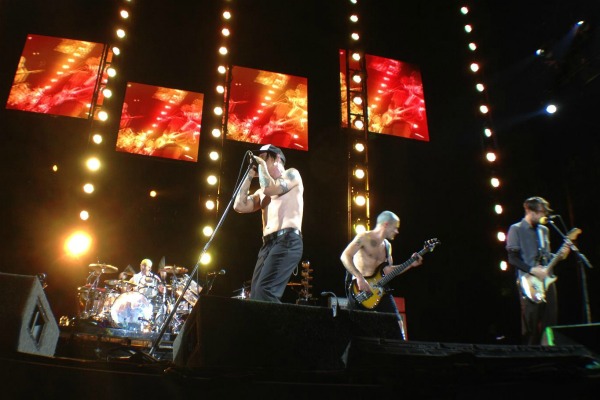 From an A/V standpoint, they also had multiple single displays, advanced signal processing and large, vertical bars that served as additional displays. They stuck with the cameras Bonnaroo uses to shoot all of their main-stage talent, which limited them to 4-5 angles, and added some interested effects and transitions. Their lighting was…bright. All things considered, my long-awaited first Chili Peppers show was…pretty average. Although that Flea fellow sure is charismatic!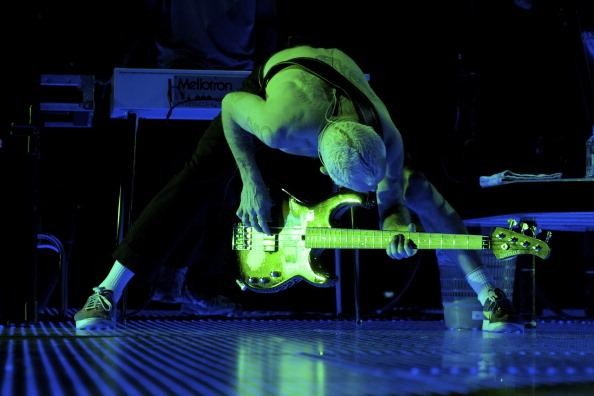 This year's festival closer was Phish, a band that has been making music together since 1983. While I have seen multiple Phish shows, I always have a blast and relish the opportunity to break out my hippie-dance. (Clearly a knee brace is required to enjoy the full spectacle which is HiPhi's hippie-dance in maximum effect.)
I fully understand when my friends make fun of me for listening to a song that is 18 minutes long, but as I always tell them, there is nothing like the live experience. (I am with your friends in total solidarity as we stand arm-in-arm mentally shouting, "OK! Skip to the next one! We don't need to hear that same riff for the next quarter hour! We got it! Play Farmhouse or Bounce Around the Room! Or just anything else really!) Phish has one of the most dynamic light shows of any touring band and hardcore Phish phans even know the head Lighting Director by name.
Their jams Sunday evening were on point and when they even rolled out a special guest. Kenny Rogers must have gotten a night off from his gig at Madame Tussaud's where he stands around as himself, because he was live and in the flesh.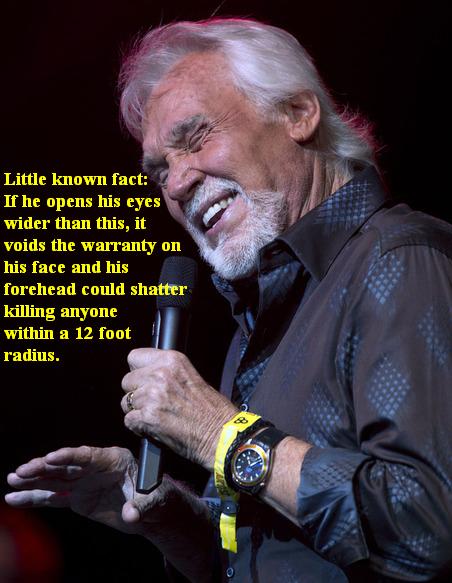 (He had actually played a solo set earlier in the festival with a very special guest…Lionel Richie!) As we watched their joint performance of "The Gambler," (you can tell Kenny has played it a few times) we all knew we were witnessing something uniquely Bonnaroovian.
(I happened to listen to several of Kenny's songs recently, and I gotta say: A lot of that man's subtext is *dark*. That black-hearted, "I may sound happy, but I'mma gunna kill you when y'er sleepin'!" dark. Coward of the County is pretty much about a young girl that gets gang-raped while her boyfriend is at work. "One day while he was workin' the Gatlin boys came callin'. They took turns at Becky.... n' there was three of them!" Ruby, Don't Take Your Love to Town is another real peach of a song. Basically, dude gets wounded fighting in Vietnam. Comes home and his wedding tackle is all busted up if you catch my drift, and he's not got long to live. 'Cept his woman can't wait and she still has her womanly needs that need immediate attending, so she dresses up and goes out looking for the kind of company only a functioning man can provide. So, of course, he plots to kill her. Just your basic love song, really. "And yes, it's true that I'm not the man I used to be. Oh, Ruby... I still need some company. It's hard to love a man whose legs are bent and paralysed. And the wants and the needs of a woman your age, Ruby I realize. But it won't be long I've heard them say until I not around. Oh Ruby, don't take your love to town. She's leaving now 'cause I just heard the slamming of the door. The way I know I've heard it slam some 1oo times before. And if I could move I'd get my gun and put her in the ground. Oh Ruby, don't take your love to town." And The Gambler is really about a wandering, drunken, lung-cancer ridden transient that dies next to a stranger on a train. Pretty standard fare.)
It must be mentioned that this year's weather was the best in 6-7 years.  With so much excellent music taking place virtually around the clock, the atmosphere in which you experience said tuneage actually plays a vital role in overall enjoyability. All said, I'd rank this year in my Top 2 Bonnaroo Festival experiences; the only one greater was the very first year… it was all so exciting and new.
Bonnaroo 2012: Great Music + Great Weather = Great Times. See you at the Roo!
A/V For Life,
HiPhi
HiPhi, big thanks for taking the time to share your Bonnaroo story! We were all able to enjoy the highlights and fun without having to endure hour-long riffs, long bathroom lines, the sweet, tangy, smoke-incense-and-clove filled funk or the unique melange of aromas which is thousands of earthy people that actually believe that that crystal "deoderant rock" does a damn thing that comes from actually being there.
Please check out more of HiPhi's work by following him on Twitter at @The_AV_Pro, checking out his awesome AV Workshop Videos at TheAVProfessional.com and visit his YouTube channel to keep current with all of his latest happenings, including a new album of custom install inspired riffs set to drop soon!
Categories: July 2012, Guest Blog, Music
/