Shopping Cart
Your Cart is Empty
There was an error with PayPal
Click here to try again
Thank you for your business!
You should be receiving an order confirmation from Paypal shortly.
Exit Shopping Cart
Features, Reviews and a Blog by John Sciacca
| | |
| --- | --- |
| Posted on August 14, 2012 at 10:35 AM | |
"A meme (meem) is 'an idea, behavior or style that spreads from person to person within a culture.' A meme acts as a unit for carrying cultural ideas, symbols or practices, which can be transmitted from one mind to another through writing, speech, gestures, rituals or other imitable phenomena. An Internet meme is an idea that is propagated through the World Wide Web. The idea may take the form of a hyperlink, video, picture, website, hashtag, or just a word or phrase, such as intentionally misspelling the word 'more' as 'moar' or 'the' as 'teh'. The meme may spread from person to person via social networks, blogs, direct email, news sources, or other web-based services." – Wikipedia
"John Sciacca touched KEF Blade, and that was only the beginning…"
You may recall that I started a bit of an inside running joke at last year's CEDIA during the KEF press event. Johan Coorg, KEF's brand manager, who exudes total Euro-cool and has a slightly Hans Gruber-esque accent, gave the presentation and as he was describing the completely vibration-free nature of the Blade's cabinet he said, "I implore you to come touch the Blade. Come. Feel it. Touch it. Touch the Blade." The AWESOME! So, of course I went and touched the Blade; cool and smooth and sleek and vibration-less.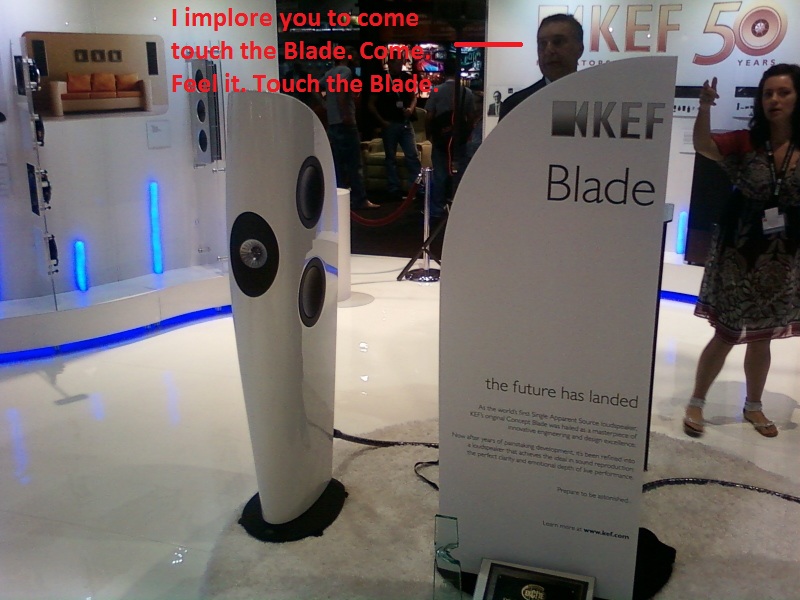 The touching of the Blade's legend grew when I attended Kef's 50th Anniversary Party at the British Consul's private residence in New York. (This party also saw the birth of the only-slightly-less-awesome drink, The Consulate.)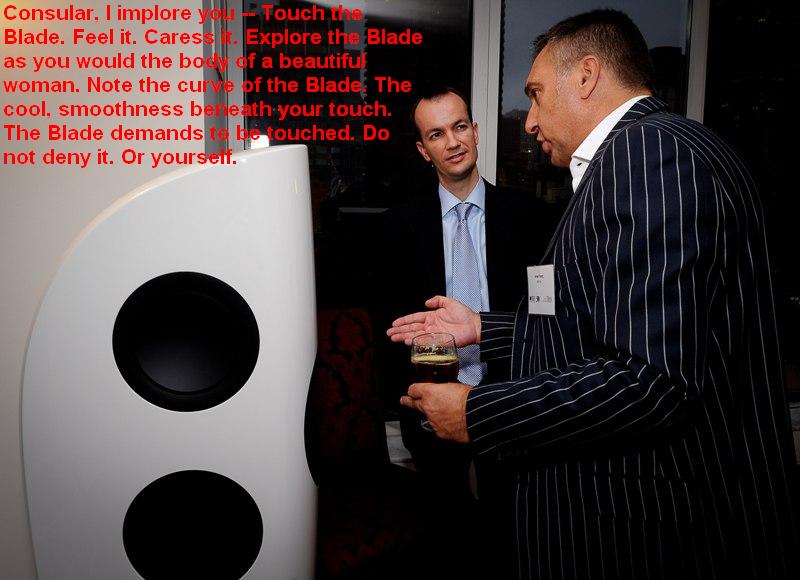 After the formal event, we all walked across the street to a bar and while I'm attending to my beverage, Johan walks up to me. We talk for a bit and when he sees my name, he gets this big smile and glint in his eye. "You! It's YOU! You're the one! You had that post about the Blade!"
There was a brief moment when I wasn't sure if he was totally in on the fun of it, and I didn't want some kind of Krav Maga neck and genital punch, but then he quickly said, "I LOVED IT! I texted it to my wife. She read it. She texted back: HA…HA…HA…HA!" He also sent it around to his staff and they also thought it was great. (Which, of course, it was.) Turns out that Johan is *brilliant* to talk to and has an awesome sense of humor.
So, at the party, Lindsey Adler, Associate Editor at Residential Systems and SCN Mag, snapped this picture of Darryl Wilkinson – aka "The Darryl Wilkinson" – touching me whilst I achieved full singularity by touching the Blade.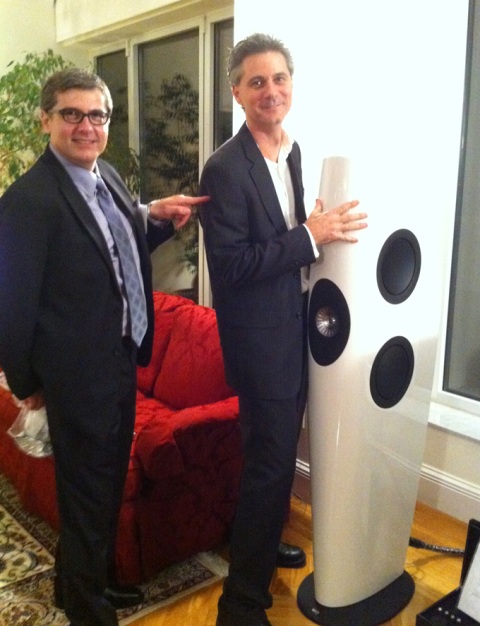 So yesterday, Scott Moody, Director of Public Relations at Marketing Matters, Stephanie Scola, Marketing Manager at KEF, and Lindsey took matters into their own hands by creating a Tumblr of sheer awesome: Sciacca Touches.
The concept is simple, pictures of me touching other stuff. Here are some examples so far: (Also, do try to keep me to scale...I'm 6' 3" and can't be SHORTER than this Olympian and taller than Vader...)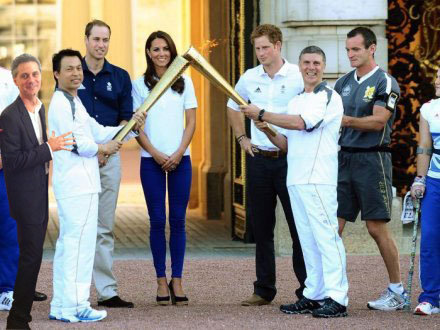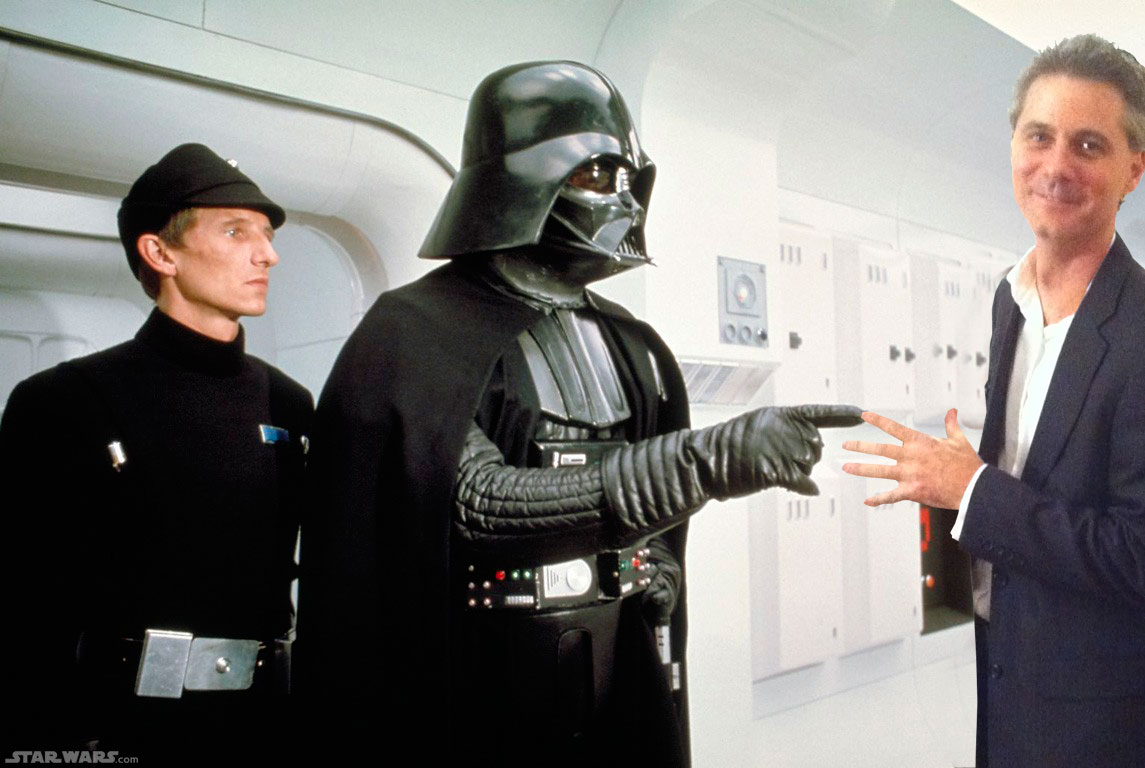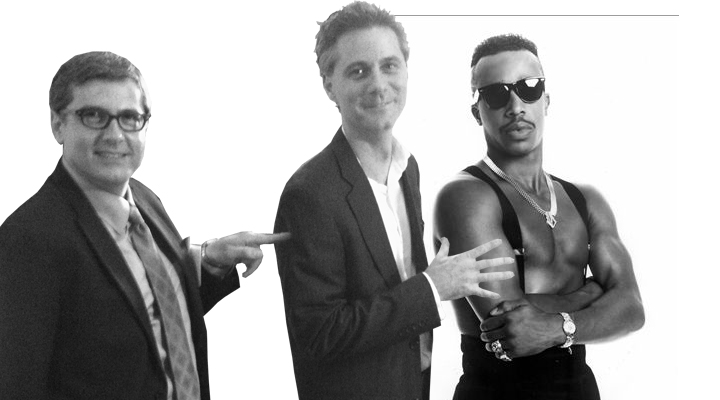 I, of course, thought this was the greatest thing EVER. And there are so many possibilities for more awesomeness to flow forth.
So I thought this was too good to keep private and that we should open it up for submissions and make it into a contest. Stephanie agreed and said that KEF would put up this awesome limited edition 50th Anniversary KEF book and I'll throw in a URC remote control to the winner.
You can download the Photoshop file at (my site won't let me add hyperlinks to https stuff so I added a space between : and /) https: //dl.dropbox.com/u/14876943/SciaccaTouches.psd and then submit your entries to [email protected] (If you want to Tweet me at @SciaccaTweets when you've entered something awesome, well, I'll allow it.)

Let's say the contest will run through the end of CEDIA and a winner will be chosen/announced on the 17th of September. Entries will be judged by myself, Scott, Stephanie and Lindsey. (I'm trying to get Wilkinson on board to be a judge, but he says he wants to be a contestant. I fear that his entries will be too lewd for publication, however, so he might still be involved in a judging capacity.) That reminds me, keep my "touching" limited to PG-13 stuff.
Need some inspiration? Check the Sciacca Touches Tumblr  to see all of the examples so far. Other things I might like to touch? AmEx Black Cards, Johnnie Walker Blue, Pliny the Elder, Golden Tickets, but, you know, whatever. Surprise me.
All you people who have bragged at your awesome Photoshop skillz -- I'm looking at you Rich Fregosa, Matt Scott and Johnny Mota -- and made fun of my weak-sauce MS Paint graphics, now's your time to put up!

Now, let the touching begin!
Categories: August 2012, Bizarre, CES/CEDIA
/