Shopping Cart
Your Cart is Empty
There was an error with PayPal
Click here to try again
Thank you for your business!
You should be receiving an order confirmation from Paypal shortly.
Exit Shopping Cart
Features, Reviews and a Blog by John Sciacca
| | |
| --- | --- |
| Posted on September 14, 2012 at 1:05 PM | |
True story: there was NEVER any beer in our house growing up. My dad *hates* beer. In fact, I'm not even sure that "hate" is a word that accurately reflects his dislike of beer. The highest praise that he's ever given to a glass of cold, malty-hoppy suds after taking the most tentative of sips was, "Well, this one doesn't make me want to vomit."
So, it probably points to something in our DNA that my brother and I have independently of each other developed an eerily similar taste in beers. We like them big, juicy and full of crazy hop goodness. (You may recall that my brother is the one that sent me a care package of 13 Epic IPAs that I reviewed. He also gave me an iPad2. Yes, he's a good brother to have. And, no, you can't have him.)
When I heard that Adam and his wife, Lisa, were going to visit Sierra Nevada's brewery, I knew that a Guest Blog would be in order. (This will actually mark Adam's second foray into Guest Bloggery; his first on various airport private lounges he visited.)
Adam turned me on to Stone Brewery a couple of years ago, and I was interested to see how one of the largest "micro" brews in the world would compare. Knowing that a picture is worth a 1000 words, I asked Adam to take a bunch of pictures to give a visual tour of the place. But, judging by the quality of the photographs my brother took, I can only assume that the tour was given in a fast moving jeep that was driving over heavily rutted terrain while under continuous, *heavy* attack from angry beer abolitionists, where even a single second to focus or reshoot would be the difference between life and death! Also, this explains why my brother is a VP in finance and not a photographer…
But, alas! He has delivered a fine Guest Blog on his visit to Sierra Nevada, and now I hand the mic over to Adam. (My comments in italics below...)
I am happy to take up the challenge of being a guest blogger for my brother. I have but three rules: keep it short, be witty and keep it interesting. Let's see how I do.

My wife and I recently went to Chico, CA for a camping trip and (really) to visit Sierra Nevada Brewing Co.  You see, Sierra Nevada is where my love of beer began. (My discovery of beer also began at college; just not mine. It was while visiting my friend, Craig, at UC Santa Barbara. We enjoyed the unbridled delicious which is Meister Brau in a big red plastic cup out of a keg with little chocolate Teddy Grahams.) When I was in college, my beers of choice were cheap and strong (think "Natural Ice"). (Oh, Ad. I love you, because you're my brother. But I can't love you drinking Natty...)
Fortunately, when I graduated, so did my beer preference (Yuengling, Heineken, Stella).  But it wasn't until I got my first big banking promotion that my palate blossomed.
I was living in Tampa, FL and my then girlfriend's father (nicknamed Big Den) gave me a Sierra Nevada Pale Ale. I had found my calling: hoppy beers. I was like "Little Chef" and I had just been promoted to Julia Childs.  I was hooked, end of story. Whenever I bought a 12 pack, it was light, hop-color green and delicious.  Sierra Nevada set the bar.  Then I got transferred to California and a whole new world of beer drinking opened up.
I now drink some seriously hoppy deliciousness (see my brother's beer tasting comments) (My full review list available here...) and now only occasionally venture back to Sierra Nevada.  But it wouldn't be right to go to my 'alma mater' and not stop by.  So when in Rome...
Chico is Sierra Nevada (SN) town. Their beer is everywhere (and not any cheaper). (Like trying to buy Gucci in Italy. Seriously. Could you not knock a little bit off the price to keep me from buying a fake from the Gypsy out in the street?!) So I thought the brewery was going to be amazing. Naturally our first stop at the brewery was to register for the tour, a 90 minute event with FREE samples.  To my surprise (and SN's first strike) we were told that all of the tours were booked but that we could get on a waiting list. (I spoke to Adam in realtime when this was happening, and I assure you, emotions were running high! I suggested spending an extra day and driving back -- whatever the costs in time and money -- to do whatever it took to get me my blog! Once assigned, a Guest Blog is not easily UNassigned.) Odds were put at 20% that we would get in.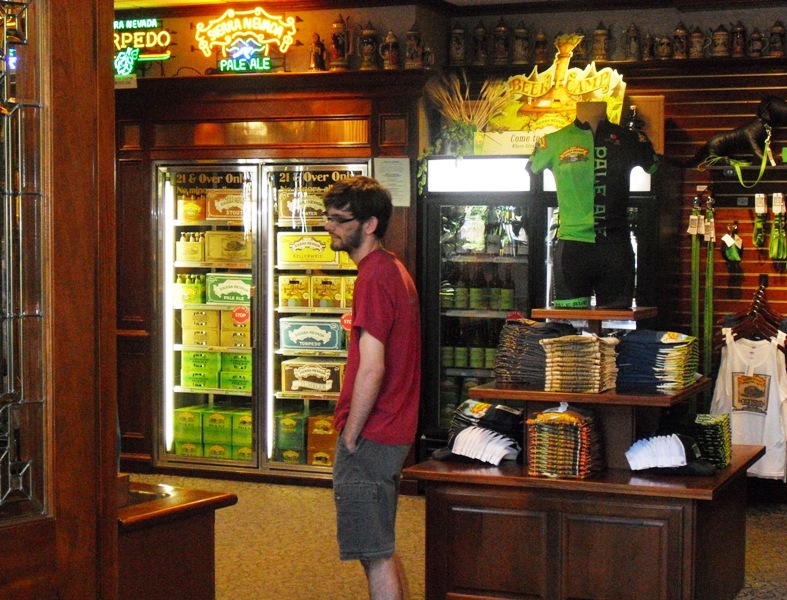 We said okay, and headed to the SN restaurant to pass time. My brother raved about Hoptimum (It's true! Review to be up shortly, but I'm calling it a potentially Top 5 beer!), so naturally, that was my choice. Strike two came hard and fast - no Hoptimum. (Doh!)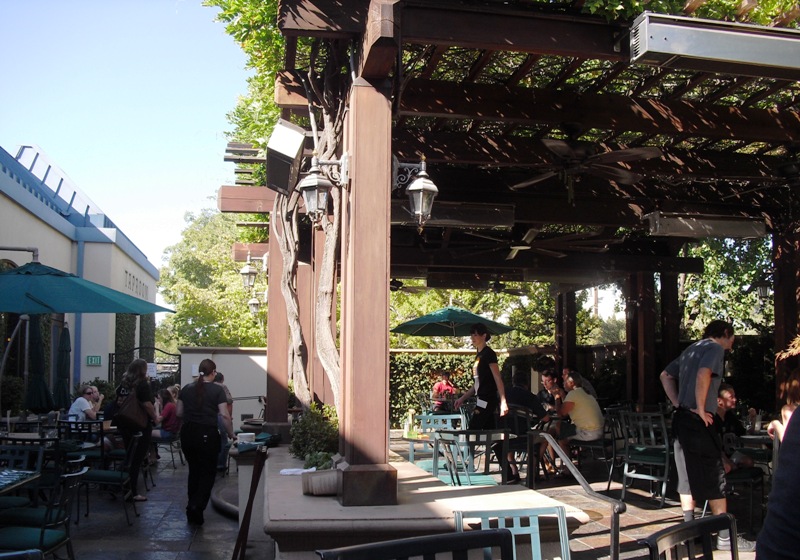 I perused the menu and saw a few beers I hadn't tried. Most were not IPAs but one stood out: Southern Hemisphere. I ordered and drank. My thoughts: okay. It was a little like Torpedo, only lighter. Nice color and aroma but the taste was not the hop you in your face I was praying for. After finishing the beer, we had to book it over to the tour desk to see if we made it in.
Redemption one: we got in and our tour guide was great. He gave us a great history lesson of SN and a lay of the land.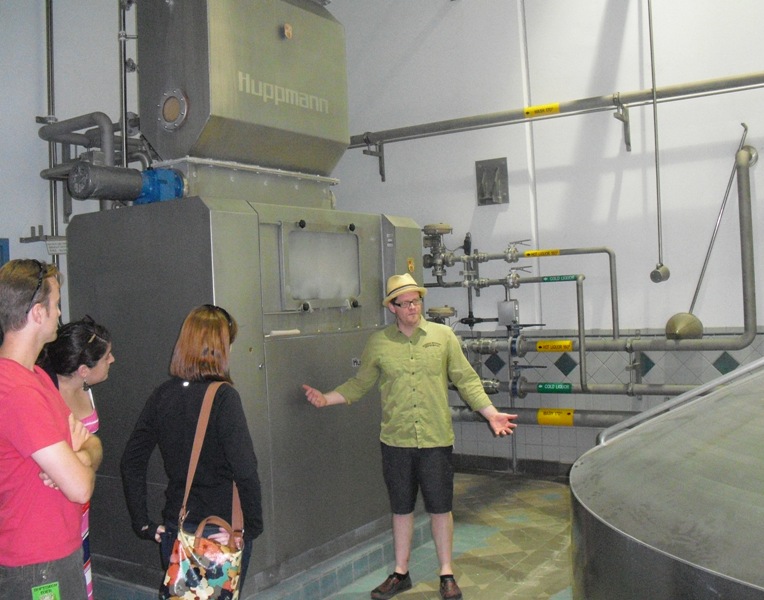 He took us through all of the stages of the Pale Ale and Torpedo brewing process.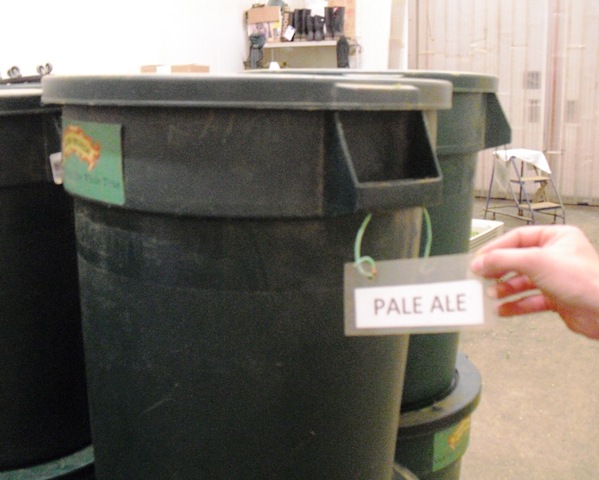 We tried wert (grain/malt water sans the alcohol) and saw where the original brew kettles are and got to go to their hop room to see and sample all the different hops used to make SN beer.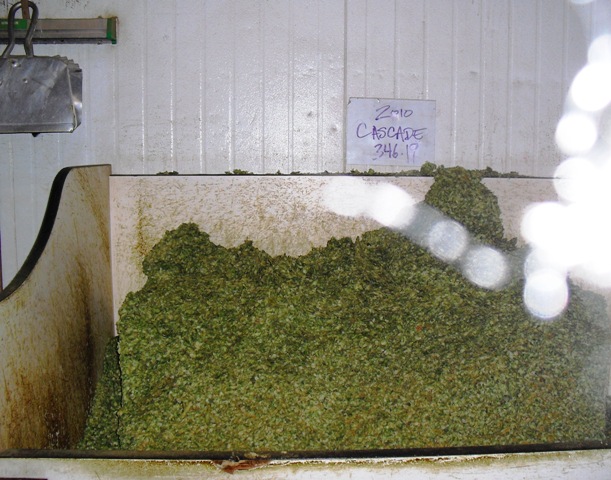 The smell reminded me of a Ziggy Marley concert (sadly, the hops don't taste like Ziggy's magic).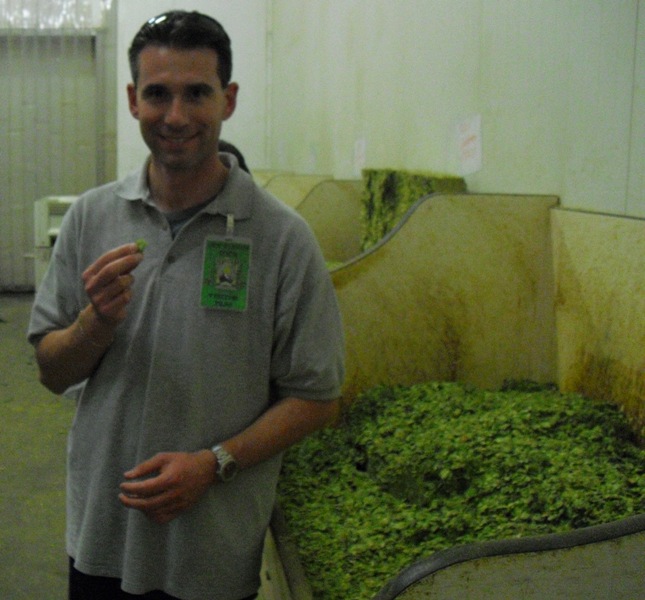 SN is huge into being green. They recycle everything and produce their own energy for about 90% of their needs. SN really practices what they preach: responsible resource use. It was refreshing to see a huge company really caring about the environment.
They are expanding to North Carolina (and hopefully bringing hop-filled delicious to the East Coast, yo! Represent!) to expand production and spread the green. I asked how they can maintain their taste since the water was going to be different. The guide said it was so filtered it wouldn't matter. I then asked why some IPAs taste like metal. Answer: water or hop choice (which made me wonder if that filtered water will work...)
Redemption two - tasting. We got to try about eight beers. The stand outs were -- wait for it… -- Hoptimum. It was every bit as good as John said! (I told you Adam and I were simpatico on our beer tastings! And that Hoptimum is frickin' liquid-delicious captured in a 12 ounce bottle!)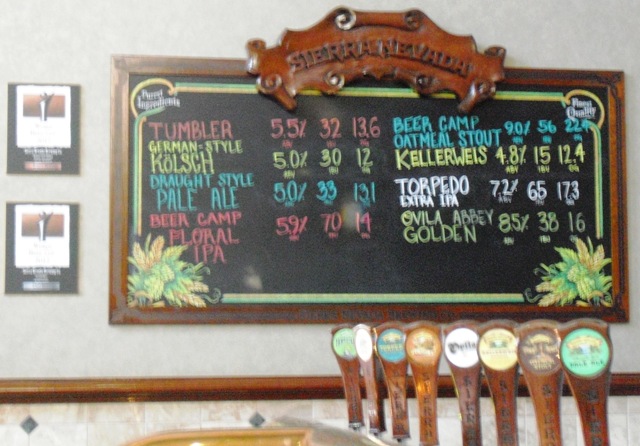 It made me go to a happy place. (The flavors were so delicious I started getting all emotional from it. Calling up people I hadn't spoken to in years and telling them that I loved them. Writing "thinking of you" Hallmark cards. Donating to random Sally Struthers commercials on TV...) There were not too many other standouts. We did learn that SN had a Beer Camp where they brew some great beers for experiment only (sending John four to review). (Which he is eagerly awaiting, by the way!) The stand out: Audition Double IPA.
The taste was fantastic, reminding me of an early morning in winter standing in a lush mountain forest. It was so piny and wonderful. The color of golden amber, with a head three fingers tall. The alcohol (8.5%) was enough to warm me on a cold camping night. The smell was sweet pine and grapefruit. I haven't seen this beer anywhere else but would buy it again in a heartbeat, despite its $10 charge.
I totally renewed my love for SN. It was like I found an old lover and rekindled the affair. I might not buy SN all the time, but their beer and brand are truly quality.
I know I wrote way more than I said I would at the beginning and my words are not Johnesque, but hopefully the pictures make it up.  And if you drink a great SN beer, I did my job!
Thanks, Ad! Excellent post! And look forward to my review of those specialty beers as soon as they arrive! Got a good story to tell? Reach out to me and maybe you can join the elite ranks of Sciacca Guest Blogger too!

Categories: September 2012, Beer/Liquor/Wine, Guest Blog
/