Shopping Cart
Your Cart is Empty
There was an error with PayPal
Click here to try again
Thank you for your business!
You should be receiving an order confirmation from Paypal shortly.
Exit Shopping Cart
Features, Reviews and a Blog by John Sciacca
| | |
| --- | --- |
| Posted on September 15, 2012 at 11:10 AM | |
"American Double / Imperial IPA: Take an India Pale Ale and feed it steroids, ergo the term Double IPA. Although open to the same interpretation as its sister styles, you should expect something robust, malty, alcoholic and with a hop profile that might rip your tongue out. The Imperial usage comes from Russian Imperial stout, a style of strong stout originally brewed in England for the Russian Imperial Court of the late 1700s; though Double IPA is often the preferred name. You can thank west coast American brewers for this somewhat reactionary style." -- The Beer Advocate
I've worked my way through a good number of beers at this point – over 100 – and I've pretty conclusively determined that IPAs are my favorite. But not just any IPA, mind you, but Double/Imperial IPAs with their huge flavors and high ABVs, a great Double can elevate beer drinking to a near religious experience.
For the fourth round of Beer Club, I thought we'd go with 4-packs, which generally are more costly, but offer several Double IPAs that I'd yet to try. (I was only able to get one of the other Beer Clubbers to review this go, so say "Thanks!" to Jon for participating!) I was pleased to find a great selection of beers including a Triple IPA. And – spoiler – this round did NOT disappoint! Raise your glasses, it's drinkin' time!

Weyerbacher – Double Simcoe IPA
Hop Variety: Simcoe
ABV 9.0%, IBU Unlisted
$11.99/4 pack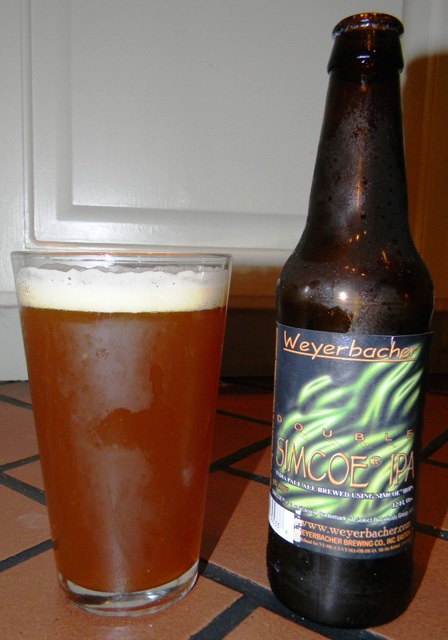 Description: "Double Simcoe IPA is our incredible reward for Hopheads seeking the intense hop flavor in a Double IPA, without the harshness. It is brewed utilizing only the Simcoe hop variety. This hybrid hop, developed and trademarked by Select Botanicals Group, LLC in the year 2000, was created for its high alpha acid content, maximum aromatic oils, and low cohumulone (harshness) levels so that brewers can really put a lot of 'em in a beer and not create an overly harsh taste. Double Simcoe IPA is a full-flavored ale with hints of pineapple and citrus upfront, a good malt backbone in the middle, and a clean finish that doesn't linger too long. Check it out, and you'll soon see why everyone's talking about it. Double Simcoe is available year-round."
Turns out I had tried this beer like 80 beers ago and totally forgot. But, I wanted to give it a fresh perspective with my more seasoned palate, so I forged on and did not read my previous tasting notes. Pours a dark, cloudy, orange, honey color in the glass, with a syrup thickness and produces just a bit of head that dissolved to a thin, foamy top. Body is so solid and dense looking, this beer could almost be a gel, Leaving a thick, creamy lacing trail down the sides of the glass. Nice, bold, hoppy sweet smell, with big notes of caramel malts and citrus-pine goodness. First taste and the carbonation is definitely mild, and the thickness apparent in the glass is also evident in the mouth. You could almost chew on this. First mouthful and the first swallow gives a flash of the malty, caramel flavors, second brings some alcohol heat and sweetness, and the finish brings on some nice lingering bitter. I get the majority of the flavor of this beer on the roof of my mouth and not so much on the tongue. Not sure what you should take from that, but it's my observation. The alcohol sweetness is definitely apparent and another not as well hidden or balanced as in the best Doubles, but there is so much going on flavor wise that it isn't overwhelming. I'm actually enjoying it a bit more near the end of the glass. It has mellowed a bit, and makes the flavors more even and balanced. Flavor, style and taste wise it really reminds me of a baby version of the DFH 120. The high alcohol, whiskey burn isn't there, but the flavors are similar and so is the way it betters and mellows in the glass, improving near the end of your pour.
Jon: Not much I can say about you, the description of this beer should have been right done my alley……S.T.R.I.K.E! But what I got was a gutter ball. My least favorite by a long shot of the latest IPA's tasted. 3 out of 10
Great Divide Brewing Co – Hercules Double IPA
Hop variety: Unlisted
10.0% ABV, 85 IBU
$15.49/4 pack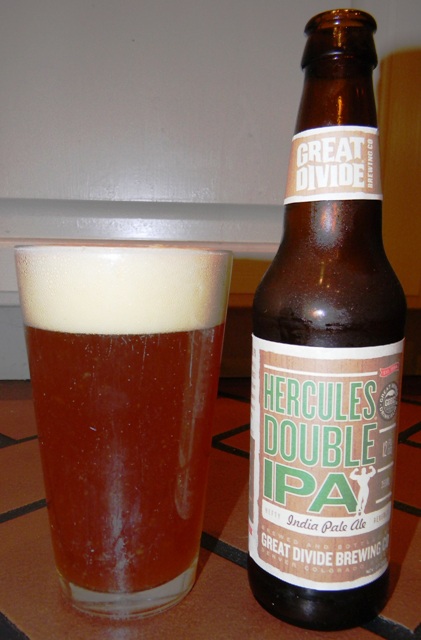 Description: "Hercules Double IPA is not for the faint of heart. It is, however, fit for the gods. HERCULES delivers a huge amount of hops from start to finish. Its hefty backbone of nutty, malty sweetness balances its aggressive hop profile."
You likely have heard of the 12 Labors of Hercules – where he tried to atone for killing his wife and kids in a god-inspired blind rage — but little is known of an extra, 13th labor he had to perform. This last Labor involved harvesting the Elysian hop fields with a pair of tweezers as his only tool. This Double IPA pours a heavy, golden, honey orange into the glass, just sitting there for a bit and then bursting forth at the end to produce three big fingers of creamy meringue head. The head is frothy thick and dense and pillowy. Beer is very cloudy and there are visible chunks of particulate floating around. Impossible to tell if there are any micro bubbles of carbonation as you can't see an inch into the dense, honey-thick body. Smell is of honey hops, big malts and alcohol sweetness. First sip and the carbonation lights up your tongue and the beer kind of warms its way to the back of your throat. The beer has definite sweetness from the high alcohol, and strong malt flavors as well, but it's missing a dimension for me. There is the first bit of tingle on the tongue, and then it just slides its way gently and unassuming to the back of the mouth and throat and not leaving much of an impression on the way. Also, it takes the beer several seconds following the swallow to deliver any bitter. Hercules should go back to slaying monsters and leave the brewing to Dionysus…
Jon: After the first swig, I immediately thought...

The first sip is like bitter molasses, but oddly enough, after sip 17, I started to enjoy this beer, although not to the point of furthering my financial support of the brewer. Glad I tried it, but I give it a 6 out of 10.
Grand Teton Brewing - Lost Continent Double IPA
Hop Varieties: Galena, Columbus, Centennial, Amarillo, Simcoe, Summit, and Cascade
8.0% ABV, IBU 90+
$8.98/4 pack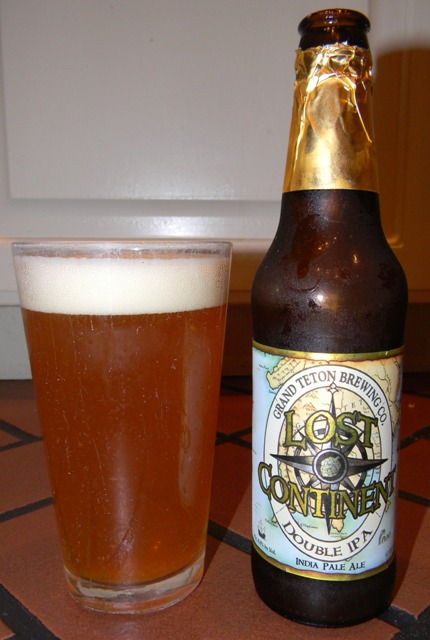 Description: "Grand Teton's Double IPA was born in our renowned Cellar Reserve program. Fans of our Double IPA and XX Sweetgrass demanded we brew the style on a regular basis. In response, we created Lost Continent in 2009 and updated it for 2010. This year's version is brewed with well over three pounds of hops per barrel in the kettle and another half-pound per barrel of 'dry hops' in two additions during conditioning. A revised fermentation program has produced a more traditional Double IPA flavor profile--drier, less malty, more hoppy. We use only American Pacific Northwest hops. Galena hops are added early in the boil for smooth, balanced bitterness. We add Columbus, Centennial and Amarillo later in the boil for flavor, and Columbus, Centennial and Simcoe in the whirlpool for aroma. For even more aroma, we dry-hop with Summit, Columbus, Amarillo and Cascade hops in the conditioning tank, and dry-hop again right before bottling with whole-flower Cascade hops. The result is fruity, floral and complex, with notes of tangerine zest and fresh-squeezed grapefruit juice. Idaho 2-Row Brewers' Malt and German CaraHell and Vienna malts give this ale its lovely pale copper hue, with flavors of orange marmalade and dried apricots, supported by a strong backbone of hoppy bitterness."
I'm hoping that the hop in the compass rose on the label will be leading me to the true north of delicious, undiscovered, sweet-pine, IPA bitters. Surely they have crammed enough hop varietals into this thing. Will it be good, or a hop mess? Pours a hazy golden yellow-orange color that is quite inviting, with a thick, creamy head of about two fingers. Leaves nice rings of lacing down the sides of the glass marking your drinking progress. Smell is rich with pungent, fresh citrus hops. First sip and this is quite tasty. Nice stab of carbonation on the tip of the tongue and travels back through your mouth, carrying grapefruit and resinous pines that flow smoothly through your palate and end up in a nice, lingering bitter finish. Beer has wonderful sweetness that is the hallmark of my favorite IPAs and a great, balanced flavor. The 8% alcohol – while not as huge as some – is still pretty decent but well-disguised and not prominent at all.   I see that this was bottled on 3/22/12, and I'm wondering what an even freshier, hoppier bottle would taste like. The follow-through is really lengthy and bitter, and the mid-notes are sweet and citrus-filled, but I'm just wondering what 5 months in the bottle has sapped from this. Definitely a winner, and if I can spot a more recent bottling, I'd definitely like to try it again.
Jon: Very smooth, everyday IPA. I liked it a lot, up there on my lists of great IPA's. Every IPA doesn't need to melt your brain with hoppiness, and this beer soothed me with smoothness. 8.5 out of 10
Terrapin - Hopzilla Double IPA
Hop Varieties: Bravo, Chinook, Centennial, Citra-dry hop
ABV: 10.3%, IBU 110
$14.99/4 pack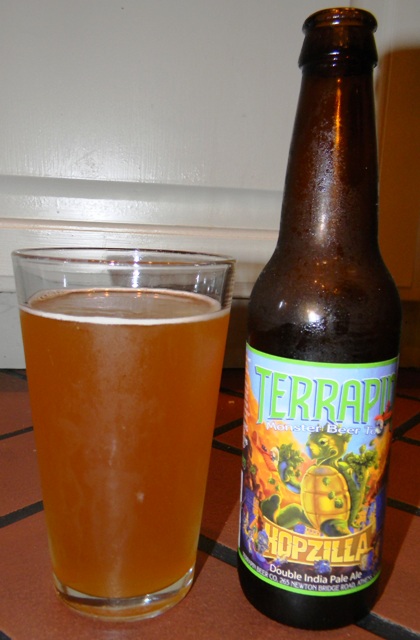 Description: "Terrapin newest member of the Monster Beer Tour is none other than the fearless 'Hopzilla' Double IPA. This Hoptastic creature clocks in at 110 IBUs and has all the hop explosion of a B-rate monster movie. Made with 100% Maris Otter malt to back up the barrage of hop bitterness, flavor and aroma, this beast knows no boundaries. With all of this hoppy goodness packed into one beer, we wouldn't have called it by any other name. This monster beer terrorizes your taste buds with an earth shattering amount of hops while the 100% Marris Otter Malt obliterates all inferior beers in its path. Destroying palates from Athens to Tokyo."
This, incidentally, is my 100th beer for review. (takes bow) So I thought it should be a good one. So, Terrapin, no pressure! The label is very cool and I'm in the mood for some hop-filled, palate wreckin'! Pours a cloudy, yellow-gold into the glass, almost the color of a Hefeweizen, but a bit darker. The beer just slides out of the bottle into the glass, and produces almost no head at all, just a very thin, random smattering of froth. Imagine viewing the planet earth from space where the land mass is foam atop a golden yellow liquid sea. (Hoping this doesn't mean that I've got a dud beer.) Leaves just a pencil-moustache of tracing along the glass edge. Nice citrus-filled hop aroma, with an under note of heady malts. First taste and the carbonation is definitely there (yay!) First thing I notice is a big wave of alcohol sweetness, but before this becomes too overwhelming, the rest of the flavors kick in to balance it out, with the hop bitters literally coming in to quench the sweetness. It's interesting how the alcohol sweetness barrels up right to the point of being too much, and then it is just overwhelmed by the other hoppy flavors. It's still on the sweeter side, but not pine sweetness like a Pliny or Stone Ruination 10th, but a different, more alcohol based sweet. It's nice the way the beer engages your entire mouth; from the tip of your tongue, through the back of your tongue and sides of mouth and a nice warming flow through the swallow. There's a lot going on here, and this beer lets you know it means business from start to finish. I'm liking this beer a lot more as I near the end of the glass. The initial edge has been dulled a bit and I'm better able to enjoy and appreciate the other flavors. Hopzilla is not a brew for the faint of palate, but for the adventurous that love an intense, flavor-filled experience, it delivers.
Jon: I kept comparing you to your younger sister, Hopsecutioner. It was a little malty for me, but I enjoyed the mouth shattering hops. I always give props for the labels, and Terrapin has a great imagination, must be some Teenage Ninja Turtle freaks working in the art department. Score, 7.75 out of 10.
Sierra Nevada – Hoptimum Whole Cone Imperial IPA
Hop Varieties: German Magnum, Simcoe, Citra, Chinook and new proprietary variety
ABV: 10.4%, IBU 100
$9.49/4 pack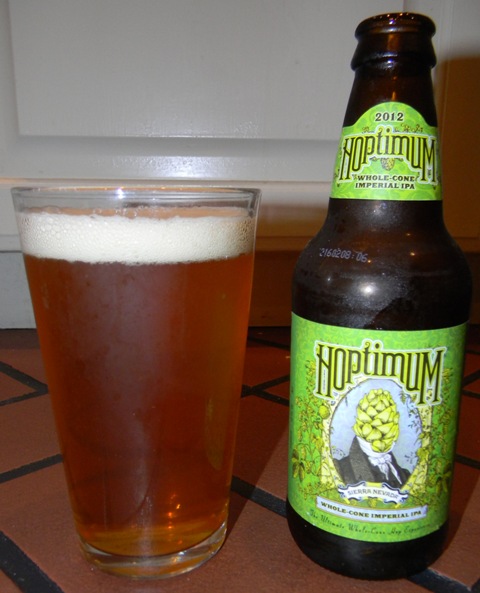 Description: "A group of hop-heads and publicans challenged our Beer Camp brewers to push the extremes of whole-cone hop brewing. The result is this: a 100 IBU, whole-cone hurricane of flavor. Simply put —Hoptimum: the biggest whole-cone IPA we have ever produced. Aggressively hopped, dry-hopped, AND torpedoed with our exclusive new hop varieties for ultra-intense flavors and aromas. Resinous 'new-school' and exclusive hop varieties carry the bold and aromatic nose. The flavor follows the aroma with layers of aggressive hoppiness, featuring notes of grapefruit rind, rose, lilac, cedar, and tropical fruit—all culminating in a dry and lasting finish."
This label pretty much says what you're going to get; a giant, full-cone hop dressed up like a Barrister; classy and down-to-business. Color is a clear golden that kind of reminds me of The Elder a bit; high praise indeed! (Of course, we don't drink color...) Produces a finger of head that soon resolves down to just froth on top. Leaves a thick trail of lacing on the sides of the glass though. Body is very clear allowing you to see the cascade of micro bubbles at work. Nose is a little subdued, but rich with pine and citrus hop aromas when you really breathe it in. This smell is *incredibly* promising and I'm not gonna lie...my mouth is totally watering. First sip...wow! This beer is GREAT. Rich initial blast of pine and well-balanced sweetness followed by a nice wash of lingering bitter finish. This is hitting all the right Double IPA elements for me; it's rich with pine flavors, has a really nice bit of sweetness, but not the cloying sweetness of caramel-malt or alcohol, and then a wonderful grapefruit citrus bitter at the end. The flavors are just so big and spot on and results in a great, fully engaging mouth experience from start to finish. You can taste that this is packed with hops, but they're well delivered and balanced. I'm gonna say this is a Top 10 beer. Maybe even top 5.  It's a real treat just crammed full of fresh, hop flavors. I also love that pine is that standout flavor profile and that the citrus bitter is reserved for the finish. How could it be improved? Maybe slightly more pine, richer aroma, little smoother finish...? But for the price of this beer, it's outstanding, and a standout of the Double style. I'm kinda starting to get emotional from it. I want to call up people I haven't talked to for a while and tell them I love them. Maybe write out some beautiful Hallmark "thinking of you" cards or something. Highly recommended. (I went and bought another 4 pack, this time for $7.99. At this price this beer represents one of the ultimate beer buys and is an unbeatable value, and the second encounter confirmed it as a Top 5 beer.)
Jon: The name describes it well, crack the bottle and hang on for the first sip. It is full bodied, hop-tasticness, great for watching a full length movie or listening to a lengthy "discussion" on how your wife wants to decorate the house. It's not a fast drinker, so sit back and enjoy the bitter. Definitely not a beer you'd drink with dinner, maybe just for dinner. I liked it and give it 8.5 out of 10 on my IPA scale.
Founders Brewery: Devil Dancer Triple IPA
Hop variety: Ten hop varieties, unlisted
12% ABV, 112 IBU
$14.99/4 pack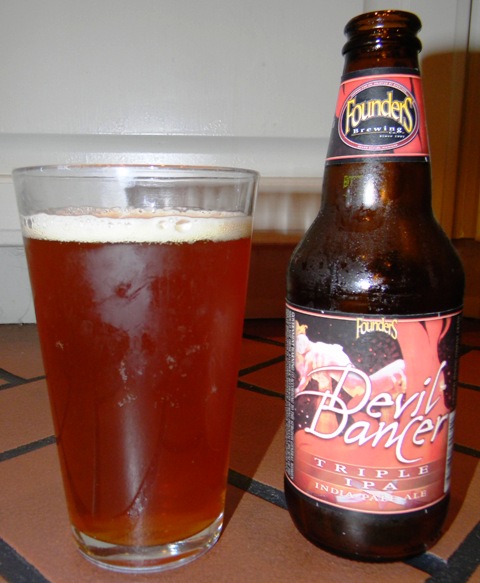 Description: "When you dance with the Devil, the Devil don't change. You do. Massive in complexity, the huge malt character balances the insane amount of alphas used to create it. At an incredible 112 IBUs, it's dry-hopped with ten hop varieties."
If a Double is good, a Triple *must* be better, right? And besides, you know what else is a Triple? Pliny the Younger, one of the most sought after beers in the world! We're in rarefied air here, so I'm eager to see if Single equals good and Double equals great if Triple will equal world frickin' class! Pours a coppery-amber with a clear body and a half finger of head that rapidly dissolves to a bubbly topping and collar around the ring of the glass. There is some visible carbonation going on, and the color is really rich and pleasing. Smell is rich of sweet caramel and malt and reminiscent of the Dogfish Head series. First sip and there is a real zing on the tip of the tongue, followed by lots of sweetness and carbonation, big notes of malt and caramel, then a really powerful, lingering bitter that tastes a bit of burnt notes. At first I thought maybe coffee grounds, but that isn't right. Sweetness comes on a bit strong, but it is different than the (oh-so-pleasing) sweetness of the Hoptimum; more an alcohol fueled sweet and heat. But the bitter helps it to abate, and after a few swallows, it is just a warm glow that bursts out of the glass and into your mouth. The bitter finish here is much bigger, though, and longer lasting.  This is a BIG beer and has huge flavors and texture that you can almost chew on and a finish that you ruminate over for several moments following the swallow. This is almost like training wheels for the DFH120, with similar flavors but is much more approachable and easier drinking. Considering the 12% ABV, it is surprisingly well balanced. Once you get past the initial drink – where the sweetness if most apparent – you are left with a beer raging with hops and flavor. Also, after drinking this beer in roughly a 20 minute period, I'll say, the alcohol has the delivery of a brick through a plate glass window. (Extra credit if you get that reference.) I am *buzzing* after just one beer. As I take the final sip, I'm actually pretty amazed at just how drinkable this beer is with a 12% ABV. It has sweetness and the soothing heat from the alcohol, but it also has balance, and that's not easy to do. IPA adventure seekers would love this, whereas the guy who orders a Bud will probably spit it out and wonder why the hell you poured him a glass of fire.
Jon: O delicious fire dancer, I kept you for last. I tried this beer on tap a few weeks ago and was amazed by the pureness of IPA goodness.The bottled beer was fantastic, but if you ever get a chance to get this beer on tap, don't be a scrooge, pony up and enjoy the 112 IBU's. If beer were allowed on "So You Think You Could Dance", the Devil Dancer would smoke the competition. 9 out of 10
Categories: September 2012, Beer/Liquor/Wine, Reviews
/