Shopping Cart
Your Cart is Empty
There was an error with PayPal
Click here to try again
Thank you for your business!
You should be receiving an order confirmation from Paypal shortly.
Exit Shopping Cart
Features, Reviews and a Blog by John Sciacca
| | |
| --- | --- |
| Posted on September 22, 2012 at 11:25 AM | |
Remember how I've been saying that this whole blog thing has been paying off in getting me new writing assignments and whatsuch? Yeah. Well you know what's better than garnerig writing jobs through your exposure? FREE BEER! Damn straight!
So, I've now reviewed over 100 beers, and I figured what could it possibly hurt to let some of the breweries know about my awesome beer blogging prowess? So I contacted the PR departments of several breweries with links to my Beer Compendium and asked if they would, you know, like to donate to the cause and send me some stuff I haven't tried yet.
Know who responded? Stone. STONE! As in THE Stone Brewing Co., aka the coolest frickin' brewery I have EVER visited. (Seriously, if you are *ever* anywhere neer San Diego, make it a point to visit the brewery. It is, as the French say, Le Awesome! And take the tour. Totally worth waiting for!) Stone liked my unbridled enthusiasm for their product – the BottleWerks 13th obviously withstanding – and wanted me to try some of their beers I'd yet to experience. A few days later, an awesome care package arrived containing this: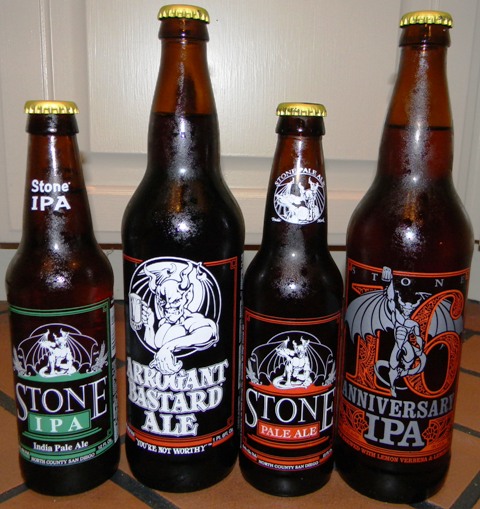 Before I get into it, I'd like to give a big, giant, personal "THANK YOU!" shout out to Sabrina LoPiccolo, Public Relations Specialist at Stone Brewing Co. You are, as the Spanish say, Muy Cool!

Now...let's do this!
Stone Brewing Co. - Arrogant Bastard Ale

Hop Variety:  Classified
ABV 7.2%, IBU Unlisted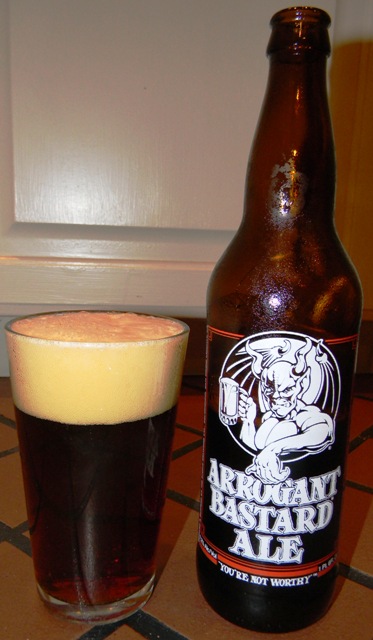 Description: "This is an aggressive ale. You probably won't like it. It is quite doubtful that you have the taste or sophistication to be able to appreciate an ale of this quality and depth. We would suggest that you stick to safer and more familiar territory–maybe something with a multi-million dollar ad campaign aimed at convincing you it's made in a little brewery, or one that implies that their tasteless fizzy yellow beverage will give you more sex appeal. Perhaps you think multi-million dollar ad campaigns make things taste better. Perhaps you're mouthing your words as you read this. At Stone Brewing, we believe that pandering to the lowest common denominator represents the height of tyranny - a virtual form of keeping the consumer barefoot and stupid. Brought forth upon an unsuspecting public in 1997, Arrogant Bastard Ale openly challenged the tyrannical overlords who were brazenly attempting to keep Americans chained in the shackles of poor taste. As the progenitor of its style, Arrogant Bastard Ale has reveled in its unprecedented and uncompromising celebration of intensity. There have been many nods to Arrogant Bastard Ale…even outright attempts to copy it… but only one can ever embody the true nature of liquid Arrogance!"
First, I doubt there is a beer anywhere on the planet with a name that is more fitting for me to drink. Also, I liked the name so much, I wrote a small James Bond themed vignette around it.  I believe I tasted it at the brewery, but that was quite awhile ago before I was cataloging beers and whatnot, so I'm going in to Arrogant with an open palate. A fairly aggressive pour produced a good three fingers of head that slowly broke down into big, bubbly chunks and dissolved down to a nice creamy-tan layer on top. The beer is golden-reddish-brown in color with a very clear body. Only its medium-dark color prevents you from seeing through it. Nice aromas of pine hops and sweetness with a little undercurrent of something else. Like rye (maybe) but not rye. First sip, and some nice carbonation that really wakes the mouth, followed by some hoppy notes and then a nice lingering bitter follow. It's interesting because it has some real IPA characteristics and traits, but it's not an IPA. The bitter finish has almost that burnt coffee note of porters, which is nice contrast to the slightly hop sweet way the beer starts. As it warms up a little the caramel malt flavors becomes a bit more present, adding different taste notes. (Second pour...) A bit more gentle on the pour produced a text book two fingers of beautiful, thick foam. Again, the first notes are really nice hop pine, followed by that lingering porter like finish. This beer has a lot of flavors and the strength to support a steak and potatoes dinner with finesse. (I say that as I AM eating said steak and potatoes.) The balance is great on this, with nice flavors that come in a really great arc – initial mouth engagement, mouth feel and flavors on swallow, then lingering bitter finish-- throughout the drink. You wouldn't think this was a 7.2% ABV, because it is so easy drinking. It's like a gateway drug to Stone's more hardcore IPA offerings without disenfranchising non IPA drinkers. A great beer. Period.
Stone Brewing Co. - IPA
Hop Variety:  Columbus, Chinook & Centennial
ABV 6.9%, IBU 77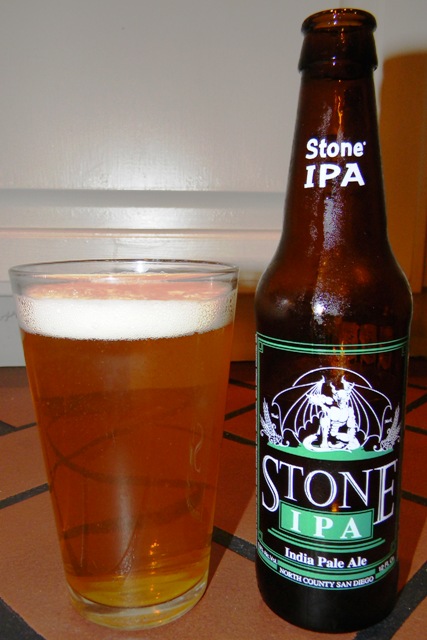 Description: "An 'India Pale Ale' by definition is highly hopped and high in alcohol - you'll find our Stone India Pale Ale to be true to style with a huge hop aroma, flavor and bitterness throughout. If you're a hop-head like us, then you'll love our Stone India Pale Ale! Medium malt character with a heavy dose of over the top hops! Generous 'dry hopping' gives this beer its abundant hop aroma and crisp hop flavor."
I've had a lot of Stone beers. And I've had a lot of IPAs. And I've had a lot of Stone IPAs. But I've never had THE Stone IPA, so it seemed time to put that "never" to bed. A medium firm pour produced a finger of head that held shape pretty well, slowly settling down a thin bubbly topping. Really nice golden-yellow color, and calling this a "Golden" or "Blonde" ale by the color alone would be on the mark. Very clear body with lots of visible micro-bubbles rising inside. Smell is rich with resinous citrus-pine hops and maybe a little bit of orange. Also I'm getting notes of that particular brand of hoppy-sweetness that I really love. Pretty excited for the first sip… Really nice engagements from the center of the tongue, to the roof of the mouth to a really nice, lingering finish. This has all the classic IPA flavors in spades, and you can taste that it is in the lineage of Stone's Ruination, just more subdued. (Which makes sense, as that is a Double.) The mid-notes – where the Ruination really punches you in the mouth with hop-awesome – are similar, but just dialed back, not as full of sweet, resinous hop-juicy, and the finish is less bitter. The carbonation in this gives it a lot of life and action from start to finish, and the hop notes definitely lean toward grapefruit and citrus. I'm left torn by this IPA…on the one hand, it's a really great representation of the style and it's well-balanced and easy drinking. On the other hand, drinking it just makes me realize how much more I love Stone's even bigger, hoppier versions of the style and makes me wish that it was a Ruination 10th I was sipping on. (Though, to be fair, pretty much EVERY beer makes me wish that it was a Ruination 10th, currently the BEST beer I've ever had.) If you aren't ready for the overwhelming (awesome) flavor of a 100+ IBU Double, or you just want to taste a quintessential IPA, you'd have a difficult time doing better.
Stone Brewing Co. - Pale Ale
Hop Variety: Columbus & Ahtanum
ABV 5.4%, IBU 41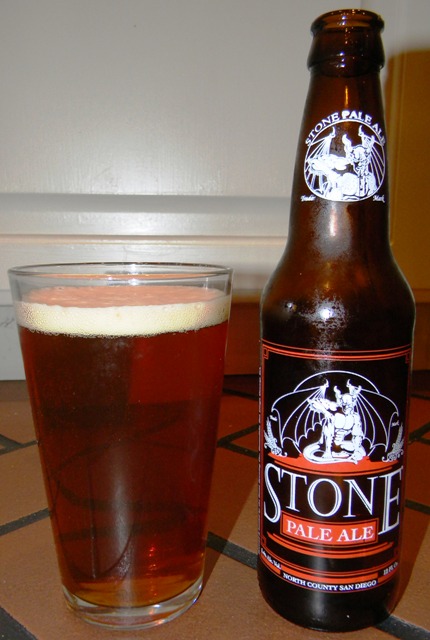 Description: "This is the first ale we ever released at the Stone Brewing Co., back in late July 1996. At the time, it was a bit bold for the tastes of the day. Today, it's nearly on the 'modest' side – especially when compared to our other brews – but certainly far from weak or wimpy. And it's our workhorse, as when it comes to pairing our brews with food, Stone Pale Ale is the go-to more than any other in our portfolio. It's our 'all-occasion' ale if you will, and remains one of our most popular. Sometimes folks who know the bolder, more adventurous side of our personality are surprised with the relative 'friendliness' of Stone pale Ale. Don't let it throw you. Hey, even brash folks like us can be downright friendly sometimes."
As a rule, I shy away from Pale Ales, cause, well, that's usually the really light, watery, "I don't really like beer, but I'm at a beer place, so I'll have the least beer-beer that you have" kind of drink. Pales are generally a pale in flavor and color, so you would probably expect a pale ale to pour a light, watery yellow color that is like a Bud or a Coors. Well, you wouldn't be drinking a Stone Pale Ale then, because this pours a rich coppery, golden brown color that is anything but Pale in appearance and is actually quite a bit darker than the IPA. Similar to other Stone brews, it has a very clear body with a ton of visible carbonation going on. Produced a bit of head at first that quickly settled to a creamy tan froth. Smell is of subdued malts, wheats and barley. First sip, and nice carbonation on the tongue, a nice rise of flavor and then a smooth, easy finish. You get a nice balance of flavors throughout that will appeal to classic ale drinkers, with a finish that is smooth but full of rich classic barley and hop flavors. You know that jack-ass friend that everyone has that says they'll only drink "domestic" beers – meaning "macrobrew" – and they always order a Bud wherever you go? Or maybe a Yuengling if they're feeling especially daring that day? This is the gateway beer to wean him away from that colored water into the land of *real* beer. This won't frighten – or crush – the palate with giant hops and IBUs or complex strange flavors, but it will be enough of a flavor kick in the ass to say, "Hey! Damn! There is more to beer than the cat piss swill I've been drinking!" Figure I have to make a comparison between this and the other, quintessential Pale Ale out there, Sierra Nevada. I would say that SN's take is definitely more hoppy and a little more "spicy" and flavorful, where Stone's is more laid back and barley flavored. It's a nice accompaniment to the sauce-pasta with Italian sausage and mushrooms and onions I'm eating, and offers more in the way of refreshment than in big flavor. If you're looking for a good beer to enjoy by the pool or while killing a sixer during a long afternoon of watching a game, this might be the one for you. It's also pretty amazing to think that this beer is 16 years old, which shows how ahead of the game that Stone was. Sixteen years ago, this beer would have started a flavor revolution.
Stone Brewing Co. - 16th Anniversary IPA
Hop Variety: Amarillo, Calypso, ???
ABV 10%, IBU 85
Description: "We've been loving creating Collaboration beers with great creative brewers from all over the world these last several years-unique beers that would never have existed without the free-flowing imagination and idea generation of the collaborative process. However, when it comes to the Stone Anniversary Ales, it's all us. Yet, it is indeed still a collaboration with great creative brewers (if we do say so ourselves). We're talking about our own brewing team, of course. And while some of our beers, anniversary and otherwise, have been designed by a single person, the Stone 16th Anniversary IPA was definitely a team effort. This year our brewing team was inspired by some exotic-ish additions of the lemony persuasion. Yes, it's a Double IPA (can you really say you're surprised?), but as we strive to do with all our Stone Anniversary Ales of the let's-take-this-IPA-in-a-new-direction variety, we've brewed up a Stone-worthy divergence from tradition. The amount of rye malt we used isn't quite enough to warrant the appellation 'Rye IPA,' but it still adds hints of spiciness that contrast deliciously with the tropical fruit flavors and aromas of the Amarillo and Calypso hops. Add a few European specialty malts, some lemon verbena, and three more hop varieties to the mix, and you have a highly complex brew melding both bitter and fruity hop notes with rich toasted malt character punctuated by nuances of spicy rye and subtle lemon."
After drinking the Ruination 10th Anniversary, I heard that a new 16th Anniversary Double was coming out and I couldn't wait to try it. Of course, living in South Carolina meant that it was tougher to find. So I looked at some of the reviews and they pretty much all said the same thing: Lemon. And they weren't saying it in a particularly good way. It's easy to see why they would say lemon is the dominant flavor as it says "lemon" no less than 3 times on the label. Will it taste like a lemon shandy? (Understanding that I have never had a lemon shandy, don't actually know what one is or if it is even a thing...) It pours a really rich, hearty golden brown color with a clear body and a fluffy two fingers of head. I don't really get any specific lemon on the nose, but other hops and a hint of hop smell that is often referred to as "dank." First sip, and it really lights up your mouth, nice engagement and some really bright notes. I get that dank flavor with some rye spice and then a long, strong bitter where you get a real hint of lemon peel. Like when you pour yourself a glass of straight, top shelf vodka with a thick slice of lemon peel. You are aware of the essence and oils of the lemon, not the lemon. Honestly, I'm liking this IPA more than I expected, but mainly because it got so beat up in some reviews that my expectations were low. Having said that, I'm liking, but I'm not *loving* it. That dank flavor that humps up at the end and the rye notes are not my flavor profiles of choice. Think "musty," "feet" or "skunk" as an alternative to dank. It's almost like the beer is headed straight to piney, hoppy, freshy delicious as it first hits your tongue, and then it takes a sudden, sharp left down a dank alley. You can see the Ruination 10th lurking in there, but then it gets kidnapped and held for ransom in a dank alley where people named One Eyed Joe and Hoss give themselves tattoos with old rusty ballpoint pens. (2nd pour...) The beer is definitely fresher and zingier and less dankier when it's cold and I'd say it tastes best this way. It's crisp and more inviting and just seems to taste livelier and less skunky. Also the lemon finishing notes are appealing and the citrus is a nice compliment when the beer is coldest and first in the glass.
Categories: September 2012, Beer/Liquor/Wine, Reviews
/