Shopping Cart
Your Cart is Empty
There was an error with PayPal
Click here to try again
Thank you for your business!
You should be receiving an order confirmation from Paypal shortly.
Exit Shopping Cart
Features, Reviews and a Blog by John Sciacca
| | |
| --- | --- |
| Posted on October 10, 2012 at 11:05 AM | |
I made some comment on Twitter a little while back about finding the closest replacement to my most beloved candy bar, the Bar None. For those of you who remember this bar it was utter perfection molded into a dark chocolate rectangle. It was chocolate crème filled chocolate wafers covered in chocolate and then topped with peanuts and then the whole thing was slathered in more rich chocolate. The bar had firmness and texture and flavor that was just…well, let's say it transcended how a mere candy bar should make you feel.  Please, let's just all take a moment and honor the memory which was Bar None…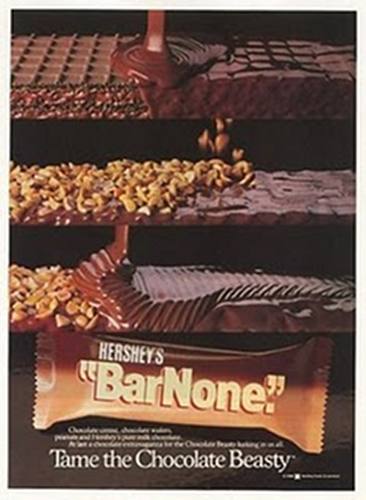 (Assuming that an appropriate 17 minutes has passed...)
OK, so I've been Holy Grail questing this bar since they heinously discontinued it, and the closest thing I've managed to find that even hints at it is the Dark Chocolate Kit Kat. So, as I was saying, I made a comment about the Kit Kat on Twitter and Chris Heinonen (@ChrisHeinonen) saw it and asked me if I've ever tried any of the more obscure Kit Kat flavors. Tried them?! Heck, I'd never even heard of them.
It turns out there is a whole WORLD of bizarre flavored Kit Kats out there just waiting to be discovered. Unfortunately, unless you live in Japan, this discovering process can be a lot tougher to do. (Hats off to the Australians and the UK, though, who are rocking some of the most awesome sounding KK's out there. Cookie Dough?! Cookies and are-you-kidding-me Cream?! Tirami-frickin-su?! Royal Milk Tea?! If that doesn't make you want to shout, "God save the Queen!" while you mounding down some wafer deliciousness, then I think you may be dead inside.)
Chris generously volunteered to pop on down to the local Japanese grocery store near him and send me some crazy flavors to sample. Then he even more generously actually did it! Before they arrived, I told Lauryn that we were getting some crazy Kit Kats to try and that we would be having a tasting.  She said that sounded great and wanted to know what we would be getting. I told her it would be Soy Sauce, Fish Belly, Kiwi Blossom and Panda.
"Oh! I want to try Panda!" Yep. She's awesome.
So, they finally arrived and this is what the packages looked like: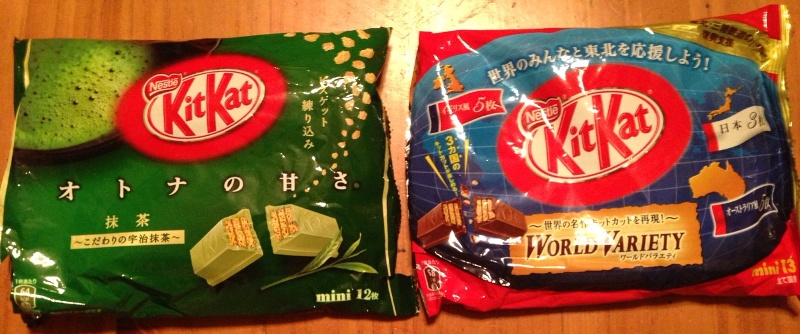 Yep, I had no earthly idea what they were either. We Googled "Kit Kat World Variety Pack" and got this info from the MMM-Fruit website:
"KitKat World Variety Pack, or rather the キットカット「世界のみんなと東北を応援しよう!」, which literally translates to the "Everyone in the world, let's support Tohoku!" pack. It contains 13 individually wrapped pairs of KitKats, 5 from the UK, 5 from Australia, and 3 from Japan."
Apparently, the Japanese take a tapas-style, small plate approach to Kit Kat-ing, as every one of the foreign flavored bars that I've seen are like mini-bars that come in multi-packs.

From the cup that held a frothy green brew that looked like something Mr. Miyagi would whip up to cure a brutal sake hangover, we  were able to determine that the green bag was Green Tea flavor. So, that's where we began our tasting. I gathered the family at the table, doled out a bar to everyone, and…
Kit Kat, GREEN TEA! Ready? Fight!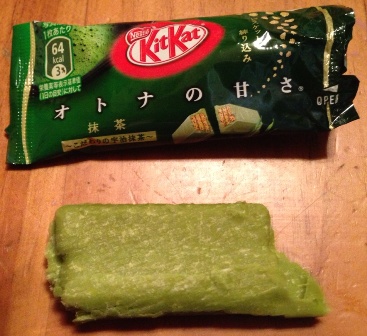 DANA: "The first impression is green tea, but the inside is short bread and once you start eating it that's all you taste; you don't taste the green tea anymore."
LAURYN: "It's green!" (Took the smallest, most tentative bite of a candy bar ever.) "It's very crunchy when you first taste it, but it's bad. I don't like it. Thumbs down."
JOHN: "This definitely reminds me of green tea ice cream at a Japanese restaurant. And since I really like that, I like the bar. There's a weird kind of taste right in the middle -- kind of grassy and mediciney and herbaley and stringy -- but once you chew through that and break through to the other side, the flavor is really a pretty good representation of green tea. Actually, there are definite notes in that weird flavor patch that totally remind me of green tea ice cream. Its kind of herbal and refreshing in a way, like an after-chocolate chocolate."
We just called this one Solid Blue, but further study confirmed that it is the Australian bar. So...
Kit Kat, AUSTRALIA! Ready? Fight!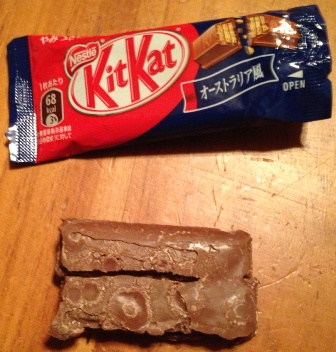 Translation: "Australia -- オーストラリア -- , or "Proud of Mother Nature" chocolate, has a creamy vanilla taste. It contains 0.36% of a cream powder to give it a sweet taste."

DANA: "This is very buttery tasting to me. Pure butter. It's too rich for me. To me it's kind of overwhelming. It's on the roof of my mouth still, like a slick coating. Blech."
LAURYN: "It's very crunchy and buttery but I love it!"
JOHN: "My first thought was, 'Oh, man! This is like chocolate flavored butter popcorn.' I know that sounds weird, but it kinda works in a weird, these two things should be hideous together but they're really kind of awesome! It's very creamy, and heavy with butter fat cream. It was nice in the little taster bar size, but would be a real stomach full in a full bar. And, dear sweet baby Jesus! Don't even think of going King Sized!"
We called this one Red, White and Blue, but later determined it is the UK bar.
Kit Kat, UK! Ready? Fight!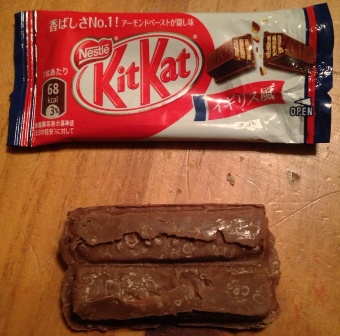 Translation: "The UK -- イギリス -- , also known as "The Birthplace" or Origin chocolate, features a burnt sugar and milk flavor, with a subtle amount (0.38%) of almond paste to bring out the flavor."

LAURYN: "It tastes like a normal one on the outside, and I like it that way! It's very tasty and I'll finish all of yours!"
DANA: "The outside is milk chocolate tasting, but the inside...I don't know what's in there. It's like almond paste or something, I didn't like it. But this is my favorite so far. But that's not really saying much."
John: "There is a strange, difficult to identify flavor in this one. (chewing, thinking) Toffee? Hazelnut? Nutella? I'm thinking its hazelnut. This isn't bad, but it's different and not like better-different... I think I'm liking Butter Fat Kat better at this point, just because that was just straight-up, pure decadence in a bar and this is making me think too much trying to figure it out."
Final battle is White with Red, aka, Japan…
Kit Kat, JAPAN! Ready? Fight!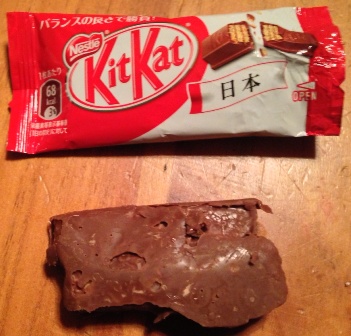 Translation: "Japan -- 日本 --  or "Balance" chocolate, is just that: a balance of aroma and flavor."

DANA: "To me, this tastes the most like a regular Kit Kat, so this is my favorite one."
LAURYN: "This one's very tasty and very sweet and crunchy.
JOHN: "I agree with Dana that this tastes very much like a regular Kit Kat. The flavors are more spot on and balanced, and I would probably have to eat it side-by-side with a traditional American Kit Kat to be able to pick out the differences."
Thanks again, Chris!
Turns out there is a whole, awesome, frighteningnly-crazy world of Kit Kat flavors out there to enjoy. Blueberry Cheesecake! Soy Sauce! Wasabi! And the questionably delicious, Red Beak Soup! Check out some of the other flavors here, and if you stumble across some you want me to try, hit me up on Twitter at @SciaccaTweets.

Categories: October 2012, Bizarre, Family
/