Shopping Cart
Your Cart is Empty
There was an error with PayPal
Click here to try again
Thank you for your business!
You should be receiving an order confirmation from Paypal shortly.
Exit Shopping Cart
Features, Reviews and a Blog by John Sciacca
| | |
| --- | --- |
| Posted on October 19, 2012 at 3:40 PM | |
Hopefully you'll recall the excellent Guest Blog that my brother delivered after his recent visit to the Sierra Nevada brewery in Chico, CA. Adam – the far more generous of the Sciacca brothers – also delivered even more from his trip, picking up five hard to find Sierra Nevada ales and sending them to me to sample. (I then stumbled across a 6th Rare-a Nevada called Estate Homegrown which I picked up to complete a Sierra 6-pack.)
Four of the beers that Adam sent were from a new Beer Camp series. You can read more about Beer Camp here, but from what I can glean, Beer Camp is a contest that people enter and the winner goes off on a wonderful Willy Wonka brewery adventure. They come to Sierra Nevada, a magical place where they can brew in peace and safety, away from all the Wangdoodles, and Hornswogglers, and Snozzwangers, and rotten, Vermicious Knids. There they learn the ropes, play with the ingredients and Big Boy brewing supplies and then make batches of beer. And then I guess these were the winning batches or something. Look, I didn't read the whole thing. I want to drink the beer, not learn its genealogy and date its sister.
So, enough with the talk. On with the drink! Here's the bottles that Adam sent me: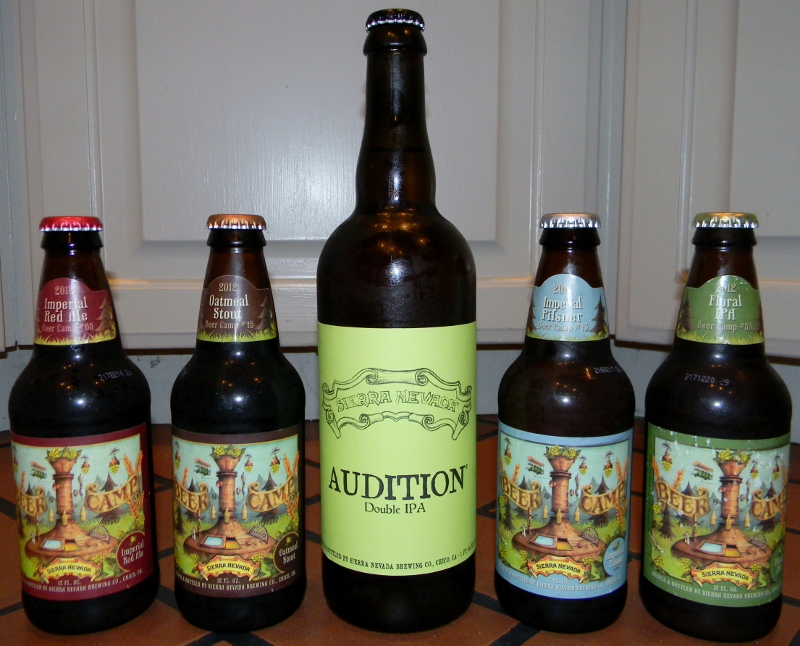 Sierra Nevada – Audition Double IPA
ABV 8.5%, IBU Unlisted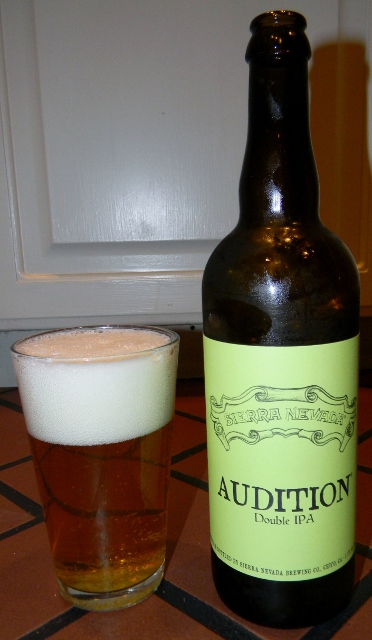 Description: "This beer is a true West Coast-style Double IPA made with huge amounts of hops - both in the kettle for flavor and later in the torpedo to impart a massive hop aroma. The light malt body and dry finish hide the power in this immensely drinkable hop-bomb."
First, you had me at "hop-bomb." Second, while the bottle says it is "1 PT. 9.4 FL. OZ." this bottle *feels* a lot bigger, like I've got a full 750 ml wine bottle going on here. And, Sierra Nevada! Hire an art department! This label looks like something from "Learning Annex Home Brew, 101." It is really a pathetic label that looks like it came off some guy's home ink-jet. Alas, we don't drink labels, and Pliny the Elder wouldn't win any creativity awards either, so maybe this is a, "we put all the money INSIDE the bottle" kind of thing… Also, my brother gave this real high marks, and Doubles are my favorite which is why I'm starting here. Kind of a gluggy pour out of the bottle produced a near total-rookie volcano overflow of four fingers of head. This settled down to a really nice cloudy topping of fluffy, snow white foam. Leaves really great lacing on the side of the glass, marking your progress with a foam ring at each drinking/stopping point. The color is light. Like *crazy* light, like you poured yourself a Coor's Light, light. Very clear and clean body with lots of champagne-like micro-bubbles visible. Nose is incredibly floral and hop-forward, with tons of citrus and grapefruit-rind notes. It doesn't have the sweet-spicy aroma of the Hoptimum, but it is hop-filled in its own right for sure. First sip… Wow, just explodes on the tongue and then leaps to the roof of your mouth, those big grapefruit notes unfurl like a flag and then a big, lingering bitter finish. Definitely doesn't have the sweetness of Hoptimum, and my first impression is that it is good, but not in the epic category. The notes are definitely more citrus/rind bitter and less pine to me. As it is opening in the glass, the grapefruit edge is softening, and I'm starting to appreciate the other flavors and some of the pine sweetness that I enjoy is starting to peak through. No question, the beer is much more approachable and nuanced as you give it a minute in the glass. Yes. Definitely better after several minutes in the glass. The beer has less of that initial stab of carbonation, but is just so smooth and full of flavor in the middle and has a really nice creamy mouthfeel. The beer now kind of just slides down your throat, coating it with really delicious citrus-filled hops, and the bitter finish which was pretty hardcore to start is now just this long, slow, drawn out flavor party in your mouth. (Pours 2nd glass...) OK, even after sitting open in the fridge for about 20 minutes and with a carefully angled-glass-pour, this thing still blew up a ton of head! Second glass starts off with more of the subtle, subtle-sweet flavors that I enjoy, and I would say is better than the first. The floral, pine notes become more pronounced, and the grapefruit rind takes a backseat. This beer is pretty well balanced, but just doesn't stand up to the full-awesome which is the Hoptimum, easily my favorite beer in the Sierra stable (and a Top 5 all-time brew). All-in-all, for me this is a really good beer; drinkable, enjoyable, flavor and hop rich, full of flavor and a pleasing bitterness. It's just not a *great* one.
Sierra Nevada – Beer Camp #53 Floral IPA
ABV 5.9%, IBU Unlisted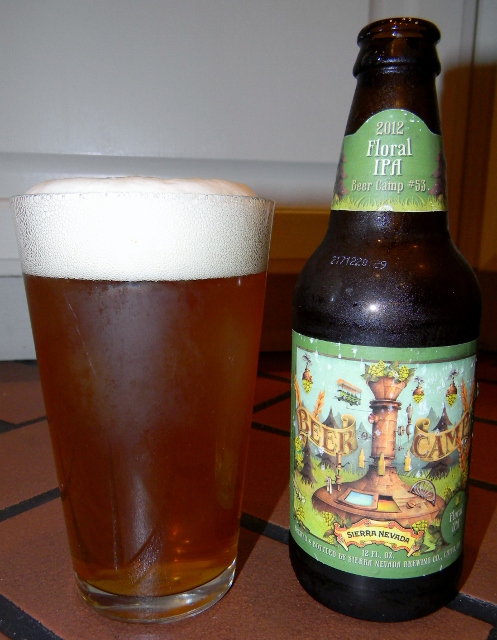 Description: "This unique take on the traditional IPA style pairs the bold and intense aromas of whole-cone hop 'flowers' with aromatic natural rose hips and petals for complex aromas and unexpected flavors."
When I read about "whole-cone hops," I think about Hoptimum. And when I think about Hoptimum, my mouth starts to water uncontrollably as it's undoubtedly my favorite Sierra Nevada beer I've had to date. It's a huge, delicious beer and anything that might approach it is worth trying. Pour produces a beautiful 2-3 fingers of thick pillowy foam. Thick foam holds a solid, dense shape, and rests like a creamy cloud atop the beer. Color is a nice rich, golden orange with a ton of visible bubbles, pretty clear with just a tinge of cloud. You can make out just a shadow of your hand through the glass. Nose is a little more dank than floral; dank being a slight musty, skunky smell. I was really expecting a face full of sweet, citrus hops, but, well, I ain't getting it. First sip… Nice engagement of carbonation on the mid tongue and roof of the mouth, and then a lengthy finish of the same dank taste that I smelled. The beer is missing a bit sweetness in the middle that makes the good IPAs truly great in my "I've reviewed over 100 beers" not-so-humble opinion. It has this nice initial splash of carbonation, then the mid-note is…meh. It's just empty and really missing, then there is a follow of dank and bitter. The beer tends to get even less interesting at the end of the glass, when the initial "dazzle" of carbonation is dimmed and you are just left with the disappointing finish. There's sadly just nothing interesting going on with this beer, and it tastes like a run of the mill, medium-quality IPA. I'd let this Beer Camper graduate, but it wouldn't be with honors.
Sierra Nevada – Beer Camp #43 Imperial Pilsner
ABV 5.6%, IBU Unlisted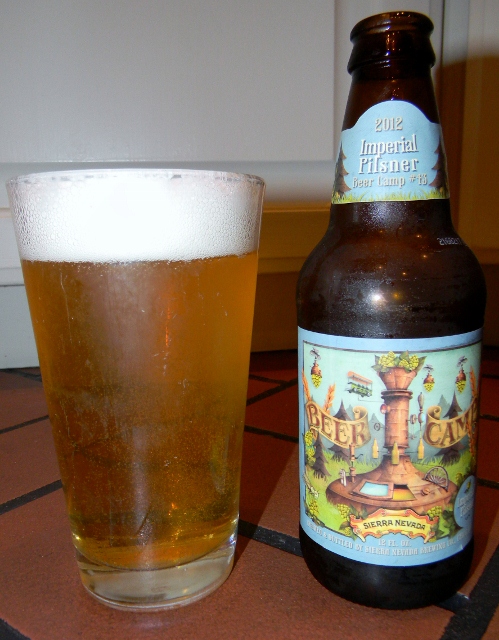 Description: "This unique take on the traditional IPA style pairs the bold and intense aromas of whole-cone hop 'flowers' with aromatic natural rose hips and petals for complex aromas and unexpected flavors."
Imperial in an IPA means extra IPA-ness and alcohol, so I'm hoping Imperial in a Pilsner will also add up to something better. Pours a light golden yellow with a ton of visible carbonation exploding up from the bottom of the glass, and producing a thick, meringue-like textured two fingers of foam. The foam is a beautiful pure, snow white color that really looks like whipped, feathery egg whites. The only real note that I'm picking up is whiffs of honey, but that could just be that the other smells are buried beneath the fluffy, foamy polar ice cap. First sip…this beer is just…weak. Like, it has almost no flavor or life. There's a little splash of carbonation, then the beer just vanishes like Keyser Soze. Like, this beer has less flavor than a Bud. There's no wheat, malt or hop notes. There's just that first bit of carbonation, then the beer disappears. This beer is a colossal disappointment and the only positive spin I could put on it would be, "If you hate the beer taste of beer and want something that is akin to a carbonated water with just the slightest hint of honey-flavored beer, but you want to be able to carry around a glass at parties and say, 'Oh, yes! Look at me! I'm a cool-guy beer drinker! But none of that macro-brew for this trendy hipster!' then Beer Camp Imperial Pilsner is for you!" I'm not sure I can recall a more flavorless, disappointing beer. #Fail This Beer Camper not only doesn't graduate, he gets his bottom paddled in front of the class and then has to sit in the corner with a pointy hat.
Sierra Nevada – Beer Camp #65 Imperial Red Ale
ABV 8.1%, IBU Unlisted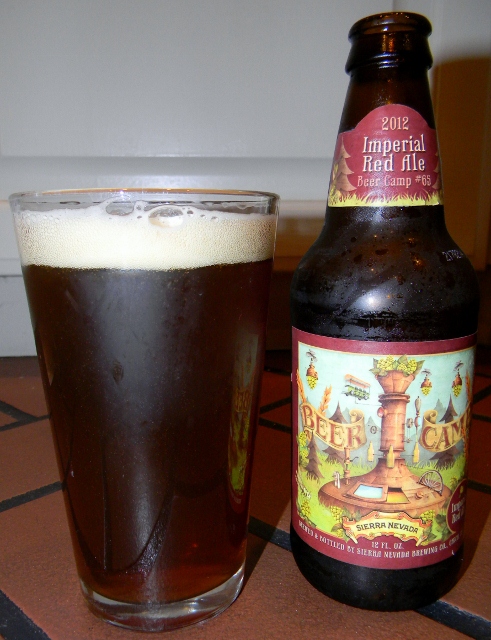 Description: "This Imperial Red Ale takes the intense hope profile found in a traditional double IPA and turns up the malt. It has big aromatic hop notes of grapefruit, peach and melon – balanced by a smooth and surprisingly robust malt body."
Call this "Beer Camp Imperial attempt, take 2." Pours a clear, rich, amber-brown-red with a nice finger-and-a-half of creamy tan head that settles down to a nice blanket on the top of the glass. Smell has some hop notes, but I'm primarily getting dank in there. (Thanks – sarcasm! – Bear Flavored! Now that you've pointed out dank to me, it seems to be the only note I can pick up on! I kind of preferred it when I was blissfully ignorant!) The only way I can imagine getting any peach notes is if I sliced one open and then dropped it into the glass and then rubbed some of the juice remnants on my fingers on my lips. Hey wait a minute…do we have any peaches on hand? No? Damn. First sip and some nice engagement on the roof of my mouth and then the beer slides easily down the throat with an easy, bitter finish of some nice roasted malt notes. At this point I've tried just about every Double IPA I can get my hands on, and there is really nothing about the taste of this beer that reminds me of "a traditional double IPA" or even a single IPA for that matter. I'm not getting any of the typical IPA hop notes, and the finish – while having some tell-tale bitter – is far more malt. The beer starts to open up nicely after some time in the glass, not tasting more like an IPA, mind you, but just having more flavors; more resolved malt and caramel at the end. Also, I never tasted any of the dank that I smelled, which, for me, is a good thing. This is my favorite of the Beer Camp beers to date (understanding I have one left to go) so I'm going to award this little Camper the Suma Cum Laude and invite him to come back and speak at future commencement ceremonies.
Sierra Nevada Oatmeal Stout Beer Camp #45
9.0% ABV, IBU Unlisted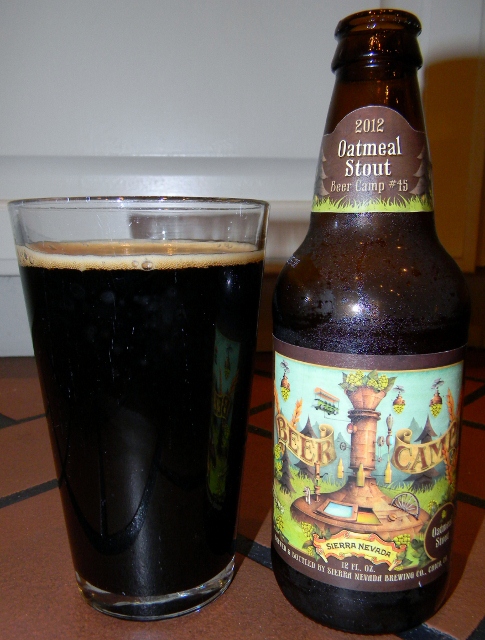 Description: "This big oatmeal stout is midnight black in color - with a big, roasty, mocha-like aroma. It has a silky body from the use of rolled oats, and a round and lasting finish. Perfect as an after dinner treat."
I'm not generally a huge stout fan, but I do like the 9.0% ABV and anything that can be described as "mocha-like." This beer slides more than pours into the glass; coming out a thick, oily black. A smooth pour produces almost no head, just a frothy tan cover. Body is like trying to peer into a black hole in deepest space through the uncorrected lens of the Hubble. Smell is like iced coffee with cream. Beer is creamy and velvety in the mouth, with little carbonation and a nice, smooth easy finish that's rich and full of roasted malt and dark coffee flavors. It lands softly on the front of the tongue with just a wink of carbonation, the just eases down the throat. There's no coffee ground bitterness, just a smooth, boutique coffee espresso shot. It's like you had a wonderful Blue Bottle siphon bar brew perfectly creamed and very lightly sugared, and then allowed it to cool where it wasn't watered down. As it mellows in the glass, I'm starting to notice a bit of sweetness at the finish, almost like a hint of molasses. Sorry, Imperial Red Ale, you just lost your extra special sash! This is the Beer Camp winner in my opinion, which is saying quite a bit since stouts at not my thing.
Sierra Nevada - Estate Homegrown Organic
6.7% ABV, IBU Unlisted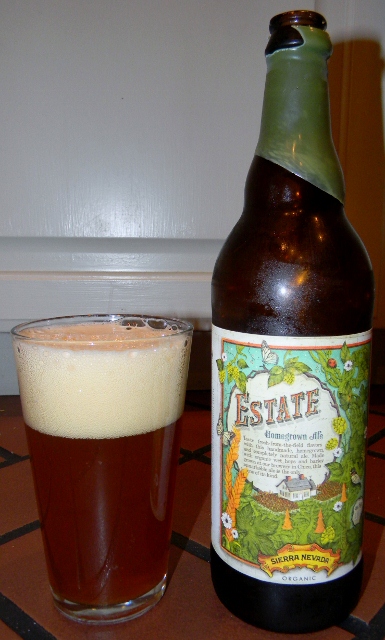 Description: "Here in the sun-drenched fields of California's North Valley, the black soil is rich with promise. In winter, rows of barley seed are laid in the freshly tilled dirt. In spring, trellises are set for hops. From our fields comes a remarkable homegrown ale, made with organic wet hops and barley grown at our brewery here in Chico and one of the few estate-made ales produced anywhere in the world! This Estate Ale is rich with the flavors of the valley—featuring hops with earthy, grapefruit-like flavors and layered spicy aromas and barley with mild sweetness and smooth, toasted flavors. Together, these crops grow alongside the brewery to make a truly unique brew. Enjoy!"
I saw this on the shelf and at first I thought it was a barley wine or something because of the thick, green, wax topping. (Imagine a bottle of Maker's Mark. But, green.) I really like the idea of all locally grown and organic and all that, but my past experience with organic beers has not been positive. A kind of glug-glug pour produced a giant amount of head, that gently reduced down to a thick frothy one finger topping. Color is a cloudy, rich, orange honey color that looks thick and full of flavor. Produces wonderful lacing that thoroughly coats the side of my glass. Nose has some sweet, almost peppery spiciness to it. Maybe some tropical fruit like mango. First sip...lands really nicely on the mid tongue with a nice initial pop and the beer eases down your throat, almost disappearing then showing a bit of a bitter, lingering finish. I'm getting the second taste more on the roof of my mouth, and it has a nice, silky, creamy, velvet mouth feel. But like the previous organics I've had, it's just not really big on flavor. It's really smooth, and there's a softness to it, and a definite ease of drinking, but the flavors are all muted and dialed back. There are flavors there, but I'm struggling to really pick anything out. Occasionally I get a malty hint of Bit-o-Honey candy, and you get some hints of spice and flower, but it's all kind of vague and hazy like reading through a Vaseline smeared iPad screen. I definitely prefer it first in the glass when it is coldest and crispest, I'd just like to take the flavor and stick it into an amplifier.
Categories: October 2012, Beer/Liquor/Wine, Reviews
/