Shopping Cart
Your Cart is Empty
There was an error with PayPal
Click here to try again
Thank you for your business!
You should be receiving an order confirmation from Paypal shortly.
Exit Shopping Cart
Features, Reviews and a Blog by John Sciacca
| | |
| --- | --- |
| Posted on November 3, 2012 at 4:50 PM | |
This round of tasting is about as varied and different as any five brews I've put together so far. An Imperial IPA, a Red IPA, two pumpkin ales, and a coconut-vanilla stout!
And I came across these beers in most unusual manners as well. One beer I discovered watching some guy's video review on YouTube; another my business partner traded me for; the third was a home brew gift from a brewer in Arizona that wanted me to try his beer; and two others were given to me directly by the local District Manager of the largest micro-brewery in the country!
Yeah. Right?!
Enough with the chit-chat. Time for the drink-drank!
Avery Brewing Co. – The Maharaja
Hop Varieties: Simcoe, Columbus, Centennial, and Chinook
ABV 10-12%, IBU 102
$8.99 22-ounce bomber
Description: "Maharaja is derived from the sanskrit words mahat, meaning 'great,' and rajan, meaning 'king.' Much like its namesake, this imperial IPA is regal, intense and mighty. With hops and malts as his servants, he rules both with a heavy hand. The Maharaja flaunts his authority over a deranged amount of hops: tangy, vibrant and pungent along with an insane amount of malted barley – fashioning a dark amber hue and exquisite malt essence. Welcome to his kingdom! The Maharaja is the second installment in our Dictator Series."
I stumbled across a Beer Geek Nation video review of this, and the guy was just SO jazzed about the beer, that I knew I had to try it. "My favorite beer on planet earth is The Maharaja." High praise indeed! And you could just tell from looking that this was a guy that had sampled a few beers on this planet. And possibly some other planets. (Here's a link to watch his video. It's quite good. But be warned: You WILL want to run out and try one!) With comments like that, I knew that I had to take this royal beer for a spin. I was pretty psyched to find it at the first store I checked, so I scooped up a bottle and got ready to get my Maha onja! Pours a beautiful rich, golden copper color with a bit of head that quickly settles to a frothy scrim of bubbles. Clear body with lots of visible micro-bubble activity. Smell is big and rich and sweet with pine and citrus fruit. Getting a bit of that kind of rich orange rind smell that is indicative of a big juicy IPA! First sip...oh! Very nice! Lands like a big juicy hop bomb on the tongue, immediately engaging your mouth and then is followed by nice, rich mid-notes packed with hoppy citrus, then a full lingering finish that tapers off to a nice bitter. This beer has legs for sure. Surprisingly not as much carbonation as I was expecting. The flavor is well balanced, with a really nice level of piney-citrusey sweetness but it isn't overwhelming or falling into the excessively alcohol tasting. You'd never know this was clocking in at over 10% ABV, as the flavors just work so well together. It's developing a smoothness and a richness as it warms and mellows a bit in the glass. It's almost silky as it slides down your throat, and the desirable sweet notes are more apparent. It's actually amazing how smooth this is at 10% ABV, and it is just an incredibly well made beer. I dare say the Maharajah is worthy of a top 5 spot, and should absolutely be on your must-drink short list.
Samuel Adams – Harvest Pumpkin Ale
Hop Varieties:  East Kent Goldings and English Fuggles
ABV 5.7%, IBU 14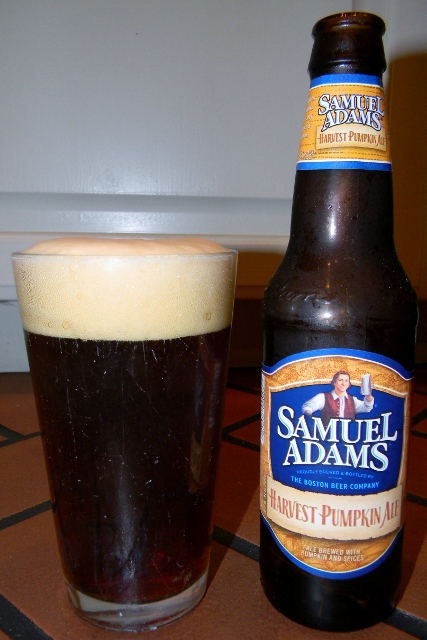 Description: "A perennial favorite at our brewery Halloween party, Samuel Adams Harvest Pumpkin Ale is brewed with over 17 pounds of real pumpkin per barrel, adding a full body and sweetness to this dark reddish amber brew.  Deep roasted malts, including a smoked malt, lend a distinct roasted character while traditional pumpkin pie spices give the beer a subtle spice note."
Not knowing much about the pumpkin ale genre, I reached out to beer know-it-all, Derek Dellinger (aka "Beard") who is one of the finest home brewers I've had the privilege of sampling. "Well, it's subjective as with any style. I like the idea of pumpkin beers but I'm disappointed by the vast majority of them. They're usually a malty amber-ish ale with pumpkin pie spices. I guess the goal is to taste like pumpkin." (You can read more about what Derek has to say about beer at his website, Bear Flavored Ales.)
Before I get into the tasting, I want to give a huge "Thank you!" shout out to Katie Healy, District Manager at Boston Beer Co. I meet Katie at a Beer Fest in Myrtle Beach and mentioned this whole beer review/blog thing and then she said she'd love for me to try some other Sam Adam's brews. I said, "Right on! Let's do this!" Katie brought me 4 bottles to try, but I had already reviewed the Dark Depths and Tasman Red (you can see those reviews here). These pumpkin ales were new to me and I was eager to give them a go!
Pours a rich, hearty, amber brownish-red with a ton of tan foam. The foam is very tight and dense, and if it were white, would be a perfect whipped cream topping to a slice of pumpkin pie. Head has really good retention and holds a nice thick, creamy topping throughout the glass and leaves behind terrific lacing that streaks the sides of the glass. The body is clear and there is lots of visible carbonation. Nose is definitely rich with spices, like cinnamon and nutmeg and coriander, but not overwhelming. There is a hint that there will be sweetness, but the nose is not overly cloying like smelling a Yankee Candle pumpkin pie. First sip and the majority of the beer lands right in the middle tongue, some medium carbonation and then a smooth, easy finish. At the finish you get nice hints of caramel malt and those pumpkin pie spice notes. There is sweetness, but it's more hinted at. The finish just has a nice lingering twang that I'm not sure would necessarily have made me say, "That's pumpkin" but once you know that's what it is, it is definitely, "Ah! Yes! Pumpkin! Totally!" It is really light and easy to drink. Being new to the style – and not really an aficionado – I would say that I'm enjoying this. The flavors are enjoyable without being overwhelming or too sweet and the pumpkin spice adds just enough flavor to be interesting without being obnoxious.
Samuel Adams – Fat Jack
Hop Varieties: East Kent Goldings and Fuggles
ABV 8.5%, IBU 25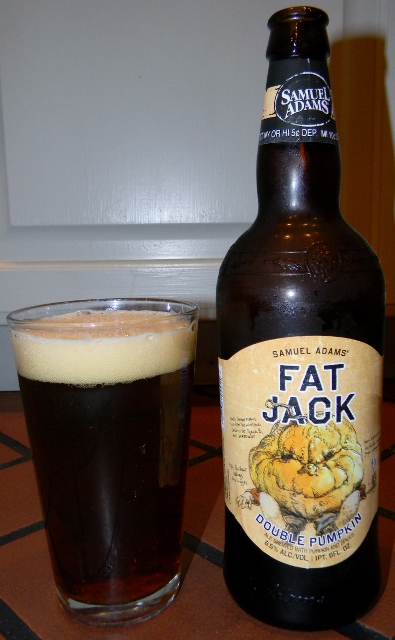 Description: "Pleasantly plump and satisfied.  This rich and luscious brew indulges in flavor with over 28 lbs. of pumpkin per barrel, for a full bodied sweetness and deep russet color.  Classic pumpkin pie spices like cinnamon, nutmeg, and allspice ignite a warmth and spark that's deepened by an undercurrent of roasty smoked malts.  The result is a delectable brew full of enveloping layers of flavor and spice."
If a little pumpkin is good, then a bottle that is rockin' a pumpkin head logo that looks frighteningly like a horrible mash-up between Nightmare Before Christmas scary Jack Skellington and Chainsaw Massacre's Leatherface ought to be even better, right?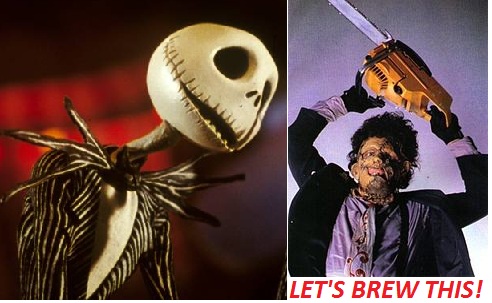 Pours *possibly* a slightly darker shade than the Harvest Pumpkin ale, but produces considerably less head. The finger or so of tan colored head fairly quickly resolving to just a frothy, bubble topping that barely covered the top of the beer in the glass. Clear, reddish-brown body with lots of micro-bubble activity visible. Beer leaves terrific lacing on the sides of the glass. Nose is very similar to the Harvest, with pumpkin pie spices of cinnamon, clove, nutmeg readily present, and possibly a bit more pronounced. First taste and wow! This is where the Fat Jack really separates itself from the Harvest. That was like a glass of pumpkin ale training wheels.  Where that had a subdued flavor and subtle hints of pumpkin and spice and everything nice, this is a really intense, "POW!" punch in the mouth with a fist-full of spice. This tastes like a dessert beer that would probably be a delicious accompaniment to a slice of pumpkin – or even apple – pie, and maybe even served warm with a slice of cinnamon stick. (I'm guessing on that one, not being willing to actually heat up any of the beer myself...) There is definitely a ton more flavor here and more of a "top note" sweetness that wasn't in the Harvest. I won't say "that was missing in the Harvest" as it is a completely different flavor/experience. In some ways, I think the Harvest is more approachable/drinkable. At the end of the swallow you get that kind of tell-tale "high" sweetness in the mouth that indicates the higher alcohol content. (2nd pour) Even with a more aggressive pour into the glass, the beer just slides out of the bottle and produces a single finger of creamy, densely packed, tan foam. First taste again really hits you with that nice zip of sweet and spice and then I'm noticing a nice bit of roasted malt at the end. This beer is big on flavor, with a definite sweetness that is a level up in the pumpkin beer drinking scale. If you've been drinking pumpkin beers that have left you feeling like you were missing out on the pumpkin, Fat Jack won't leave you with *any* questions.
New Belgium - Red Hoptober Ale
Hop Varieties: Target, Nugget, Cascade, El Dorado, Centennial
ABV 6.0%, IBU 60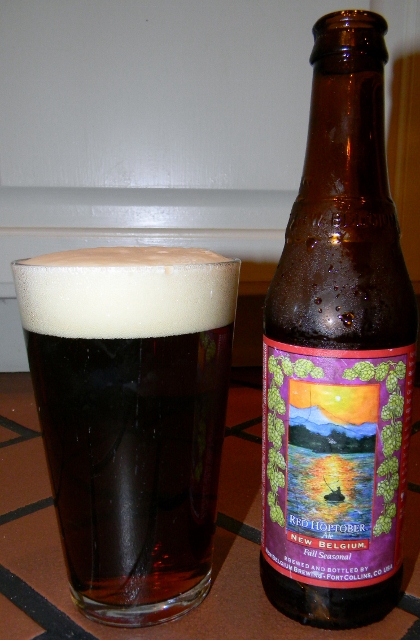 Description: "Fall is here and with it our seasonal ale, Red Hoptober. Shining like autumn leaves in a globe glass this beer pours a dark and lovely garnet as it builds a bright, inviting head. The Eldorado hops are bold and present with a distinct, piney flavor while the caramel malt and roasted barley provide a backbone to stand Red Hoptober upright. Centennial and Cascade hops offer hints of citrus, tickling the nose, while the tongue carries a subtle, roasty tone that pairs pleasantly with the warming bite of bitter. Red Hoptober is perfect for shortening days and campfire nights."
My business partner, Al, had been talking about how great this beer was and after I kept telling him about the amazing IPAs I'd been drinking, one day he brought me in a couple of bottles of this to try. (I felt guilty and so I "traded" him a bottle of Hoptimum.) I was ready to give this beer one single ping, Mr. Vasili, one ping only, and go on my own personal hunt for the Red Hoptober. Pours a deep, dark, brownish red with a serious three fingers of creamy, tan head, that slowly settles down to a nice half-inch, frothy top layer. Left really terrific lacing along the sides of my glass, literally coating each bit that didn't mark the path of where I was drinking. Body is clear, but too dark to see too deep into the red cauldron to discern any activity. Nose is really nice and hop forward, with big top notes of citrus and hints of pine and then and under layer of roasted, toasted malt. First sip and it lands nicely mid tongue with a quick dance of tingly carbonation, and then the beer rides gently to the back of the throat and finishes with strong roasted notes that remind me a bit of the dark coffee flavors of a porter. Second sip and the hop flavors are more present and the roasty finish a bit more mellowed and lingering. This beer has a nice mouth feel and wakes your tongue in a nice sparkle. This beer really smoothes out after a bit of time in the glass, smooth to the point of being dangerously close to losing a lot of its flavor character. As I near the end of the glass it's almost, "What is this again?" as the beer has lost a lot of its impact.  It's an easy drinking beer; one that offers its most interesting flavors when it first hits the glass and one that you could easily pass an evening working your way through a multi-bottle pack. Though on the Hoptimum trading scale I think 1 for 4 is more in order.
Rock Cairn Brewing – Toasty, Coconut Vanilla Stout
Hop Variety: Cluster, East Kent Goldings
ABV 6.0 %, IBU 19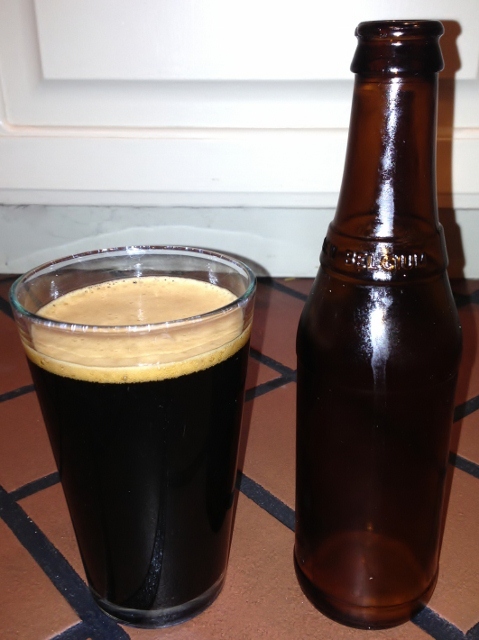 Description: "He is unofficially calling his operation Rock Cairn Brewing. (A rock cairn is a stack of rocks that oftentimes designates a trail in the backcountry, where the brewer,  Cody, spends much of his time. He has been brewing for five years and Toasty is approx. his 20th home brew."
I opened my front door one day to find a package. And inside of that package – besides the most thoroughly protected packaging job I have ever seen; imagine if instead of mailing beer you were mailing glass canisters filled with Ebola virus or spent plutonium fuel rods and you wanted to insure that they didn't possibly break in transit. Despite your best job in packaging, you would still likely come up far short of the amazing way these beers were wrapped! – was this: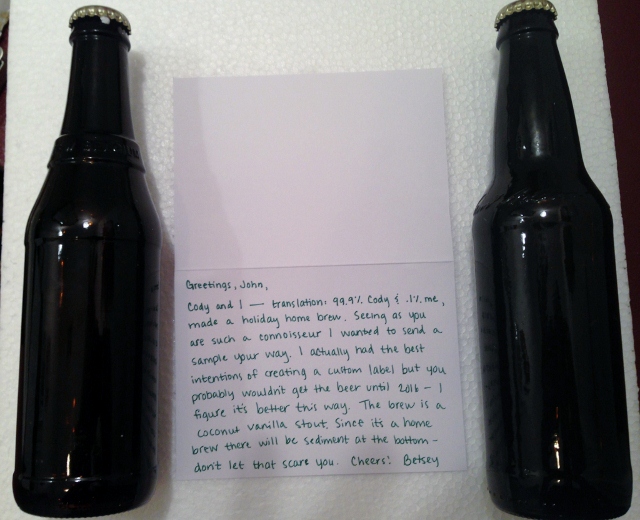 Betsey Banker is the PR manager for OmniMount and, well, she's awesome. There. I said it. You can see Betsey in action here describing some of her products at this year's CEDIA EXPO. And I am going to totally assume that she sent me these beers because she likes me and not because it was one of her company's mounts that totally ass-punched me in the face… Either way, huge thanks to Cody and .1% to Betsey for letting me sample their wares!

Pours a deep, dark mocha black-brown with a half-finger of brown head that quickly reduces down to a light dusting of froth on top of the glass. Looking into this is like peering into a black hole. I'm not sure if that means anything, but it is the very hallmark of a stout in my opinion. Sweet, vanilla-chocolate nose that smells wonderfully inviting. There's also roasted coffee notes. I feel like I'm getting notes of coconut milk too but that might just be the power of suggestion. And, to be fair, it has been a long time since I've sipped/smelled coconut milk. First sip, and there is a nice tingle on the tongue and sides of the mouth, followed by a nice sweet splash of vanilla tinged cafe mocha. Finish is light and nice with no bitter coffee ground taste. There's definite sweetness here, and this would pair nicely with a dessert like a flour-less chocolate cake or a tort. It has kind of that sweet iced coffee with cream taste. As I get near the end of the glass it is losing its carbonation a bit and tasting a little flat which makes it sweeter and without the balance and offset of that openIng zing, less exciting. If you get your hands on a Cory stout, I recommend drinking it in quick order.
Categories: October 2012, Beer/Liquor/Wine, Reviews
/