Shopping Cart
Your Cart is Empty
There was an error with PayPal
Click here to try again
Thank you for your business!
You should be receiving an order confirmation from Paypal shortly.
Exit Shopping Cart
Features, Reviews and a Blog by John Sciacca
| | |
| --- | --- |
| Posted on December 9, 2012 at 12:40 AM | |
Several years ago – 2008 to be exact – I had the privilege of doing a feature story for Sound & Vision on Theo Kalomirakis, a man that can rightfully be called the Godfather of home theater. (You can read the original story here.)
Part of that story involved visiting Theo's amazing residence in New York and seeing the theater he was designing for himself, and visiting the room that housed his phenomenal movie collection.
I was able to speak with Theo for several hours and while I had a list of prepared questions, he was so interesting to just talk to, that our conversation flowed and meandered as Theo reminisced on many topics; growing up in Greece, attending film school, a kick in the butt from Malcolm Forbes, breaking into design, and – through it all – his intense, passionate love for movies.
My wife painstakingly transcribed the entire interview – running over 15,000 words and 28 pages! – which served as much of the source material for my story. However, as my feature was only around 2,500 words, the vast majority of what Theo and I discussed was truncated or left out completely.
I read over the entire interview again and realized that even though it is over four years old, it is still incredibly timely and still just as fascinating as ever. If you are a lover of film, home theater, technology or design, then this will be a compelling read.
Below is the first half -- the interview is SO long I couldn't run it all in one blog. A link at the end will take you to the second half. -- of the never before published conversation between Theo and myself where he talks at length about home theater design mistakes, movie orgies, simple steps to improve your own theater, his love of movies, Kaleidescape, laser disc, Blu-ray and anamorphic lenses, and how to create the proper excitement for the movie watching experience.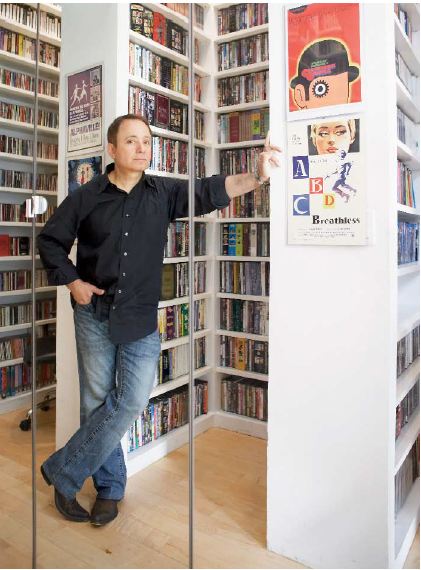 Portrait photo: Edward Smith (originally featured in Sound & Vision July/August 2008 )





John:    First off, I just want to thank you for taking the time to speak with me. I know how busy you are, and I appreciate you making some time for me. I've prepared some questions to walk through a little history about you, your current theater project as well as some of the things that I think would be specifically interesting to our readers. So my first question is – since home theater design didn't really exist before you got started, where did you get the idea and what was your inspiration or motivation?




Theo:    I think I basically connected with my love for movies, which I've had since I was a kid. Just to give you a little brief history, I grew up in Athens, Greece. As a kid I was a very big movie buff and I loved playing "theater exhibitor" on the terrace of our apartment in Athens. I had a 16 mm projector and I turned that terrace into a mini Cinema Paradiso with plants all over, folding seats, benches, etc. This was the late 60's, early 70's. I would invite neighbors over to watch whatever I could get my hands on film — there was no video yet — borrowed from the American library in Athens, typically travelogues that came with names like A Trip Down the Nile or the Grandeur of the Himalayas, etc. But what was on the screen did not matter; what mattered was that there were moving images up on the big white bedspread that was stretched along two posts fastened against the railing of the terrace. During the months of summer no one in Athens watched movies indoors. All the theaters were outdoors and the movies were enjoyed al fresco. When I grew up, Athens was wall-to-wall with open-air movie theaters, probably more than 600 of them. That was because movies were the only entertainment we had. So, I grew up loving going to the movies. I started watching them obsessively since I was 5 years old. Later on I began collecting movie reviews, movie soundtracks and eventually I started writing about them. My first reviews were published when I was sixteen in a film magazine published by Contemporary Cinema, a film society created by a group of young, aspiring filmmakers, myself among them. In the early seventies Contemporary Cinema received a grant from the Fulbright Foundation which was used to finance short films by the members of the society. This grant financed my first film, Limited Engagement.




I shot the film in 1971, and in 1972 it won the first prize at the Thessaloniki Film Festival in Greece and was an official selection at the Krakow and Grenoble Film Festivals. The next year, the film was invited at the New York Film Festival. It is still the only Greek movie ever shown at that festival.




J:    Was your movie made into a DVD?




T:    I have a 35mm print of it and I also have a copy on BETA but I have not transferred it to DVD yet. I probably should. It was a pretty elaborate production for a short feature and it also had one interesting credential: Our director of photography had been an assistant cinematographer in the Ten Commandments. Because of the notoriety it gained at the festival circuit, the film became my ticket to the Film School at the New York University and that eventually led to me staying in this country. Of course having been "brainwashed" by American movies since I was a kid, I always dreamed of coming to this country. Limited Engagement , the NY Film Festival and NYU made that dream come true.

    

I came to the States in 1975. My ultimate goal was to stay here and make movies. But that was not meant to be. My thesis film, Fascination, was so expensive and so elaborate that it left me in debt for like five years. The worst part was that I was very unhappy with it. I thought the movie really stunk. It just did not have a focus, just like its director during his first couple of years as a student at NYU. I was planning to submit Fascination to the Cannes Film Festival, but I changed my mind quickly when saw its first cut. Somehow that movie crushed my dreams to continue directing. I felt so incompetent that none of my previous accomplishments made any difference to me. Then and there I decided never to be behind a camera again. I locked the film in a trunk and I decided to switch careers.




Because I was not planning to go back to Greece I started writing movie reviews at the Greek-American daily The National Herald. It was sort-of like reviving my old profession as a film critic in Athens. In Greece I had taken some courses in publication design to help with the design of Contemporary Cinema. That training would soon come handy. In the late Seventies the publisher of the National Herald came up with the idea of starting together a monthly Greek American magazine focusing on culture. We named it Greek Accent and I became its senior editor plus, after some pleading, its art director. To make a long story short, the magazine got a couple of distinctions for its design and that led to an invitation to become an assistant art director at Time Inc. I was excited; after a number of years working for the Greek American community I felt that I had paid my dues to my heritage. Now I was ready to try and make my mark in the much larger community of what I considered my second country.




I found myself working in magazines like Discover first and Money later. I liked my work, I made many new friends but that employment also was also relatively short-lived. In 1985 I was offered a job as the art director of American Heritage, a magazine that Malcolm Forbes had just acquired and wanted to redesign form the ground up. I accepted the position because Mr. Forbes' magazine was more cultural and less dry for me than Money.




I spent the rest of the decade at American Heritage. The eighties were my decade. The world was introduced to consumer video and my life would never be the same again. It was 1984 when I saw the first big screen projection TV. It was a Novabeam. Do you remember Novabeam?




J:    Yes, I do.




T:    I saw it at a friend's house and I was like "Wow, I can show a movie at my apartment just like when I used to show movies at home in Athens." I had been living in the States for close to nine years and I never warmed up to watching TV Everything looked small and diminished in it. For me the only experience was the big screen. So when I saw that TV with what I thought was a giant size picture I started dreaming. It did not take me long to find the store that TV had come from. It was called New York Video and it happened that it was not that far from my apartment on the Upper East Side of Manhattan. I went to the store three days in a row trying to figure out if I could afford any of these big TV's. The manager realized how much I wanted one but it was also obvious that they were possibly priced above my means. For my luck, during my third visit the manager informed that a slightly dented 50" front projection TV was going to go on sale the next day. My heart skipped a beat. I do not think I even asked for the price. I just remember saying, "I'll buy it." It wasn't a Novabeam, it was a Mitsubishi; one of those two-piece units that you would pull out the front panel to reveal a small three beam projector shooting the picture on the screen via a mirror. Do you remember these units?




J:    Absolutely, My grandfather actually had one.




T:    I was beyond excited, I lugged that thing up the three flights of stairs to my apartment, I put it in the middle of a wall in the living room, I connected it to my VCR but to my dismay the image quality was lousy. Nothing like it looked in the store. I went back to store and the discussion between us went something like this:




--I hate what I bought. It looked much better here than in my room. Why's that?




--What source did you use?




--I just connected it to my VCR




--Well, that's not going to do you any good. What was playing when you bought it was a laser disc




--What's a laser disc?  




To make a long story short, I left the store with a laser disc player under my arm, and my first LD which was Raiders of the Lost Ark. I remember it was a special edition laser disc. I went home and I connected it and it was really, really sharp. I must have enjoyed it for a few days but before too long something else was missing to me: the impact of the big sound. The laser disc had stereo sound but my VCR was not in stereo at that point and I did not have good speakers. So I found a used pair of Klipsch Horn speakers and I bought them. They were big with huge woofers and I placed them to the left and the right of the TV, and I had an instant theater in my living room. It was around that time that I also discovered what may have been the fist surround sound processor for home theater. I remember the name of the brand, it was SSI. I'm pretty sure that if you were to hear this processor now, the front channels would leak all over the place. But, to me, the fact that it spread the sound around the room was great. So I bought one of them, I connected it to two surround speakers, and the next thing you know I started inviting people over to watch movies on a "big" screen. Big deal, it was still just a living room but, I guess it was also a novelty for my friends who would come over for a whole weekend for what we used to call movie "orgies." We would start at four o'clock in the afternoon on Saturday and would go on non-stop through Sunday night. I would send my friends a time schedule a week earlier and everybody knew what was playing from six to eight, from eight to ten, etc. They would show up whenever their favorite movie was on and they would stay for as many movies they could handle. And it was a big deal for them – and for me too – because besides the movies it was the presentation… It was not like, let's turn on the TV and see what's playing. The fact that we would take our seats, dim the lights and focus on the screen made it kind of ceremonial. Having sent invitations in advance was also something that formalized the experience.




I did this for like six months and the fact that the living room was just a living room began to bother me. There was no way to conceal that there were, you know, windows on one side and you could see the kitchen on the other side. It had the big picture, or what looked back then like a big picture, and what sounded like big sound, but it didn't have the ambience. I wondered: "What is missing? What's the ingredient that would enhance the experience and make it fuller?" I needed a better room.




So two friends from Time Inc. and me got together and we started looking for a house to buy. Their goal was investing in the booming housing market of that time and my goal, I must admit, was quite a bit different. I did not care that much about the house as long as it had a nice basement to put a theater it! We found and bought a three-story brownstone in Brooklyn and the first thing I did was to turn the basement into a theater. Yes, in retrospect it was very makeshift and bland but it was definitely better than a living room, especially since home theater didn't exist as a concept back then. Because I didn't have any money to buy anything expensive, I bought chairs from a theater that was being dismantled on the Upper East Side. I remember it was called Theater 60 and they were selling their seats for one buck a piece. They were the type of flip-up seats you see in theaters but old, and they were covered with ugly, turquoise Naugahyde full of burnt holes from cigarettes. But what mattered was that they were cheap. I bought them, took them home and next thing I did was go to the Lower East Side to buy red velvet to cover up the fake leather. I had no clue how to do upholstery but the owner of the store gave me some tips and I went back home ready for action. I remember that I had to remove about a whole bucket of dried chewing gum from the bottom of the seats to make them useable. A few weeks later they were all covered in velvet and brand new looking. I put the seats in three rows and we were almost ready to go. I don't remember how I found it, but I bought this three-beam front projector that they used in airplanes. The brand was Inflight but in reality it was a refurbished Barco. I had just sold my old Mitsubishi so I put the new projector in the front row between two seats.




The room itself was nothing special. It was a dark room. A basement with no design whatsoever and the speakers were just hanging on the walls. But it had three rows of bright red seats and it just made a statement and my guests loved it.  And because I was in the magazine business and these friends were journalists they started writing about what they saw. So, before I knew it, there was a front-page article in USA Today about this crazy guy who had turned his basement into a movie theater. It was a sensation and the phones started ringing day and night: "Well, how did you do it?" was the main question. At that point, they had not started yet asking me to come and do the same thing for them. They just wanted to tell me that they had enjoyed reading about the theater, and some of them wanted to come and check it out.




The thing that I really got me thinking after all this press was that if people get excited about a plain old room that happens to have three rows of seats, what would they say if I could design something with more character, more personality? I started reading about the architecture of movie theaters and at that point, I found out that the biggest and most legendary movie palace ever built   was the Roxie in New York that was demolished in 1963. Its demise has been considered an architectural loss ever since because it was a lot more elaborate than the Radio City Music Hall and also bigger. So I decided that we would find a new brownstone with a bigger basement a theater and I will try to do something much more interesting with the space. That was 1985, the height of the prospective real estate activity when people would by an apartment or a building and the following year they would sell it for twice as much as what they had paid. That boom came to an end a year later with the real estate crash of 1986. My two real estate partners and I bought our second brownstone months before the crash. The house, a grand old Victorian, was in a great location in Brooklyn's Park Slope but its basement was a cobweb-infested mechanical room with pipes dripping dirt and oil. That did not stop me from fierce fantasizing about what I could do with it. It took me a year to I clean it up and with the help of the architects that we hired to renovate the house I designed a much better looking theater than the first one. It would have a vestibule, a neon sign, a curtain that opened and closed automatically, lights that dimmed, and a candy machine that dispensed Three Musketeers and Kit Kat candy bars. I called the theater the Roxie as an homage to the original one.




My favorite theater in New York was, and still is, the Ziegfeld. When I was in the process of building my own theater, I decided to go up to the projection booth for a little-fact finding expedition. The projectionist, an old time veteran by the name of Mike Percoco, must have got a kick out of my obsession and was kind enough to show me around. I remember the first conversation with him as if it was yesterday:




--How does this theater produce such a big sound? What speakers do you use? 




--We use JBL.

 

--Can I buy JBLs for my theater?

 

--You're crazy, your room is too small for these speakers; They are too big




--Let this be my problem; just tell me where to get them!

    

So Mike introduced me to a company that sold commercial grade JBL products and I bought three huge speakers from them. My next concern was "How do I get surround sound?" My newfound A/V mentor told me that at Ziegfeld they were using a decoder made by the Dolby Laboratories. And because he obviously continued to enjoy my obsession, he introduced me to a friend of his at Dolby named Bob Warren. Bob was kind enough to give me free of charge a used decoder that I needed for my theater. Through them I also met Lance Braithwait who was and still is a respected writer about A/V technology. With their help we put the big speakers behind a perforated screen, hung smaller JBL surround speakers on the side walls hooked up all the other equipment and tuned the theater into a mini-Ziegfeld. The ambience of the room was warm and inviting and the sound was sensational.




I remember the first years of its existence the Roxy became some sort of AV attraction. Dolby had talked about it to other companies that made electronics and before too long everybody wanted to visit and check the theater out. I remember groups of Japanese executives from Toshiba, Yamaha, Sharp coming to Brooklyn by the busloads to see the Roxy. They would get off the bus, line up in the living room, bow and hand me traditional small tokens of their appreciation—pens, key rings, fans-- and then I would lead them down the stairs to the theater for a demonstration. I got more press in Japan those days than I even got in this country.




Right away The Roxy became much more popular than the first theater. And because I was still in magazines, most of my friends were journalists and they started writing about the theater in various publications. In the course of its first year the Roxy was featured on the front page of the Home Section in the New York Times, was written up in the Daily News, became a front-page story in USA Today, etc.




Before too long, I started getting calls from people that wanted me to replicate the Roxy in their home. At first I was like: "What do you mean? I am not a designer?" But the phone calls persisted and one day, Malcolm Forbes, who was aware of the noise around his employee's project, told me:




--Theo, opportunity knocks at your door and you are deaf. Why don't you just do another theater?




--But I am not an architect.




--Well didn't you already design one?  Do it again!




It was because of this kick in the butt that I decided to say yes to an invitation from a well-known businessman and art collector. This lead to my first assignment. I remember he arrived that night at the Roxy surrounded by aids and assistants, came down to the theater and said that what he saw was exactly what he wanted for his house in Wainscot Long Island.




During the day, I continued to work at the magazine and in the evening, I was working on the concept for the theater at home. A friend of mine knew how to draft and I recruited him to help me put down on paper the design in my mind. Day by day I became a little more comfortable with the idea of doing theater design. But trying to juggle a day job and a side project became harder and harder. I was also a little scared because sometimes I felt that I did not know what I was doing. I had started working on the Wainscot project in 1988 and by 1989 I knew I had to choose between being an art director or a theater designer especially when a second theater came up for a house in Hartford, CT.  It was then that I crossed my heart and decided take the big jump. I quit my day job and I started TK Theaters in December 1989, and began designing theaters full-time.




It soon went from two theaters the first year, to five theaters the next year, then eight the year after and so on so forth. I realized that I had hit on something that was there to stay: Home Theater was not as the isolated passion of a movie-struck fanatic but a new industry fueled by spectacular advances in technology that allowed the average consumer to bring home the big screen experience. My work was really the wrapping paper around the technology. That's what I felt. It's was not really just about audio, it was not really just about video. It was about everything that makes the experience much, much fuller. Just like it was at the height of the golden age of movies, when going to the theater was a destination. It wasn't like: "Let's go see what's playing at the multiplex." It was: "Let's go to the Radio City Music Hall, let's go to the Roxie." The theater was the destination and whatever movie played, people knew that experiencing it in a big auditorium, surrounded by great architecture, was half of the fun.




The concept of Home Theater developed naturally around the emergence of the technology. I designed my first theater because I felt that technology in itself was not enough to make the experience full. We all enjoy big picture and big sound, but without an exciting environment around it, it's like getting a Christmas gift without wrapping paper around it. It's kind of cold. I feel that home theater design provides the same function as the overture to an opera or a musical: it sets the tone and makes you receptive. It's not necessary, but it helps us warm us up to the experience that will follow. That's kind of what I hit on accidentally.




J:    On your first design, did your client just really want you to recreate the Roxie for him?




T:    Yes he did. I told him that now that I had finally decided to take the jump I would rather try something different. I said, "I don't want to do it again. I did that already. It took me a year to decide if I should try it again, so now that I did, let's try something different now." To someone else this might have sounded cocky but I am sure that he saw it for what it was: a curious mind's appetite for discovery. He accepted and that theater became my first paid assignment. Mainly I was also ready to use better materials than just drywall and paint, which was the case in the Roxy because that was all I could afford. The client agreed to invest in something more lavish in terms of finishes and when the project was completed we were all happy with the end result. We photographed it, but did not try to publish it. Even though it did have good finishes, I thought that my first paid job lacked the level of architectural detail of some of our later theaters.




The first theater that was published in a magazine opposed to a newspaper was actually my own theater. It was 1989. You remember the original Audio/Video Interiors magazine? They sent a photographer over and they had a hard time trying photographing the Roxy in a way that it would not look like a commercial theater. Their plan was to put it on the cover, but they were concerned that something that looked like a real theater might confuse the newsstand buyer. In the end, the story ran inside the magazine.




Magazines run home theaters on the cover all the time nowadays; it's not a novelty anymore. But in the late 80's, there was no such thing as structured rows of seats in a room with a stage and a curtain. Some executives in Hollywood had screening rooms but they were just what the term implies: rooms to screen a movie and not a scaled down versions of a movie palace. To me, a screening room implies oversized couches, no curtain and no emphasis on design; it is not meant to recreate the ambience and the feel of a movie theater. On the other hand Home Theater represents the excitement of a type of architecture that is all but lost today. Movie exhibition fell into hard times when TV invaded our living rooms. Movie palaces were torn down one after the other. In their place countless small, bland multiplexes filled the suburban malls, decorated with stretched acoustical fabric on the walls, and that's it. The ceremonial aspect of going to the movies was all but lost. So our industry literally revived what was the most popular pastime of Americans from 1915 until the end of the 40's before the advent of television. The last movie palace built in Manhattan was the Ziegfeld in 1956.




J:    How did you come up with your pricing structure for your first clients? I would think that had to be pretty intimidating.




T:    Sure, it was scary. I didn't know what to charge but I remember asking a friend of mine who was an interior designer: "How do you work with your clients in terms of fees?" He said, "Well, designers charge based on what it costs to decorate a room or a house with things like chairs, fabrics, lights, curtains, etc. I charge anywhere from 15-25% above the cost of what we buy for the client." So I went back to my client, we negotiated a little and he agreed to pay me 20% above the total cost of the theater. That was 1989, before CEDIA. So, I asked myself: how do I go about installing electronics when all I knew was how to design the room? The answer was to work again with the team that had helped me in the Roxy; Mike Percoco from the Ziegfeld, Lance Braithwaite, Bob Warren from the Dolby Labs and another Dolby employee Tony Grimani, who since then he has become one of the most well-respected acoustical engineers in the AV industry.




The same team worked with me in my second theater which came about six months later and was located in Hartford, Connecticut. We named it the Ritz. It had a very elaborate design compared with the theater in Wainscot and I was much happier with it than with my two previous projects. I had an even bigger budget to work with and by that time I had started feeling more comfortable and confident. When the theater was finished it was photographed and was published in Audio Video Interiors. It was only a few months after the story on the Roxy but at that point, the magazine must have realized that a theater in a home was not such a freakish exception after all. The ice with their readers was broken, so they ran the Ritz on the cover.

    

J:    What are some of the previous projects that have been the most creatively challenging?




T:    I kept upping the ante with every theater that we did. You know, you just can't jump from nothing to something overnight, especially for someone like me who had no formal training in architecture, no discipline really to base my work on. I learned by my mistakes. I would do a theater and I would just be horrified by how much was wrong and I would make sure that I would not repeat the same mistakes in our next project. I always like to challenge myself by trying something more intricate, more developed architecturally. So the next milestone for me was a theater that was called The Paramount the design of which was based on the old Paramount Theater in New York's Time Square. The client, Charles Cohen, a well-known developer in New York who owns a number of Design Centers in key metropolitan locations in the US, was my first true "patron of the arts." Charles pushed me to do things out of the box. Like me, he was also very much into movies and he challenged me to explore new ideas and territories. He said, "Let's do a separate entrance and a really functioning lobby." That was my first theater with an outside marquee, an entry vestibule, an outer lobby and an inner lobby, a staircase to the main auditorium and a functioning stage with a curtain illuminated by theatrical footlights. It was the first theater that somehow allowed me to develop the concept that home theater is not just a room where you throw three rows of seats, a big screen and a curtain. The new direction at that point was to capture the experience, the ceremony of going from the outside, to the inside through a series of spaces that incrementally heightened the sense of anticipation. The outer lobby had a lower ceiling, and at the inner lobby the ceiling got higher. Then, in vestibule that connected the inner lobby with the main auditorium, the ceiling dropped down again in height to create a sense of intimacy but also to prepare us for the next surprise, the excitement of the main auditorium that had the highest ceiling in the entire procession of spaces.




The Paramount was the first theater that allowed me to create the kind of hierarchy of spaces that was very common theme in the big theaters: You never entered the main auditorium, cold. The theater architects knew how to warm you up through a series of anterooms that made the actual arrival an event. It's a very similar concept that you see at amusement parks. You don't get onto Space Mountain before you go first through a snaking line that leads you into small, warm-up chamber, where you see a pre-show or just wait in anticipation before arriving at the final destination. It's the same thing in a concert. You are not going to see Madonna or Bruce Springsteen open the show; you have warm-up acts that precede the main act. These are some of the things I learned by trial and error, by doing things and seeing what works and what doesn't work. All this has developed into what is now our vocabulary in designing a theater. Of course, there is not always the space or the budget to do all this extra space regardless of how wealthy the client is. But my philosophy is that even if with a small space overall, by proportionally segmenting it into a lobby and main theater, you can make it work. It is what you do with that space that transforms a bland empty room into something that is more like a complete environment. The idea is that once you enter that environment you leave the rest of house behind.




J:    So do you prefer to work in a larger space where you have a bigger palate to create in?




T:    I actually prefer smaller spaces because they really put your imagination to the test. I have come to believe that with a bigger space, once in a while you come up with a grand idea, but a bigger space makes me kind of lazy. Size alone is not enough to make an impact unless a good design complements it. Where I'm really getting creative and where it gets exciting, is when you get clients with very limited space. This forces you to think outside the box and come up with solutions to make that little space feel bigger. Our clients often tell us. "It's amazing but the room looks bigger now than before." Two years ago I designed a theater for Jonathan and Faye Kellerman, the best-selling authors, in their Beverly Hills home. I walked into the room they wanted to turn into a theater and it was literally the size of a walk-in closet; something like 8 feet wide by 13 feet long. I did not hesitate to tell their assistant that I would waste their money if I accepted the assignment because the room was not really going to work for a theater. I left to come back to New York and the next day I received a message from a very disappointed Jonathan Kellerman that they were counting on me to design the theater and that I just walked away. They probably felt that I was snubbing them and I kind of took it to heart. So I went back, took another look and I told them that I would try my best.




For that project I used a design trick that at first look seems that you are trying to make a tiny space even smaller. But I was confident that in the end the theater would feel bigger than it is. It's difficult to explain in words, but the bottom line is that when this theater was finished it not only looked roomy, it also became the client's favorite space in the house. You cannot imagine how different it looked. It was small; two rows, two sofas with three seats per sofa, but it felt like a small jewel box, a Faberge egg. I was excited and so were the clients. We just finished another theater for them with an "outdoor" theme in Malibu, also in a rather small space. What I have found over the years is that it doesn't matter how small the space is; if you really study it, play with the sizes of the various architectural elements and put some imagination into it, you can make it look bigger than it is.




Budget limitations pose another creative challenge. I've come to believe, that if you have an unlimited budget, you can dazzle with incredible treatments, original details, fancy finishes, etc. But can you create a wow effect when there is no budget? I remember I got a call in 1995 from a client who was a very prominent New York lawyer. He was building a big house in Oyster Bay and had a fantastic collection of contemporary art, Warhols, de Koonings, etc. He showed me the room he intended to turn into a theater and told me, "I want to capture the essence of Radio City Music Hall, but without spending more than $50,000." Here was another situation I was ready to turn my back on. It did not make sense to me. How can someone have Warhols, de Koonings, and Pollocks on the walls, and want to recreate the Radio City Music Hall for $50,000? But he was the kind of guy that you felt from his attitude that you either do it his way or not do it at all. I remember thinking: If I walk away I may never know if I would have been able to pull it off, so I took the challenge. I decided to use plain old drywall everywhere because there was no way of using any fancy materials. My quest to find the best way of fabricating decorative elements that looked good even if they cost little, led me to the Warner Brothers Studio in LA. They had a fabrication department they called a Staff Shop and that's where they made artifacts for movie sets. I became their client for this and a number of subsequent projects. The custom-grills they fabricated for the theater walls of our mini Radio City turned it into a much better looking theater than it had any right to be. Not only that, but we were also able to deliver the theater for $49,000, $1,000 less than the client's budget.

 

I'm not challenging myself like this anymore. It's a lot of work to come up with creative solutions all the time to resolve problems. I am not going to spend more sleepless nights trying to figure out how to make something for nothing especially when I know most of our clients do not mind spending their money for quality finishes elsewhere in the house. Having said that, one doesn't have to spend a fortune for descent results. What I usually tell our clients is that a well-built theater does not need to cost more per square foot than what is spent for the rest of the house. I use this as a yardstick. You cannot spend, say $400 per square foot for your living room, your bedroom, your kitchen, and expect to build a theater for much less than that. It will look like someone tried to cut corners. The opposite is true: if you spend $400 per square foot for the rest of the house, the theater does not need to cost a lot more than that in order to make a statement. I'm very sensitive to the client's budget, but if a client tells me right now that they're spending $1,200 a square foot, --like some homes cost nowadays-- and they want me to work on the theater on a budget of $200 a square foot, I tell them I am not their man. No more challenging myself anymore this way. Because we are fortunate to have a choice of good projects, I just will not try to reinvent the wheel for a client who will not mind spending a small fortune elsewhere but will treat the theater as a step-child.




J:    For readers that would be interested in hiring you for a job; what could they expect to spend?




T:    Not counting our design fee, which is modest, the cost of building a theater depends on a number of things, primarily location and level of construction. Some theaters can be built for $300 a square ft, but the number can be higher if you factor in custom fabrication of special elements. I would say it is not uncommon for the cost of some of our projects to exceed $500 per square ft, but the average cost is around $400 including build-out, accessories and finishes.




J:    Now is that a turnkey, finished room with the gear and everything?  




T:    No, the electronics are extra and they are typically provided by a CEDIA professional who is in charge of the installation. The rule of thumb is that if you spend $100,000 for a room-- which is an average cost for a room without a lot of bells and whistles—the electronics can add an additional $100,000 to the budget. From what I see in the type of projects we get involved, the average package of A/V electronics installed by a CEDIA professional ranges between $100,000 to $150,000. The average cost to build and finish a room is also $100,000 to $150,000. In other words, for a high-end theater with a good projector, a substantial sound system and good finishes in homes priced around 2 or 3 million dollars, you're talking about $200,000 to $300,000 for the whole thing.




Click here to continue reading the second half of my interview with Theo...


Categories: December 2012, Movies, Guest Blog

0

/