Shopping Cart
Your Cart is Empty
There was an error with PayPal
Click here to try again
Thank you for your business!
You should be receiving an order confirmation from Paypal shortly.
Exit Shopping Cart
Features, Reviews and a Blog by John Sciacca
| | |
| --- | --- |
| Posted on December 18, 2012 at 2:35 PM | |
When I get a new piece of gear – either personally or for review – one of the first things that I like to do is read the owner's manual.
Yes, I know that this might very well be the geekiest form of entertainment on the planet, but I actually enjoy browsing through, checking out what the key new features are, looking at the specs, seeing what different settings are available, etc. Often, a look through the manual will reveal things about the product you never knew existed or give you that key piece of set-up knowledge that keeps you from spending 20 minutes on hold and then looking like an idiot when the tech support person on the other end says, "It says clearly on page 3 of the manual, 'do this first...'" (Doh!)
So the other day I received Sony's new flagship ES receiver -- the Control4 enabled ST-DR5800ES -- in for review, and what's the first thing I notice when I open the top box flap?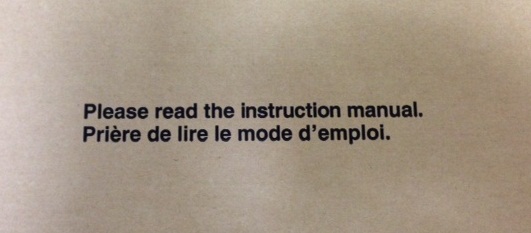 Now, who am I to argue with a box. That says "Please." And in French no less. (Sacrebleu!)




Now, this manual is impressively sized; over 170 pages in English alone. And (#humblebrag) I'm going to say that I have a *fairly comprehensive* understanding – probably at least a 9 out of 10 – of technology and technical terms, especially when it comes to anything home theater related. But when reading through this manual – which is designed for every day users, not Wil E. Coyote Super Geniuses – I stumbled across several things that left me going, "Huh?"




Below are exact quotes excerpted from various pages of the manual...and me trying to make sense of it.





Pg 7 – Raising the center speaker sounds to an appropriate height. By using the front high speakers, you can lift up the sounds of the center speaker to an appropriate height on the screen. This function allows you to enjoy natural representation without discomfort.




I certainly don't want any discomfort from my viewing. And who doesn't like a "natural representation"? I'm guessing the "appropriate height" is where audio (dialog) sounds like it is coming directly from the center of the screen? Or just keep raising until all discomfort is alleviated...?




Pg 7 – Reproducing front high speakers virtually. The receiver can reproduce front high speakers virtually even when there are no actual front high speakers. The receiver can also reproduce the Center Speaker Lift Up effect using the front high speakers, as well as reproduce various sound field features utilizing the front high channels the receiver is equipped with.




That second sentence feels like I'm being Incepted or something. Just read it again. Feel your mind spinning, spinning, spinning, like a coin. Will it stop? Will it fall? Will your mind succumb to the "Center Speaker Lift Up effect"?




Pg 64 – About the effect type for HD-D.C.S. HD-D.C.S. has three different types: Dynamic, Theater and Studio. Each type has different reflection and reverberation sound mixture levels and is optimized to match a listener's room uniqueness, taste and mood.




A "sound mixture level" sounds kind of like a drink order. Also, it is optimized for my "taste and mood." Sometimes I like my sound mixture to be a little sassy, other times I want it laid back or playful. Sometimes I want it to be naughty. My tastes and moods are fickle, like my sound mixture levels.





Pg 64 – Dynamic: The Dynamic setting is suitable for an environment which is reverberant but lacks a spacious feeling (where sound absorption is not sufficient). The setting emphasizes the reflection of sound and reproduces the sound of a large, classical movie theater. Thus, the spacious feeling of a dubbing theater is emphasized and a unique acoustic field is created.




How is the average person supposed to know if they have "an environment which is reverberant but lacks a spacious feeling"? I've never heard anyone describe anything that way. And what the hell does that even mean? Echo-ey? Like a tiled bathroom or racquetball court? I would think that if sound absorption was not sufficient, "emphasizing the reflection of sound" would be the LAST thing you would want. Obviously this is why I'm not a Sony engineer!





Pg 64 –  Studio: The Studio setting is suitable for a living room with the appropriate sound equipment. This setting reproduces the reverberation of sound provided when a theatrical sound source is remixed for a Blu-ray Disc to a volume level suitable for home use. The level of reflection of reverberation of sound is kept to the minimum. However, dialogues and surround effects are reproduced vividly.




Question: Does this $2000 receiver qualify as "appropriate sound equipment." Follow-up to my original question: If it does NOT qualify, why did I spend $2000 on it? Further, what would you say is a "volume level suitable for home use"? And by "sound is kept to the minimum" do you mean that it is being unaltered, or that you are processing the reflection and reverberation OUT of the signal? I DO like vivid dialogues though! They're keen!




Pg 66 – Multi Stereo does not work when multi-channel audio signals are being received.




Wait, Multi Stereo mode does NOT work when multi-channel audio is present? By its very name, wouldn't Multi Stereo be the exact. PERFECT thing for multi-channel audio signals?! What kind of crazy oxymoron is this, Sony? Have we crossed into The Matrix? Are you saying there is no spoon… #MindBlown




Pg 66 – If there is any noise present, the noise may be different depending on the sound field you select.




Umm… Uh… The noise, that is, uh, present, may be different… Who can really tell with noise…? Does this mean like vacuum cleaners and dishwashers and telephones and Lauryn yelling? My sound field selection will alter that noise? Cause, sweet! If it can alter the noise of Dana yelling, "I told you to pick up your shoes!" into "Did you want me to bring you another Pliny?" this will be the greatest invention in the history of man! Well played, Sony!




Pg 106 – LFE Time Alignment. The LFE Time Alignment function allows you to shift the output timing of the LFE channel by -20ms (delay) to +20ms (forward) for other channels. This function is effective for adjusting content in which the LFE channel phase has a gap from that of other channels.




Finally! A way to shift the Time Alignment and output timing and correct the phase gap! I was just talking about this at a party the other day! I was like, "You know, my phase timing shifted like 13 ms in the forward direction and it was like, ugh! You know?! I couldn't even look my wife in the face!" So embarrassing…




Pg 106 – Dual Mono. Lets you select the language you want when you listen to the dual audio of a digital broadcast when available. This feature only functions for Dolby Digital sources.




I remember when some kids in school got Dual Mono. They were out for weeks. You've got to be careful who you let your receiver go around kissing. Sure, it may LOOK clean, but it could be some Chinese knock-off that has been hanging around strange Guangzhou factory districts kissing all kinds of fake iPhones and knock-off Beats headphones and questionable LCD displays.  (Seriously, I have no idea what this is.)




Pg 113 – H.A.T.S. Let's you turn on the H.A.T.S. (High quality digital Audio Transmission System) function on or off. When the H.A.T.S. function is turned on, the sound quality is enhanced because there is no jitter (timing gaps when reading signals) when transmitting digital audio signals.




From the sound of it, why would in God's name would you EVER want to turn H.A.T.S. off?! It sounds like a magical audio elixir that is going to make everything better! As any self-respecting audiophile knows, jitter is the cancer of the digital music industry, and has been single-handedly destroying music like a many-armed, sword wielding Shiva! The only options should be "H.A.T.S." "More H.A.T.S." or "Frickin' Maximum H.A.T.S."




Pg 129 – The top of the receiver is hot. Phenomenon is specific to this amplifier. This is not a malfunction. If "Control for HDMI" or "Network Standby" is set to "On," or "Pass Through" is set to "On," or "Auto," the power for zone 2 or zone 3 is turned on, the top of the receiver may become hot even while the receiver is in standby mode. This condition occurs because current is flowing in the internal circuits of the receiver, and this is normal.




I'm glad that this phenomenon is "specific to this amplifier" because I felt other things in my house, and at first, I actually *thought* they were hot! (I know! I'm an idiot!) After reading this, I realized that they were just showing sympathy heat for the Sony. (Surprisingly, the phantom heat phenomena has continued even with the Sony no longer in my home! It shows you just how powerful this piece really is!) Also, no matter HOW HOT it may get, it is "not a malfunction." Skin blistering, face melting heat? Normal phenomenon. If I know anything about anything, it's that you don't come a knockin' when the current is a flowin'!




You read any strange stuff in A/V or other manuals? Share it out in the comments section!

Categories: December 2012, Electronics, Books

0

/