Shopping Cart
Your Cart is Empty
There was an error with PayPal
Click here to try again
Thank you for your business!
You should be receiving an order confirmation from Paypal shortly.
Exit Shopping Cart
Features, Reviews and a Blog by John Sciacca
| | |
| --- | --- |
| Posted on December 21, 2012 at 4:20 PM | |
Let's be honest—the movie-theater experience isn't as rosy as it used to be. For lots—and lots—of reasons, seeing movies at home just makes more sense for a lot of people.
In fact, since I invested in my home theater system a few years ago—extravagant by some standards, merely modest by others, but always awesome to me—I rarely go out to the movies anymore.
And I love movies.
So why have I and so many others given up on going to the movies? Here are the six main reasons: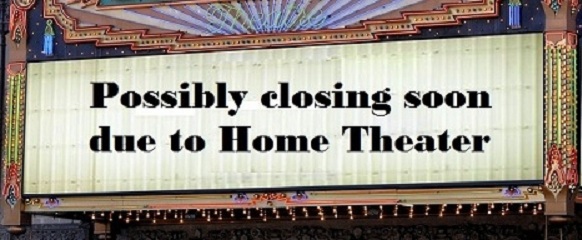 Pricing




The cost of going to a movie theater continues to climb. While the National Association of Theater Owners claims the average ticket price is under $8. I'm guessing that takes into account matinees, seniors, kids, free-Summer-movie-mornings, comp tickets, and the like, because almost everyone I know pays $10 or more. And if the film is in 3-D, the theater owners figure they can shiv you for another few bucks to, I don't know, maybe offset the inevitable class-action lawsuit when we find out 3-D movies have been speeding an entire generation toward early blindness. Throw in D-Box seating, and the ticket price can easily exceed $20! Per person!




Why would I want to pay that much when I can rent a gorgeous, full-resolution Blu-ray disc for under $2 that looks and sounds amazing and that I can watch as many times as I want with as many people as I want? Or own the movie – forever! – for around $20.




Quality




The quality at commercial theaters is often suspect at best and downright miserable at worst. And unless you're lucky enough to be able to see your movies at an ArcLight theater—the theatrical Holy Grail when it comes to quality—the presentation often won't be up to get-what-you-pay-for expectations. The first time I saw Avatar, one of the main-screen audio channels was out. I spent the whole movie leaning over to my wife groaning, "Oh, God! How can no one else hear that?! You hear that, right? I mean, it's totally killing this for me!" When my business partner saw the new Bond film, he complained that they left the house lights up for the first 20 minutes.




Sometimes the anamorphic lens system is in the wrong position. Other times the volume is too low. Or the projector lamp/bulb is old and the image is dim. Or the red EXIT sign glares at you like an angry cyborg. Or the print is old and scratchy. There are any number of problems that can and do plague the commercial experience, detracting from what should be a special event.




Want to know where there are never any of these problems and where everything is always exactly the way it should be? In my home theater. The volume is just how I like it—reference level. The bass it dialed in to perfection—and then bumped up just a bit for my personal preference. The lights are all totally off. The aspect ratio and screen masking are always correct for the film. And the best-seat-in-the-house is always reserved for me.





Snacks




A popcorn and Coke at the movies can easily run you $10 or more. Do you know how much popcorn and Coke you can buy in the real world for $10? Virtually enough to feed—and give high blood pressure and diabetes to—a small village!




But as I've gotten older, I've found I'm not always in the mood for popcorn and soda when I watch a movie. Sometimes I want popcorn and scotch—and by "popcorn" I mean "scotch." Most theaters still frown on this, and a well-concealed pocket flask can only get you so far.




At home, I have an amazing array of snacks at my disposal, along with a liberal liquor policy that would shame most bars, and some wonderful glassware. I know exactly how I like my Manhattans and how my wife likes her drinks. And if we want more, it isn't going to require a second mortgage to get it. (Admittedly, sometimes I do want a box of Red Vines – NOT Twizzlers – which I will bite the ends off of and then use as the world's-most-awesome-straw to sip a Coke. Best…invention…ever!)




Continue reading why Home Theater is killing off the multiplex at Theo's Roundtable...


Categories: December 2012, Movies, Rants

0

/