Shopping Cart
Your Cart is Empty
There was an error with PayPal
Click here to try again
Thank you for your business!
You should be receiving an order confirmation from Paypal shortly.
Exit Shopping Cart
Features, Reviews and a Blog by John Sciacca
| | |
| --- | --- |
| Posted on February 22, 2013 at 5:25 PM | |
"Good people drink good beer." – Flying Dog Brewery
You gotta hand it to Flying Dog Brewery…with names like Raging Bitch (Belgian Style IPA), Pearl Necklace (Oyster Stout), Doggie Style (Classic Pale Ale) and Horn Dog (Barley Wine), these folks have a great sense of humor.
But don't let their names fool you; they take brewing seriously and make really consistent, great tasting beers across their extensive line-up. So far, I've enjoyed every one of their brews that I've tried with some of my tasting notes saying, ""This beer is really approaching the bullseye IPA taste I'm looking for and is highly recommended" (Snake Dog IPA) and "Deep, coppery-mahogany color and nice head with a rich malty flavor. The kind of brew that makes you long to find this on draft" (Dogtoberfest Marzen) and "This is the kind of brew that you could pop on a hot day and just sit back and drink. And drink." (Tire Bite Golden Ale)

Their marketing department is also totally squared away. After reading some of my reviews – and me mentioning that I'd love to try some more of their brand – they requested my address and have added me to their reviewer list. #Respect #MajorRespect
So, here are reviews of the first two Dogs they sent my way.
Flying Dog K-9 Winter Ale
Hops: "Changes with each release"
7.4% ABV, 30 IBU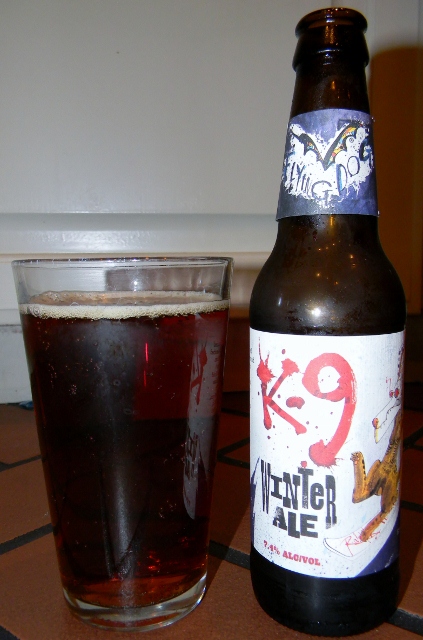 Description: "Your legs are strained and your ass is clenched as you descend down the face. You don't even notice the blood dripping from your nose as the powder is crushed beneath you. It's freezing cold, but you don't feel a godd--- thing."
A BANG-BANG-BANG on my door alerted me to, well, to someone banging the hell out of my door. I jumped up and arrived to my door in time to see the UPS truck pulling away, and found a single, small box sitting alone on my porch. Inside, was a well-wrapped bottle and a note: "K-9 Winter Ale has arrived for your warming pleasure. An ever-evolving recipe in the hands of our brewers, this year's K-9 pours a dark amber color with a creamy head. Enclosed is a sample for your review."
Awesome! Well-played, Flying Dog Brewery. Well frickin' played! I thank your PR department for sending this beer my way! And – after an appropriate amount of time to settle and cool in my fridge – I popped the cap and set out to see what the K-9 was all about. Poured down the side of the glass, the beer produced very little head that quickly dissolved to just a micro layer of micro bubbles resting calmly on top of the glass. I'm surprised that it isn't darker; for some reason I was imagining that this would be an inky, black brew.  Instead it's a rich, golden, reddish-amber that is very clear of body with nice indication of carbonation. Smell is sweet of hops and caramel malts but I'm having difficulty picking out any really prominent notes. First sip and wow! This really lights up the entire length of the tongue; just a nice big *zap* of tingling Involvement that then travels smoothly to the back of the throat and ends in a really big caramel and malt filled finish.  I'm getting some hints of dark roasted coffee, but they are just way subtle and really add to the enjoyment of the nice roasted malt notes. Second swallow and this lands on mid tongue, with the malty flavors are really reminding me of a Marzen or Maibock, but with just that hint of dark coffee.  It's really smooth for such a full flavored beer, letting you enjoy the big tastes without being overwhelmed. I really enjoyed this beer a lot, and I could see how a few bottles would be very warming and definitely help with any winter SAD-ness. (Seasonal Affected Disorder) It's always nice to find a big, full-flavored beer with serious ABV that is so drinkable, and K-9 definitely barks up the right tree for me.
Flying Dog -Single Hop El Dorado Imperial IPA
Hop variety: El Dorado
10% ABV, 70 IBU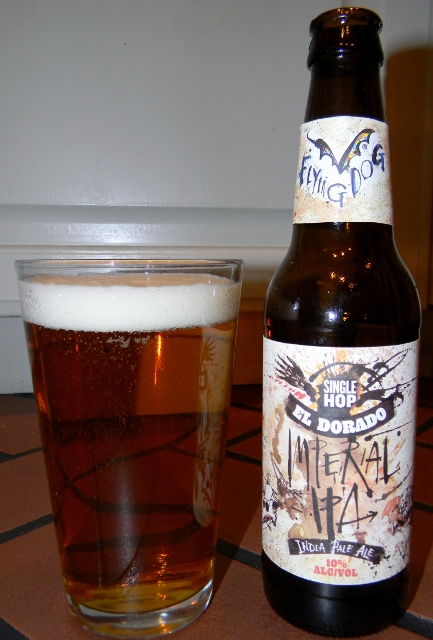 Description: "El Dorado. The Golden One. The ultimate prize legions spend their lives seeking. One of the most exclusive U.S. varieties, on a few acres of El Dorado hops were harvested this past year. And when our brewers came across this even smaller bounty a mere two years ago, they knew their search was over. With overwhelming citrus aroma, sharp pine bitterness, and a crisp, dry finish, our Single Hop Imperial IPA with El Dorado is your chance to enjoy the prize."
Imperial is my favorite kind of IPA, so I literally blurted out, "YES!" when I opened the box and found this beauty inside. Again, an interminable wait as I let the bottle shock of travel calm down and then I readied my chalice for liquid gold! Pours a beautiful deep gold color in the glass. Golden gold! "This is gold, Mr Bond. All my life, I have been in love with it's color, it's brilliance, it's divine heaviness. I work with any enterprise that will increase my stock - which is considerable..." Body is incredible, perfectly, beautifully clear like a flawless chunk of golden amber. You could expect to find a perfect specimen of Jurassic Park DNA trapped inside. Visually, it's a stunner. Produced a gentle finger of head that reduced down to a compact frothy topping. Leaves a nice, thick coating of lacing on the sides of the glass. Nose is rich with wonderful, redolent rich citrus and pine trees. The nose here is screaming, "I'm a juice filled, fresh hop basket. Dive in and drink the hell out of me!" First sip and it lights up your tongue and then just whisks to the back of your mouth dragging bright hop filled sparkles with it. A nice bit of juicy sweet and then a finish. Finish is a little on the light side; not a real big bitter firework explosion at the end, just an almost full-stop, end of beer transmission. "Crisp, dry finish" to be sure. Its just that in a big Imperial I'm not sure crisp and dry works as well for me as "big and lengthy and bitter and face punching." This packs all of the flavor up front, with a nice pop of sweet in the middle and then a shallow finish. As it opens up a bit, the finish is starting to become more apparent, with noticeable grapefruit rind flavors. The beer has a lot of sparkle and is really nicely carbonated. This mouth feel is good and lively. I'm digging the flavors but would just love to see a little more sweet and pop at the end, taking it to the next level for me. Like take what's there and run it through a Krell class-A beer amp, jack the volume a bit and then run some Audyssey to tighten up on the finish. It's well balanced for a 10% ABV, never tasting like a double digit brew. This first entry in Flying Dog's single hop series has me excited for the rest of the year with Simcoe, Sorachi Ace and -- my favorite! -- Citra still to come! Rage on, Flying Dog! Rage ON!

Categories: February 2013, Beer/Liquor/Wine, Reviews
/