Shopping Cart
Your Cart is Empty
There was an error with PayPal
Click here to try again
Thank you for your business!
You should be receiving an order confirmation from Paypal shortly.
Exit Shopping Cart
Features, Reviews and a Blog by John Sciacca
| | |
| --- | --- |
| Posted on March 1, 2013 at 11:15 AM | |
My colleague, Andrew Robinson, has espoused the need for movie studios to change their paradigm and embrace the idea of day-and-date release and viewing outside the cinema. Essentially, give us the ability to view Iron Man 3 wherever we want; be that a multiplex, a boutique movie house, our living rooms, our laptops or wherever.
It seems like a fanciful idea at this point because, well, it's just never been done that way. Partly because it has never really been possible to do deliver theatrical content any other way. With films traditionally delivered on giant reels, 99.9999% of people wouldn't have the capability of viewing them. Now, however, with films largely being distributed digitally, it is just data – granted, a whopping large file size – that can be streamed/downloaded to just about anywhere with a high-speed connection.
Sure there have been random experiments by independent film studios where some movies have been released on-demand before the theatrical release, but these are usually small films that wouldn't have seen a broad audience anyhow. For major Hollywood pictures, the model has always been the same: theater – wait some period of time – home. (This is a large reason why I have still yet to see any of the films nominated for Best Picture this year.)
But I have been living with the future, my friends, and I'm here to tell you: Andrew was right! Day and date is the answer! And it's awesome!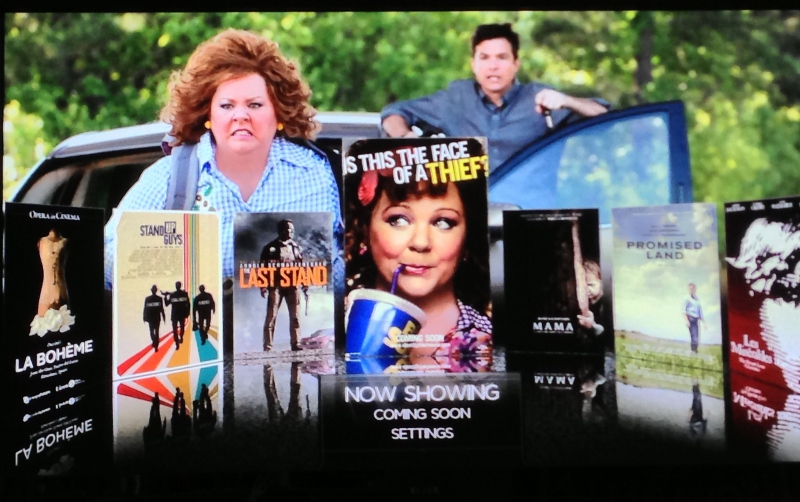 (The PRIMA Cinema "Now Showing" screen GUI)
The company that is delivering this dream today is PRIMA Cinema, and their technology – and studio licensing agreements – allows them to deliver first run Hollywood films into your home the same day they are released theatrically. For example, on March 22, the new Tina Fey film Admission will appear and be ready for PRIMA owners to enjoy. At home.
So far I have watched two full length films during my demonstration period (they have requested that I not mention the titles, but let's just say one of them was #1 at the box office very recently) and it has been amazing. Video performance is spectacular with better than Blu-ray quality and full resolution 7.1 LPCM audio.
It is not too often that you can call a product a game changer, but this truly is. In the same way that iPod was a game changer for music, Kaleidescape a game changer for movies, iPad/iPhone a game changer for system control, and flat panel TVs a game changer for the installation industry, PRIMA is a game changer for film delivery.
I am working on a full review of the PRIMA system to be published in an upcoming issue of Residential Systems magazine, so I don't want to spoil too much of my review here. But one thing that I thought I would share was the incredible lengths that PRIMA has gone to ensure the security and safety of the "precious cargo" that Hollywood has entrusted them with.
 Click here to continue reading about the extraordinary security measures in the PRIMA Cinema system at Theo's Roundtable.

Categories: March 2013, Movies, Electronics
/