Shopping Cart
Your Cart is Empty
There was an error with PayPal
Click here to try again
Thank you for your business!
You should be receiving an order confirmation from Paypal shortly.
Exit Shopping Cart
Features, Reviews and a Blog by John Sciacca
| | |
| --- | --- |
| Posted on March 2, 2013 at 5:30 PM | |
I'm becoming a total beer snob, and, frankly, I don't mind the label. Rather, I embrace it. After drinking – and reviewing – over 160 beers, I think I've earned the right to a little snobbery, and I now know exactly what I like and what I don't with a razor's honed edge.
However, I'm all about trying new beers. And when I stumbled across an interesting case of new Budweisers while shopping at Wal-Mart, well, I was intrigued enough to give them a whirl.
Now, I know that amongst beer enthusiasts, Bud has a rep just slightly better than "I'd rather drink a pint glass full of carbonated cat piss!" but to be fair, there are many people that love the taste of Bud. There is something to be said about being the largest brewer in the world and giving the people what they want and all that. And when you're in the mood for lighter fare, Bud can be just the… No. Sorry. I really can't think of a time when I'd buy a Bud over *anything* else. In fact, the last time I drank a Bud in the wild was at the Charlotte airport in the US Air Lounge where it is the only beer offered complimentary. Also, if I were laying on the beach, and it was baking hot, and there was a nice cooler of icy Buds right next to me but a refrigerator filled with some nice Indy back at the house, I would probably spend several minutes contemplating my next move… (Oh! Got it! I drink a Bud while I'm walking back to the house! Done and done!)
However, I bought this case and promised to drink – and review it – with an open mind. So, on with the show…
Budweiser - Project Twelve
12 pack $12.97, 4 of each type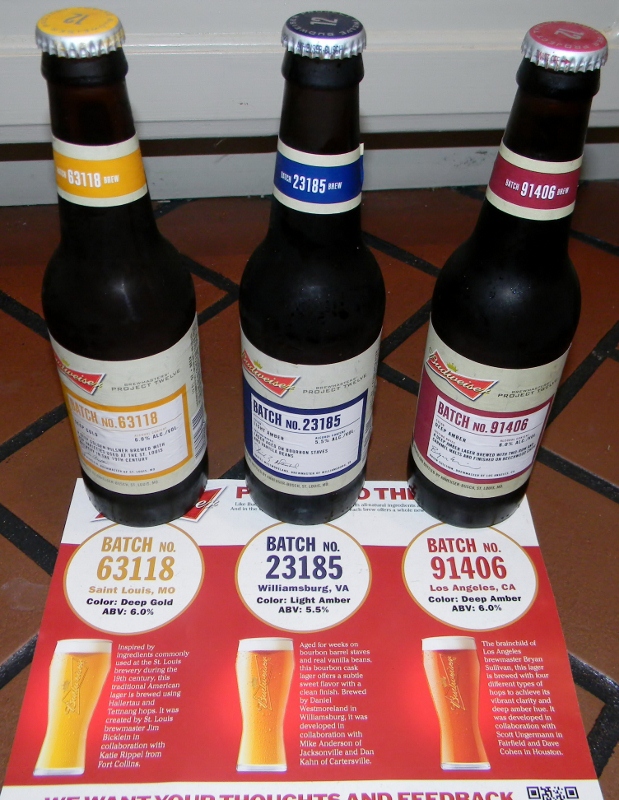 Product description: "It started as a friendly competition. It turned into something so much bigger. Project Twelve was born when we asked the brewmasters at our 12 U.S. breweries to create a new, unique beer worthy of the Budweiser name. And by using the signature yeast directly descended from the original 1876 Budweiser yeast culture, each new brew would pay homage to Budweiser's quality, tradition and clean, crisp taste. The original twelve beers were first pared down to six by the brewmasters themselves. And then for several months, Budweiser collected feedback from consumers in a summer-long, nationwide sampling effort. The result is the three distinct beers that sit before you. This is Project 12. Cheers!"
Budweiser - Batch No 63118
Hop varieties: Hallertau, Tettnang
ABV: 6.0%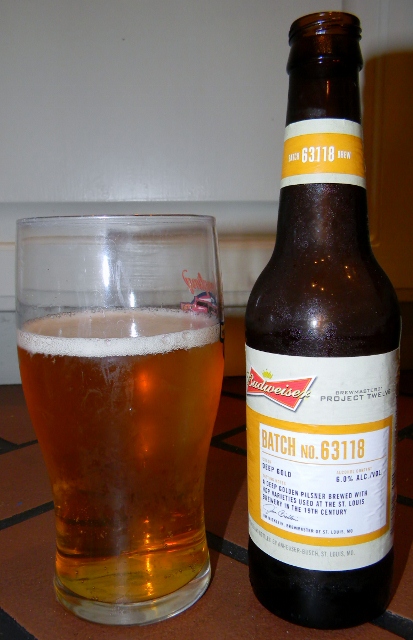 Description: "Inspired by ingredients commonly used at the St. Louis brewery during the 19th century, this traditional American lager is brewed using Hallertau and Tettnang hops. It was created by St. Louis brewmaster Jim Bicklein in collaboration with Katie Rippel from Fort Collins."
Pours a rich, deep golden color with a fingers worth of head that quickly dissolves completely just just a layer of micro froth on top of the beer. Body is incredibly clear with lots of visible carbonation. Smell is like Bud with some extra added malt. It has the nose of an American ale, but is richer, maltier.  That typical rice, grain smell of Bud is definitely still present. First sip and there's a nice tingling as the beer lands on the tongue, and the flavor is definitely richer and fuller and with a much bigger body than Bud. There is a lingering barley, wheat finish that lasts far longer than the traditional Bud swallow. While the flavor of this beer definitely elevates above the traditional Macro brew taste of Bud, it still retains enough of the signature flavor to like still appeal to fans of the brand. Unfortunately, I'm not sure that it has enough to get me to come back for more... If Bud Light is the light version of Bud, then I'd call this Bud Plus. But not much of a plus.
Budweiser - Batch No 91406
Hop varieties: Unlisted
ABV: 6.0%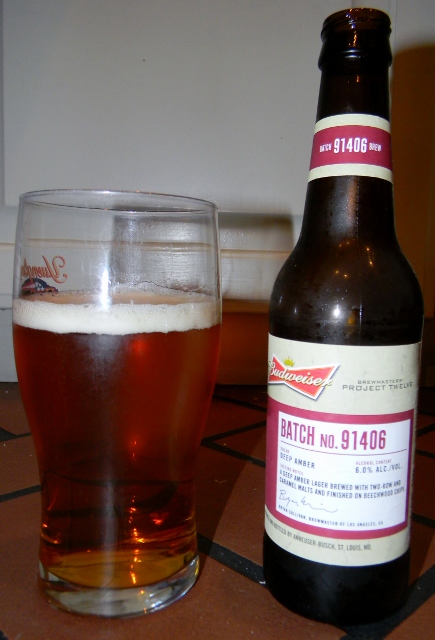 Description: "The brainchild of Los Angeles brewmaster Bryan Sullivan, this lager is brewed with four different types of hops to achieve its vibrant clarity and deep amber hue. It was developed in collaboration with Scott Ungermann in Fairfield and Dave Cohen in Houston."
Interesting sidenote: I was told by a Budweiser delivery man recently that THIS is the recipe that was chosen as Bud's new Black Crown. It doesn't look like it from the picture – looks too light – but, well, that's what I heard…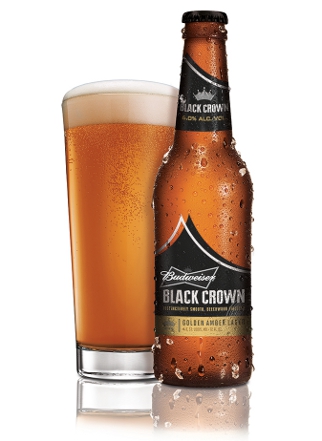 Steady pour into the glass produced a finger of head that rapidly disintegrated to just a scrim of froth on the top of the glass. Color is a nice rich, golden-copper with a hint of amber and loads of visible micro bubbles streaming up the side of the glass.  The beer is mostly clear in body, though not quite "read through" clarity. Not getting a ton of nose; some hints of malt, maybe a little bready yeast, but, to be fair, I just vacuumed behind our dryer and all that dust and lint have played havoc with my sinuses. First sip and this beer is much closer to a German style ale, with caramel and malt notes and a nice flavor. It reminds me of a Marzen or a Maibock. Not totally there, but it's close. It also has a nice clean finish that is really crisp. There's no bitterness, no edge, just a rich flavor followed by a smooth finish. The beer has a richness that is lacking from traditional Bud, and delivers a far more pleasing flavor. Where Bud seems to taste thin of rice and barley, this beer is weightier and more enjoyable from start to finish. It reminds me a bit if the American Ale Bud tried a little while back to appeal to craft beer drinkers. Actually I enjoyed American Ale, and had no qualms about picking up 6-packs of it. For $6.99, it was a solid brew. I could see having a 6-pack of this around where you feel like killing off some beers during a game; you maybe don't want something really big and weighty, but you still want to enjoy some good flavor in each glass. This is the Bud that you wouldn't mind serving to guests, especially those that aren't ready to delve into more intense brews. Like when you are having people over and you don't want to serve them that Stone you bought especially for yourself, but you also don't want to seem like a douche by offering them some really lame beer because they know you are a specialty beer drinker. I'm just spit-balling here…
Budweiser - Batch No 23185
Hop varieties: Unlisted
ABV: 5.5%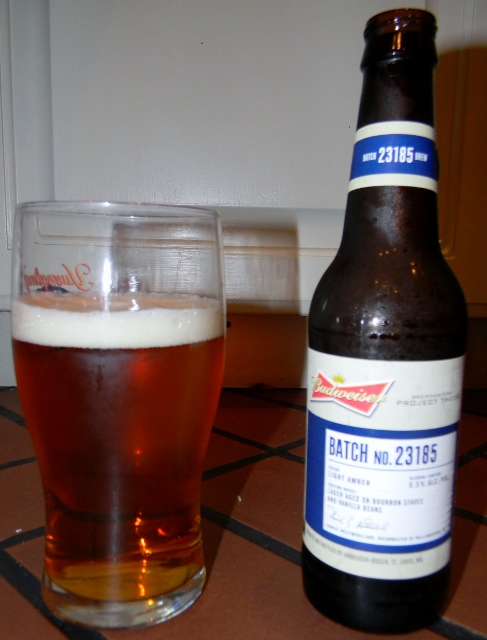 Description: "Aged for weeks on bourbon barrel staves and real vanilla beans, this bourbon cask lager offers a subtle sweet flavor with a clean finish. Brewed by Daniel Westmoreland in Williamsburg, it was developed in collaboration with Mike Anderson of Jacksonville and Dan Kahn of Cartersville."
I saved this one for last because I love a toasty, vanilla hinted bourbon stave. I'd like to suck the oak-soaked bourbon right out of the wood. (This pretty much goes for the way I feel about Chardonnay; I like them big, huge, woody and Napa Valley-ey.) So, if this can give me a glimpse of those flavors, I'll be a happy camper. Pours a coppery color that is a bit lighter than the 91406, but still much richer than your typical But. Produced a finger of head that – like the others – quickly vanished to just a bubbly froth on top of the glass. Body once again clear, but not nearly as much bubble activity visible in the glass. Nose has a nice hint of toasty, creamy vanilla. If my eyes were closed and you just had me blind smell this one, I would probably guess that it was some kind of porter. The nose on this beer is definitely the most inviting of the three so far. First sip, and it's nice. It's certainly nowhere near as over powering in flavor as, say, a Backwood's Bastard or as rich and complex as a Stone Vanilla Porter, but this is a pretty rich and interesting beer. I doubt anyone would blind taste this and say, "Bud." This definitely has the unique, nuanced flavors of a craft brew. There's not much initial mouth engagement, and the finish is pretty smooth and easy, but the flavors are really enjoyable, especially the toasted vanilla. The beer is smooth and easy drinking, but has enough flavor and body to make it interesting and enjoyable.
Of the three, the 23185 is the most UN-Bud like, but that doesn't mean that it's my favorite. I think if I were to buy any of these again, I would rank them this way:
#1 - 91406  This is the richest, fullest flavored beer of the bunch, and the one that I could see actually purchasing. (And if this IS the Bud Black, then America voted correctly.)
#2 – 23185 The hint of vanilla and oak add a nice flavor
#3 – 63118 This was the closest to actual Budweiser in my opinion, and thus, my least favorite. If I went to the fridge and there was this or a regular red-and-white Bud, I'm grabbing this. Otherwise, I'm probably grabbing something else.
Categories: March 2013, Beer/Liquor/Wine, Reviews
/