Shopping Cart
Your Cart is Empty
There was an error with PayPal
Click here to try again
Thank you for your business!
You should be receiving an order confirmation from Paypal shortly.
Exit Shopping Cart
Features, Reviews and a Blog by John Sciacca
| | |
| --- | --- |
| Posted on March 5, 2013 at 4:05 PM | |
My sister-in-law, Keely -- the same one who Pwns the Internet -- shared a great story the other day via email. A story so interesting that I immediately asked her to turn it into a blog.
When you think "hot bed of music" you probably think of Nashville or Los Angeles or maybe Athens. You probably think of a lot of places way before you think about Alabama. (You probably also don't think Alabama when asked, "What state is home of the largest single lift lock dam east of the Rockys" but, well, you should! When I visited Dana's family for the first time many-a year ago, she took me out to the dam which is really near her parent's home and I was totally impressed. They also have a real-live lion in a cage at the university downtown. And indoor plumbing AND the Internet! It's all true, every word! Clearly you don't know nearly enough about Alabama. And, here's a Roll Tide for good measure!)
So, it turns out that Alabama has a rich musical heritage, and, well, here's Keely to tell you all about a new movie that explores the music scene. (My comments in italics where the muse moved me.)

Last week, I had the privilege of attending the premier of an incredible documentary about the amazing music produced in the Muscle Shoals area of Alabama – my hometown! – and it was awesome! The film crew had been staying at the Marriott in Muscle Shoals for the past three years while working on the film and they were always part of my group, so I got a chance to know them pretty well.  (Side note: Keely has helped to make that Marriott one of the TOP performers in the entire Marriott chain across the country! The hotel is awesome, and if you ever find yourself in Muscle Shoals, the Marriott is *the* place to stay and eat. They have a cool revolving restaurant that is atop a tower that gives you an amazing view of the surrounding area, including the aforementioned damn-huge dam. A view so amazing that you might not go into cardiac arrest when you get your bill for the meal...)
Besides being incredibly informative, the film is beautiful to look at and the cinematography is breathtaking – you actually get the feel of the river and the music created by nature, hundreds of years ago. They really captured the feel of the South and this area especially.  Very well done, with an amazing soundtrack that was created right here!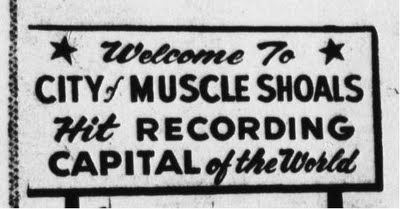 The film, aptly titled "Muscle Shoals", showcases two of our ultra-famous music studios:  FAME and Muscle Shoals Sound, chronicling all of the awesome performers who came here that went on to become stars. Both studios housed their own session musicians who created the indigenous sound that made this area the hit recording capital of the world.  This film gives you a chance to meet all of these amazing musicians and trace the paths of their rich careers. One such session group, the Swampers, was immortalized in the Lynard Skynard song "Sweet Home Alabama," (the unofficial anthem of Alabama and actually required playing at ANY event in the state where three or more people are gathered together for more than 8 minutes) with the line "Muscle Shoals has got the Swampers and they've been known to pick a song or two."  
This small, mostly farming, community is where musicians come to become stars. Rick Hall, who started FAME, said that he knew his credibility and livelihood depended on his ability to produce a hit record every single time...and he did.  Otis Redding, a native of nearby Leighton, Alabama, recorded the first record at FAME and began the legacy that has continued up through today.
In the movie you'll see that Alicia Keys just recorded a song here.  What is truly amazing about these session musicians and producers is that they go into the studio without written arrangements.  They just get together and jam, and melodies are born. It is a truly magical experience and this movie lets you share in the wonder and discovery of that creative moment.
Growing up with this heritage, I didn't think I would learn anything new from the film, but I did.  Bono from U2 is interviewed and commented on how this "sound" reached him in Northern Ireland in the 70s and had a major influence on his musical styling.  (Clearly this was the original, cool, edgy Bono, not the new, douchey, sunglass-wearing, political world-savior Bono. That Bono would punch this Bono in the throat and say, "Take yer bleeding sunglasses off, ya tosser. It's about the music and the passion. These people in the Shoals understand that!")  I promise that you will learn something new about your favorite singer/musician, as EVERYONE has recorded here! (Even They Might Be Giants?!?!)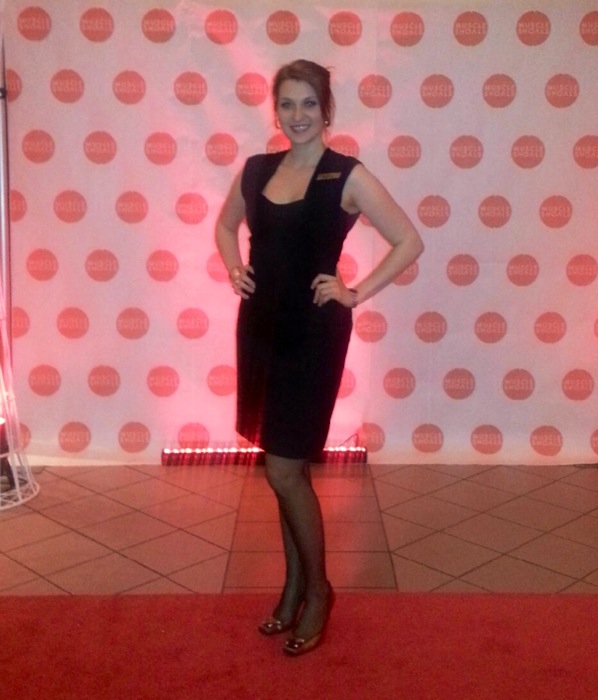 (Keely looking fierce at the red carpet premier. She enjoys long walks on the beach and staring off into the sunset – as long as that beach is in the tropics and the sunset can be seen from a high-priced villa staffed with a personal chef, masseuse and well appointed bar)
During the premier, I was able to meet Ed King from Lynard Skynard and Donna Godchaux from the Grateful Dead. (She also sang backup for Wilson Pickett and is a native of the Shoals area). (According to my business partner, Allen -- who followed the Dead around for years and saw nearly 100 shows -- Donna is one of the most hated members of the Dead when it comes to actual Dead Heads.)

Then I got to chat with John Paul White from the Civil Wars and Brittany Howard from the Alabama Shakes – both bands started their careers here in North Alabama.  If you aren't familiar with these two up and coming bands, you best recognize!  The Civil Wars won a Grammy this year for Best Song Written for Visual Media and were nominated for Best Country Duo/Group Performance.  And the Alabama Shakes were nominated for Best New Artist this year and Brittany Howard performed at the Grammys during the tribute to Levon Helm. They followed that up with a performance on SNL.
Currently, the documentary is making the festival rounds now – Sundance, SXSW, etc. – and will hopefully be ready for distribution in about six months.  Keep on the lookout for the film, because you will LOVE it!
Here's the trailer on YouTube:
Categories: March 2013, Movies, Music
/