Shopping Cart
Your Cart is Empty
There was an error with PayPal
Click here to try again
Thank you for your business!
You should be receiving an order confirmation from Paypal shortly.
Exit Shopping Cart
Features, Reviews and a Blog by John Sciacca
| | |
| --- | --- |
| Posted on March 7, 2013 at 12:20 AM | |
Many of you are likely ISF and/or THX certified video calibrators and thus have a terrific understanding of color temperature. And even if you haven't been through the certification, you're probably at least familiar with the term 6500 Kelvin – or, more accurately in cal-speak, D-65 or, even more precisely, points x=0.3127, y=0.3290 on the CIE Chromaticity Diagram. And if you are associated with this industry and don't have any idea what I'm talking about, then please immediately go and tell your supervisor that you need to spend several minutes reading this and that you will return a much more educated and informed employee, ready to go forth with a better understanding of video technology!
The truth is, for many of your clients, the idea that color has a temperature is confusing and irrelevant. Red is red, blue is blue, what does temperature have to do with anything? Or why is a higher temp – say 9500 Kelvin – considered "cool" (more blue) while a lower temp – say 5400 Kelvin – is "warm" (more red)?
Well, I'm going to give you a quick primer on color temp; why it's important, what it has to do with video and lighting and then share some images that perfectly illustrate the point and will hopefully make you better able to explain and educate yourselves and your clients.
There's a lot of science about the Kelvin scale that you might find interesting, but ultimately don't really need to know. The takeaway is the Kevlin scale "is an absolute, thermodynamic temperature scale using as its null point absolute  zero, the temperature at which all thermal motion ceases in the classical description of thermodynamics." Actually, you probably don't even need to know that. Most important, Kelvin is a standard of measurement used for color temperature.
On this color chart known as the CIE Chromaticity Diagram – a chart that calibrators are intimately familiar with – you'll notice a line running right through the middle of the colors.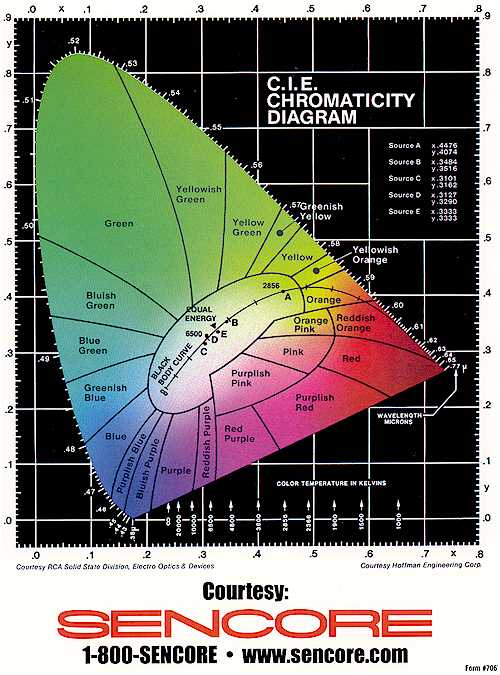 This line is known as the black body curve. Again there's more science than you probably care to know, but the important bits are that a black body "is an ideal emitter: it emits as much or more energy at every frequency than any other body at the same temperature." Thus, when heated to different temperatures – measured in kelvin – a black body radiates light of comparable hue to that of the light source; 5400 kelvin produces a reddish-orange glow, 10,000 a blue-white.
(Pop quiz: Looking at this chart, what color do you think we humans see the best? If you said, green, you're a winner!)
That's it for the science, I promise.
But what does this have to do with video and lighting? Plenty. Click here to read the rest of the story at Residential Systems...

Categories: March 2013, TV
/