Shopping Cart
Your Cart is Empty
There was an error with PayPal
Click here to try again
Thank you for your business!
You should be receiving an order confirmation from Paypal shortly.
Exit Shopping Cart
Features, Reviews and a Blog by John Sciacca
| | |
| --- | --- |
| Posted on March 12, 2013 at 1:00 PM | |
By this point, I feel I am a qualified subject matter expert when it comes to video servers. I have reviewed virtually every model that has graced the market, including quite a few that no longer exist and even a couple that were literally killed by the manufacturer while in my possession for review. (Oh, Escient Vision. The high hopes we all had for you! We waited so long, but, alas! You were just not meant to be!)
It's also no secret that I am an unabashed fan of the Kaleidescape system. Having reviewed all of the options out there, I can say with authority that Kaleidescape's solution offers the most when it comes to features, performance, polish, support, and on-going product development and evolution. It doesn't mean that there aren't other great movie servers available – the boys at Fusion Research make a really nice system as well – it's just that when you're talking about the best, Kaleidescape sits atop the short list.
Little of my life is spent more than about 25 feet from a Kaleidescape. We have a system at home with players in the theater and bedroom, and a demo system at our showroom. At home, Kaleidescape tames my 320-plus disc DVD and Blu-ray collection, making sure that I now longer have to hunt through that horrible stack of discs under my pool table. And at work, Kaleidescape is our showroom's primary demo tool; being used for everything from stereo, music-only demos for bookshelf and in-wall speakers, to sub $1000 surround systems to a near six-figure reference theater.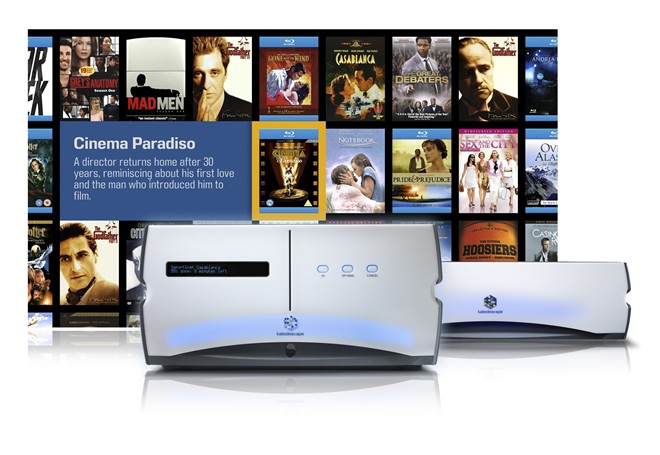 But, for all that I know about movie servers in general and Kaleidescape specifically, I have fallen into a mindset that I think may be all-too-common amongst integrators: We sell/pitch movie servers primarily to clients as a solution to managing their large movie collections.
Case in point, I was giving a pitch to a builder a few weeks ago. He was building a massive home – over 21,000 square feet on one floor – which was a textbook Kaleidescape job. The home needed video distribution, the budget was there, and there was a high-end dedicated media room. As I'm going through my demo for the builder, he is really into the Kaleidescape system. I'm showing him all the key features, pointing out the gee-whiz high points, demonstrating what a great lifestyle solution it is, and he's nodding and saying, "Oh, yeah. We totally need that. Spec that in for sure."
And then…I kept talking. And I find myself saying something to the effect that Kaleidescape is really great, but it's really only the right solution if the homeowner is really a movie lover with a big collection. That if she is the kind of person that just rents the occasional Blockbuster or Redbox movie and she doesn't have a large collection of films, then the Kaleidescape really wouldn't be right for them.
The builder responded with a lifeless, "Oh. Well, I don't know. I guess I'll have to ask them."
We'd gone from "We totally need that" to "I don't know" in a matter of seconds. It was like one of those giant firefighting planes had slowly cruised overhead and dropped thousands of gallons of buzz kill on my sale and momentum. And what's worse, I had been the one to do it! #Idiot
But Kaleidescape – and movie servers – are only meant for film collectors right? Only for those people with giant stacks of existing discs that they've been wondering how to manage for all of these years.
When I described this encounter to Kaleidescape's Principal Product Evangelist, Eric Larsen, a few days later, he immediately pointed out that Kaleidescape wasn't just for people with large movie collections.  Rather, movie servers address many issues that even people with nary a DVD or Blu-ray disc in their current library would appreciate. We had a great discussion that was a real eye opener for me, and I asked him to share the story with the world.
So, here is Eric describing why a Kaleidescape system makes sense even to those customers who aren't sitting on a treasure trove of shiny discs. Take it away, Eric! (I've added my comments in parenthesis and italics below.)
If you know the air-speed velocity of an unladen swallow…you might be a movie nut.
If you walk along the beach screaming "Pippet!" to freak out swimmers…you might be a movie nut.
If you've ever had the sneaking suspicion that you're not in Kansas anymore… you might be a movie nut.
And if you are a movie nut, then you likely already know the Kaleidescape System is right for you. Having your entire film library at your fingertips makes it easy to find your favorite movie, no matter how big your collection is (or how obscure the title!).
Click here to continue reading Eric's excellent post at Residential Systems and to see all of the reasons why a movie server makes sense for ALL of your clients...not just the fanatical movie collecting ones!

Categories: March 2013, Movies, Guest Blog
/