Shopping Cart
Your Cart is Empty
There was an error with PayPal
Click here to try again
Thank you for your business!
You should be receiving an order confirmation from Paypal shortly.
Exit Shopping Cart
Features, Reviews and a Blog by John Sciacca
| | |
| --- | --- |
| Posted on March 13, 2013 at 2:35 PM | |
Growing up outside of Napa Valley, I discovered that the best way to learn what wines you like is to try a bunch of different wines. And almost everyone who starts their journey to becoming a wine lover starts off sweet. The Rieslings, the Gewurtztraminers, the Muscats, and that bastard of the wine family, the Rosés. (I'm not even going to dignify "fruit infused wine beverages" that start with names like "Blackberry" or "Strawberry." These might be great for drinking when you're 16, but definitely can never be considered wine. Ever. Never.) These wines are sweeter, fruitier, and less intense on the palate, so they are the gateway grapes to the Sauvignon Blancs, the Chenin Blancs, the Viogniers, the Chardonnays, and – eventually – you'll find yourself hungry for a more intense wine and then you'll crossover from white to red and never look back.
There is no better way to give your palate an education than to try a bunch of different things. Many different chardonnays, for instance, to determine that you like oaky, or buttery, or more fruit, or more acid or whatever. As you taste and taste (and taste...) you develop a sense for what you like and then you can branch out and take that new knowledge and find other varietals that fit your flavor profile.
As hops are essential to beer making – and even more crucial to IPAs, my favorite of favorites – I was excited when I discovered these bottles from Westbrook Brewing:
Three beers all showcasing one single hop. What better way to experience and see what each hop has to offer when showcased all on its own, with the same basic recipe making up each brew? Interestingly, Westbrook is located like 90 minutes from my home, in Mt. Pleasant, South Carolina, a fact that I totally did not know. Looks like someone needs to be planning a trip to Mt. Pleasant…
So, on to the educating! I mean, tasting!
Westbrook Brewing Co. - Single Hop: Citra
Hop Variety: Citra
5.5% ABV, 35 IBU
$5.99 22-ounce bomber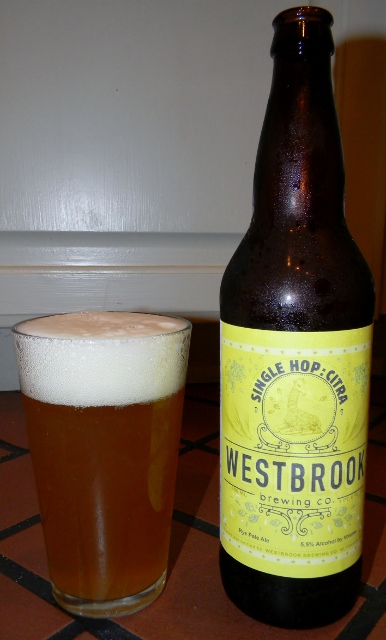 Description: "Our single-hop rye pale ales are created to showcase the flavor and aroma characteristics of individual hop varieties. The grain recipe is kept the same and only the type of hop is changed from batch to batch. Citra is one of our favorite hop varieties and has some crazy tropical fruit flavors and aromatics – think mango, pineapple, and passion fruit. Bottled on 11/12/12"
Ever since I read that one of the things that sets it apart from the regular batch is a huge addition of Citra in Stone's Ruination 10th Anniversary, I've felt like I was in love with Citra. Surely these are magical hops. I picture an Elysian Field, with these sun kissed hops standing firm and proud and gently swaying and drifting in an unseen breeze as they are ever ready to welcome warrior heroes as they return home. That's Citra. This beer pours a golden yellow with a big, creamy, puffy- white cloud head. Body is very hazy and cloudy, revealing just indistinct shadow when trying to look through the glass. Beer leaves nice rings of creamy, white lacing on the sides of the glass. Nose has that wonderful sent of pine, with a bit of tropical spice. First sip…lands really nicely mid-tongue, with a nice bit of carbonation, slides easily to the back and then finishes with a good bittery, hoppy end. The beer doesn't have that touch of sweetness that I love in a good IPA, and the pine doesn't translate as much in the taste. The sweetness is actually what seems to really accentuate and bring out the best in the pine flavors. You wouldn't expect a lot of alcohol taste with the low ABV, and, not surprisingly, you don't get any. It's easy to taste the notes that I love of Citra, but at the same time see how I don't love it exclusively on its own. Citra is a team player; maybe the star of the team, but it needs the rest of the hop team to back it up and really make a flavor that shines. This is enjoyable, but it isn't outstanding. But, I've got another glass to go, and sometimes that second pour can be more revealing… Second pour produces a textbook glass with two-fingers of dense, white head. If nothing else, this beer pours like a champ. Food photographers should be so lucky to shoot a glass of this. Beer seems smoother and a little more laid back, with the rye notes more present. I definitely don't get a "pungent tropical fruit character," but get more a hint of pine. Maybe I've been misinterpreting taste all this time? Meh. Whatever. At the end of the day, I like the flavor of the beer, and would I drink another bottle right now if it were in the fridge? Yes. Absolutely. But I just wish the flavor was embiggened.  
Westbrook Brewing Co. - Single Hop: Amarillo
Hop Variety: Amarillo
5.5% ABV, IBU 30
$5.99 22-ounce bomber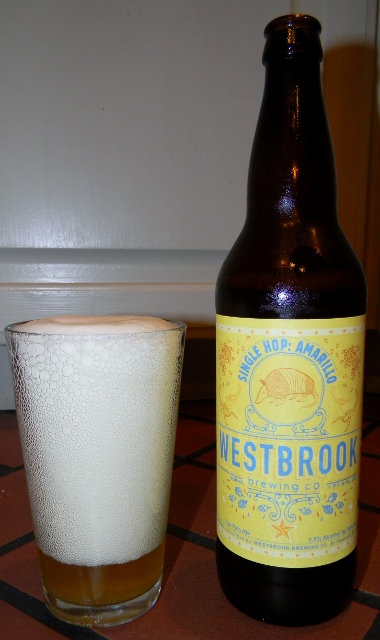 Description: "Our single-hope rye pale ales are created to showcase the flavor and aroma characteristics of individual hop varieties. The grain recipe is kept the same and on the type of hop is changed from batch to batch. Amarillo is an American hop with a distinct floral citrus aroma reminiscent of oranges. Bottled on 6/13/12"
This beer produces more head than ANY beer I've ever poured. An explosive, volcanic, nuclear eruption of foam that cascades out of the glass. At first I thought I'd poured the beer a little aggressively. Then I poured a second glass. And then a third.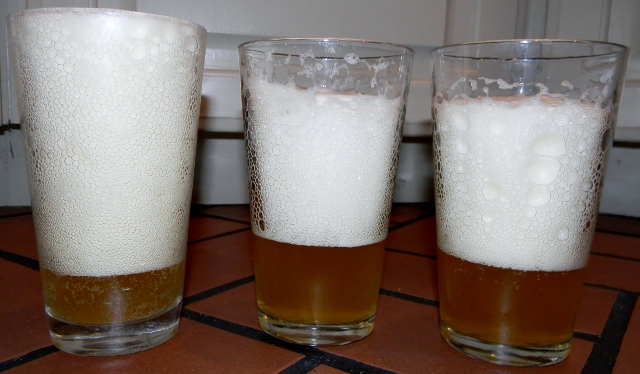 No matter how slowly and carefully and delicately I poured, I could not get this beer to pour into the glass without an 11 to 1, head-to-beer ratio. I mean, I was letting this beer *trickle* into the glass and just KA-BOOM! Actually, quite frustrating. After giving the thick white head a few minutes to calm in the glass, the remaining beer was a cloudy, golden, light yellow. In three separate glasses. With about two-inches of drinkable beer in each. The beer has a nice tropical papaya smell. First sip…glass one...the beer actually tastes a little flat, which isn't surprising since it shot its carbonation wad getting into the glass. The beer kind of lands with a dull thud on the tongue, has a splash of floral/citrus flavor and then vanishes with just a hint of bitter. First sip…glass two…little more carbonation here, but still mostly tastes like a beer that has been sitting out for a while. The papaya, pineapple notes seem a bit more present here, but it's tough to really get a sense of the beer when it really tastes flat. First sip…glass three…a little more creaminess to the flavor, but still the same flat kind of flat thud with some hints of tropical filled hop notes. I'm really hoping that the beer left in the bottle has had a chance to relax and will produce a more lively beer in the glass. A sip straight from the bottle had a *ton* of sparkle and danced on my tongue, making me wonder if this is a beer that wouldn't be better enjoyed straight from the bottle…? It's almost like a champagne in its level of carbonation and tingle. Second pour – very carefully transferred into the glass – is much more lively, landing on the tongue with a nice tingle and leaving nice rings of white head around the glass. It is definitely better, but it still falls a bit flat for me. The finish just isn't full bodied enough and almost has a slight wheat taste. Maybe I just got a turbo-carbonated bottle or something…
Westbrook Brewing Co. - Single Hop: Nelson Sauvin
Hop variety: Nelson Sauvin
5.5% ABV, 35 IBU
$5.99 22-ounce bomber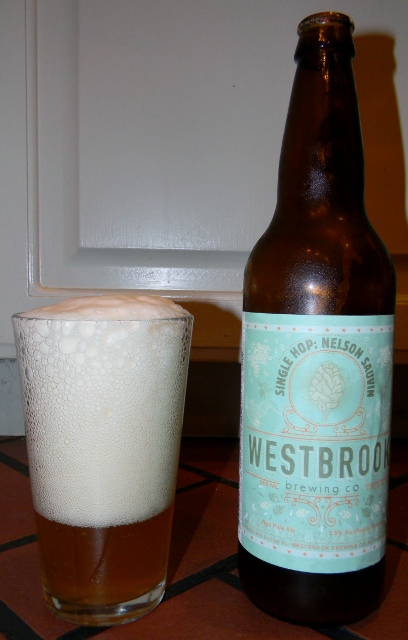 Description: "Our single-hop rye pale ales are created to showcase the flavor and aroma characteristics of individual hop varieties. The grain recipe is kept the same and on the type of hop is changed from batch to batch. Nelson Sauvin is a New Zealand hop variety with a bold fruity character similar to Sauvignon Blanc grapes. Bottled on 9/17/12"
Despite the most careful and genteel and sloped, slow, angled pour I could muster, this beer also cascaded with a hyper carbonated head that completely filled the glass. It's actually incredibly frustrating that no matter how slowly you pour this beer, it immediately explodes into a frothy, glass filling head. I took a sip straight from the bottle and it is definitely *super* carbonated, far too much for my preference and more like drinking a Perrier or seltzer water. After it had a chance to calm a bit, the beer appears a cloudy, golden copper color. The top half of the glass is streaked and walled with the remnants of the giant head. The nose is rich with sweet, tropical, fruity notes and is quite pleasing. This has that hint of juicy orange sweetness that I like in my favorite IPAs. First sip…the edge from the bottle is significantly reduced, and there in is the problem for me; it's like this beer has no middle ground. It's like drinking from a fire hydrant out of the bottle and like an hour old beer in the glass. I can taste this on the back edges of my tongue, a nice bitterness, and a long hoppy finish that leaves trace notes of the tropical fruit. The beer doesn't have much to offer as it first enters your mouth, but it is at the finish where it really shows its mettle, leaving lengthy, lingering tastes that are hoppy and bitter. As I continue sipping I really pick up notes of grapefruit and other citrus. Of the three, this is probably my favorite, but just wish I could have mustered a decent pour to really appreciate it.
Categories: March 2013, Beer/Liquor/Wine, Reviews
/