Shopping Cart
Your Cart is Empty
There was an error with PayPal
Click here to try again
Thank you for your business!
You should be receiving an order confirmation from Paypal shortly.
Exit Shopping Cart
Features, Reviews and a Blog by John Sciacca
| | |
| --- | --- |
| Posted on March 20, 2013 at 5:30 PM | |
I'm bombarded with questions on a near daily basis. "Why is this so expensive?" "Why can't I just go wireless?" "Do I really need all this stuff?" "Are you even listening to me?!" and "When are  you going to pick up your clothes?" (The last two -- and many others! -- perennial favorites of Dana...)
A couple of months ago I started the "Ask an Expert" idea where I posed a reader question to some of my very brainy* industry friends*.That reader wanted to know about Amplifier Wattage and I dropped some de facto, hardcore, pipe hittin' knowledge on him from the likes of (The Internet's) Geoff Morison, Brent Butterworth and Danny Kumin. (* and Darryl Wilkinson)

Time for another question. And, hopefully some more answers.
Here's the The Question, submitted by Joey Wilhelm (aka @MrBeerSnob) from my blog post Five Non-Million Dollar Ways to Improve Your Theater:

I have been strongly considering a projection setup to replace my 55-inch TV, but my primary concern is light pollution. With my LCD TV, I'm still able to let some light into the room during the day and I can see the picture just fine with no problems. Is this still going to cause a problem with today's projectors? If so, how good (and expensive) are drop-down screens? (For the possibility of LCD TV on the wall and a drop-down projection screen in front of it.)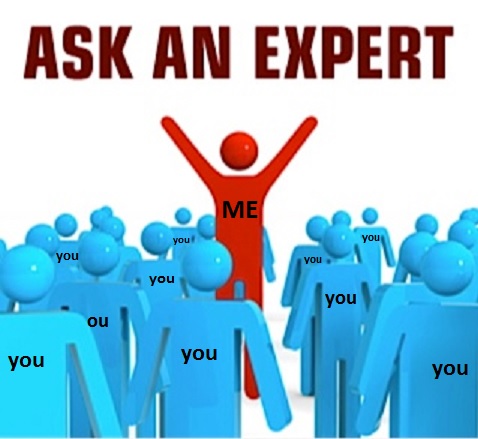 This is actually a great question, Joey! Great in large part because Joey actually took the time to actually leave me a comment. And he did it in the form of a coherent question that implied I could actually help him. This is pretty much commenting 101. You should all take a moment and contemplate the brilliance and length and breadth of his greatness in this regard and then emulate him whenever possible. But, I digress…
One of the things that I tell people all of the time when looking to buy a projector is the basic truth that a projector – no matter how good, whether $1,000 or $100,000 – cannot project black. It's true! You cannot project black. What you project instead is nothing, and the "black" that you see on screen is the total absence of light. So, you cannot achieve a black level any darker than the current light level on the screen. Put another way, getting your room as dark as possible will make any and every projector look better. (We can get a "perceived" black even in a relatively bright room by putting out an amazingly bright white, which makes the not-so-black look dark in comparison.)
I also like where Joey is headed with his parenthetical comment, "For the possibility of LCD TV on the wall and a drop-down projection screen in front of it." This is actually a terrific solution and the one that I employ in Casa Sciacca. My "theater" is in our Great Room which is open to the kitchen and sitting area and has lots of windows and light leakage. Basically, a nightmare to try and get "theater dark." So, we use a Pioneer 60-inch Plasma (9G, represent!) for day and night TV viewing, and have a Draper motorized screen that drops down when we want to watch a movie (115-inch 2.35 aspect, masked down to 92-inch for 16x9 viewing). This gives me the ability to have a great "day" TV but step it up to an awesome movie presentation. It also uses the same speakers and electronics, so I am always enjoying the best audio, and don't have the inherent compromises of two separate systems.
The obvious drawback, of course, is that you are buying two video displays and a motorized screen, which is more expensive.
Another option would be to go with a light rejecting screen material like Screen Innovations "Black Diamond." I have seen some pretty amazing images on a Black Diamond screen even in normal (bright) room lighting. This material does have limitations and some issues of its own (more limited off-angle viewing, hot-spotting, considerably more expensive), but in a room with a lot of light, they perform video magic.
So, let's ask some other experts their take on this query:
Danny Kumin, Technical Editor, Sound & Vision Magazine:
Not really, other than the fact that the notion of watching 95% of what's on broadcast/cable on my 92-inch screen makes me physically ill -- it's bad enuff on the crap 32" in my bedroom. (Imagine "The View," life-sized...) And I don't think hi-output/hi-reflectivity FP looks as good in dim-light mode as a lower-light setup for serious viewing. So "having it all," in HT as in life at large, appears to me to be a questionable goal.
Geoff Morrison, International Best Selling Author, frequent contributor to pretty much everything including Sound & Vision and CNET:
I've had a projector as my main "TV" for over a decade now. Light is always going to be a problem. Modern projectors, especially the Epson 5020 or BenQ W1070, (I got 50ftl with the W1070. Great little projector) are really bright, and with a "light-rejecting" screen (like the Black Diamond Zero Edge) will probably be viewable in daylight, but not if you have a lot of windows.
My advice? Buy some curtains.
Not sure on the price for drop down screens, but I'm told a cheap LCD with a drop down screen is a popular option.
Adrienne Maxwell, Freelance Tech Writer / Editor:
A lot of the lower-priced 3D projectors are designed to be very bright to help produce a brighter 3D image. So, with 2D content, you can get a well-saturated image in a room with ambient light. The Epson 3010 is inexpensive and really bright (new 3020 should be similar), and it has built-in speakers so you don't need to add an external sound system for basic TV watching. [JS note: Ugh! No! I love you, Adrienne, but, NO! Do not listen to her, Joey! You should never, ever, never use the built-in speakers unless it is just a temporary, "everything else is broken!" solution. Promise me this. Promise!] If someone is willing to go a little higher in price, the Sony VPL-HW30ES is a good choice. It has a manual iris system that will let you set up a bright image for daytime viewing and a darker image with a great black level for dark-room viewing.
Elite Screens is a good choice for lower-priced screens. You can get a 100-inch drop-down screen on Amazon for under $200.
Chris Heinonen, Senior Editor for Secrets of Home Theater and High Fidelity:
With window lighting, even a Black Diamond is possibly going to have some issues.  The key with those screens is they reflect light coming at different angles than the projector, so if you have windows behind you, that's the same direction as the projector and more likely to be reflected then.  If they have side-mounted windows they might be OK, but still not great.
I'd do the drop-down screen with the projector myself.  The Epson is a light cannon, the BenQ W7000 is a light cannon (the W1070 arrives next week so I'll know how it is), but a screen like the Black Diamond will run you $3,500 or so, and curtains will cost far less.  I think you can get a quality drop-down for less than a Black Diamond or other light-rejecting screen.
Dennis Burger, Editor in chief at HomeTechTell:
Plasma rules. Sit closer Also, I agree with everything everyone already said about draperies.
Andrew Robinson, Filmmaker and Managine Editor:
Going big is a surefire way towards getting "closer" to the commercial cinema experience rather than sticking with just a plain ol' HDTV. While there are advantages, there are also disadvantages too. Light is the enemy when discussing any front projection setup - regardless of price or makeup. While light has and will always be a concern, it's not quite as doom and gloom as it once was. Negative gain or ambient light rejecting screens make it possible to enjoy front projection setups in non-light controlled environments. But negative gain screens are not a cure-all for they can only be as bright as the projector shining upon them, which is why I make it a point for consumers to obtain as bright of a projector as they can manage for you can (typically) reduce a projector's light output but rarely can you dramatically increase it through calibration etc. But even a unity gain screen or positive gain screen can be enjoyed in ambient light situations, again provided your front projector is bright enough to begin with.
The beauty of front projection then becomes that no longer are you confined by a bezel preordained, if you will, by a manufacturer. Want a bigger image? Buy a new screen and move your projector back. Need it to be smaller? Move everything forward. Screens can be had for as little as a few hundred bucks with quality HD projectors starting at around $1,000. Obviously you can spend more and receive more in terms of performance, but for most first timers and even seasoned enthusiasts, a setup retailing for between $2,500 and $5,000 will suffice. While that may sound like a lot, consider this; the largest, most widely consumer available HDTV is currently relegated to 90-inches and it costs upwards of $10,000 or more. A $2,500 front projection setup can just as easily be a 90-inch setup as it can 100 or even 120 (provided you have a bright enough projector), yet you only spent $2,500. Though at $2,500 I'd recommend perhaps shaving off an additional $50 to $100 for some drapes to ensure you're not robbing yourself of any enjoyment. Good luck!

Got a burning A/V question you've always wanted answered? Think you can stump my panel of experts? Think a question about bacon related home brewing will get Darryl Wilkinson to chime in? Think I should give up blogging and just drink beer full time? Post it in the comments and I'll do my best to get you an expert reply!
Categories: March 2013, Electronics
/