Shopping Cart
Your Cart is Empty
There was an error with PayPal
Click here to try again
Thank you for your business!
You should be receiving an order confirmation from Paypal shortly.
Exit Shopping Cart
Features, Reviews and a Blog by John Sciacca
| | |
| --- | --- |
| Posted on March 21, 2013 at 5:35 PM | |
Oh, Stone Brewing Co! Everything you do seems to be a giant, bar-raising, F-you! to the rest of the brewing world. You people think you've got a fresh beer? Fine, we'll make one so fresh we'll put the expiration date right in the beer's name and make it be enjoyed within 30-days of going in the bottle! You make a flight of beers? Bully for you. We'll make a Vertical flight that spans 12 FRICKIN' YEARS!
So, yeah. If you're a brewery, anything you do, Stone is probably gonna find a way to make it more awesome. (Pliny the Younger, I hope Stone is lookin' at you!)
I thought I would throw up a couple of reviews today that epitomize the extreme ranges of Stone brewing styles and awesomeness: a beer meant to be enjoyed crazy fresh, and another that was meant to be cellared for an entire year.
Enjoy By….right now!
Stone Brewing Co – Enjoy By IPA 4-1-13
Hop Variety: Unlisted
9.4% ABV, 88 IBU
$7.99 22-ounce bomber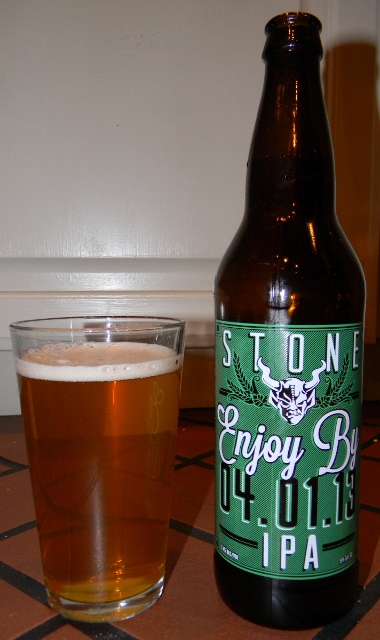 Description: "You have in your hands a devastatingly fresh double IPA. Freshness is a key component of many beers – especially big, hoppy IPAs – but we've taken it further, a lot further, with this one. We brewed this IPA specifically NOT to last. We've gone to extensive lengths to ensure you get your hands on this beer within an extraordinarily short window, and we've sent a very clear message in the name of the beer itself that there is no better time than right NOW to enjoy this IPA!"
Russian River puts the importance of freshness and enjoying fresh right on the label of its famous Pliny the Elder with things like, "Do not save for a rainy day! Pliny is for savoring, not for saving! Consume Pliny fresh or not at all!" on the label. But Stone's Enjoy By takes it to an entirely new level by printing the drink by date right on the bottle in the name of the beer. And with a date barely 30 days after bottling. Ballsy. But would you expect anything less from Stone? So, apparently Stone has taken a devilish way of determining who earns the right to enjoy Enjoy By, with a social media (Twitter, Facebook, e-mail) "voting" campaign to determine which parts of the country *really* want to get some freshy-fresh beer. This is the third or fourth batch and when I found out that it was coming to South Caroilna, I was on the hunt! (I had previously e-mailed Stone's marketing and PR department and requested a bottle only to be told it was delicious and sorry, but no. Ouchey.) So I called around and when I found out that my Piggly Wiggly had some, I asked them to save me some.
"How much do you want?"
"How much do you have?"
"We have a case."
"I want it."
"The whole case?"
"Yeah. All of it."
"Umm…"
"Will you sell me the whole thing?"
"Yeah, I guess. I'm here til 10. Come on up before then and it's yours."
Done and done! Pours a beautiful ultra-clear, sweet-sweet golden color with just a bit of head that rapidly reduces to a creamy froth atop the glass and a ring of bubbles at the edge. The beer is beautifully, wonderfully, perfectly clear. Like I can look through the beer and TV, though the beer has the reverse effect of my Panamorph anamorphic lens; instead of stretching images horizontally, the beer goggles stretch things vertically. So maybe there is a thing to the whole beer goggles concept, making people look taller and thinner… There is just a steady dance of tiny bubbles rising up to the top of the glass, like they are going up to frothy, beer heaven. They look happy, like they have lived wonderfully fulfilled lives and are excited to go to a creamy, happier place. There is something about the perfect clarity of an IPA that is so appealing and inviting. This beer isn't trying to hide or conceal anything. If I had a jeweler's loop, I would stare into this glass and rate the beer's color, cut, clarity and Citra. Smell is rich with fresh, sweet, spicy hops. This is the kind of smell that gets you excited about a beer. Like, I can feel my mouth watering getting ready for that first, most excellent sip. It's like, honeymoon night and you've been waiting and now. Well, you know… First sip and the beer carbonation just lights up my tongue and the flavor explodes with hop-filled freshness. A nice rise of sweetness and then a smooth swallow with lingering hop-filled bitter. You can really taste the freshness, as the hop flavor just explodes in the mouth. There's also a wonderful balance with a great touch of sweetness and not a hint of alcohol in this 9.4% ABV big boy. Fresh is an overused word to describe this, but, dammit, that is the only word to really express just how fresh and filled with flavors of pine and grapefruit and citrus. It really boils the quintessence of a double IPA down to its ideal form and flavors. It doesn't have the same level of sweet as the Stone Ruination 10th Anniversary or the Bell's Hopslam or the Drake's Hopocalypse, but it has a freshness to the taste that is undeniable and intoxicating in its flavor. The final sip of glass one is gone, holding the same wonderful flash of carbonation and flavor as the first, leaving a glass that is streaked with random slashes and lines of foam like a beer-crazed Jack the Ripper. (Second pour.) A little stronger pour produced a thin finger of snowy white head that again quickly reduced to just a hoarfrost of topping. Again, the glass is rich with a wonderful, redolent nose of hops and pine. First taste and again…wow. Yum. Just…yum. This is a beer you want to curl up in like Linus' blanket. It's just fresh and hoppy and everything an IPA lover could want. I know a huge part of the allure of Pliny the Younger is the crazy freshness, and it's hard to imagine that beer tasting any fresher and more hop filled than this one. Each taste is a treat and flavor-filled freshness hop-bomb. At the end, it's crisp, clean and delicious. Stone has again reestablished what the bar can be. And then raised it. Outstanding and highly recommended. Find this beer. Find it now. And then drink it. Immediately.
Stone Brewing Co - Vertical Epic 11.11.11
Hop Varieties: Warrior, Target, Perle and Pacific Jade
9.4% ABV, 65 IBU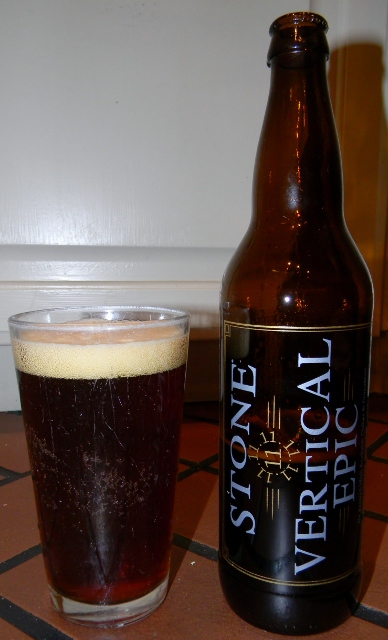 Description: "Stone 11.11.11 Vertical Epic Ale, the penultimate installment of its legendary series. Begun on February 2nd, 2002 (02.02.02), these bottle-conditioned ales have all been Belgian-influenced, but they share little else in common, with each year's release revealing its own twist and turn in the plotline. Each beer is unveiled one year, one month and one day from the previous year's edition, with all of them designed to be aged until sometime after 12.12.12, at which point they can all be enjoyed during an epic 'vertical' tasting. This year's recipe starts with a base beer akin to a Belgian amber, and is tweaked with the addition of mild but flavorful Anaheim chilies from New Mexico's Hatch Valley and cracked cinnamon sticks. Stone 11.11.11 Vertical Epic Ale is NOT your typical chili beer! The famous mild green chilies from the Hatch Valley in New Mexico add layers of delicious flavor with a very mild heat component. And the cinnamon doesn't dominate the beer's flavor by any means, instead adding a subtly complex spice note that blends amazingly well with the Hatch chilies and the banana esters present from the yeast."
Yes, I realize I was supposed to drink this beer in a vertical flight on 12-12-12, but, dammit, you can stop being epic when I say you can! You can read my review of the 12-12-12 here. Pours an amber, leathery red looking color with a finger of off-khaki head that quickly eliminates to just a scrim a froth that layers the top of the glass. Body is very clear -- and not dark enough -- to the point where you can see completely through it and actually read the text on my iPad screen.  Smell has notes of spice and sweetness reminiscent of caramel malt. First sip and it stabs the center tongue with carbonation and then sparkles its way to the back of the mouth. The sweet/spice on the nose isn't exactly there on the taste, with a tinge of high alcohol sharpness. The finish has some life to it, but mainly due to the lingering alcohol sweet flavor. There's some spice, but I can't pick any specific flavors out. I definitely am not getting any of the chili flavors as described. Actually, I'm getting notes of bubble gum sweet classic of Belgian ales so maybe more in the next glass. (Second pour...) There's a hint of the chili peppers but only in the sense of spiciness, not chili-ness. As a spice filled Belgian it's a decent brew, but it certainly isn't rising up to the level of anything great, let alone epic. Maybe it wasn't treated well in its 14 months after bottling? I don't know. But the Epic 11 wasn't nearly as epic as the Epic 12, though a year older. Rest gently, my friend, and go sweet into the night. Your days of being Epic are now over...
Categories: March 2013, Reviews, Beer/Liquor/Wine
/