Shopping Cart
Your Cart is Empty
There was an error with PayPal
Click here to try again
Thank you for your business!
You should be receiving an order confirmation from Paypal shortly.
Exit Shopping Cart
Features, Reviews and a Blog by John Sciacca
| | |
| --- | --- |
| Posted on March 26, 2013 at 4:40 PM | |
I don't usually pass on the many PR pitches that I get as I figure I can spare you from all of the "COME VIEW OUR WEBINAR!" and "BEST DVR SURVEILLANCE TECHNOLOGY!" and "It looks like a modern baseball cap, with a light-weighed rig that can carry any commercially available smartphone... It may look f, but it works nicely, and it's very comfortable to wear" junk that I get on a near-daily basis.
But, I like to give props where props is due, and I received a pitch that was so well done, I figured you'd enjoy reading it as much as I did.
The pitch was titled "Doomsday for Streaming" and comes from Terra-SAN. Terra-SAN is a company that offers the service of loading all of you movie and music content (DVD, Blu-ray, CD) onto servers by Kaleidescape, Sonos, ReQuest, Apple TV, whatever. You send them the discs, they then handle the boring-ass chore of ripping them and making sure they have all the correct metadata and then they return the discs and drives to you.
Without further ado, here's the Tara-SAN pitch with included graphics…
We've been through natural disasters like tidal waves, hurricanes, tornadoes and blizzards. Katrina, Sandy and Nemo are everyday events now. With asteroids, comets, meteors falling helter-skelter from the skies on a regular basis, can the collapse of the Yellowstone Caldera and attacks from zombies be far away?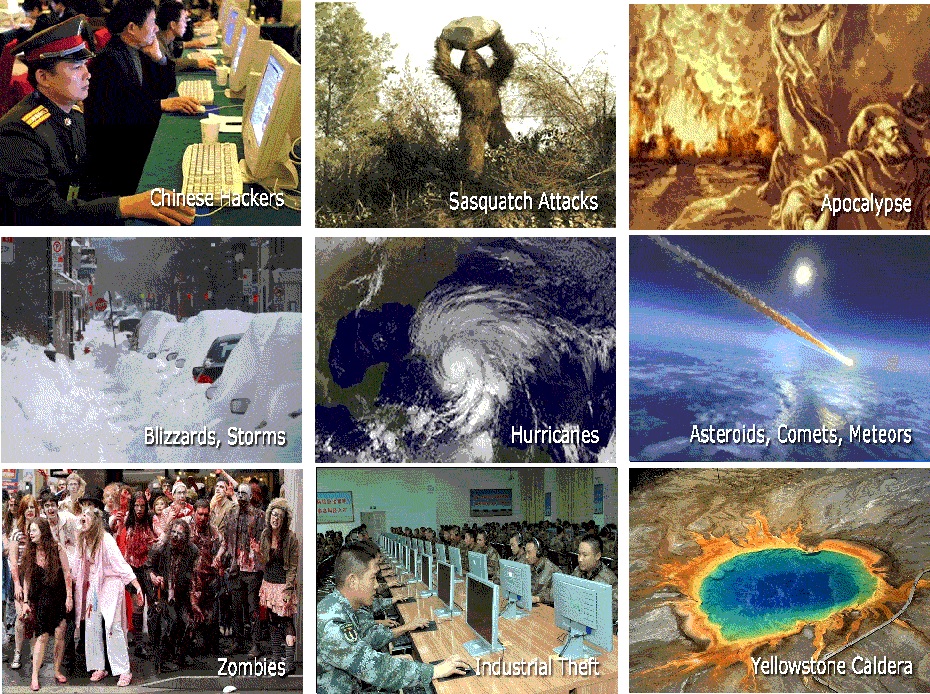 We have to be prepared for anything. What if Chinese hackers attack our electric grid? Cyber stealing is rampant! What if the Aljazeera Channel takes over cable? What if global warming/climate change melts the Arctic and Antarctic ice caps and water rises thousands of feet? How long can any family play board games and cards?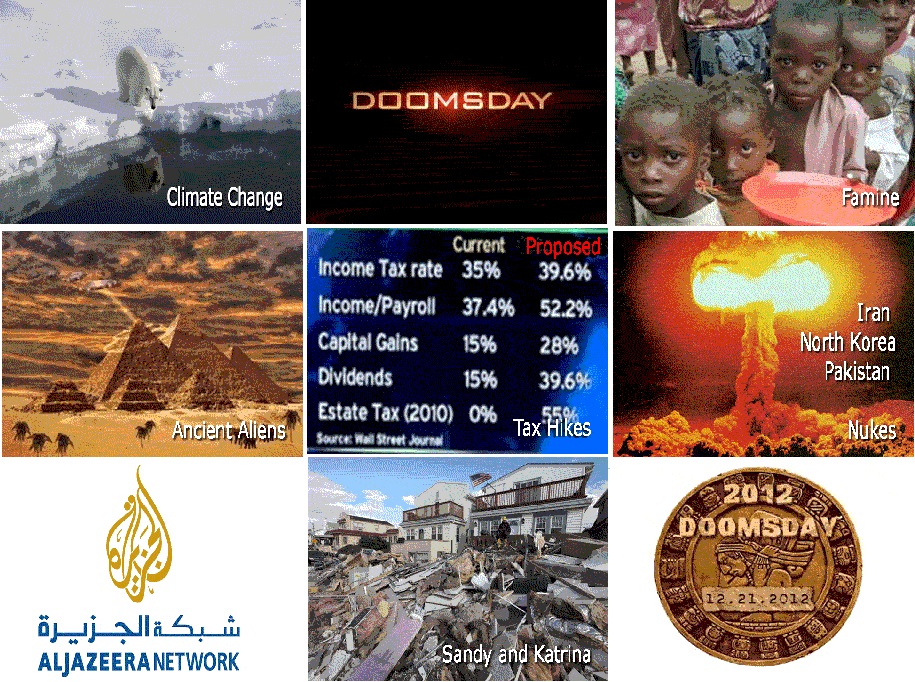 Ancient alien theorists contend that the Subterranean Sasquatch Nation is arming right now to come above ground in a huge orchestrated attack on everything human. Who knows what kind of music they will force us to listen to, when they take over. The end of the Mayan calendar was obviously not the end of mankind on earth, but perhaps it was the beginning of the end. With fiscal cliffs and sequestrations and everything else, it just doesn't look good. With apocalyptic disaster and doomsday Armageddon right around the corner it's about time we all tried to preserve our favorite music, movies, and memories in order to preserve our culture.
At Terra-SAN our call to action is "DIGITIZE NOW". Spread the word to your clients NOW. Before their cruise ship hits the sand, get us to load their favorite servers with their favorite entertainment media. The whole idea is to stash it and store it in a comfortable bunker until they can come out and see the light of day again. Believe you me; they'll thank us when the sun comes out.
And happy April 1 to one and all.    
For more details call Terra-SAN directly 1-866-807-4754 or email [email protected]
Categories: March 2013, Bizarre
/