Shopping Cart
Your Cart is Empty
There was an error with PayPal
Click here to try again
Thank you for your business!
You should be receiving an order confirmation from Paypal shortly.
Exit Shopping Cart
Features, Reviews and a Blog by John Sciacca
| | |
| --- | --- |
| Posted on April 1, 2013 at 3:20 PM | |
Most people love movies. And since you are currently reading a tech site, I'm going to assume that you are probably more a movie lover than most people. But while people love movies, what they don't love so much is the experience of actually going to the movies. Take your pick from the many possible reasons: Inconvenience, poor performance, the glaring red EXIT light that shines on the screen like a vengeful Overlord, the floors sticky with food and DNA spillings of countless others, the rude behavior of other movie goers, the high-priced snacks, that masochistic love-hate relationship with synthetic butter… (I know you're killing me, butter-flavored-oil-amalgam, but I can't help loving you!)
Further exacerbating the issue is that technology has advanced to the point where many people now own home theater systems that rival or exceed the commercial experience. Better sound, no blown speakers or crackling drivers, and a big bright image from a projector lamp that some GM isn't trying to wring the last few miserable hours out of. With high-definition Blu-ray discs or Vudu or Netflix streaming, you can enjoy movies on-demand and in all the sit-on-my-couch-in-my-underwear-with-a-glass-of-scotch-so-big-it's-an-affront-to-God splendor you can handle.
But if you want to see the latest films, you've got two choices: wait the months until they are available on some form of home video, or suck-it-up, put on some pants, and then venture down to the local Cineplex.
Well, those were the only two options before PRIMA Cinema came along. PRIMA Cinema is a new company that wants to be day-and-date viewing of first run viewing right to your home.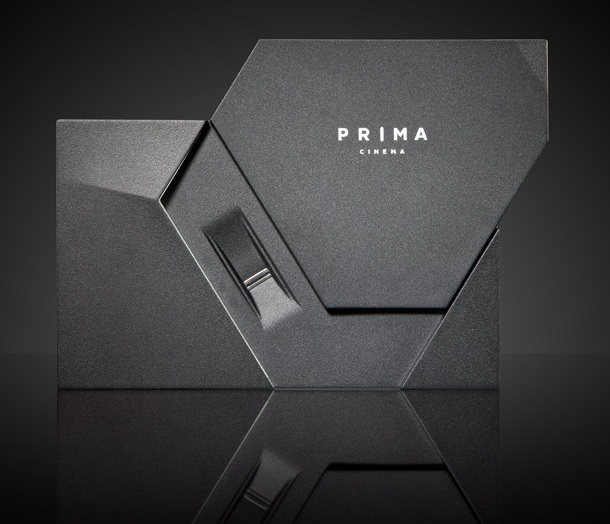 First, let's get the nasty business out of the way; PRIMA is expensive. Like, "Am I going to buy the Patek Philippe or get the new Jaguar F-Type?" expensive. The hardware costs $35,000 and then each movie is $500. Unless it's in 3D. Then it's $600. (If you are thinking about immediately scrolling down to the comment box and writing, "$500 for a movie?!? I hope to GOD that this is some kind of April Fool's joke because this is the stupidest thing ever! I can Torrent the movie for free! Anyone that buys this is a total sucker!!!" may I ask that you just do us all a favor and quit reading and move along? PRIMA is clearly not for you. And guess what? They are totally OK with that.)
As cool as PRIMA is – and trust me, it is frickin' amazingly cool – they are not (yet) targeting the average Joe movie-goer. They are (clearly) going after the luxury segment of the market that is building six and seven figure home theater systems where money takes a back seat to experience and convenience. Before I talk about the tech – and, I promise, I will – think about it… If you are in the 1% -- someone that thinks nothing about the $20,000 in fuel it takes to fly up to Nova Scotia in your Lear jet to see the total eclipse of the sun, or who buys futures in cases of Chateau Margaux  – then $500 for a movie is nothing. And instead of having to deal with the coughing, plague-riddled masses at the communal neighborhood movieplex, how much better would it be to have a dozen friends over for a dinner party and then watch the latest blockbuster cosseted in the velvet and leather luxury of your private media room?
To my knowledge, I am one of the very first (if not only) reviewers to actually get their hands on a PRIMA Cinema system for more than just a 30-minute, behind-closed-doors, carefully choreographed demo. I had one. In my house. Lived with it for almost two weeks. Felt it. Touched it. Watched movies and countless trailers on it. Then wept bitterly when it left.
So, when you get your heart and wallet right and decide that you're willing to invest the $35,000 in a PRIMA, here is how it goes down...
(Note: This is my first post for www.DigitalTrends.com, so, please make me look good by clicking that link and following over to their site to finish the read.... Thanks!)

Categories: April 2013, Electronics, Movies
/