Shopping Cart
Your Cart is Empty
There was an error with PayPal
Click here to try again
Thank you for your business!
You should be receiving an order confirmation from Paypal shortly.
Exit Shopping Cart
Features, Reviews and a Blog by John Sciacca
| | |
| --- | --- |
| Posted on April 15, 2013 at 1:55 PM | |
Thank you.
It's such a simple thing to say, but one that a lot of people find it difficult to muster.
So, thank you…
I started this little journey/descent into madness a little over three years ago with a rather uninspired first post about coming home from work to be welcomed by a giant, dead, bloated possum floating in our pool's filter.
Since then, I've managed to find a few things to talk about along the way, usually somewhere around 15 times a month.  Nearly 99 posts that I termed worthy of being called "Rants," 102 things that talk about "Movies," 66 things that talk about beer or liquor in some manner (with like 170-ish beer reviews for those that care), 10 top 10 lists and 35 things that are just bizarre…
But this post…the one you're reading now, this post is number…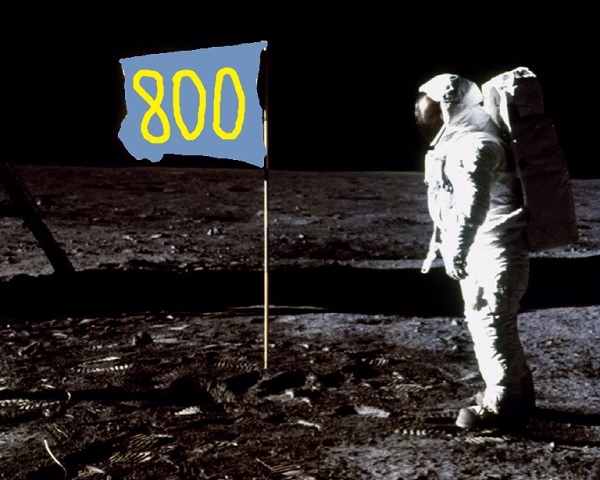 Yup. 800 posts in the bag. Phew. That's a lot of keystrokes.
Many of you may be thinking that is like 792 too many, and, well, that may be true. Some of you may have talked to my dad and think that each post is like 800 words too long. And, that also may be true. But, all the same, I'd like to thank each of you that has stuck with me over the years. Those of you that feel it is worth checking in from time to time to see what is on my mind or under my skin.
I'd especially like to thank those that have stepped up to the mic and left a comment when a story moved or compelled you. (Seriously. Getting comments out of you people is just slightly less complex than mining unobtanium...)
I've also been fortunate enough to have several people that have donated their time and words to contribute Guest Blogs to my site. Even I get tired of hearing me talk/write, and it is a great break to have someone else come forward and take over the keyboard for a bit, sharing some story or bit of awesome that I felt worthy of letting the world in on.
These illustrious few include my best friend, Dan, my Navy SEAL cousin, Chris, my wife, Dana, my brother, Adam, my arch-nemesis, The Darryl Wilkinson, Sound  & Vision's EiC, Mike Mettler, my daughter, Lauryn, ex-Caster Comm PR Buddha, Amanda Nickerson, social media consultant, Tracy Sestili, the very sparkly Disney-loving, Olivia Dumanovsky, A/V designer extraordinaire, Rich Fregosa, my best high school buddy, Craig Nosse, current Caster Comm PR maven, Nick Brown, my blogging Padawan and Tech Chick, Heather Sidorowicz, the very funny and musically talented, Phillip "HiPhi" Cordell, my very cool sister-in-law, Keely, New York custom installer to the stars, Todd Anthony Puma, the awesome mystery PR person who sent me the "Digital mode is the better form of Analog" pitch, and, lastly, Kaleidescape's principal evangelist, Eric Larsen.
So a very special "Thank you!" to those fine folks, and the offer to any of you that if you think you've got a cool story you'd like to share, let me know about it...
I always chuckle a bit – softly and to myself in an inward and I'm sure very condescending manner – whenever I hear people say they are going to start a blog. "Oh really?" I think. "Starting a blog, are you? Well, good luck with that. Let me know who it's going in like 3 months."
The truth is, it is *very* easy to start a blog. There are tons of free sites out there, the tools are easy, and within a couple of minutes you could have a site up and running and be on your way, discussing your favorite food, the new sweater you made for your cat, or just dissecting each episode of your favorite reality show.
No, the starting part is easy. It's the keeping up with it that is the real trick. (Apparently the correct use of the words "too" and "their" and "it's" are also incredibly tricky for many to master. I can only thank Mrs. Russi once again – and this time with far less red wine in me – that I have found some mastery over this challenge.)
I can't tell you how many of these "I'm gonna start a blog" bloggers get 2, 3, maybe 5 posts under their belts and then just run out of gas. Sometimes they will follow-up with the ever-so-lame "Sorry I haven't posted in so long!" post, but ultimately, these non-writers are doomed to fail. It takes a lot of work and dedication to keep this nonsense up. And I can assure you, that if it wasn't for you, the reader, regularly checking in on the other end of this Internet, I would have given up on it long ago.
So, thanks. Drop back by any time. And, you know, how about a comment or two for the effort…?

Categories: April 2013, On Writing
/