Shopping Cart
Your Cart is Empty
There was an error with PayPal
Click here to try again
Thank you for your business!
You should be receiving an order confirmation from Paypal shortly.
Exit Shopping Cart
Features, Reviews and a Blog by John Sciacca
| | |
| --- | --- |
| Posted on April 18, 2013 at 1:05 PM | |
We recently landed the biggest project in our company's 18 year history – both in physical size of the home and in financial scope of the job – and I thought I would start a multi-part blog post chronicling the project over the next several months, the decisions I made in system design, the proposal process, the prewire, trim out and installation.
I have a feeling that many readers out there have custom install shops like my own – single location, sub 10-man operation – and do the lion's share of their work in the sub $25,000 job space. As I'm sure many of you have, we've done our share of 6-figure projects over the course of our history, but these jobs are (sadly) atypical. Almost every project that we do involves some major budget restrictions, and – let's be honest – it is incredibly fun to be able to work on a project where the fetters and bonds of a tight checkbook can be broken and you can spec in the things that really make an awesome system.
This home is being built by a husband and wife team – Rod and Sandy – that we have worked with previously. In fact, prior to this job, the biggest project that I had done was with Rod and Sandy. (You can read a feature on that installation here.)
This gave us a great advantage on this project because the builder had worked with us previously and knew the quality of our work, and had also seen – for several years – our customer follow-up and support.
One of the things that we pride ourselves on is not holding up the project; we will do whatever we can in our power to meet your deadline. With this project, the timeline was really compressed, with the homeowner wanting to move in by November – within a year of the groundbreaking!
Rod gave me a set of the plans and it honestly didn't really seem too impressive. Even though it said 1/8-inch scale (instead of the typical ¼-inch) it just looked like just a regular house. But then I put a scale ruler on the page and saw that the house is almost 250-feet from one side to the other! And the house is 21,500 square feet under roof. On one floor. It also sits on 4 acres of property just back from the ocean.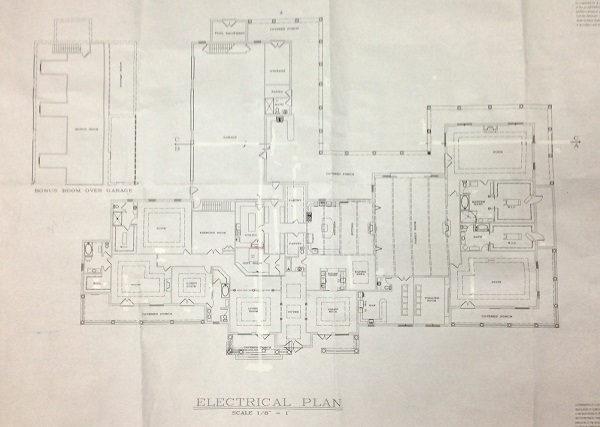 I took a trip up to the jobsite to walk-thru and get an idea of the feel of the job and the layout and the construction and my first words were literally, "Oh…my…DAY-UM!" It was immense. Literally overwhelming. With the stud walls it is impossible to see from one side of the house to the other, but to give you an idea of the size of the house, here is a picture inside the basement with me standing against one wall, and my installer, Marc, standing against the other wall. He is over 6-feet tall: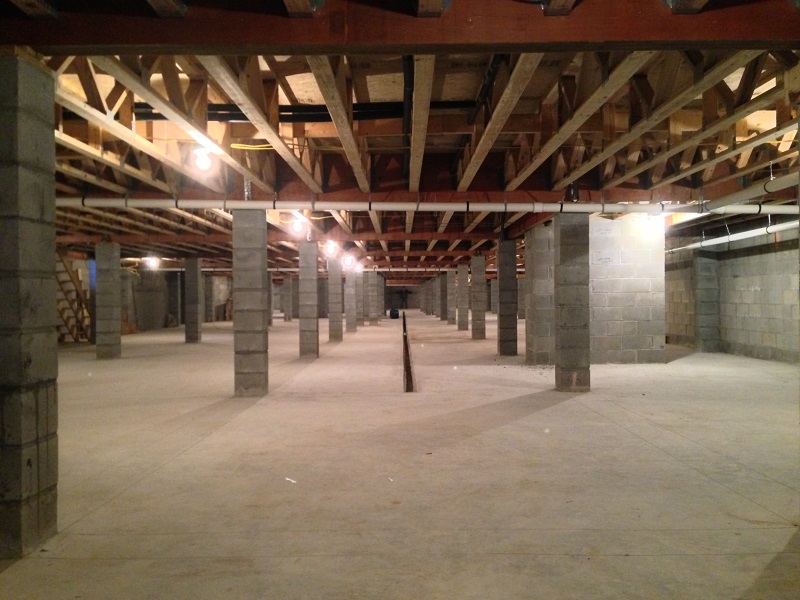 Obviously having a full and massive basement was going to be a huge advantage on this project, allowing us to run wire far more quickly and in much shorter lengths than if we had to go up over and down to everything. But even still, with the security – cameras and alarm panel – all going on one extreme side of the home, wiring lengths were something we had to take into account, especially on camera power. The exterior of the house is all poured ICF, and the home has really high ceilings, 12-feet or more in all the bedrooms and over 30 in the kitchen and family room. In fact, the family room and kitchen alone are like 150% bigger than my entire house! The family room ceiling has some amazing wood beam detail: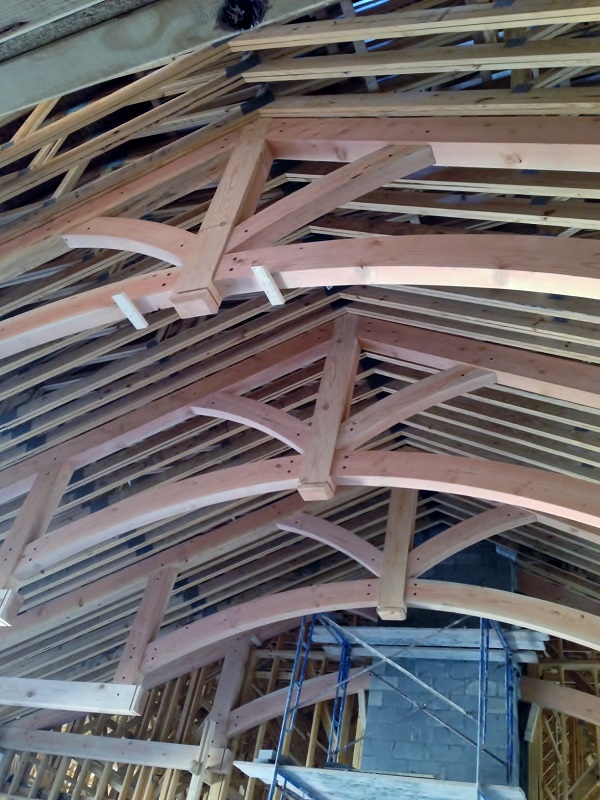 The homeowner is quite busy and travels a lot – I've actually yet to meet with her. Yes, I said her. Just blew your preconceptions, didn't I? – so I talked to Rod and Sandy for a bit and tried to gauge what they were looking for in the home. They wanted something very user friendly but also high-tech and fitting a home of this size and scope. There would be principally three people living in the home and they would all need to have independent control over their own viewing and listening. They said that they homeowner does a lot of entertaining – not unusual to have 50 or more guests over – and that the backyard area would be a real focal point with lots of gatherings and a massive double-level swimming pool. They specifically mentioned wanting an awesome home theater and said that a budget of $90,000 for the theater wouldn't scare them.
After walking through the job and getting a sense of the space, I came back to my showroom and just stared at the plans. Where to begin? This house was just intimidating to even think about.
Click here to continue reading the story at Residential Systems and read about the system design I selected for Mega Job...

Categories: April 2013, CTA
/