Shopping Cart
Your Cart is Empty
There was an error with PayPal
Click here to try again
Thank you for your business!
You should be receiving an order confirmation from Paypal shortly.
Exit Shopping Cart
Features, Reviews and a Blog by John Sciacca
| | |
| --- | --- |
| Posted on April 19, 2013 at 4:40 PM | |
Like many of you, I received a postcard from CEDIA the other day getting me pumped for the 2013 EXPO.
Honestly, not much pumping is required. I love the EXPO. And by "love" I mean I frickin' love the EXPO.
Also, the EXPO is moving back to Denver this year which I think sent a chorus of collective, "Praise be!" throughout the entire CEDIA membership and press corps. CEDIA in Denver is just awesome. The weather is great, the city is clean, it's easy to walk and get around and there is an awesome baseball stadium right in the downtown! (Note to manufacturers: If you are hosting any events that involve seeing the Rockies playing, I am totally in. Consider this a firm Sciacca + 1.)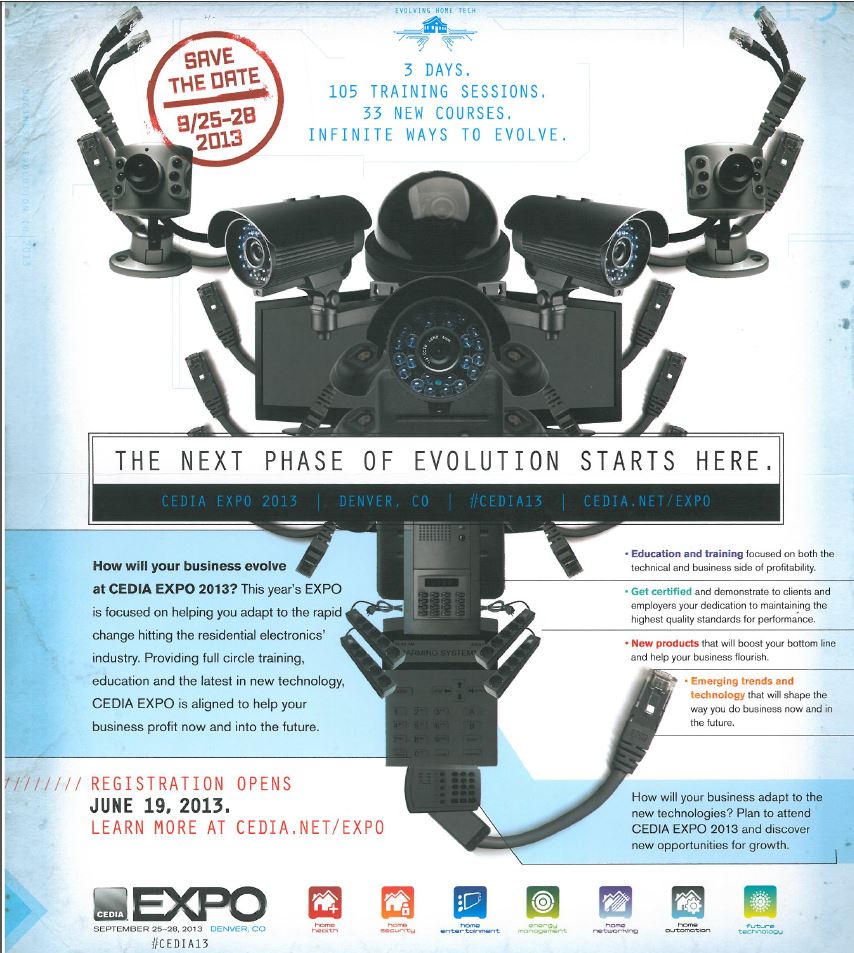 So here's the front of the postcard, all like robot-ey and Transformer-ey and I'm all, "Yeah! Sweet! Save the date? Damn straight I'm gonna save the date!"
So, I'm perusing through the postcard and I get to this little section: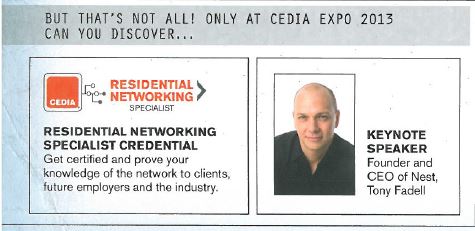 My first thought was, "What…the…HELL?!" followed immediately by, "Seriously?! CEDIA picked the Nest guy to be the Keynote speaker?! Are you kidding me?!"
Since then, I've spoken with other people who said, "Oh, my God! That is exactly what I said when I saw that! What's up with that?!"
In case you aren't aware, here's a little background on Nest…
In late 2011, Nest revolutionized the HVAC control market with a thermostat that was actually incredibly cool and sexy. The CEO of the company, Tony Fadell – the selected Keynote speaker – had an integral role at Apple, leading "the team that created the first 18 generations of the iPod and the first three generation of the iPhone," and this was a thermostat that looked as Apple-cool as any thermostat had a right to look. I mean, how often in your life have you read "sexy as hell" and "thermostat" in the same sentence? It also was very smart; being incredibly simple to program, using motion sensors to learn your living habits and being controlled whether at home or away by a cool app. Nearly every custom integrator the world over was salivating to not only get their hands on one, but to start spec'ing them in by the arm loads on every project.
But then, it became obvious that Nest wasn't exactly a friend of the custom installer channel. First, the product is basically unavailable for sale through custom installers or their typical distribution channel. (Much like Apple products, which I guess shouldn't be real surprising considering Mr. Fadell's background with Apple...) But even more damning, the product is impossible to integrate with, living in a very closed world that is much like – cough, Bose, cough – other products that installer don't love or aren't able to integrate with.
Nest has even gone on record via a company blog saying that its product is "A thermostat. Just a thermostat," writing, "We've been asked why the Nest Learning Thermostat doesn't have features people have come to expect from their programmable thermostats. We've been asked why we don't integrate with proprietary systems like Carrier Infinity or whole-home automation systems like Control4, AMX, Crestron, Lutron and Savant.
"The reason why Nest isn't telling you the time, turning off the lights, adjusting your solar panels or showing pictures of your family is simple: Nest is a thermostat. And the thermostat's problem isn't controlling lighting; its goal shouldn't be to serve as a clock. The biggest challenge, the core problem, is making a dent in 50% of home energy.
"Nest has a lot of potential. It could do a thousand different things. But until we've achieved our goal and revolutionized home energy in this country, Nest is a thermostat, just a thermostat."
"Cool," (I'm imagining/assuming) thought third-party driver creator, HouseLogix. "Well, if you guys don't want to build a driver for your awesome new thermostat, we'll go ahead and do it for you! Huzzah!"
So, HouseLogix did just that, creating a way for integrators to integrate their automation systems with Nest thermostats. Problem solved! Integrate away! Nests for everyone!
Except Nest didn't like that idea either, sending out a cease and desist letter to HouseLogix making them remove the driver. And not content to just stop future sales of the driver, they chunked some more salt into the wounds by upgrading the firmware in their systems they wouldn't work with any drivers that did exist. Ones that people had, you know, paid for.
So, yeah, when I say that Mr. Fadell was going to be the Keynote Speaker at the biggest annual event for custom integrators, an event called the Custom Electronics Design & Installation Association EXPO, I was surprised to say the least.
So I fired off an email to my contacts at CEDIA saying, "I'd love to get a comment from CEDIA on the choice of Mr. Fadell as speaker and his company's seeming disinterest in our channel."
This afternoon, I had the opportunity to chat it out with Dave Pedigo, CEDIA's Senior Director of Learning and Emerging Technologies, and one of the people responsible for selecting Mr. Fadell.
Click here to read exactly what he had to say about the hubbub....

Categories: April 2013, CES/CEDIA, Rants
/