Shopping Cart
Your Cart is Empty
There was an error with PayPal
Click here to try again
Thank you for your business!
You should be receiving an order confirmation from Paypal shortly.
Exit Shopping Cart
Features, Reviews and a Blog by John Sciacca
| | |
| --- | --- |
| Posted on April 24, 2013 at 6:00 PM | |
It's true, I'm not much into beers that don't have I, P and A in the title. Well, that's not totally true. I like to think that I'm open to a great beer in whatever style it comes. You got a great blueberry ale, I'm gonna try it. You got a good Boch, I'll drink down those hearty and bready malts with the best of them. And I'm really starting to get into Belgian Triple and other styles.
However, I typically shy away from stouts and porters because, well, they all seem to be one-note wonders to me. Technically two notes, I guess: burnt coffee/espresso and dark chocolate. Now, those aren't bad flavors, it's just that when they all end up being the same versions of Hey Jude, there's only so many times you want to hear it.
But, when a trip to the beer-a-torium revealed no new delicious IPAs to try, and a bevy of interesting sounding stouts – all with double-digit ABVs no less! – I decided to step out of my comfort zone and get these a try. And if an Imperial IPA is my favorite, surely and Imperial Stout is the way I should roll.

And you know what they say, when it comes to stouts, go black or go home…
New Holland Brewing – Dragon's Milk Bourbon Barrel Stout
Hop Varieties: Glacier, Nugget
10.0% ABV, IBU 31
$7.49 22-ounce bomber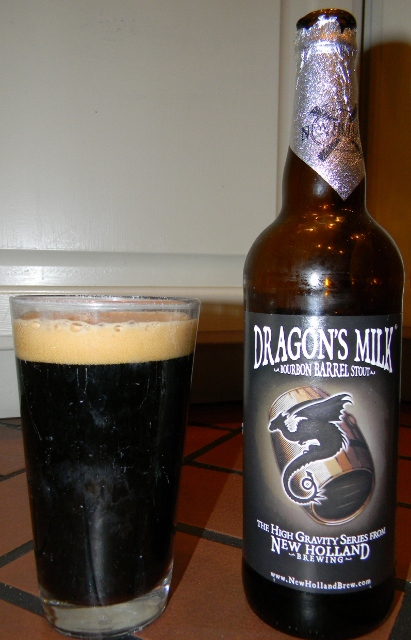 "Here, there be dragons…" Chronicles of the Imaginarium Geographica, James A. Owen
Description: "A barrel-aged stout with roasty malt character intermingled with deep vanilla tones, all dancing in an oak bath. Pairing: red meat, smoked foods, balsamic, rich cheese and dark chocolate."
Beer? In an Oak bath?! With Bourbon?!? Yes, frickin', please I'm gonna want that! Pours a deep, thick black with a nice, dense, two-fingers of creamy tan colored foam. Beer is really dark, but when held up to the light you can see a slight reddish tint through its body. The foam remains a thick, almost cappuccino textured topping on top of the beer. Leaves heavy, dense rings of foam around the sides of the glass. Nose has notes of dark roasted coffee, but also some toasty vanilla-oak bourbon sweetness.  First sip and it has a nice creamy mouth feel. The beer has good weight and texture in the mouth. The bourbon notes definitely outweigh the coffee in the mid-palate, with a nice lingering burnt coffee finish. There is a bit of an alcohol sweetness that peaks at the first swallow, but it dissipates without being too overwhelming. If I were to sum up my thoughts on the first glass with three words they would be creamy, bourbon, vanilla. As it opens up in the glass the woody notes are becoming a bit more prevalent on the finish, which is good by me. And it just gets smoother and creamier near the bottom of the glass as the polar ice cap of the foam starts blending in with the last swallows. (2nd pour...) Again, creamy, vanilla and oak are the flavors of the day. Smooth, sweet, and delicious. And, don't get me wrong, these are all good flavors, and if this is the Milk that Dragon's  produce, we would have subsidized fields of them with people sitting diligently before them on raised chairs holding their armored, scaly teats in calloused handed and milking them drop by sweet drop. The dwarves would have returned to the mountain ages ago, not fighting Smaug, but milking him for all his black-hearted-ale goodness. But, if I had my druthers, I would like a little more roasted coffee at the finish to help offset and balance out the oaky-vanilla sweet and it would make the beer more well-rounded. As Imperial Stouts go, Dragon's Milk is creamy and filled with vanilla-oak, delicious and is certainly worthy of spending an evening with. Perhaps while reading something by Tolkein.
Sierra Nevada – Narwhal Imperial Stout
Hop Varieties: Magnum, Challenger
10.2% ABV, 60 IBU
$9.49, 4-pack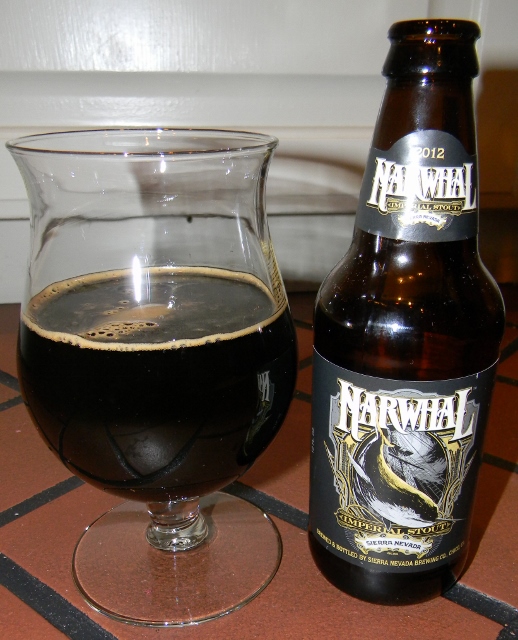 Description: "Inspired by the mysterious creature that dwells in the deepest Arctic seas, Narwhal Imperial Stout is midnight black and bold – with notes of bakers' cocoa and dark roasted coffee. This massive imperial stout is incredibly complex and explores the darkest depths of malt flavor."
A narwhal is some kind of gnarly toothed-whale that hunts year round in the arctic, so, you know, not as cool a backstory as milking dragons. Poured down the middle of my Duvel tulip, it produced just a finger of rich khaki colored head that quickly dissipated into a visible ring edging the glass and then a near star-pattern of the slightest khaki colored haze on top. The beer is deepest darkest brown-black, like peering into the unlit depths of the ocean's floor. Why look, there's James Cameron floating around the Titanic again… Even with a bright light behind the beer, not a single scintilla of illumination passes through. This beer is a black hole in the glass. Imagine pouring motor oil with a slight khaki froth froth into your favorite mug. The nose is rich with sweet, rich burnt coffee and bittersweet chocolate. First sip and it's a blast and explosion of flavor in the mouth. It's like lighting a flare off on your tongue and cheeks and roof of your mouth as you are immediately assaulted by a ton of carbonation and alcohol and flavor. Just holding the beer in your mouth you are aware that this is a *big* beer with immense flavor. There is a nice bit of sweetness with a hint of alcohol and then a really lengthy dark coffee bitter finish. The finish just goes on and on like a beer 10k in your mouth. There's a little bit of creamy sweetness as well, and on the second taste I'm getting a creamy, milky-dark chocolate flavor. Minutes after a swallow I find myself almost chewing on the residual flavor. This is a beer that lasts and lasts. This is definitely living up to the Imperial Stout label, being everything a stout should be but amplifying it in all the right ways. As I keep tasting, I'm noticing new flavors, such as the bittersweet notes of baker's chocolate is coming forward. My complaint with stouts and porters is always that they seem to be a one trick (dammit! I mean two trick!) pony; the same basic flavor profiles and nothing really new or exciting. This is why I love IPAs and gravitate to the style with so many varied notes and hops and flavor experiences. With Narwhal, however, the Imperial Stout isn't being reinvented, but the flavors are intense and varied and definitely makes a strong case for how great a great stout can be. This is a great stout that any dark beer lover should add to they must-try list.
New Holland Brewing – Night Tripper Imperial Stout High Gravity Series
Hop variety: East Kent Golding, Nugget
10.8% ABV, 56 IBU
$7.99 22-ounce bomber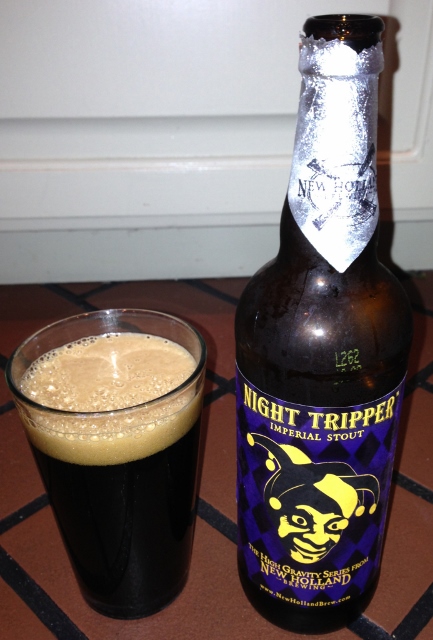 Description: "Night Tripper is an Imperial Stout for a Fat Tuesday release. Dark, mysterious and poetic, Night Tripper's abundance of roasted malts, combined with flaked barley create a rich, roasty beer with deeply intense and lush flavors. Night Tripper's layered, nuanced tones invite intrigue and reward a curious palate. Beads and masks aren't required, but are encouraged. Pairings: dark chocolate, stinky cheese, cayenne."
New Holland did me right with the Dragon's Milk, and this is in the High Gravity Series which means more than the usual, um, gravity I guess. Pours a deep, dark, infinite black hole of blackness into the glass, absorbing all available light, time and space anywhere in the vicinity. Produces nearly two fingers a rich deep tan head that quickly resolves to a thick coating of tan crème on the sides of the glass. You might as well try and peer through a block of granite as trying to look through this beer. Smell is strong and rich with deep, burnt malt with undertones of dark, black coffee, baker's chocolate and hints of blackest licorice. The black kind that is like so-so bitter at first. First sip and the beer lands with a viscous thickness on the tongue, leaving a thick, syrupy tingle on the front tongue. Beer slides to the back of the mouth, coating everything in its wake, and then has a swallow with a bit of alcohol sweetness and then a lengthy, sharp burnt-malt bitter. Second sip and this is a beer filled with big, bold complex flavors. There is still just a twinge of alcohol edge at the end, but other flavors are opening in the glass, and it is just a flavor wallop in the mouth. Imagine Tyson in his prime. He's working out, getting cut, getting swoll, getting mean. And he dips his bare fist into a vat of syrup, malty, black Imperial-ness and then just straight-arm punches you right in the mouth. As it opens up a bit, the alcohol edge is starting to loosen, letting you enjoy the rest of the flavors. This is really what you expect an Imperial Stout to be. It's bigger. It's fuller. It's richer. It's Imperial-ier. This is not a beer that you plow through. In fact, you barely even drink this beer. You just kind of chew your way through it, swallow by swallow. Each sip demands that you ponder it, consider it, and let the symphony of flavors wash over you. (Second pour...)  First sip is smoother and richer and less spike-filled than the first glass, an all-around immediate better start. The flavors are rich and powerful with burnt, bitter chocolate and salty licorice and crazy-dark espresso flavors. The malt finish is nice and so lengthy. If you are a stout fan, this is a big one that has an intense carnival of flavors, and the 10.8% ABV will insure you are indeed night tripping when you reach the bottle's end.

Categories: April 2013, Reviews, Beer/Liquor/Wine
/