Shopping Cart
Your Cart is Empty
There was an error with PayPal
Click here to try again
Thank you for your business!
You should be receiving an order confirmation from Paypal shortly.
Exit Shopping Cart
Features, Reviews and a Blog by John Sciacca
| | |
| --- | --- |
| Posted on May 20, 2013 at 6:50 PM | |
"See the TURTLE of enormous girth!
On his shell he holds the earth.
His thought is slow but always kind;
He holds us all within his mind.
On his back all vows are made;
He sees the truth but may'nt aid.
He loves the land and love the sea,
And even love a child like me."
Stephen King, "The Turtle."
I've been a fan of Terrapin Beer ever since I discovered that they are located in Athens, Georgia. Athens is the home to some great bands including the B-52's and one of my very favorites, REM. In fact, we took a trip several hours out of our way just to visit Athens so I could have a meal at Weaver D's Delicious Fine Foods, home to the slogan, "Automatic for the people."
(Dammit that I didn't know about Terrapin Beer then! Though now we have a great excuse to plan another trip to Athens to check out the town and tour the brewery.)
Also, they have some of the best label art out there, taking their turtle themed name and  really having fun with it. (And, you cannot be a Stephen King fan without feeling some love for the Turtle; he who existed since the beginning of time and vomited forth the universe...)
So, when I stumbled on these three Turtles, I knew it was Ka that I try them…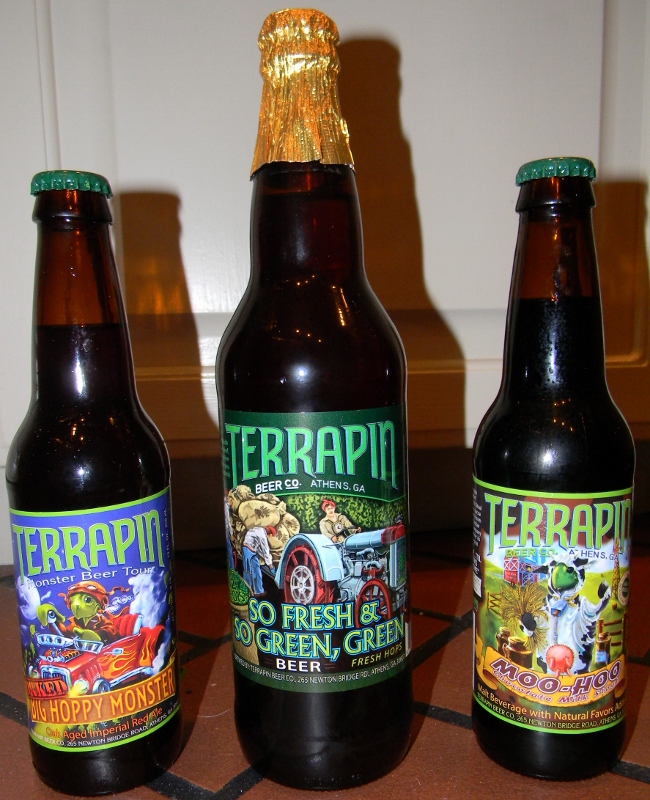 Terrapin Beer - So Fresh and So Green, Green

Hop Varieties: Fresh "Wet" hops flown in overnight from the Yakima Valley in Washington State! The hops varietal changes each year."
6.6% ABV, "IBUs: Fresh Hops Huge!

$8.49 22-ounce bomber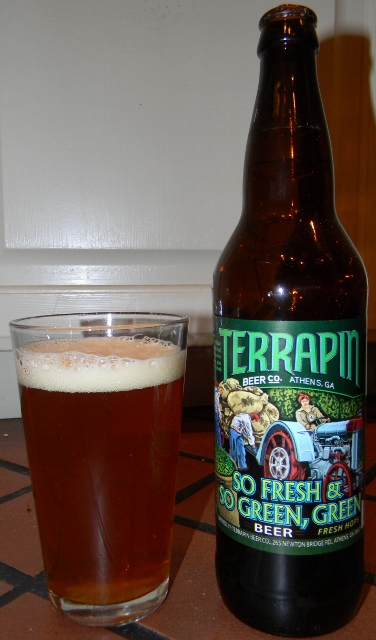 Description: "This is a beer that celebrates the hop! You can't get fresher or greener than this. Made with freshly picked, whole leaf, 'wet hops' these off-the-vine beauties will encourage you to DRINK FRESH, DRINK LOCAL, and DRINK NOW!"
I'm all about drinking fresh and hops, so this seemed like a clear winner. Plus, the hop featured on the label was my beloved Citra. Obviously this was gonna be my first to sample. Pours a rich, deep golden, orange-amber with just a little, half finger of mostly cloud-white head that quickly reduces to a scrim of froth atop the glass. Body is clear with lots of micro bubble carbonation. Smell is big with malty, sticky sweet honey and some orange citrus. First sip and...not blown away. Flavors are kind of laid back and a little subdued. Does "fresh" mean picked before totally ready and ripe? Like one of those extra "fresh" white strawberries or a really "fresh"  green blackberry…? There's a decent bit of sparkle on the tongue when the beer lands, and then an almost lemony-wheat-zest flavor and a really crisp, clean finish.  There's not a lot of linger on the flavor on my first two sips. On the plus side, I'm not getting that malty-honey flavor that really isn't my favorite. Impressions on the first glass are that this drinks a bit more like a Hefeweizen and is short on hop flavors, fresh or otherwise. We'll see what the second pour has to offer... (Second pour) Sadly, flavors seem more subdued. The finish is still nice and crisp and clean, but there is not a ton of flavor and little real hop notes. In fact it reminds me a bit if the Sierra Nevada Homegrown Estate Ale which was just too light and laid back for my pref. Don't get me wrong; the flavors are enjoyable, they are just a little hazy and off in the distance. As a fresh laid back easy drinking summer beer, Fresh Hop might be the ticket. As a sit down and contemplate life kind of brew, maybe not so much.  
Terrapin Beer – Oaked Big Hoppy Monster
Hop Varieties: Bravo, Centennial, Cascade, Ammarillo, Simcoe
9.1% ABV, 75 IBU
$10.99/4 pack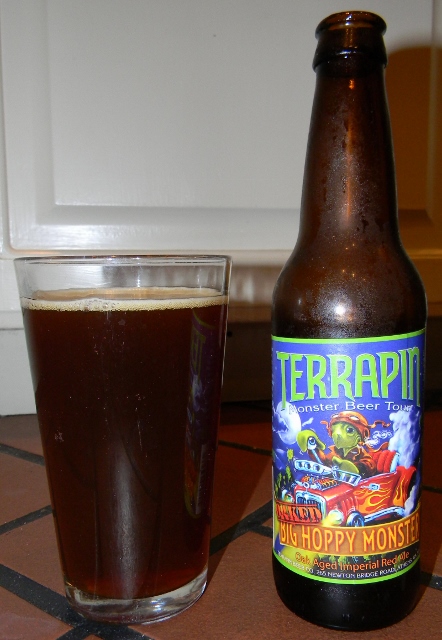 Description: "The original Monster better than ever….  Oaked Big Hoppy Monster Imperial Red Ale pours a luscious garnet color.  Expect this brew to lead with big American-style hop aroma, quickly complemented by a monstrous malt backbone rounded with rich oaky notes and hints of vanilla.  A bit of alcohol warmth and a multitude of malty goodness, with just a snarl of hop bitterness, awaits at the finish.  This enormous beer will go down smooth… but watch out; this Monster bites!"
Obviously, the natural comparison to a beer with "with Oak" in the title is to Stone Brewing Co.'s "Arrogant Bastard with Oak." My complaint with Stone's offering was that if you are going to put "with Oak" in your title, then you'd better damn well put some serious oak flavors up on the score board. I felt like it was more arrogant bastard and less with oak. Since "with oak" is my favorite element of wines and bourbons, I'm not gonna downplay the rich, woody oak-filled flavors I'm hoping for in this brew. I want it to taste like some too a splintery old wooden stave, swirled it around in the wort for a bit and then slapped me straight in the mouth with it. Pour a brown, muddy, river water color that is kind of like a dirty iced tea. Not golden, not yellow, not black or dark brown or cola brown, but a brackish brown color. It produced just the tiniest froth of head that quickly vanished to just a thin ring of bubbles surrounding the circumference of the glass. The nose is spicy with sweet hoppyness, but there is also clear woody aromas standing out as well. First sip, and I get a nice tingle on mid tongue, then really a big wood flash, followed with a nice, hop-filled bitter finish. A good linger that feels like I've sucked some beer that has been trapped in a stave of wood lining a beer keg. Woodlicious! The definite note here is wood; it's big and oaky and creamy and works well with the hoppy notes. This is what a beer with "with oak" in the title should taste like; big and fully and definitely and unquestionably with oak. Which actually does a nice job of balancing out the spice of the hop with creamy woodiness. At the last, the Oaked Monster is still sweet and smooth and packed with woody goodness. Solid!
Terrapin Beer – Moo-Hoo Chocolate Milk Stout
Hop Varieites: Nugget, Willamette
6% ABV, 30 IBU
$9.99/4 pack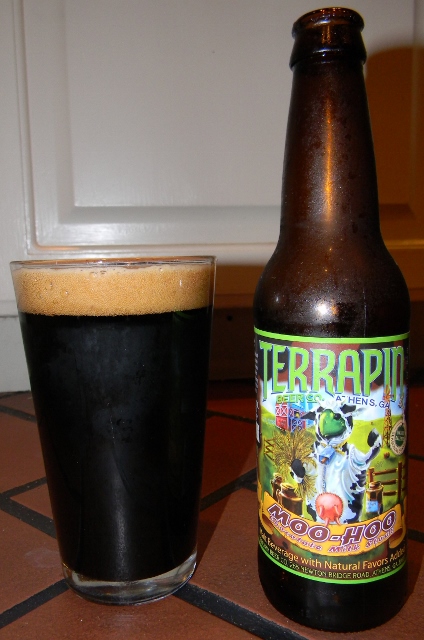 Description: "The Terrapin 'Moo-Hoo' Chocolate Milk Stout proudly uses cocoa nibs and shells from Olive and Sinclair Chocolate Company to give this beer its great taste! An  appetizing cold weather treat this sweet stout is rich creamy and uniquely satisfying. Beer and Chocolate together they truly make one of life's great indulgences."
I will confess, I have never actually had a Yoohoo. I was always more a Hershey's or Ovaltine kind of guy. But the thought of a creamy, milky chocolate stout sounded potentially delicious. So here we are. Pours a deep, dark, oily black with a rich, khaki head that produces a thick two fingers worth. So much for thinking it will be milky, Yoohoo colored. Head is thick and foamy and slowly reduces down to a nice creamy, khaki layer on top of the beer. In the light there is the slightest tinge of red, but the beer is impossible to see into. Smell is rich of milk chocolate, with nice burnt cocoa-coffee ground notes as well. First sip and a bit of a tingle on the sides of my tongue, with a creamy, sweet very milk-chocolate flavor. There is actually not as much carbonation as I would like, with the beer seeming a little flat on the first sip. The flavor is definitely milk-chocolate, and it has a nice balance of sweet and creamy. The finish has a bit of porter-like bitter, but the lack of carbonation really makes the beer taste a little flat which is kind of a bummer. Near the end of the glass, maybe I've just come to terms with the lack of carbonation, or maybe head has reinfused itself, or maybe my heart has just softened, but the beer seems to have a richer, creamier flavor that is making me miss the carbonation less. While I can't compare it directly to a Yoo-Hoo, as far as Moo-Hoo goes, it's a nice take on a glass of chocolate milk. With malt and hops. And alcohol. So obviously much better.
Categories: May 2013, Reviews, Beer/Liquor/Wine
/