Shopping Cart
Your Cart is Empty
There was an error with PayPal
Click here to try again
Thank you for your business!
You should be receiving an order confirmation from Paypal shortly.
Exit Shopping Cart
Features, Reviews and a Blog by John Sciacca
| | |
| --- | --- |
| Posted on July 5, 2013 at 4:25 PM | |
I've been remiss in posting beer reviews with the vigor that I previously had. I fear that some of you might misinterpret this as the fact that I have cut back on my beer consumption, and I want to allay that fallacy right now with a quickness. I assure you; I am drinking just as much beer as ever. And am cataloging my reviews. It's just the posting that I've become a little lax in. In fact, I have about 30 beers that have been opened, photographed, swilled and reviewed just waiting for their time in the digital spotlight.
Today that time has come for three Lagunitas ales that call themselves anything but an IPA, however they sure seem to taste that way. And, yes, they are still as hop-juicy sweet.

Lagunitas, for those of you outside the circle of trust, is a brewery located in Petaluma, home town to my original bestest girl, Winona Ryder. That alone makes the beer worth loving. They also aren't afraid to get creative with prose on their labels, letting their freak flags fly with stream of consciousness verse. Couple that with the fact that they make some terrific ales, and, you've got something worth seeking out. Let's dive in to that big, bag of hops, shall we?  
Lagunitas - Little Sumpin' Wild
Hop Variety: Unlisted
9.42% ABV
$4.99 22-ounce bomber
Drank Feb 19, 2013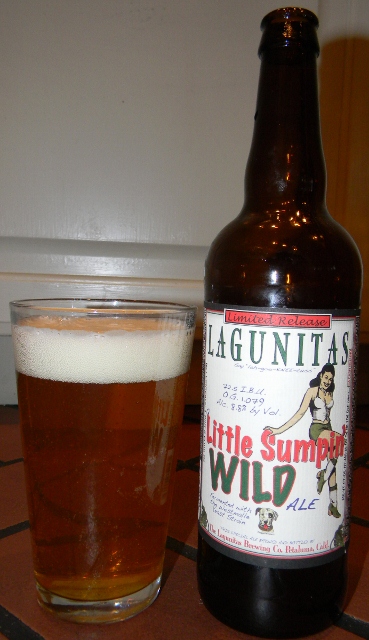 Description: "A higher gravity seasonal version of the year-round Little Sumpin' Sumpin' Ale. It's made with Westmalle Trappist yeast that creates those curious phenolic off-flavors that are freakin' everyone out these days. Massively dosed with boatloads of wheat and pale malt and finishes with a big, hoppy ending."
Written on the label: "So, we're all on collective disability. That's cool. Let's put some ice on it and keep ourselves elevated for a while. So, what's on the tube..? Honey..? Get me a beer from the frige… Will ya..? Sweetie..? Pleeease..?"
I'm a big fan of the Little Sumpin' Sumpin' ale, which my brother introduced to me during the Epic IPA tasting event of Ought Twelve. In fact, I rated it the fifth best, not a bad place to be when you consider Pliny the Elder, Hopocalypse and Hop Stoopid – another Lagunitas creation – were in the mix. So when I saw Sumpin' Wild, I knew I needed to give her a go. Pours a gorgeous golden yellow with a wonderful snowy white, thick cap of head that swells two fingers and the recedes to just a creamy, frothy top. Body is read-through clear with lots of visible carbonation activity. Smell is rich with sweet hops and there is a note of Belgian yeast, gummy spiciness. First sip and there is a nice tingle as the beer lands on tongue, not as big as some of the bigger, hoppier beers, but still noticeable and good. It's actually not as flavorful as I was thinking/hoping it would be from the nose. I was thinking a Little Sumpin' hop punch in the face, but it actually IS a little sumpin'. The beer has a crisp, clean finish that exhibits a nice linger of Belgian yeast flavors.  (Second pour) Another beautiful Snow White cap of head on the ultra-clear body and maybe a little more redolent this go round. The smell is really so great and full of promise. Hears to hoping the flavors get a little bolder and richer on glass #2. Honesty, the flavors seem pretty much identical to the first pour, with no real change or development. I'm torn on this beer. On the one hand, I really want the flavors to be bigger and bolder and fuller and richer. I love all of the flavors that are here, I just want to connect them to a Krell amplifier, crank that big, beautifully balance volume knob all the way to the right and jack them up in all of their deliciousness. But on the other hand, I'm really enjoying this beer. Even being a little subdued and laid back, Little Sumpin' Wild is still sumpin' pretty tasty.
Lagunitas – Sucks Brown Shugga' Substitute
Hop Variety: Unlisted
ABV 7.85%, 63.21 IBU
$10.99/6 pack
Drank March 19, 2013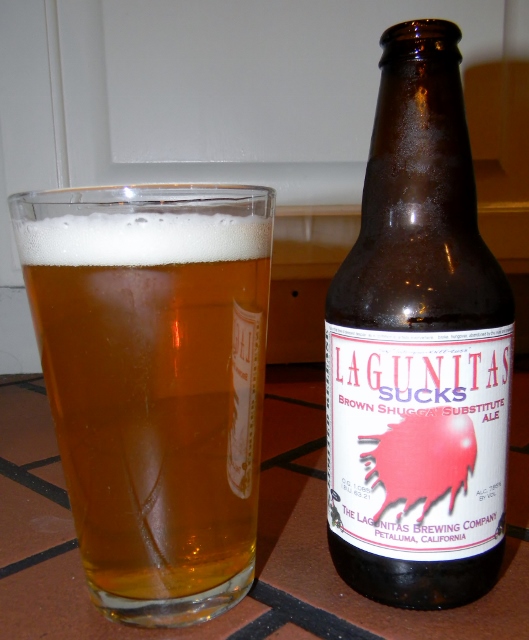 Description: "The fall of 2011 brought with it the sad realization that we could not make the annual plan to wrangle with our most difficult brew, the BrownShugga' Ale. E.K. Ross would have enjoyed our suffering as we moved through her stages toward acceptance final, but in that time of our deepest despair, as is common to artists everywhere; broke, hungover, abandoned by the mused and prepared to take a job at Arby's, we found in that darkness the spark of inspiration that would yield up the nearly sanctified recipe for the tragically named beer that we call the Lagunitas Sucks Ale. This is that beer. In the tale of the farmer with a lost ox, the last stages are all that matter and in those desperate final moments, salvation is found. Having named the beer in that moment of darkness we are now bound to it and it to us as an act of supplication and this name we now wear with a heart full of gratitude, humble and penitent before the recipe's creator; the muse of brewers everywhere. Come on by to hang out sometime or just give us a call!"
Any beer that is willing to say it "sucks" right on the label is a beer that you've got to try. Is it the truth or is it a merely an awesome humble brag? Since I've yet to sample a disappointing Lagunitas, I'm leaning towards the latter. Also, since I've never tried Brown Shugga', but rather love IPAs far more, I'm not too broke up over this idea. Also, if a job at Arby's meant all the curly fries you could eat, then is that *really* such a bad eventuality...? Pours a golden yellow into the glass with a finger of white head that reduces to a nice cloudy blanket of cover topping the glass. The beer looks like it would be clear, but when held up to the light it has a haze to it that makes it look a bit cloudy. The smell is right with hop-filled juicy aroma that has a nice promising sweetness and bit of spice. First sip and the beer lands on the tongue with a splash of carbonation and then a nice mid-note of grapefruit citrus-hops and then a touch of sweet and a nice finish with some bitterness. Subsequent swallows reveal some lemon notes, but still rich with hops and a nice finish, though not as sweet as at first. The beer has really good flavors, and seems to taste somewhere right between a traditional IPA and an Imperial. Perhaps a Parliamentary IPA or Congressional IPA or something. This beer is many things, but sucking is none of them. I'd like to taste this side-by-side up against the original Little Sumpin' and maybe even Hop Stoopid...I think Sucks would hold its own nicely. High praise indeed.

Lagunitas Undercover Investigation Shut-Down Ale  
Hop Varieties: Not listed
9.6% ABV, 66.6 IBU
$11.49/6-pack
Drank May 5, 2013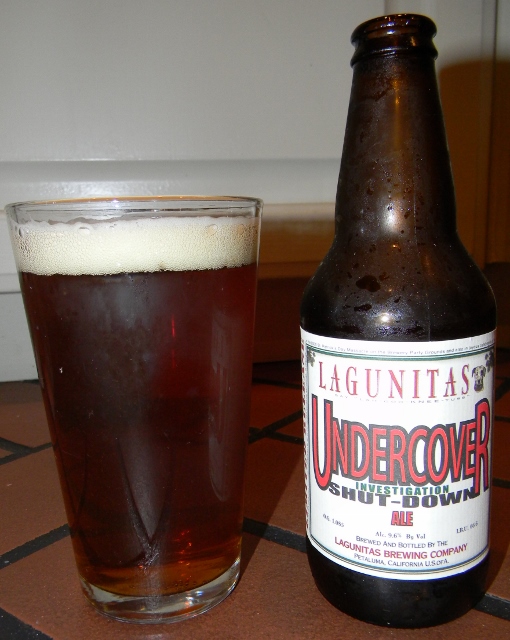 Description: "There is a symmetry to everything. Hot will always cool. Up always comes to down. Markets rise and crash. $2 per gallon then $4 per gallon then $2. First the right begets the left; then the left becomes the right; and then the right becomes the wrong all over again. Hop prices do soar and then just as surely crash and everyone cries except the brewer. Some drugs are legal (like alcohol) while others are forbidden. Some pleasures are embraced and are also forbidden. Some pleasures are embraced and are also forbidden. Ask the former NY Governor or Pee Wee Herman. Saddam and Noriega once got paychecks from the CIA? The King of Beers becomes another's brood mare. GM becomes Gee…Um… How many times have you heard an unusual word several times in one day. What is one day undercover- is the next day revealed- and then slunks back down where it came from again. The sun went down today and returns tomorrow as if for the first time. When governments are simple, people are simple. When governments are clever, people are clever. Earth mirrors heaven. There is a symmetry to everything."
"We brewed this especially bitter ale in remembrance of the 2005 St Patrick's Day Massacre and in commemoration of our 20-day suspension that followed. The ABC conducted an undercover investigation of our brewery, finding us guilty of operating a 'Disorderly House. We did the crime. We did the time. We got the bragging rights."
Pours a really nice, rich gold, coppery, mahogany brown color that produces a nice creamy off-white head. Body is clear with a lot of visible micro-carbonation. Leaves nice, clear rings of lacing along the glass, marking each step of my drinking progress like marking the age of a tree. Has a very nice, strong hop-forward nose, with lots of nice citrus and spice and fresh pine. The smell is really inviting and fresh and makes you want to dive right into the glass. First sip and there's a nice explosion of sweet carbonation on the tongue, a rich welling of hops and a touch of malt and then a nice bitter finish. The beer has a nice flavor arc that is involved from nose, to first landing on the tongue to mouthfeel, to swallow filled with flavor all the way to a nice finish. Undercover has a lot of double IPA-esque notes, with big, fresh hop-filled flavors and a nice splash of sweetness and then a lengthy flavor-filled finish. While the alcohol isn't overly present, it is a bit more noticeable in this beer than in some other near double-digit ABV IPAs I've enjoyed. The finish is actually hanging out and lingers more as sweet and malty than as hoppy and bitter. This beer is hovering on the border of greatness, but it is just not *quite* ready to go into the promised, hallowed land of Beerhalla. Maybe it is just a bit more malt than to my liking. Even so, Undercover is another worthy and solid offering from Lagunitas, and definitely worth picking up if you stumble across it in your beer travels.
Categories: July 2013, Beer/Liquor/Wine, Reviews
/