Shopping Cart
Your Cart is Empty
There was an error with PayPal
Click here to try again
Thank you for your business!
You should be receiving an order confirmation from Paypal shortly.
Exit Shopping Cart
Features, Reviews and a Blog by John Sciacca
| | |
| --- | --- |
| Posted on July 18, 2013 at 4:25 PM | |
I have been accused, perhaps even fairly so, of being an IPA snob. Someone even told me that I should learn to appreciate other beers, that I need to broaden my horizons to embrace real beer, dark beer.
To these people I say, "Suck it!" I likes what I likes! And also, if by "snob" you mean I believe that other beers are inherently inferior to DIPAs for any one of a variety of reasons, including real or supposed, then, yes. Pour me another glass of super hoppy snobbery!

However, I am not without soul. I appreciate that there are many other fine beer varietals on the market, and I embrace beer in all shapes, colors and creeds. Except light macro brews. They are clearly brewed at the pleasure of the Devil.
So, after stumbling across a batch of some alterna-IPA brews from Lagunitas, I decided to open the doors of perception, and let some sweet, dark, brown, malty loving in.
Drink with me, won't you…?
Lagunitas – Cappuccino Stout
Hop Varieties: Not listed
9.2% ABV, 29.5 IBU
$4.99 22-ounce bomber
Drank Feb 25, 2013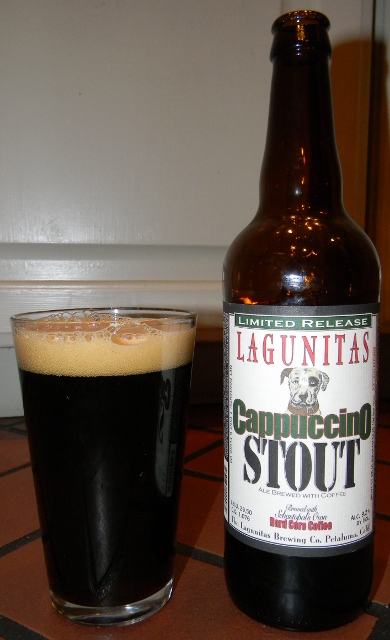 Description: "Up until the summer of 2010, we'd always had a little ditty on the side here that was a peon to a good old hot Cup O' Joe. It was built on the bones of the 23rd Psalm and went sumpin' like, 'Coffee is my shepherd, I shall not…' but that was where the trouble started. Turns out talking about Coffee's happy side on a ale label is verboten now in Amerika. So, the things that I am allowed to say about it are that the coffee is delicious; that the ale is delicious; and that together they are not worse than the sum of their individual deliciousness', most all of which are delicious. The label is glued on real well too, we make darn sure there are no holes in the glass, and that the cap stays put.  We are proud of this and wish to brag about it all on this label, which is allowed by law. Thanks!"
"We get some help from our friends/neighbors at Sebastopol's Hardcore Coffee just up the road. The coffee beans are freshly ground when we drop them into the brew kettle and whirlpool, giving that deep coffee flavor without taking away from that even deeper beer flavor."
Pours a dark, steeped tea brown-black color into the glass with two fingers of khaki head that very quickly disappears into just a bubbly topping atop the glass. Held to the light, the color is dark, cola brown. Nose has nice roasted coffee malt notes, but they are pretty subdued. First sip…definite strong roasted coffee is the flavor of the day. There is nice overall mouth engagement from the carbonation and then an easy swallow and a nice lengthy finish of coffee. The finish isn't bitter, and it's not creamy either. It's just a really balanced and even taste. When I think "cappuccino," I really think milky and creamy, but this tastes more of just "Coffee Stout." No cream. No sugar. Just a really smooth, dark roast. This beer is a little disappointing in the fact that the flavors are all really restrained. It's not flat, but it's just…light. It goes in the mouth, there is a nice flash of flavor and carbonation, and then you swallow and there is a coffee taste, but then it's gone. It's not very big. It's really an easy drinking coffee-flavored ale, but it's not a big bold taste. OK. As it opens in the glass, it starts to develop. The finish is definitely a nice, long, lingering, rich coffee flavor. It's *not* cappuccino* in that it isn't milky and creamy, but it is definitely rich, full, possibly even complex coffee flavors. It's really more like a carbonated iced coffee with some alcohol that you can't taste. The beer really pairs well with chocolate; I'm eating a Hershey's mini and the chocolate flavors pair just beautifully with this beer. (2nd pour...) Definitely more resolved, fuller, smoother, richer, more complex taste right off the bat. This is coffee lovers' beer. Flavors are good and rich and balanced, and there is none of the alcohol you might expect from a 9.2% ABV brew. And coffee is definitely the note of the day, so the beer is definitely successful from that standpoint.  If you find yourself with a bottle of Cappuccino Stout, I highly recommend that you enjoy it with some chocolate, preferably a dark chocolate. The chocolate really brings out the very best of this beer and is really such a great pairing. In fact, it tastes so great with chocolate, that it is worth drinking this beer just to enjoy with a good bar of dark chocolate.
Lagunitas – Wilco Tango Foxtrot
Hop Varieties: Not listed
7.85% ABV, 59 IBU
$4.99/ 22-ounce bomber
Drank May 5, 2013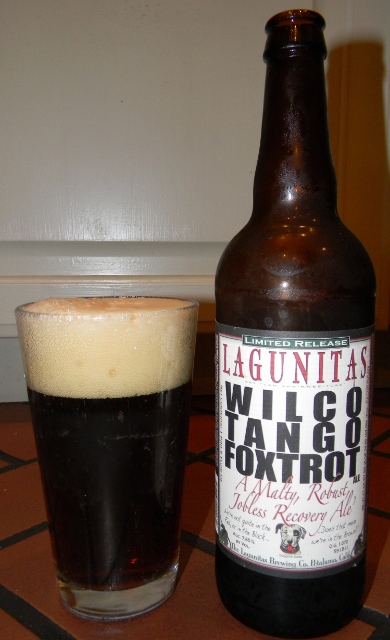 Description: "A malty, robust, jobless recovery ale. We're not quite in the Red, or in the Black…Does that mean we're in the Brown?! I'll be all around in the dark. I'll be ever'where, wherever you can look. Wherever there's a fight so hungry people can eat, I'll be there. Wherever there's a cop beatin' up a guy, I'll be there. I'll be in the way guys yell when they're mad. I'll be in the way kids laugh when they're hungry an' they know supper's ready. An' when the people are eatin' the stuff they raise, and livin' in the houses they build. I'll be there, too. Great principles don't get lost once they come to light. They're right here. You just have to see them again. You think we're licked. They all think we're licked. Well, we're not licked. And we're going to stay right here and fight for this lost cause, even if this room gets filled with lies like these; and all their armies come marching into this place. Somebody will listen. I'm no good at being noble, but it doesn't take much to see that the problems of three little people don't amount to a hill of beans in this crazy world. Someday we'll understand that. Now, now – Here's looking at you, kid. Call us! 707-769-4495."
An aggressive pour produced three big fingers of creamy, khaki-colored head that lasted for several minutes before reducing into thick chunky bubbles and slowly settling into a topping that resembled a rootbeer float. The foam leaves a huge, creamy coating covering the entire glass. Beer color is a dark brown, but more iced tea than cola. Held to light, body looks clear with a tint of red. Smell is sweet and hoppy but with a hint of spice that reminds me a bit of tea, like Earl Grey or Constant Comment. It really has that smell of a tea bag after you pull it out of a hot cup. First sip…some nice carbonation on the tongue, a spicy wave of hops and malt, then a finish that again has those tea notes with a malty-hoppy linger. There is a bit of roasted coffee notes on the finish. The flavor is a little lacking in the middle. The beer lands on the tongue, and there is an initial spark of flavor, and then kind of a hollow mid note before the slightly sweet, roasted malt and hop finish. And I still can't shake that spice or essence or note or whatever it is that reminds me of tea. Like literally tea leaves. Maybe it will abate or open in the second pour…Even being more delicate with a side glass pour, the second glass produced another giant three finger of creamy, cappuccino frothy head. The smell is really hop forward, with nice sweet notes of citrus and some background of sweet pine. Nice and chilled from the fridge to the glass, this second glass/first sip is delicious, and is hitting the right notes. The spicy hops stand out nicely, with the bready malt adding nice flavor and balance. The finish is lasting and interesting. The beer is described as an "Imperial Brown Ale" which I'm not sure exactly is.  Ultimately, Wilco Tango Foxtrot lives up to its WTF? name. The flavor is good, but the heavy tea notes continually having me thinking, "WTF?!" Is it interesting? Definitely. Is it good? For sure. Is it great? Meh…However, doubtless the best tea-bagging I've ever had from a beer.
Lagunitas – Brown Shugga'
Hop Variety: Unlisted
9.99% ABV, IBU 51.1
Drank June 2, 2013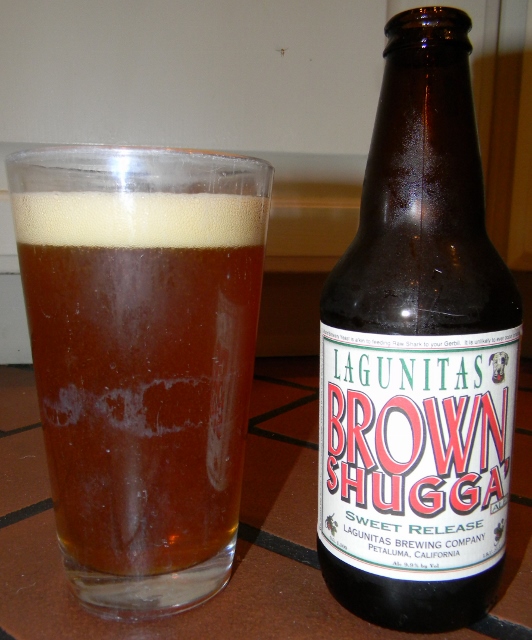 Description: "Originally a failed attempt at our 1997 batch of Olde GnarlyWine Ale resulting in an all-new-beer-style we like to call…Irresponsible."
"We believe this Special Ale is Something Unique. Feeding Brown Cane Sugar to otherwise cultured brewery yeast is akin to feeding Raw Shark to your gerbil. It is unlikely to ever occur in nature without human intervention. And it looks weird besides. But it has happened and now it's too late."
I'm no schoolboy but I know what I like, you should have heard me just around midnight. Oh, Brown Sugga', I hope you taste so good...Just like a brown ale should. Pours a hearty, golden-orange brown color with a solid two fingers of thick, tan-tinted head that has a lot of dense, meaty texture. Inside the glass is a swirling cauldron explosive with carbonation, as bubbles appear from nowhere and march in endless armies to the top of the glass. Body is mostly clear, but the beer is too dark – and bubbly – to see through. Smell is rich with sweetness and spice and malt. First sip and you can feel the beer land on the mid-tongue, there is an immediate flash of flavor and sweetness and then a gentle malty finish with a hint of bitter. Following the sip, the flavor hangs around nicely in the mouth. The beer has a nice mouth feel, really engaging all areas. There is definite sweetness from the brown sugar, but it isn't overpowering and is nicely balanced by the roasted malts at the end. Nearing the end of the glass, the diminishing head has painted my glass white – well, light tan – and lends a nice creaminess to the texture. It's hard to classify exactly what Brown Shugga' is. It's got hoppiness, but it's not an IPA. It's brownish, but it's not a brown ale. It's sweet and high in alcohol, but it's no barley wine. However, whatever label you want to hang on it, it is definitely interesting and mostly enjoyable. Additionally, I think that this beer was a little old in the bottle. It is normally released in October, and I'm drinking it a full 7-8 months later, with no idea how it has been kept, so I'm wondering if Brown Shugga' would be even more sweetly delicious if enjoyed in its prime…
Categories: July 2013, Reviews, Beer/Liquor/Wine
/