Shopping Cart
Your Cart is Empty
There was an error with PayPal
Click here to try again
Thank you for your business!
You should be receiving an order confirmation from Paypal shortly.
Exit Shopping Cart
Features, Reviews and a Blog by John Sciacca
| | |
| --- | --- |
| Posted on August 22, 2013 at 10:15 AM | |
True story: I applied for my first credit card when I was 17 so I could buy a radar detector via mail order. My dad was staunchly against the purchase and would not let me use his card, so I intercepted a credit card application that came in the mail for him – we have the same name – and filled it out with my information. A few weeks later I had my card and my detector.
Years later, my life is surrounded by some of the coolest technologies available, but I am still fascinated by radar detectors. There is a perverse "knowledge is power" kind of thrill in spotting bogeys (cops) well before they spot you, even if you are driving well within the speed limit or just sitting at a stoplight. Over the years, I've driven with a few different detectors: Uniden, an Escort, the original Passport (sporting an industrial design that is still one of the sexiest the technology has ever seen), and the venerable Valentine V1. A good detector is kind of like having your own personal AWACS circling above you, looking out for trouble. Sadly, there is no option to call in missile fire on any bogies...

When I ran into Ron Gividen, Escort's PR manager, at CES this past January, we talked about our mutual passion for detectors and discussed the current state of detector technology. Gividen agreed to set me up with the company's then flagship, the Passport 9500ix, and take it for a test drive. (Escort recently introduced the Max, which now holds the company's top spot.)
Escort traces its roots back to Cincinnati Microwave, a company founded in the late 1970s. Their first detector, Escort, was a large, utilitarian box with a bright amber, Cyclops-eye alert lamp and Geiger counter-style range meter that detected radar better than anything else on the market. It immediately drew tons of industry and user raves and became a sensation. While Escort didn't invent the radar detector, they have spent decades working towards perfecting it.
Having been without a detector for a few years, I was excited to see how the cat-and-mouse game of police versus detector had evolved to keep up with and introduce new technologies. Radar bands like super-wide KA, instant-on technologies like POP and LIDAR (laser) are the new tools of the ticket giving trade. Beyond just detecting the latest threats, the 9500ix includes GPS technology, adding an amazing new twist to the category. Additionally, with Escort Live!, the 9500ix taps into crowdsourcing, obtaining a pool of detection capabilities and warning of ticket threats in real time from other drivers.
The 9500ix is offered with red or blue LEDs.
I think the blue definitely looks cooler, but the red may better preserve night vision. There used to be a price upcharge for the blue but now they retail for the same price, so pick whichever you prefer. The unit arrives in a nice presentation/travel package: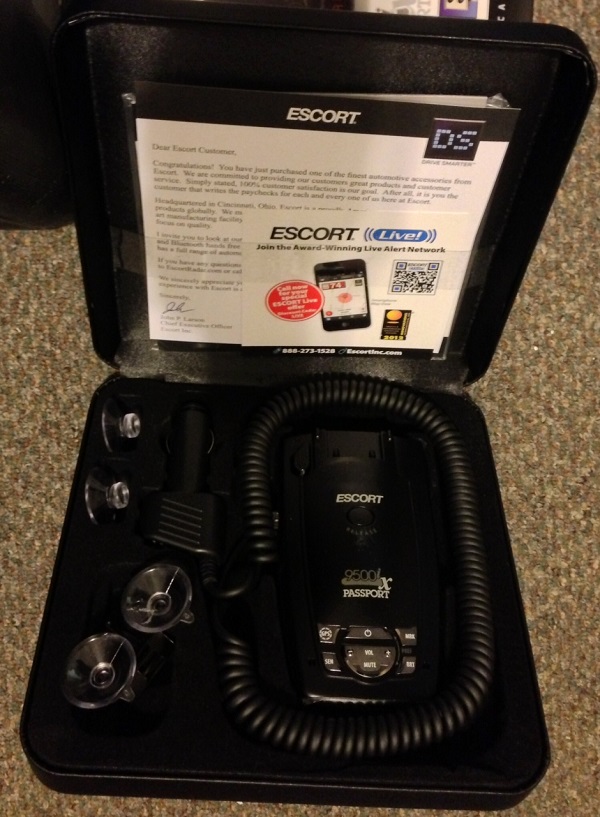 Besides the detector itself, the package includes a thorough user's manual and smaller quick reference card, windshield mount, four suction cups, and a coiled SmartCord.

For a detector pushing $500, I found the windshield mount acceptable but nothing outstanding. It is a thin piece of metal that slides into the detector, holding it at a variety of positions to work with a variety of windshield angles. The detector does slip out of the mount very easily for times when you want to conceal it when parking. I transferred the detector between my wife's Toyota RAV4 and my Toyota Corolla and the mount worked satisfactorily in both.
Gividen also included Escort's SmartCord Live ($99, includes 12-month subscription), which is ordered in either iPhone or Android versions. This is a super cool device which literally changes the landscape of the product, and I'll discuss later.
In the past, setting up a radar detector was essentially limited to setting volume and brightness and then selecting between Highway and City modes. The 9500ix immediately shows how far the technology has come... Continue reading the full review at Digital Trends and see why cops will have a much tougher time hiding from the crowdsource technology...
Categories: August 2013, Reviews
/