Shopping Cart
Your Cart is Empty
There was an error with PayPal
Click here to try again
Thank you for your business!
You should be receiving an order confirmation from Paypal shortly.
Exit Shopping Cart
Features, Reviews and a Blog by John Sciacca
| | |
| --- | --- |
| Posted on August 23, 2013 at 10:40 AM | |
Unless you run in crowds that discuss the merits of fractional jet ownership versus the full commitment of buying your own G5 whilst sipping drams of 30-year old single malt or complain over the outrageous charges levied for docking your mega yacht in Monaco, then you probably haven't experienced a Kaleidescape system before outside the pages of a Robb Report.
In fact, you might be surprised that Kaleidescape has been in business since 2001 when they pioneered an entirely new entertainment category called the movie server. Like a larger, more powerful iPod with massive storage, Kaleidescape did for movie collections – importing, storing, managing – what other systems were doing with music. Over the past 12 years, the company has continued developing and refining its system, adding features and performance enhancements to stay atop the premium, luxury category they established.
My first experience with Kaleidescape was back in 2003 when I reviewed their initial product offering; a massive DVD-only server capable of storing 440 uncompressed DVDs and costing a credit card melting $33,000. Since then, performance has improved, storage has increased, features have been added and the cost has been more than cut in half. However, 5-digits are still too much for most people to handle when contemplating a Blu-ray player, regardless of how many bells and whistles it includes. With the introduction of the new sub-$4000 Cinema One, Kaleidescape hopes to attract an entirely new level of clientele. If not exactly priced for mainstream, the Cinema One expands beyond the 1% of Kaleidescape's Premier Line into the range of movie lovers with more modest means. (Modest enough to drop nearly four grand on an entertainment device, sure, but less modest than someone that hires Kanye to come perform at their daughter's bat mitzvah...) If your current disc management system involves some kind of Excel spreadsheet and/or a haphazard pile of discs strewn across cabinets and bookshelves around your house, read on for a much better solution.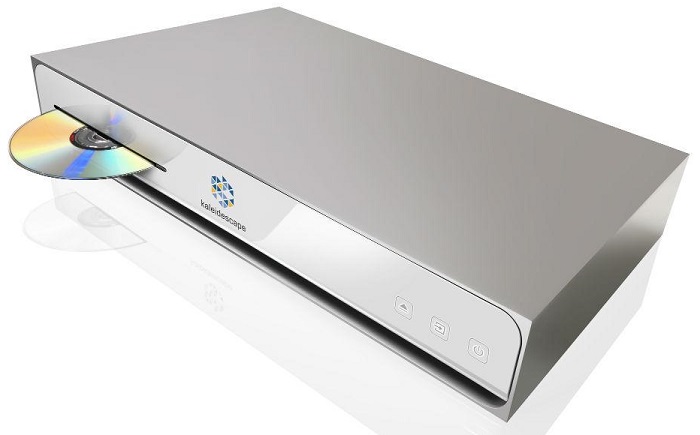 Out of the Box
Typically, Kaleidescape systems are sold through its premium dealer channel and require professional installation. In reality, the system installs quite easily and, assuming no networking hijinks, is often up and in running in minutes. With Cinema One, Kaleidescape simplified installation and setup even further, to the point they are selling the system not only through their typical dealer channel, but also via Magnolia and their own on-line store. If you are comfortable installing a Blu-ray player, then you will definitely be able to handle the Cinema One's installation.
Instead of the plain cardboard box housing most components, Cinema One arrives in an attractive four-color box covered with graphics showing the on-screen user interface and bullet points espousing all of the exciting benefits.
Removed from its Styrofoam captivity, the Cinema One is a striking component, with a grey-silver case and a white faceplate. In a rack of bland, black components, the Cinema One is striking and makes an impression. The front panel is very clean, with a slot-loaded drive that accepts round discs of the Blu-ray, DVD and CD variety and three soft buttons: eject, import and power. In the middle of the player's front panel is the Kaleidescape logo with glows very softly in company colored orange and blue when powered on. (The front panel smartly dims to all-but-off whenever a movie is started so as not to be a bother in a darkened room.) It measures 17 x 2.8 x 10-inches (WxHxD) and weighs a solid 10 pounds.
Around back, the Cinema One has the connections found on a modern Blu-ray player; HDMI, analog and coaxial digital audio output, USB, Ethernet, 1/8-inch infra-red input and connection for the 12-volt power supply.
Cinema One uses a 4 Terabyte disk drive to store approximately 100 Blu-ray, 600 DVD or 6,500 CDs. There has been some concern over the fact that this is a single drive with no RAID back-up or any way for a user to back-up the drive. This is one of the major differences between the Cinema One and the Premier line of servers which all feature RAID in some form. Should the drive crap the bed, and Kaleidescape be unable to retrieve the data from the drive, then, yes, you would lose all of your content. This would be an epic boning. Any titles purchased from Kaleidescape's store (discussed below) would automatically be redownloaded from the cloud, the rest would have to be reimported.
Systems ship with one pre-loaded title – a documentary called Gray Eagles – however my review system was delivered with nearly 100 films and almost as many albums along with 10 credits to download movies from Kaleidecape's online store.
Enclosed in a separate box are the system's power supply and cable, USB Wi-Fi adapter, HDMI cable and remote control.
Set up
As mentioned, installing the Cinema One is on parity with connecting a modern Blu-ray player. In fact it's simpler in some ways as there are no Netflix, Amazon or Vudu third-party accounts to try and pair with. For most users, installation will be as simple as connecting an HDMI cable to their A/V system and then either connecting a CAT cable to the LAN or connecting the USB Wi-Fi adapter.
The Cinema One is so simple to install, that I actually boxed it up and took it on vacation with my family. We spent a week at a condo in Destin, Florida, and the Cinema One provided the perfect entertainment companion, providing nearly a hundred movies for us when it became too rainy or sunburn-ey outside to enjoy the beach.
Click to continue reading the review at Digital Trends with lots more pretty pictures and fancy words...

Categories: August 2013, Movies, Reviews
/