Shopping Cart
Your Cart is Empty
There was an error with PayPal
Click here to try again
Thank you for your business!
You should be receiving an order confirmation from Paypal shortly.
Exit Shopping Cart
Features, Reviews and a Blog by John Sciacca
| | |
| --- | --- |
| Posted on September 13, 2013 at 5:00 PM | |
It's amazing to think that craft brewing has been around so long that breweries are celebrating seventeen, nineteen and even twenty year anniversaries! It's important to give a tip o' the cap nod of respect to Samuel Adams at this point, who in many ways began the modern craft beer movement. (I really have nothing to back that statement up, so I welcome any of your more knowledgeable beer historian types want to slap me back into reality...) Sam Adams was founded in 1984, meaning they could rock a 29 year ale, so pretty damn impressive.


The good news about anniversary ales is the brewery usually comes out with something special, that is hopefully unique and delicious and a representation of all they've learned over the past years of brewing. The bad news is that usually anniversary ales are a one off breed and if it is something brilliant, it won't be around for long...
So, here are four ales nearly as old as a decent scotch.
Weyerbacher - Seventeen
10.5% ABV, IBU Unlisted
$10.99 4-pack
Drank on April 2, 2013


Description: "Seventeen is a Saison Ale brewed with pink peppercorns, orange zest, lemon zest, and grapefruit zest.  Brewed to the classic 'Weyerbacher anniversary requirement' of a strength of 10% abv or more, Seventeen weighs in at a style-obliterating 10.5% abv.  Seventeen releases subtle notes of fruit, berry and pepper upon pouring. You'll notice a balanced sweetness with a touch of citrus and spice with a dry and peppery finish. Seventeen is a once-and-done release only and will not be here for long!  This style of beer should age very, very well.  Be sure to get some before it's gone!"


Frankly, I bought this because it was originally $15.99 and marked down $5. I figured, "Why not? Good a time as ever to try it." And, also, Dennis Burger kinda got me into Saissons after he coerced me to try Hennepin. Slides more than pours out of the glass with a slickness that just eases out of the bottle and fills the cup. The color is a rich, banana peel golden yellow that produced a single finger of clean white head. The head quickly vanished to just a hazy froth coating the top layer of the beer. The body is cloudy with bubbles and what looks like random chunks of sediment. Smell is really rich and sweet, fully of gummy, honey and banana notes, with lots of clove spice. You can tell it's going to be crammed with flavor just by letting your nose spend a couple of seconds hovering over it in the glass. First sip and it lands nice, some real tweaks of flavor on the sides of my tongue and roof of my mouth, and then a mouthful of rich sweet, spicy flavors and then a swallow that keeps up the sweet-and-spicy symphony. The beer has some really great banana-gummy sweetness typical of Tripels Belgian yeast strains, but none of that alcohol burn that you might expect from a 10+% ABV brew. I really like the beer and the taste, but when I think "Saison" I think grassy and earthy and farmhouse. This to me is more a Triple with sweet gummy, spicy, banana-clove flavors. So, if you buy this to enjoy a Saison-style ale, you might be disappointed, but as a beer with no label, I found it incredibly enjoyable.  


Avery Brewing – Twenty
Hop Variety: Bravo, Amarillo, Simcoe, Cascade
ABV: 9.7%  IBU Unlisted
Drank July 5, 2013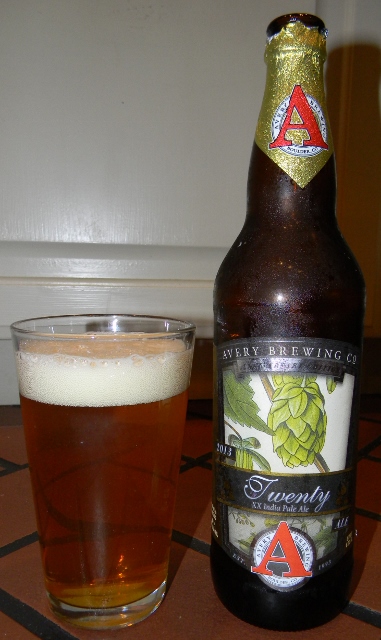 Description: "What else? What else would you expect from us, a bunch of severely hop obsessed brewers, to celebrate such a glorious occasion? Anything other than a massively hopped IPA would be an affront to our rich history of loving excessive use of that beautiful flower, Humulus Lupulus. 1993-2013. 20 years of brewing excellence. To all who have played a part in creating such a vibrant and quality conscious culture, we thank you from the bottom of our hearts and pint glasses!"

Pours a beautiful golden yellow, with a nice two fingers of fluffy, pillow-white, puffy cloud head. The head pretty quickly reduces to a soft, solid covering resting on the top of the glass, leaving a thick, coating on the sides of the glass in its wake. Body is read-through-me clear, with nice visible carbonation going on within the beautiful golden liquid. The nose is just wonderful; full of resinous, drippy pine and sweet, honey hops. At this point, I could pour this beer down the drain and already say with confidence that it was delicious. But I'm not going to. Because I love beer, especially Double IPAs. And also I'm not a damn fool First sip, and…oh yeah. That's the stuff. Even just sitting in the mouth you can feel those luscious sweet hop juices just making sweet-sweet love to your tastebuds. The beer feels rich and creamy and luxuriant in the mouth, but you can tell there is a hop-filled sweetness that really presents itself on the swallow. The finish has a nice bitterness to it, and it lingers for a nice period. Right before the bitter kicks in, there is a nice flash of sweetness that really brings a nice complement to the swallow. Nearing th end of the first glass, this is really a nice DIPA. Nice, piney, grapefruit rind, hop notes, a bit of honey sweetness, and then a nice bitter finish. The boys at Avery know how to make a solid brew, and this might be one of my favorites from them so far. The Maharaja while excellent was a bit malty on the finish for my loving this year, but the Twenty has a clean, crisp finish that is all hop and all business. Nice. I'm not sure what it would taste like to actual *suck* the juice out of a hop, but I can't imagine the experience would be any more pleasant than drinking this beer. Time for the second pour…this produces the quintessential beer to head ratio that would make Don Draper punch a baby to capture for an ad. The beer just slides into the glass like a boss. It knows why it's here and it's ready to get down to business. Second glass is smoother and a little more refined. Like a woman that has a few years on her; she's educated and refined, she's travelled, loved and lost and is now worldly wise. Twenty is a solid effort and the biggest disappointment about it is that as an anniversary beer it isn't here to last. 


Great Divide Brewing - 19th Anniversary Ale
Hop Variety: Unlisted
10.2% ABV, IBU Unlisted
$8.99 22-ounce bomber
Drank on July 8, 2013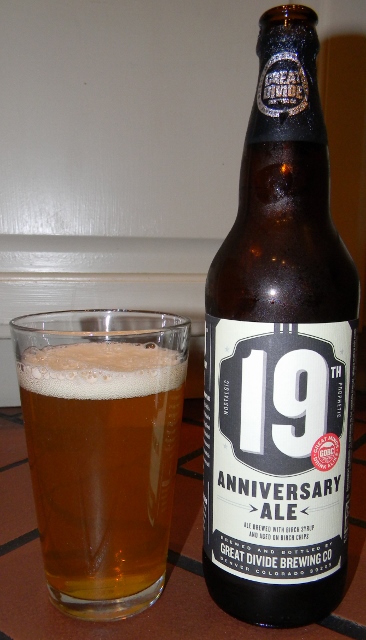 Description: "19th Anniversary Ale isn't just a wood-aged ale. It's a compass – a reminder of where we've been and where we're going. Brewed with pure birch syrup and aged on birch wood, this beer embraces reverential traditional and revolutionary innovation. As we celebrate our 19th year, we hope you'll join us for the road ahead."


Pours a light, pale, golden yellow that produces about a finger of snowy white head that quickly dissolves to just froth at the top of the glass. Beer is wonderfully clear, with lots of visible bubbles. It is like looking out a porthole window on a submarine and watching bubble slowly rise and drift past on their way to the surface. The nose is…confounding. My first thought was "coconut ice cream." It has a sweet, milky creaminess that reminds me of, well, coconut ice cream. There is also a hint of tangerine and other sweet citrus and also the sweetness of alcohol. So, totally not sure what to think from the smell. Time to stop speculating and start drinkulating… First sip and some good involvement on the tongue and in the mouth. I sense sweetness and flavor as the beer rests on my tongue, but on the swallow the creamy, vanilla, heavy woodiness becomes more apparent. There are a lot of complex and complementary flavors going on, and one sip is just enough to make you say, "Huh? Whaa?!" If I were blindfolded, I would expect this beer to be a muddy brown color, or at least have some depth and darkness to it. The light color is just confusing. Like drinking a wine that you *know* is a cabernet and finding out that it is a white. It's enough to make you want to go outside and stare up into the heavens. I'm still getting that kind of tangerine/sweetish citrus note on the end which I'm not sure if it is a friend or foe of the bourbon stave flavors. As I'm getting near the end of the first glass, I think that I'm siding with the flavors marry up better than they don't, and I'm enjoying the flavors. I also think this is a pretty involved beer, with a pretty complete flavor experience, with a nice full, lingering finish. The wood notes are definitely more cedar than oak, with more of a sweetness to the wood notes. (Second pour...) The smooth, well blended tastes of the end of glass one continue with the first tastes of glass two. There is a lot of creaminess and vanilla and sweet-wood flavors in this beer, and the taste is rich and complex. I honestly think a better name for this beer would be "Conundrum." The color is wrong for the taste. The nose is confusing with its coconut cream and tangerine notes. The taste has a query of flavors. But sometimes conundrums don't need to be answered, merely enjoyed.


Stone Brewing Co – 17th Anniversary Götterdämmerung IPA
Hop Varieties: Magnum, Herkules, Merkur, Opal, Emerald (aka Smaragd), Strisselspalt, German Hersbrucker, Sterling
IBUs: 102 ABV: 9.5%
Drank on September 12, 2013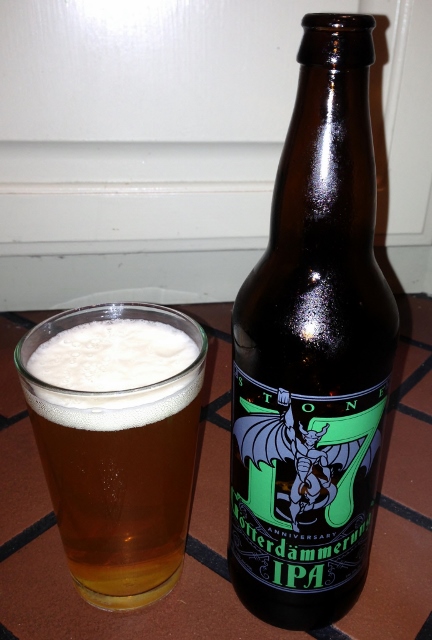 Description: "Life is never dull at Stone, but the last year has been one of the most eventful yet. We threw open the doors to Stone Brewing World Bistro & Gardens – Liberty Station, our second decidedly eclectic brewery restaurant, installed in historic former Naval Training Center buildings (including their original mess hall). We outfitted it with a 10-barrel brewhouse, 40 taps serving Stone and guest beers, a huge outdoor garden area, and 650-plus seats. Hey, "small" is for other people. Well, come to think of it, we do have our own version of "small" in our brand-new-as-of-August craft beer-centric Stone bar and eatery in Terminal 2 of San Diego International Airport. At any rate, plan your trip accordingly. And we doubled the size and production capacity of our brewery, built the new Stone Packaging Hall and, oh yeah, found out we're now the 10th largest craft brewing company in the country. We can hardly believe we fit that all into one paragraph, much less 12 months. Through all that growth, like hop bines rooted in fertile soil (see what we did there?), we kept our feet securely planted on terra firma, remembering that it's all about the beer—we'd be nothing without it. And so, as we prepare to celebrate 17 years of straining the seams of the ale envelope, we again focus squarely on beer via our annual anniversary offering, while at the same time laying to waste long-held concepts of what German hops can and cannot do, as well as what the world has come to know about San Diego IPAs—thanks much in part to our family of beers.

Inspired by new experimental German hops, our brewing team is celebrating our 17ten Jahrestag by taking palates on an unconventional tour of Deutschland by way of Southern California. In doing so, we used a grain bill comprised exclusively of pilsner malts and German hops with crazy awesome names: Herkules, Hersbrucker, Magnum, Merkur, Opal, Smaragd & Strisselspalt. Dry-hopping with Sterling, a U.S. hop with Saaz parentage, lends a bit of familiarity, but be forewarned, this is a unique beer that takes the IPA—a style we've already pushed far beyond its previous limits over the years—to interesting new territory. Schumpeter chose economics; we chose beer. Our creative destruction has been aimed squarely at the previously-held-dear conventions of what beer can and should be. Stone 17th Anniversary Götterdämmerung IPA is the latest in a long line of innovations, but nowhere near the last. Not by a long shot."

"Our latest anniversary beer, starring an all-German cast of malt and hops, is yet one more glorious example of a Stone IPA brewed outside the box. Our brewers have brought their experiments with German hops to fruition, leaving convention behind to create this hefty IPA entirely with pilsner malts. These provide a superbly crisp mouthfeel, while a unique mix of noble and new-school hop varieties adds layers of bright, bitter flavors. Despite the daunting name, this beer isn't designed to bring about the end of the world, but it just might destroy some of your preconceived notions of what an IPA can be."

I'd like to say that I've been drinking Stone beers since the start and that I can tell you how they've grown and matured over the past 17 years. I'd like to, but I can't. My first encounter with Stone was only two years ago when my brother introduced me to it in the best way possible, via a visit to the Stone brewery in San Diego. I was blown away and instantly fell in love. That love affair has only grown in intensity, and now it has blossomed to the point where I let Stone make sweet-sweet love to my mouth at any opportunity. These guys are just brewing rock stars and I am in total alignment with their IPA flavor profile. And when they come out with something new, me needs to drink it. Pours a nice golden color that at first look I thought was a bit light like a Pilsner, but as it filled the glass it was a richer blonde color similar to Stone's other epic IPA offerings like Enjoy By. Beer produced a finger of snow white head that stayed around for a few moments and then reduced to that frothy, creamy white of whipped cream melted atop a cup of cocoa. Leaves thick, white rings-of-Saturn lacing around the edge of my glass, bookmarking every sip I take. Body is read-thru clear with a fair amount of bubble activity going on. Nose has some nice hop notes, with some other things that I'm having a hard time identifying. Sometimes it is spice, others it is like grass, others it wafts like a Pilsner. First sip and it lands on the back of the tongue and roof of the mouth with a good spark of flavor. There is a nice initial pop of hops on the swallow that is filled with classic Stone flavors, and then a finish that is more restrained compared to the bigger Stone IPA's. It's definitely not as hop-forward on the finish. I'm honestly surprised it is rockin' a triple-digit IBU rating and such a high ABV. This beer just doesn't present itself as hoppy as many far lower IBU beers, and conceals the alcohol brilliantly. There is definitely a taste of German heritage here, with a finish that nods to a classic Pilsner, but that is more detailed, resolved and elevated. It's definitely not the traditional Stone big, giant, citrus and pine hop-bomb that I love, but it has really interesting and enjoyable flavors. Let's see what the second pour has to offer… Nice, crisp, fresh, hop-filled, clean finish. There's just something about the right from the fridge, cold, brightness of a Stone beer that I just love. This is a different take on an IPA, but different in this case doesn't mean better or worse. It's not the Imperial IPA hammer off a RuinTen or even the crazy forward freshness of an Enjoy By, but I find the beer imminently drinkable and enjoyable, and embrace it for its differences. Ein weiteres tolles Bier; gut gespielt, Stone!

Categories: September 2013, Beer/Liquor/Wine, Reviews
/